Not sure where to stay in Scottsdale Arizona?

Worry not.

Situated right next to Phoenix, Scottsdale is known in Arizona for its fine resorts and spa, fine-dining establishments, extravagant shopping, fancy golf courses and upscale nightclubs. With such a reputation, many places to stay in Scottsdale have sprawled up to cater to the increasing demands of tourism.

That is why we have written this guide on the best Airbnbs in Scottsdale so visitors can choose the perfect accommodation for their desert getaway.
(Want more desert getaways in Arizona? Check out the best Airbnbs in Flagstaff and Sedona!)
Without further ado, here are the 10 best Scottsdale Airbnbs!
Where To Stay In Scottsdale? Or Should You Stay In Phoenix?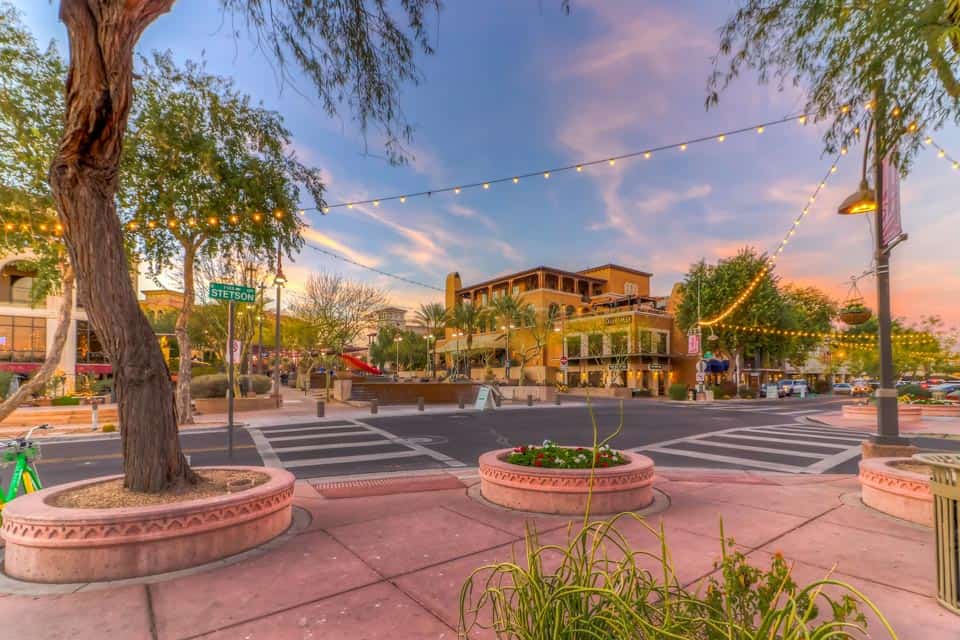 If you are traveling to Scottsdale, chances are you might be wondering whether you should stay in Scottsdale or Phoenix, the capital of Arizona. If you look on the map, the two cities are literally adjacent to each other, and traveling from one city to the other takes less than half an hour.

Generally speaking, Scottsdale is much more up-scale than the everyman's Phoenix, the sixth most populous city in the US. Known as the "west's most western town", Scottsdale has some of Arizona's best shopping malls, fancy resorts, spas and golf courses.

Besides luxury, guests will find this excellent US winter travel destination full of various attractions such as the McDowell Sonoran Preserve, Taliesin West (architect Frank Lloyd Wright's winter home) and Old Town Scottsdale.

While there are pros of staying in Scottsdale, do expect to pay a higher premium than you would if you stay in Phoenix. However, given the luxury amenities of these accommodations in Scottsdale, that extra price is definitely worth it!

Want to save some money instead? Look for places to stay in Phoenix, Arizona instead.
Want A Quick Tip On The Overall Best Airbnb In Scottsdale AZ?
Scottsdale House w/ Heated Pool, Fire Pit & More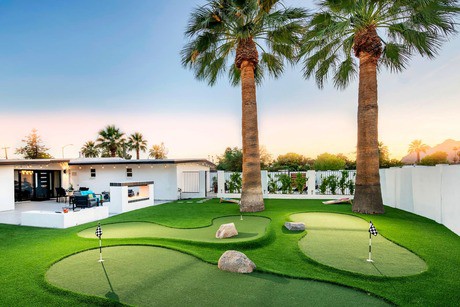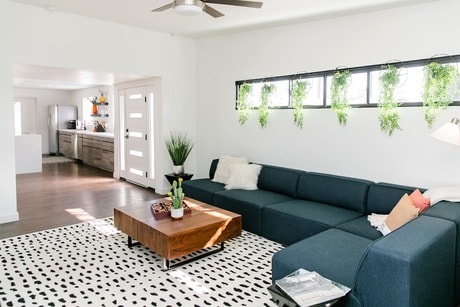 When it comes to Airbnbs in Scottsdale Arizona, this newly remodeled colorful mid-century modern getaway has everything you need. Let's start with the incredibly spacious backyard, big enough so everyone in the family can lounge around and relax.

Guests that would like to do more than just lounging by the cozy fire pit can hop on the 3-hole putting green and test out their putting skills.

Getting hot from the Arizona sun? Jump in the large refreshing pool (can also be heated in the winter) and wash your worries away. There is also a basketball hoop by the poolside for a family-friendly game of pool basketball!

Traveling in Scottsdale with kids? There is a specialized safe play area where they can just do their thing! In this Airbnb, everyone gets to enjoy life to the max!

While the exterior is sure to impress, the interior is far from lackluster. Open-space kitchen, living and dining areas, all ready to provide you with the perfect experience. This Airbnb vacation home can accommodate up to 6 guests with its 3 bedrooms, 1 king bed and 2 queen beds.

Last but not least, this Airbnb is located a 5-minute walk from Old Town Scottsdale, one of the must-visit places in Scottsdale! Guests can experience the best of Scottsdale without traveling far at all!

Maximum Occupancy: 6 Guests
Best Scottsdale Airbnbs For Luxury Travelers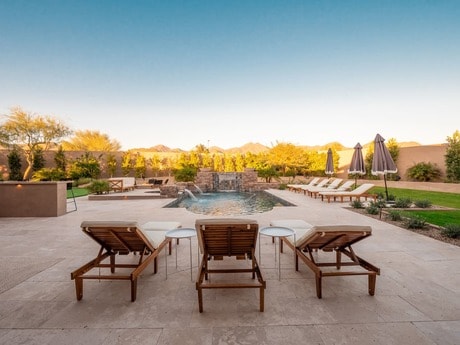 As a luxury travel destination, Scottsdale is in no shortage of luxurious Airbnbs. However, none of them is as surreal as this outdoor luxury million-dollar home.

The gigantic backyard is unquestionably the star of this Airbnb in Scottsdale. Here guests will find a modern swimming pool with waterfalls, perfect for relaxing.

Anyone looking to enjoy a nice tanning session can use one of the many sun loungers. Admire the surrounding desert views as you feel the Arizona sun work magic on your body!

Want to stay active? Guests will find a full-size pickleball court and a half-size basketball in the backyard, perfect for a game of sports with family or friends. Located next to the McDowell Sonoran Preserve, guests are gifted with miles of hiking and biking trails as well.

After an exhilarating day of exploring Scottsdale (or Phoenix), guests can return home to a nice glass of wine next to the cozy fire pit. When the night has come, stargaze and admire the starry desert sky.

With its 5 bedrooms, this resort-like vacation home can fit a total of 14 guests. Couples or smaller groups can also rent this Airbnb if they prefer the extra space and privacy!

Maximum Occupancy: 14 Guests

Click here for more details and photos!
2. Modern Getaway w/ Pool & Hot Tub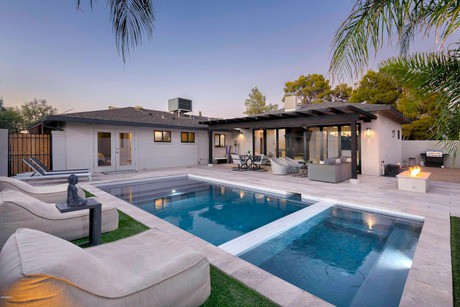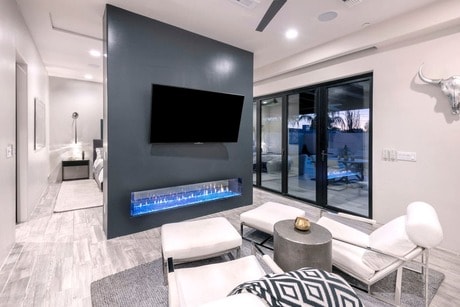 Located 5 minutes from Old Town Scottsdale, this modern home is the perfect base for anyone looking to explore Scottsdale. Though we must warn you, you might not want to step out of this luxurious Airbnb once you have arrived.

The most gorgeous feature of this Airbnb is unquestionably the backyard. With a jacuzzi and a heated (optional) pool, guests will spend many of their waking hours lounging around and relaxing to the max. Reclining 1-seater couches and sun loungers line up on the side of the pool, ready to help guests achieve the perfect tan.

In the backyard, you will also find a fire pit and additional seating area, allowing more guests to enjoy the fantastic air of the sunshine state. Guests will also find a court for bocce ball, a traditional game played in the Roman empire.

In the interior space, guests will find 3 stunning bedrooms with 2 master suites, allowing a total of 8 guests to enjoy the comfort of this home. The most stunning bedroom is the one located next to the backyard. With collapsible Nanawall doors, you can quickly turn that indoor space into an outdoor space!

Guests will also find a fully-equipped kitchen for any of their cooking needs, but that might not be needed as the best restaurants, cafes, and bars of Scottsdale are located a short walk away!

Maximum Occupancy: 8 Guests

Click here for more info!
3. Indoor-Outdoor Oasis For Entertainers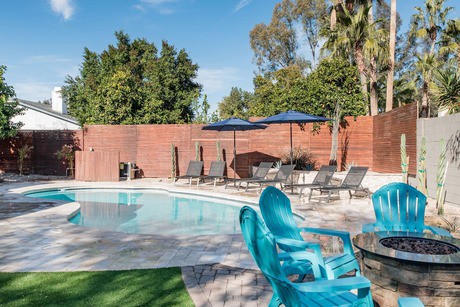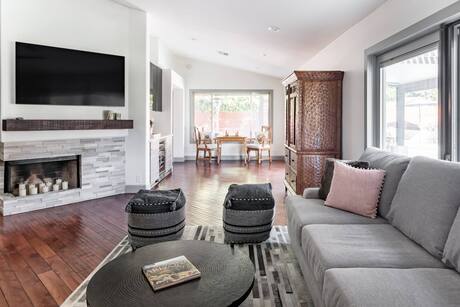 A modern perfection of both luxury and comfort, this dreamy Airbnb is the perfect home for your Scottsdale vacation. With a desert chic design, state-of-the-art-kitchen, and bedrooms that will make you wish the morning will never come, guests will find it difficult to leave this vacation home!

Dips your toes in the pool and unwind, or sit by that outdoor fire pit and let the fire melt your worries away. Fill your hungry stomach with a nice meal from the professional-grade BBQ grill. Afterward, work off all that delicious food with a game of basketball or a game of putt-putt.

With its location in Central Scottsdale, guests can expect the most pristine privacy. It is truly a place where you can bond with your friends or family and create some memories together! Most of the best attractions in Scottsdale are located a short drive away, so guests aren't really missing out on much!

Maximum Occupancy: 8 Guests

Click here to see more photos and availability!
Best Airbnbs In Scottsdale For Families Or Groups
1. 5-Bedroom House w/ Game Room, Heated Pool & Private Chef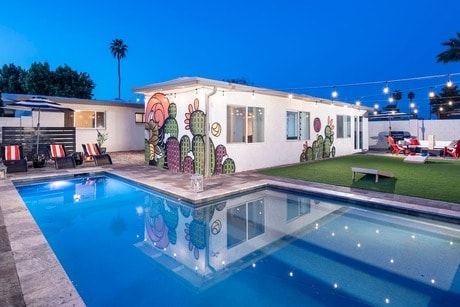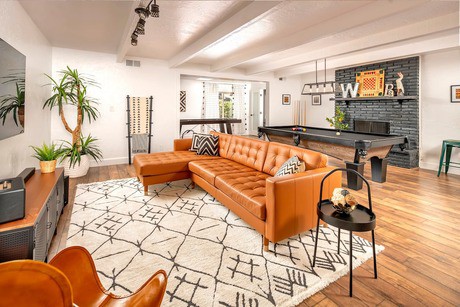 Designed with the concept of fun in mind, this 5-bedroom vacation home in Scottsdale is the perfect getaway for families. Kids will find the perfect playground here with games like foosball, shuffleboard, billiards, cornhole, and a 74″ flat-screen TV.

While there is a multitude of activities to do for kids, the adults will definitely not feel left out. Here you will also find a heated swimming pool, comfortable sun lounging area, and a gas grill for the perfect barbeque.

If all these home attractions are not enough, this centrally located Airbnb is located 5 minutes away from Old Town Scottsdale, where guests will find more entertainment, eateries, and shops! There is never a dull moment when staying in this Scottsdale Airbnb.

After an evening out in Scottsdale, return to your Airbnb for a dreamy night in one of their 6 comfy beds!

Maximum Occupancy: 10 Guests

Click here for more details!
2. Luxury 5BR/5BA Home Close To Old Town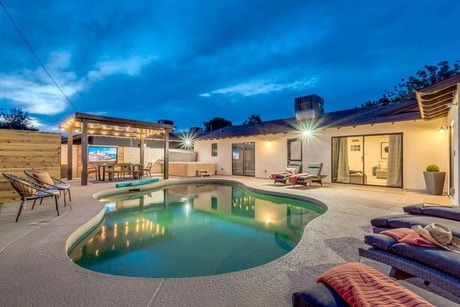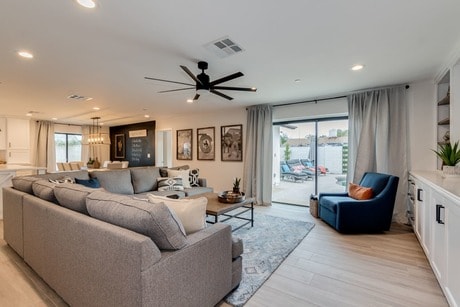 With the perfect balance of luxury and comfort, this 14-guest Scottsdale vacation home cannot be any more perfect. Like many of the homes in Scottsdale, the backyard is the jewel of the house, and this Airbnb is no exception.

Start your day with a refreshing dip in the large swimming pool. When you have completely woken up, bathe in the sweet Arizona sun on or of the sun loungers. Feel the warmth slowly release all the tension in your body.

When you are ready to explore Scottsdale, you will find the best of Scottsdale right at your doorsteps. Old Town Scottsdale is located only minutes away, giving you access to the best that Scottsdale has to offer. You will also find golf courses, a casino, top golf, and spring training games nearby.

After a tiresome day, return home and cozy up next to the fire pit on the cushioned bench. If you haven't eaten yet, gather up the family and enjoy dinner at the outdoor dining area, equipped with a large flat-screen TV.

Finish off the night with a soothing soak in the heated jacuzzi. Don't forget to stargaze in the hot tub and admire the starry desert sky!

Maximum Occupancy: 14 Guests

Click here for more info!
Best Scottsdale Airbnbs For Couples
1. Scottsdale Home Away From Home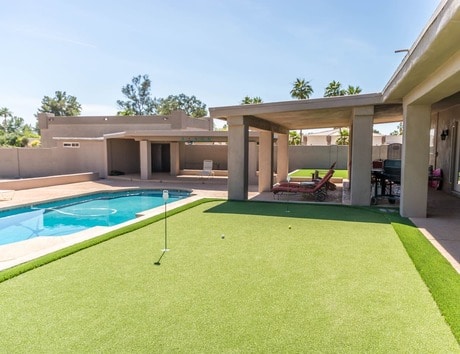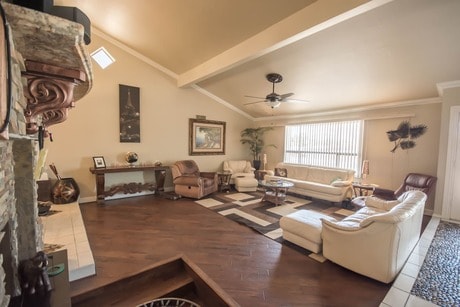 Looking for a quiet place to enjoy the company of your loved one? Then this Scottsdale home away from away is unmatchable. As one of the most value-for-money Airbnbs in Scottsdale, guests can enjoy a private swimming pool, weight equipment, a putting green, and a basketball hoop in your backyard.

Most amenities that are considered luxuries in Arizona can available here for a maximum of 2 guests to enjoy. When you are not hanging out in the backyard, you will find nothing but comfort in the spacious living room with a massive couch and a 70″ TV.

Visitors also get the hospitality of a host that lives on-site (No you are not sharing any of your space with the host). Mike (the host) ensures that you have the best experience possible by giving you local tips and information! Anyone foreign to this part of Arizona will find his guidance very useful!

Maximum Occupancy: 2 Guests

Click here for more information!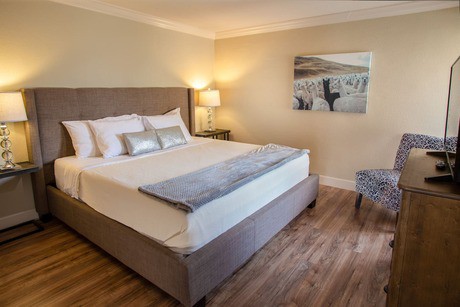 Do you like to be close to the action when traveling? Yes? Then this Old Town Scottsdale Airbnb is ideal for you. Located in Old Town Scottsdale, you are minutes away from the best restaurants, nightclubs, bars, cafes and shopping the city has to offer.

Situated on the fourth floor, you won't hear noise from anyone living above. Guests will find nothing but serenity and comfort in this modern Scottsdale Condo.

When you are not lounging on the soft fabric couch enjoying the flat-screen TV, hang out on the balcony and bask in the glorious Arizona sun. If you don't want to venture out, cook a delicious homemade meal from in the fully-equipped kitchen!

Because this apartment unit is in a large residential complex, guests will also have access to common areas such as a massive swimming pool and laundry services.

Maximum Occupancy: 5 Guests

Click here to see more photos and availability!
Best Cheap Places To Stay In Scottsdale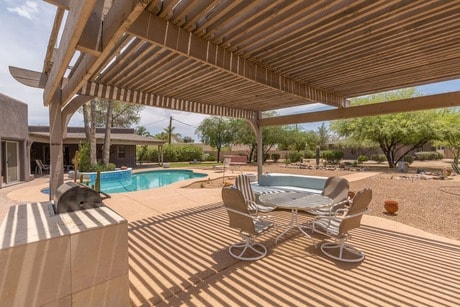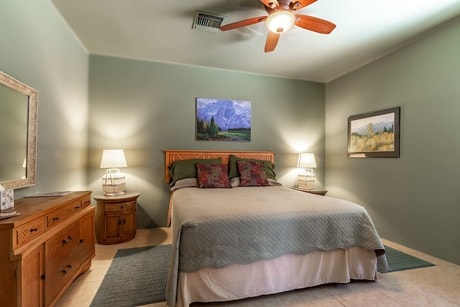 This secluded Airbnb is the definition of affordability meets luxury. Located on a Scottsdale estate in a separate building from the main residence (where the host resides), guests can enjoy the amenities that come with a luxury home.

In the backyard, you will find a large swimming pool, a hot tub spa (only in winter), and a ramada with a gas grill. Because you are only sharing with the hosts, you will often have the entire outdoor space to yourself.

The 630 sqft guest suite contains four air-conditioned rooms. Guests will find a large bedroom with a king bed and a den with a queen-size sofa couch, all ready for your enjoyment. Though not the most impressive, the kitchen is sufficient enough for everyday meals.

If you are traveling with pets, this is one of the most pet-friendly Airbnbs in Scottsdale. The host has a friendly German Shepherd so they are familiar with dogs. However, there is a small additional fee for pets.

Maximum Occupancy: 4 Guests

Click here for more details!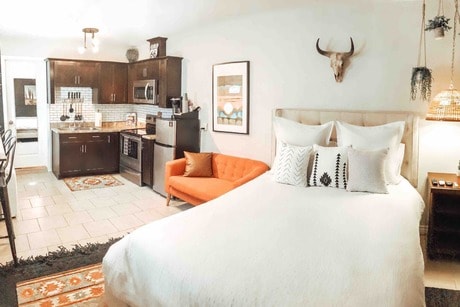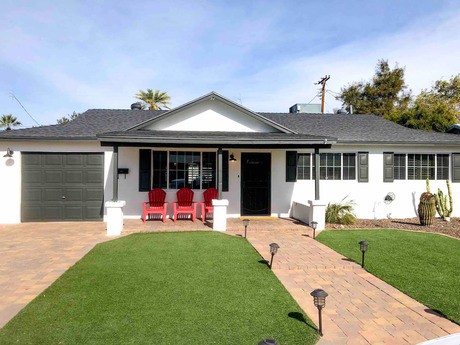 If you are just looking for a comfortable home where you can explore Scottsdale and its surrounding beauty, this cheap Scottsdale Airbnb is perfect for you. This private studio is attached to the main house (where the host resides) but has its own private entrance. Chances are you won't even see the host, especially with the self-check-in.

Centrally located in a quiet neighborhood, not only will guests have the desired peace and quiet, but they will be close to the sights of Scottsdale. Scottsdale Airport, Cubs spring training, Old Town Scottsdale, Papago Mountain hiking trails, Pheonix Zoo, Tempe Town Lake and ASU Campus are all located a few minutes away.

Beautiful interior decor matched with good use of space results in everything you need for a comfortable stay. Guests (and their wallets) can rest peacefully on the queen-size bed and wake up to a nice cup of coffee from the Keurig machine!

Maximum Capacity: 2 Guests

Click here for more information!
Like this post? Don't forget to save it on Pinterest! ?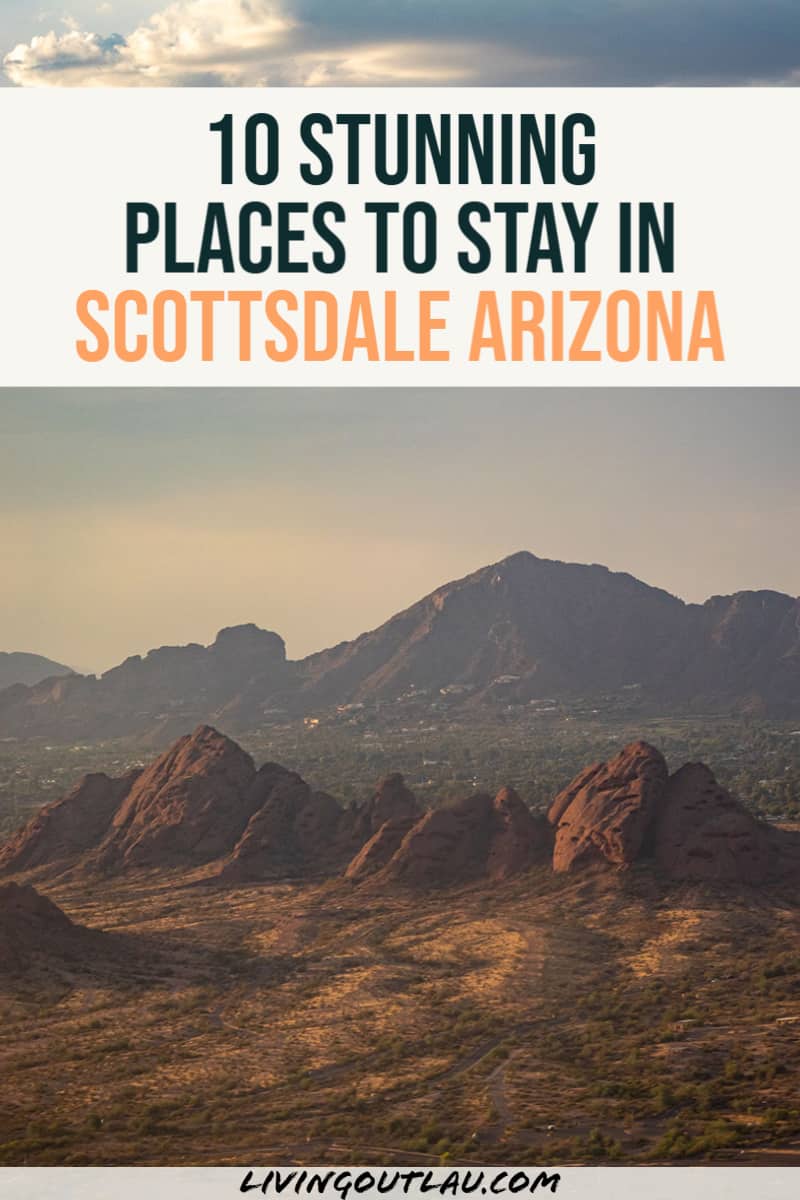 With so many Airbnbs in Scottsdale, finding the perfect one is not easy. We hope our Scottsdale guide has given you a good idea of the best places to stay in Scottsdale so you can have the perfect trip in the Arizona desert!

Any questions? Leave a comment below!
Disclaimer: Some of the links above are affiliate links. That means if you book or make a purchase through the links, we will earn a small commission at no extra cost to you! The money will help run this site! Thank you!
All Images Of Properties Courtesy of Airbnb