Cusco (Cuzco), a colonial city that used to be the capital of the Inca empire, is filled with beautiful cobble-stoned streets, cute alpaca on the streets, and amazing Peruvian gastronomy. Not only is the city one of the places you must visit in Peru, but Cusco itself is a good place to visit all the attractions nearby. Rainbow Mountain, Macchu Picchu, Sacred Valley, these are just some of the places you can visit from Cusco.
Due to its popularity with tourists, there are so many different accommodations in Cusco. Selecting the best place to stay in Cusco from the hundreds of choices is quite a challenging task. Luxury hotel, hostels, bed and breakfast, boutique hotels, what do you pick?
Don't worry! In this guide, we will help you decide where to stay in Cusco to make sure you have the perfect visit to this UNESCO Heritage Site! 
Want a Quick Tip on Where to Stay in Cusco, Peru?
In a hurry to decide on where to stay in Cusco?
Our favorite neighborhood in Cusco is San Blas!
San Blas is a neighborhood immediately north of the Plaza de Armas, or the Main Square of Cusco. Though still considered as part of the historic center, San Blas is concentrated with some of the best things to do in Cusco.
A beautiful and colonial area filled with artisan crafts and traditional Peruvian restaurants, San Blas is undoubtedly one of the best places to stay in Cusco. The whole neighborhood is filled with Inca architecture and artifacts such as the twelve-angled stone.
This is one of the most tourist-friendly neighborhoods in Cusco. As a result, there are some of the best hostels and hotels in Cusco in this neighborhood.
Like this post? Don't forget to save it on Pinterest! 🙂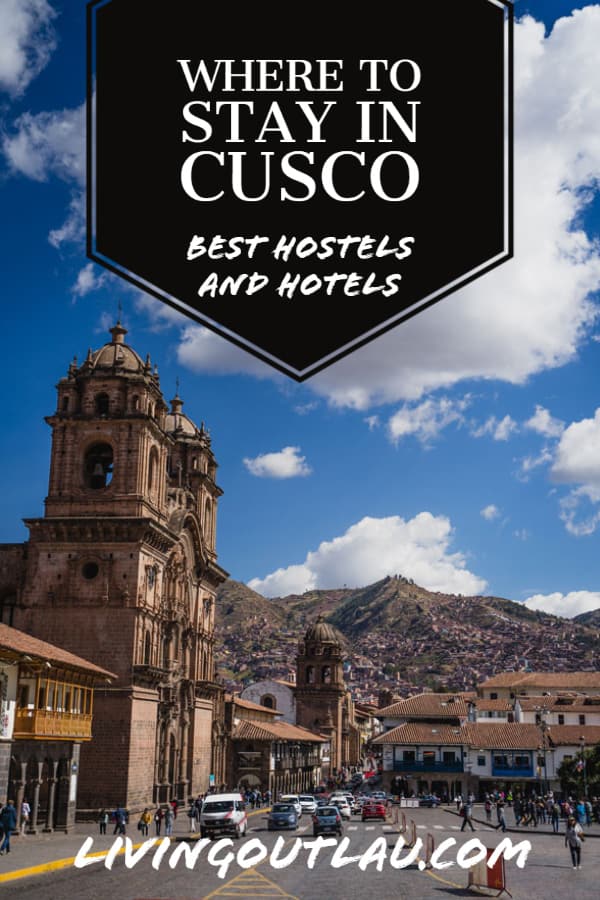 Deciding on where to stay in Cusco can difficult with the number of accommodations there are. Hopefully, this guide helped you decide on the best places to stay in Cusco!
Any questions? Leave a comment below!
Disclaimer: Some of the links above are affiliate links. That means if you book through the links, we will earn a small commission at no extra cost to you! The money will help run this site! Thank you 🙂