Cusco (Cuzco), a colonial city that used to be the capital of the Inca empire, is filled with beautiful cobble-stoned streets, cute alpaca on the streets, and amazing Peruvian gastronomy. Not only is the city one of the places you must visit in Peru, but Cusco itself is a good place to visit all the attractions nearby. Rainbow Mountain, Macchu Picchu, Sacred Valley, these are just some of the places you can visit from Cusco.
Due to its popularity with tourists, there are so many different accommodations in Cusco. Selecting the best place to stay in Cusco from the hundreds of choices is quite a challenging task. Luxury hotel, hostels, bed and breakfast, boutique hotels, what do you pick?
Don't worry! In this guide, we will help you decide where to stay in Cusco to make sure you have the perfect visit to this UNESCO Heritage Site! 
Want a Quick Tip on Where to Stay in Cusco, Peru?
In a hurry to decide on where to stay in Cusco?
Our favorite neighborhood in Cusco is San Blas!
San Blas is a neighborhood immediately north of the Plaza de Armas, or the Main Square of Cusco. Though still considered as part of the historic center, San Blas is concentrated with some of the best things to do in Cusco.
A beautiful and colonial area filled with artisan crafts and traditional Peruvian restaurants, San Blas is undoubtedly one of the best places to stay in Cusco. The whole neighborhood is filled with Inca architecture and artifacts such as the twelve-angled stone.
This is one of the most tourist-friendly neighborhoods in Cusco. As a result, there are some of the best hostels and hotels in Cusco in this neighborhood.
Best Place to Stay in Cusco, Peru
Cusco is one of the most popular tourist destinations in Peru. Consequently, many travelers believe that there are many different neighborhoods to stay in Cusco.
That is not true.
Most hotels and hostels are near Plaza de Armas, or the Main Square of Cusco. This entire area is called the historic center, or Centro Historico in Spanish, and it is the best place to stay in Cusco. Restaurants, the Cusco Cathedral, souvenir stores, and tour agencies (for Machu Picchu, Rainbow Mountain, Sacred Valley, etc) are all located in the historic center.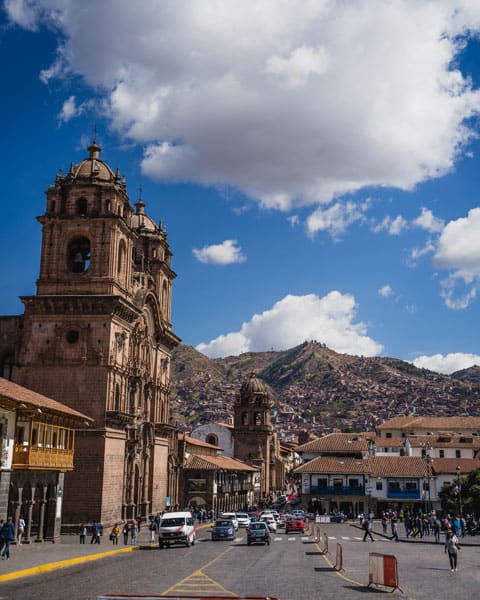 Any accommodation in the historic center is a good place to stay in Cusco. The entire neighborhood is very walkable and you can go from one end to the other end in 20 minutes.
There is a sub-neighborhood in the north and northwest parts of the historic center called San Blas. San Blas is a historical area filled with handicrafts, Peruvian souvenirs such as alpaca clothing, and restaurants with amazing Peruvian cuisine. 
Known for its hippie culture and artistic vibes, travelers interested can stay in San Blas. It is not particularly important to stay in the San Blas area because you can simply walk to it in less than 15 minutes.  
Best Airbnbs in Cusco, Peru
Staying at an Airbnb in Cusco is an excellent way to directly give back to the local communities. Often time, these accommodations offer a more cozy environment compared to traditional hotels, as well as unique amenities such as fully equipped kitchens, access to rooftops and terraces, laundry machines and more.
The hosts of the Airbnb are often locals who have been in the area for a long time. They will not only be able to assist you with basic tourist information but can also tell you about the hidden gems in Cusco. It is one of the better ways to fully experience the culture of Peru!
Here are some of the best Airbnbs in Cusco, Peru!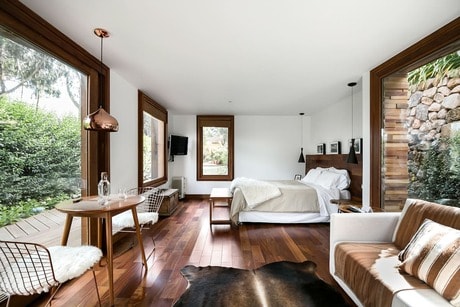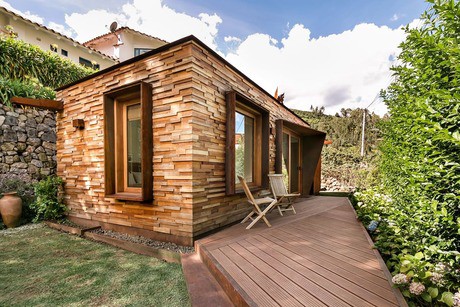 (Images Courtesy of Airbnb)
If you are looking for a cozy getaway in a cabin in Cusco, then consider this Cusco Airbnb. Located below the Sacsayhuaman Ruins, visitors can far enough from the hustle and bustle of the historic center, but close enough that visiting there wouldn't be a hassle.
The 15-minute walk to the city center offers a unique insight into the people living right outside of the historic center. The Incan Sacsayhuaman Ruins are also located on your doorstep.
Inside this studio cabin is a double bed and allowing a maximizing of 2 guests to stay. The interior decor is sleek with wooden and stone elements. There is also a kitchen for guests who would like to cook!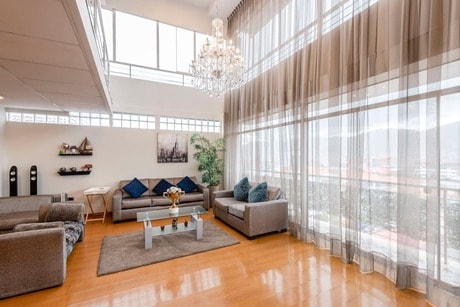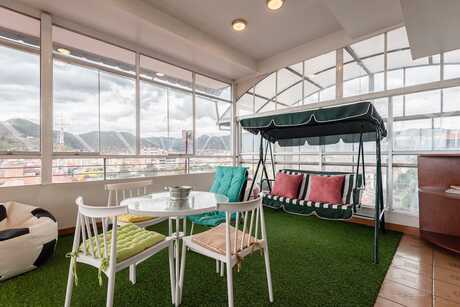 (Images Courtesy of Airbnb)
If you are looking for visiting Cusco as a family or a big group, then consider this luxurious and cozy duplex apartment. Featuring a total of 5 bedrooms, this Airbnb in Cusco can comfortably accommodate 10 guests!
With a high ceiling and spacious areas, guess will feel like they are staying in a luxury hotel. Its floor-to-ceiling windows in the living rooms offer incredible views of the charming city of Cusco.
This Cusco Airbnb is located a 5-minute ride from the historic center, or a 25-minute walk. The neighborhood is quieter than the center but has enough eateries and shops around. Travelers with kids would unquestionably fall in love with this place!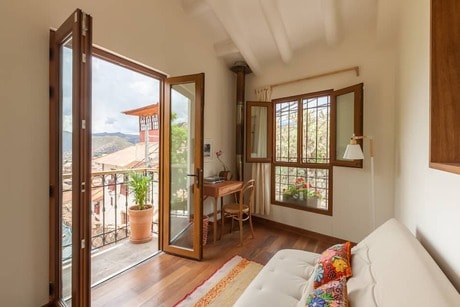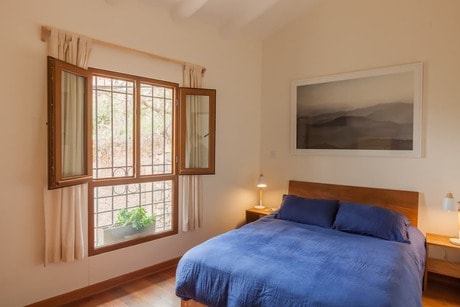 (Images Courtesy of Airbnb)
Located a few blocks away from Plaza De Armas, this Airbnb is the perfect place to stay for anyone that likes to stay near the action.
With features like a balcony overlooking Cusco, a wood-burning fireplace in the living room, a fully-equipped kitchen in a total of 2 floors, guests will find the utmost comfort and coziness here.
Wake up to the beautiful view from the balcony, make a delicious cup of coffee from the French coffee maker, spend the day exploring the nearby sights, fall asleep in your dreamy double size bed, and repeat!
This Airbnb can comfortably accommodate 4 guests with its double bed and sofa bed!
Like this post? Don't forget to save it on Pinterest! 🙂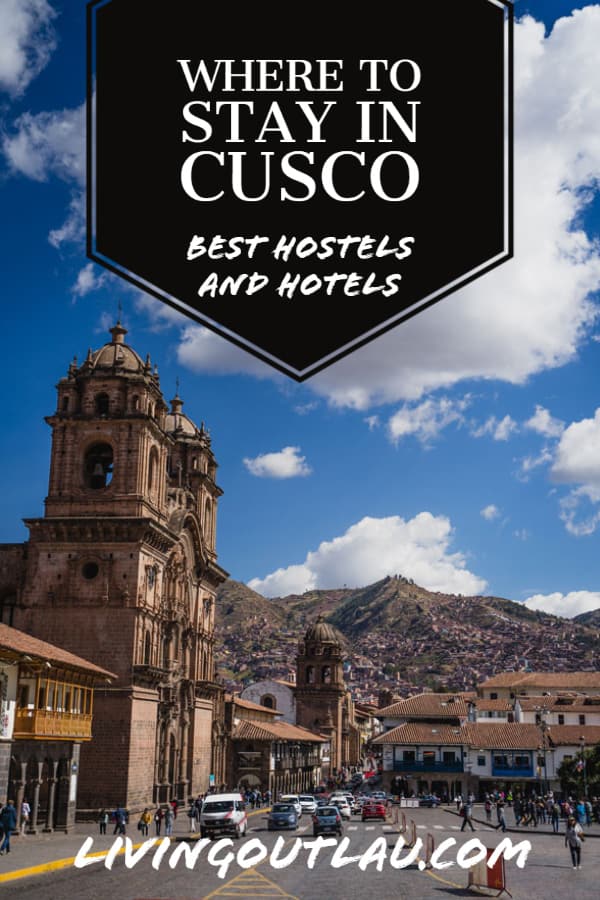 Deciding on where to stay in Cusco can difficult with the number of accommodations there are. Hopefully, this guide helped you decide on the best places to stay in Cusco!
Any questions? Leave a comment below!
Disclaimer: Some of the links above are affiliate links. That means if you book through the links, we will earn a small commission at no extra cost to you! The money will help run this site! Thank you 🙂