Cusco (Cuzco), a colonial city that used to be the capital of the Inca empire, is filled with beautiful cobble-stoned streets, cute alpaca on the streets, and amazing Peruvian gastronomy. Not only is the city one of the places you must visit in Peru, but Cusco itself is a good place to visit all the attractions nearby. Rainbow Mountain, Macchu Picchu, Sacred Valley, these are just some of the places you can visit from Cusco.
Due to its popularity with tourists, there are so many different accommodations in Cusco. Selecting the best place to stay in Cusco from the hundreds of choices is quite a challenging task. Luxury hotel, hostels, bed and breakfast, boutique hotels, what do you pick?
Don't worry! In this guide, we will help you decide where to stay in Cusco to make sure you have the perfect visit to this UNESCO Heritage Site! 
Want a Quick Tip on Where to Stay in Cusco, Peru?
In a hurry to decide on where to stay in Cusco?
Our favorite neighborhood in Cusco is San Blas!
San Blas is a neighborhood immediately north of the Plaza de Armas, or the Main Square of Cusco. Though still considered as part of the historic center, San Blas is concentrated with some of the best things to do in Cusco.
A beautiful and colonial area filled with artisan crafts and traditional Peruvian restaurants, San Blas is undoubtedly one of the best places to stay in Cusco. The whole neighborhood is filled with Inca architecture and artifacts such as the twelve-angled stone.
This is one of the most tourist-friendly neighborhoods in Cusco. As a result, there are some of the best hostels and hotels in Cusco in this neighborhood.
Best Place to Stay in Cusco, Peru
Cusco is one of the most popular tourist destinations in Peru. Consequently, many travelers believe that there are many different neighborhoods to stay in Cusco.
That is not true.
Most hotels and hostels are near Plaza de Armas, or the Main Square of Cusco. This entire area is called the historic center, or Centro Historico in Spanish, and it is the best place to stay in Cusco. Restaurants, the Cusco Cathedral, souvenir stores, and tour agencies (for Machu Picchu, Rainbow Mountain, Sacred Valley, etc) are all located in the historic center.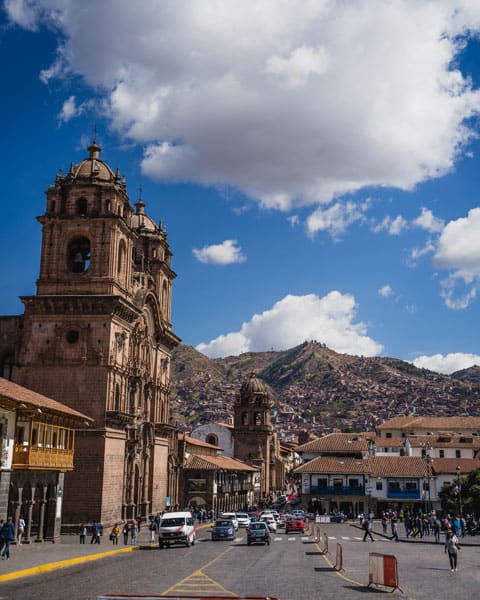 Any accommodation in the historic center is a good place to stay in Cusco. The entire neighborhood is very walkable and you can go from one end to the other end in 20 minutes.
There is a sub-neighborhood in the north and northwest parts of the historic center called San Blas. San Blas is a historical area filled with handicrafts, Peruvian souvenirs such as alpaca clothing, and restaurants with amazing Peruvian cuisine. 
Known for its hippie culture and artistic vibes, travelers interested can stay in San Blas. It is not particularly important to stay in the San Blas area because you can simply walk to it in less than 15 minutes.  
Best Hotels in Cusco, Peru
Selecting the right hotel for your Cusco trip might be daunting because of the countless number of hotels in Cusco. Not only that, the language barrier and the high altitude (3399m) are obstacles that you will inevitably encounter on your visit to Cusco.
The typical hotels that are amazing for your normal trips are no longer suitable. You need an accommodation in Cusco that is accustomed to the problems tourists face in this new foreign land.
You might suffer altitude sickness in Cusco due to its high altitude (most do), so your Cusco hotel needs to be able to provide oxygen support. The staff in the hotel should be able to tell you the best things to do in Cusco and the most economical way to go about those activities. It should recommend local Peruvian dishes to try, but also not try to scam you because you are a tourist.
Just having big spacious rooms with comfortable beds, luxurious decorations, and free high-speed wifi is no longer sufficient. Below we have listed our favorite hotels in Cusco that will make your visit perfect! 
Best 5-Star Hotels in Cusco, Peru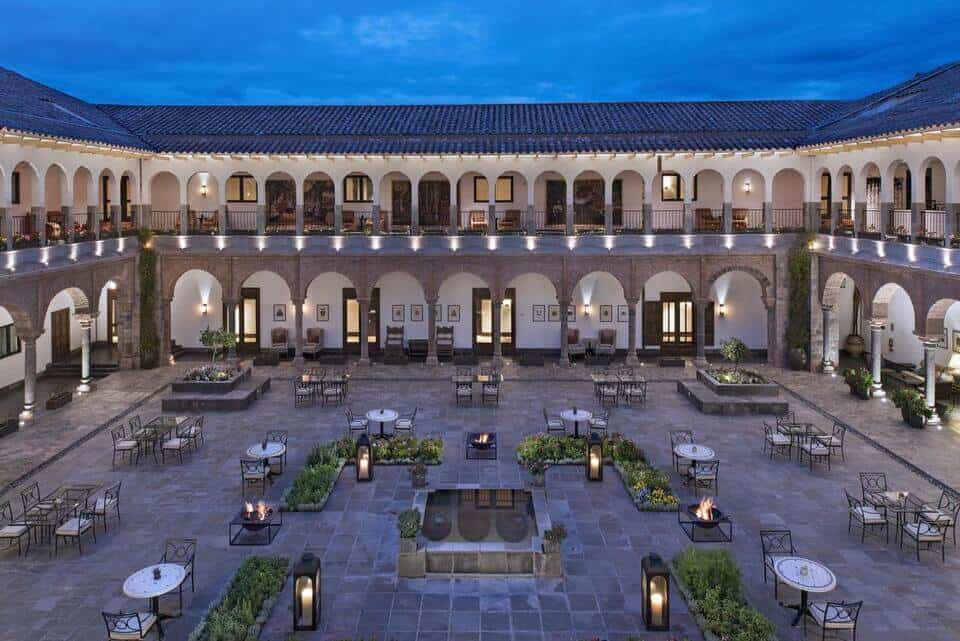 JW Marriott El Convento is one of the best 5-star hotels in Cusco. Come and enjoy the beautiful and ancient courtyard and play with the baby alpaca Panchita. Stay in one of the oxygen-enriched rooms with real historic Inca walls. The hotel itself feels like its own lost city inside Cusco, a relic of the past. The staff is happy to assist you with anything including planning your trip to Machu Picchu.
If you don't feel so well after hiking in the Andes, visiting Machu Picchu, or for any altitude-related sickness, the hotel offers free oxygen treatment that will make you feel better. After the oxygen treatment, relax in their indoor relaxation pool or their spa.
Their breakfast buffet is filled with international and Peruvian delicacies and is the perfect way to start your sightseeing in Cusco.
The personalized attention you get from this hotel makes it feel like a 5-star home, not a hotel.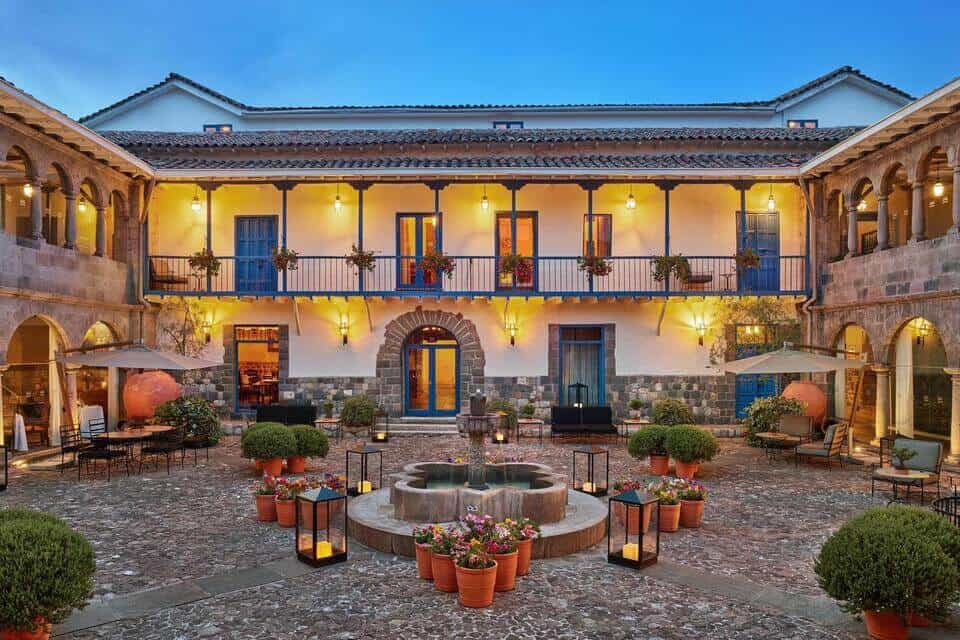 One of the best 5-star Cusco hotels with oxygen, Palacio del Inka is located in a historic Inca site. The hotel is named Palacio del Inka because it used to be a palace for the Inca.
Daily tours of the hotel are offered to explain the significance and the history of the Inca. Lessons for Pisco sour, the national drink of Peru, are also offered daily. 
The hotel is one of the few hotels with a gym, perfect for travelers who need a little bit of training before doing the Inca Trail, Salkantay Trek, or any other hikes to Machu Picchu.
Travelers that have not adapted to the altitude of Cusco can visit the adjacent Qorikancha, the most important temple in the Inca Empire.
The staff is attentive and will personally go above and beyond to make sure you have a good time in the hotel and outside the hotel in Cusco.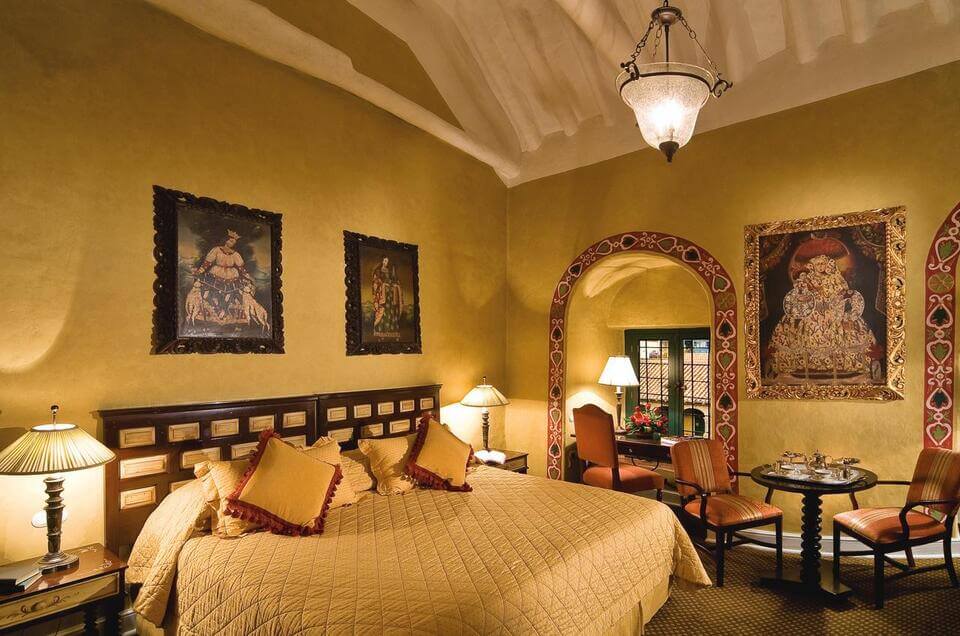 Was it ever your dream to stay in a monastery? Well here is your chance. Belmond Hotel Monasterio is a beautifully restored 15th-century monastery. Most of the design of the monastery has been kept the way it was, as visible by the beautiful courtyard and architecture. It is an attraction in Cusco on its own
The experience of staying in this hotel is a bucket list item in Peru. If you are not sure where to stay in Cusco and want a unique accommodation, consider staying at Belmond Hotel Monasterio.
This 5-star hotel also has one of the best breakfast buffets in Cusco. Their oxygen-enriched rooms can help anyone suffering from altitude sickness. This 5-star hotel is a great base for all the activities you will be doing in Cusco.
Best Cheap Hotels in Cusco, Peru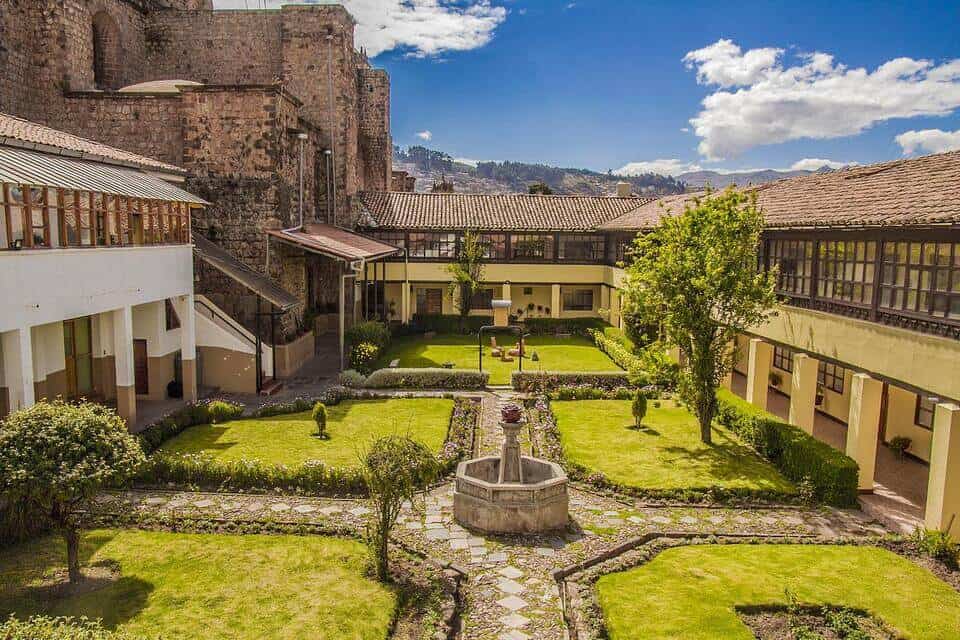 If you want to stay in a monastery but don't want to spend big money on the hotel? Consider Hotel Monasterio San Pedro. Located across the local market San Pedro, you can eat local Peruvian food, shop for alpaca souvenirs, and observe Peruvian culture just right across the street.
As a restored monastery, the hotel has one of the most beautiful courtyards in Cusco. It is the perfect place to relax after a day of exploring the Cusco or visiting Machu Picchu.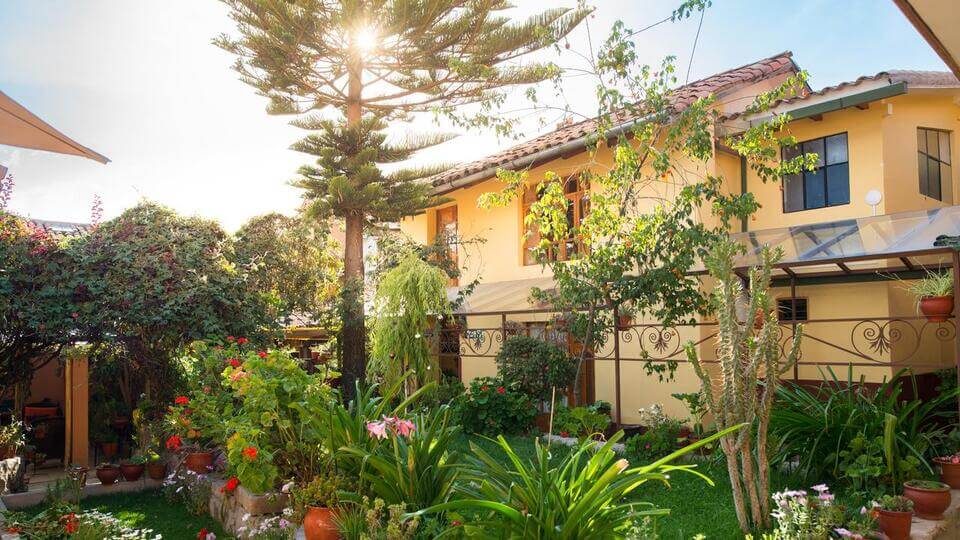 Hosteria de Anita is a small cheap hotel located in the San Blas neighborhood of Cusco. Many of the famous attractions such as the twelve-angled rock, Plaza de Armas, and Cusco Cathedral are just within a 10-minute walk. With affordable and spacious rooms, an amazing breakfast buffet, and a cute courtyard to relax, guests will surely fall in love with this economical hotel.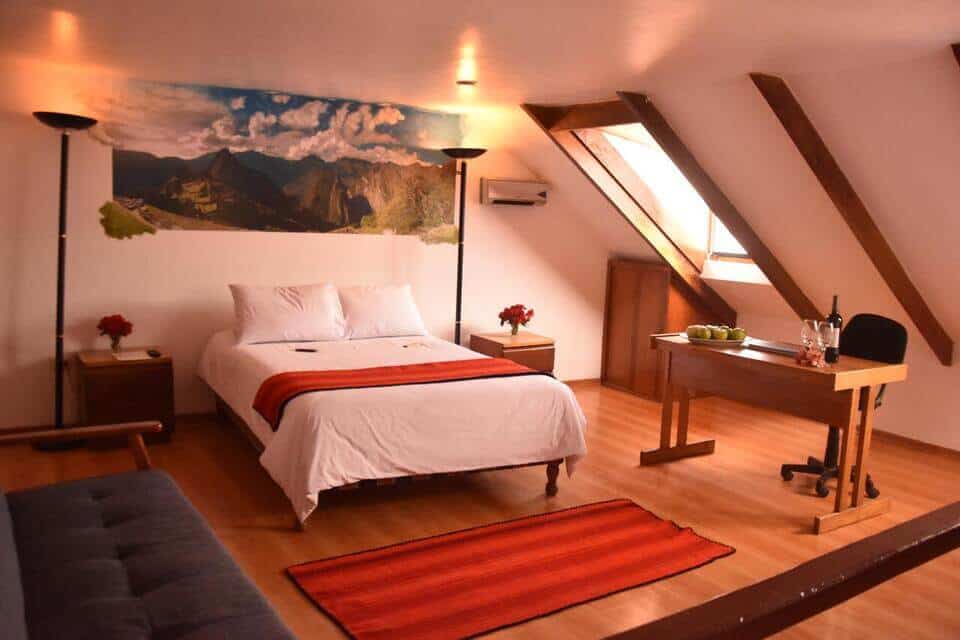 Not only is Los Aticos B&B a cheap accommodation, but it is also one of Cusco's best bed and breakfast establishments. Located close to the main square Plaza de Armas, guests can enjoy the convenience of visiting Cusco's best attractions.
This bed and breakfast is situated in a small alley with just foot traffic, so guests can rest in peace and quiet, something that is rare so close to the historic center.
The buffet breakfast, big spacious rooms, and the friendly staff working at the 24-hour reception make this cheap bed and breakfast one of my favorite places to stay in Cusco!
Best Vrbo/Airbnbs in Cusco, Peru
Staying in a Vrbo or Airbnb in Cusco is an excellent way to directly give back to the local communities. Often time, these accommodations offer a more cozy environment compared to traditional hotels, as well as unique amenities such as fully equipped kitchens, access to rooftops and terraces, laundry machines and more.
The hosts of Vrbo or Airbnb are often locals who have been in the area for a long time. They will not only be able to assist you with basic tourist information but can also tell you about the hidden gems in Cusco. It is one of the better ways to fully experience the culture of Peru!
Here are some of the best Vrbos and Airbnbs in Cusco, Peru!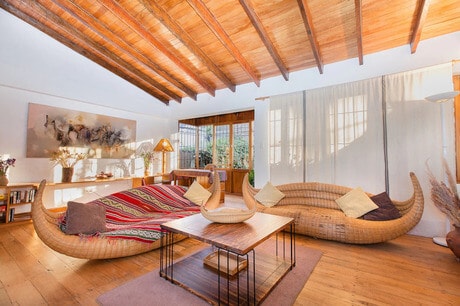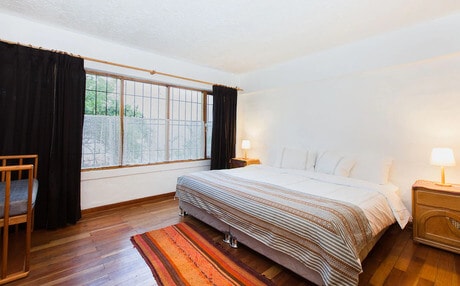 (Images Courtesy of Vrbo)
If you are looking for a cozy getaway in Cusco, then consider this Cusco Vrbo. Located on a quiet street in the historic center, visitors can far enough from the hustle and bustle, but close enough that visiting there wouldn't be a hassle.
If you want to venture outside of the historic center, you can elect to visit Sacsayhuaman Incan Ruins. The short 30-minute walk offers insight into the lives of people outside of the historic center, as well as training you for the upcoming hikes in Peru.
Inside this 3-bedroom apartment is a unique decor offering glimpses into Peruvian culture. For example, the couches are shaped like the boats you will find on the Titicaca Lake near Puno.
There is also a garden and a terrace for guests to enjoy the glorious Cusco sun. Guests wanting to make a homemade meal can utilize the well-equipped kitchen.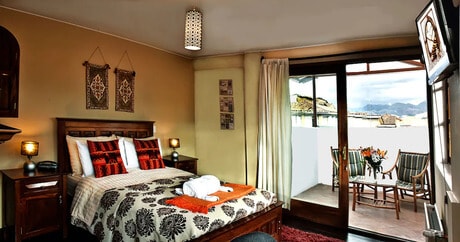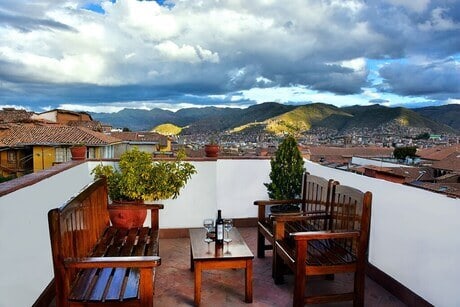 (Images Courtesy of Vrbo)
If you are looking for visiting Cusco as a pair or couple, then consider this homey penthouse apartment. Its most iconic feature is the rooftop, where guests can relax on one of the benches and take in the panoramic views of the Andean Mountain Range.
This Cusco vacation rental is located two blocks away from Plaza De Armas, the main plaza of Cusco. From the best restaurants to the best attractions in Cusco, everything is within walking distance away. The apartment is also situated above a hotel, where guests can enjoy its amenities.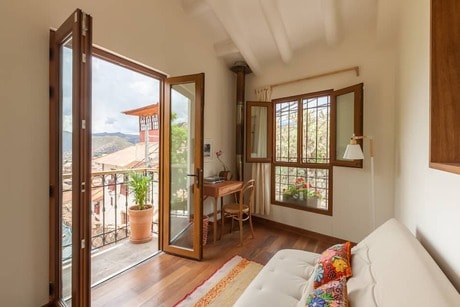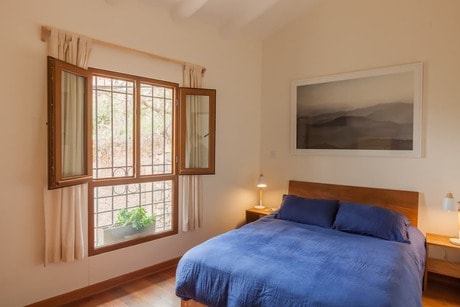 (Images Courtesy of Airbnb)
Located a few blocks away from Plaza De Armas, this Airbnb is the perfect place to stay for anyone that likes to stay near the action.
With features like a balcony overlooking Cusco, a wood-burning fireplace in the living room, a fully-equipped kitchen in a total of 2 floors, guests will find the utmost comfort and coziness here.
Wake up to the beautiful view from the balcony, make a delicious cup of coffee from the French coffee maker, spend the day exploring the nearby sights, fall asleep in your dreamy double size bed, and repeat!
This Airbnb can comfortably accommodate 4 guests with its double bed and sofa bed!
Like this post? Don't forget to save it on Pinterest! 🙂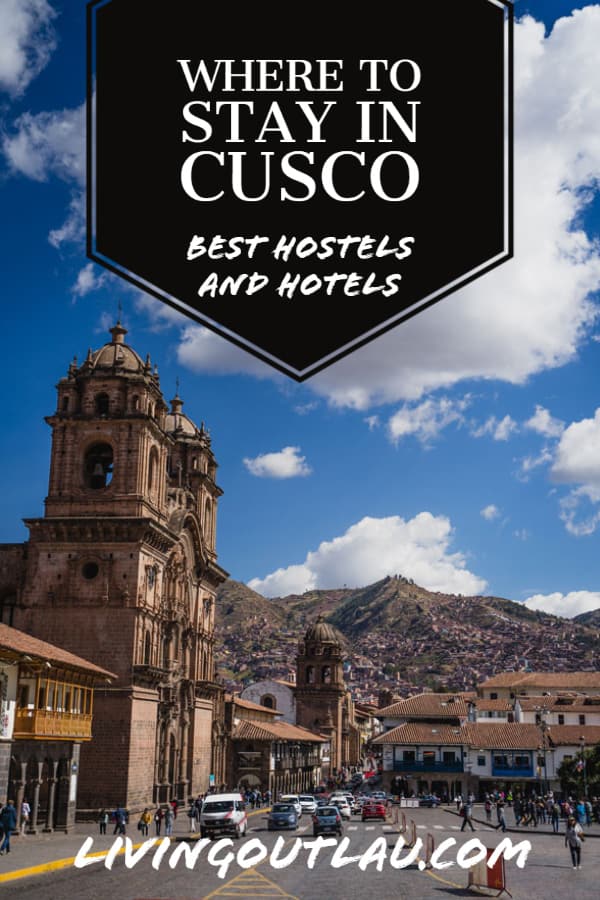 Deciding on where to stay in Cusco can difficult with the number of accommodations there are. Hopefully, this guide helped you decide on the best places to stay in Cusco!
Any questions? Leave a comment below!
Disclaimer: Some of the links above are affiliate links. That means if you book through the links, we will earn a small commission at no extra cost to you! The money will help run this site! Thank you 🙂