If you have ever wanted to travel to South America, you have probably realized that there are some vaccines you will need. Some of those are Hepatitis B, Hepatitis A, Tuberculosis, Yellow Fever, and many more. Many of these vaccines you will already have since a young age, but one that you probably do not have yet is the Yellow Fever vaccine.

Yellow Fever virus is mostly a problem in African and South American countries. So, if you have not traveled to those places before, you probably do not have the vaccine.

But DO NOT WORRY, I will tell you where you can get the Yellow Fever vaccine for FREE in Lima, Peru. That's right. COMPLETELY FREE. That is going to be about $200 USD that you will be saving by getting the yellow fever vaccine in Lima instead of back home.

You will just need to follow the directions below and bring an item with you!
Getting the Yellow Fever Vaccine for Free in Lima
The place to get the yellow vaccine for FREE is in a hospital called the Cayetano Heredia Hospital.

Cayetano Heredia Hospital is located in a neighborhood called San Martin de Porres. It is a fairly safe area in Lima, but we recommend getting an Uber regardless (no taxis!). Remember that when you are calling an Uber or taxi, there are many hospitals with similar names so make sure you are going to the one in San Martin de Porres.

If you are staying at Miraflores or Barranco (which you should), a taxi or Uber ride should be 30 minutes. I highly recommend taking the Uber there because the hospital with the free yellow fever vaccine is a fairly dangerous neighborhood.

Here are some personal accommodation recommendations in Miraflores or Barranco:

Low Budget: Alpes Hostel | Mid-Budget: Miraflores Guesthouse | High Budget: Apart San Martin

After you have arrived, make sure you check that you are in the right place. There is a clinic nearby that the Uber driver might drop you off at (like us). The entrance of the hospital should look like the picture above. Once you pass through the entrance, you need to go to the information kiosk. The information desk should look like something like this.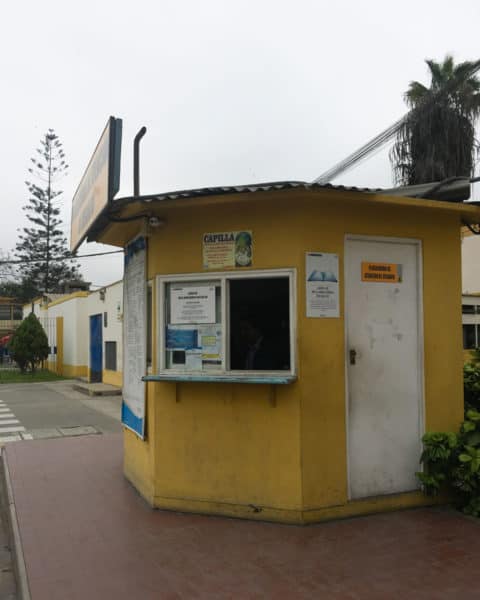 In the information kiosk, you will tell them you want the yellow fever vaccine, or "vacuna contra la fiebre amarilla" or even "fiebre amarilla" will work. The guy at the kiosk should either personally take you to the office for vaccines or tell you where to go.

The office for vaccines should look something like this.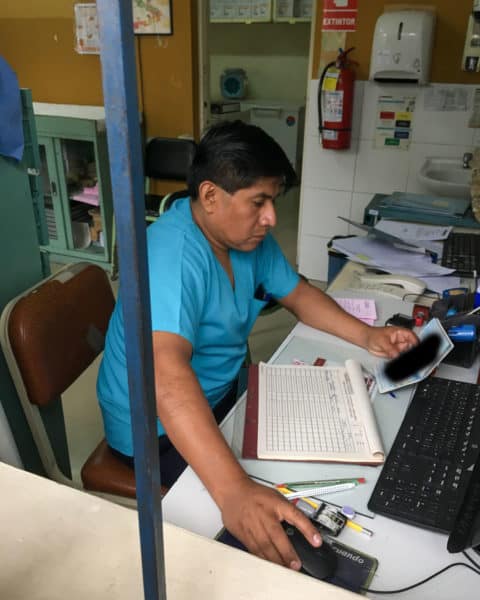 Here you will give the nurse the necessary documentation (passport) and put your name on a sign-in sheet. You will also tell the nurse that you need the yellow fever vaccine and nothing more. After you have registered yourself and the nurse has put you into the system, you will wait in the waiting area until your name is called.

The waiting area is directly outside the office for vaccines and should look like something like this.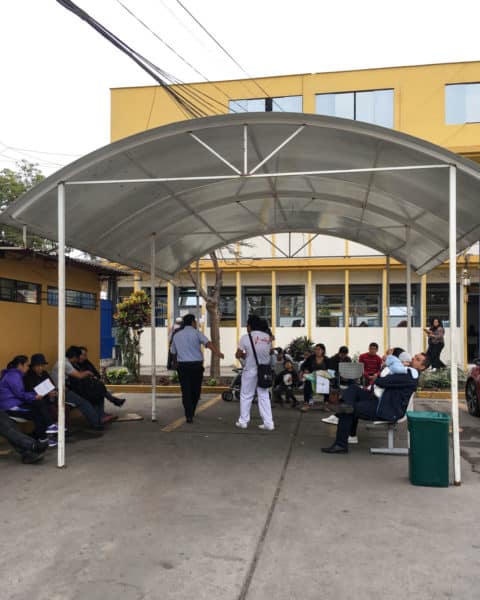 That's it! Wait until your name is called and you are on your way to your FREE yellow fever vaccine! Just remember that you need to be vaccinated at least 10 days before you travel to a country at risk of yellow fever. The Cayetano Heredia hospital also provides other vaccines for free if you have your passport as a foreigner.

After you are done, they will give you a pink/purple vaccination card issued by Peru's Ministry of Health. Here is what the front and back look like.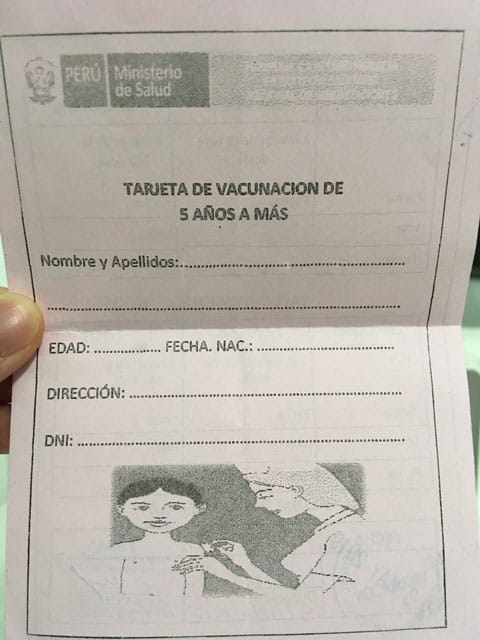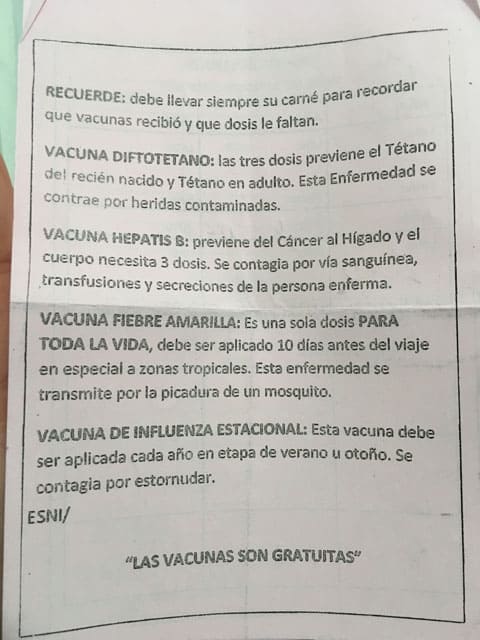 Here is what the inside looks like.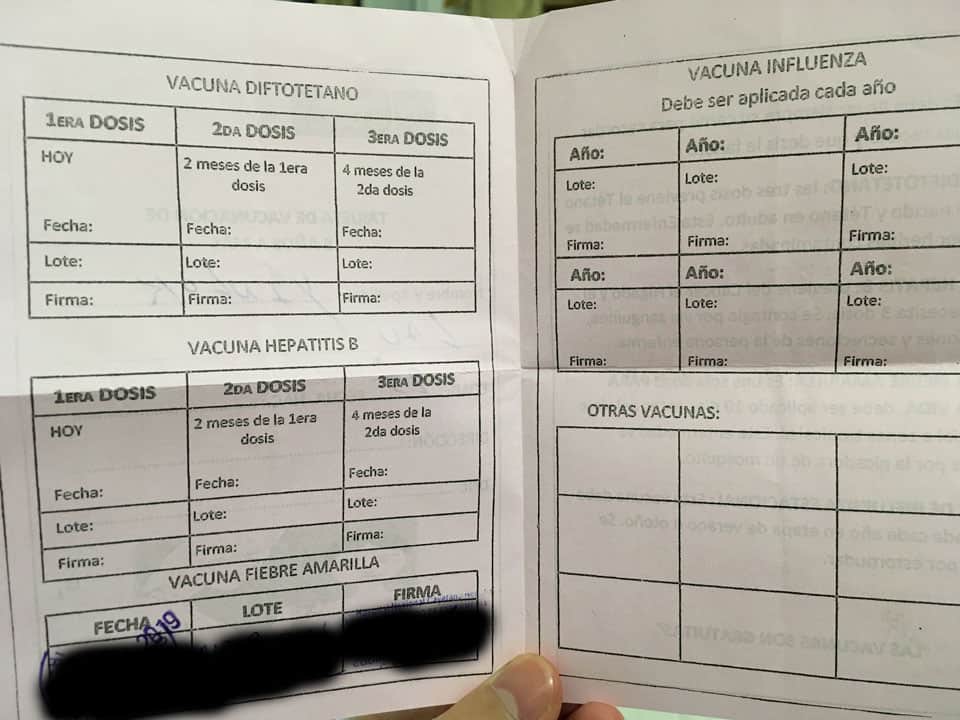 WHAT DO YOU NEED TO BRING FOR YOUR FREE YELLOW FEVER VACCINE
There is only one thing you need to bring for your free yellow fever vaccine: your passport. You don't need anything else besides your passport. If you are Peruvian, it is a little different and you need your DNI.
HOURS OF OPERATION OF THE HOSPITAL
The Cayetano Heredia Hospital where you can get the yellow fever vaccine for free is open all days of the week. However, the center for vaccines is not open every day and the hours are very different from the main hospital.

So if you tried to look up the hours of operation on the internet and decided to follow that and go, you might be in for a little bit of disappointment like we were. So please, follow the hours of operation I have listed below. We got this information directly from the center of vaccines itself.
The hours of operation to get your vaccines are:
Monday-Friday: 7 AM – 12PM | Saturday: 8AM-11AM | Sunday: Closed
What is Yellow Fever and Why You Should Get the Vaccine
If you are unsure what the yellow fever virus is and whether you should be protected against it, then continue reading.

The majority of the countries in South America should have yellow fever as a recommended vaccination. In 2017, there was a yellow fever outbreak in Brazil and many governments such as the United States has put yellow fever vaccination as a requirement for Brazil. Recently, the problem has gotten better and Brazil and Bolivia have been demoted to only recommended.

That does not mean you should forget about the yellow fever virus. Many parts of South America, especially near the Amazon jungle, are still at high risks. The virus itself is transmitted by certain types of mosquitoes that carry the virus.

Many countries in Europe and North America provide the yellow fever vaccine but at an exuberant cost. In a travel clinic, the yellow fever vaccine would cost $200 USD. This is 200 USD you can save by getting the yellow fever vaccine for FREE in Lima, Peru. 
SYMPTOMS OF YELLOW FEVER VIRUS
Yellow fever virus has a three to six days incubation period, meaning you won't see any symptoms doing that time. After that period of time, the disease enters an acute phase and then a toxic phase.

In the acute phase, you will have symptoms of fever, headache, nausea, loss of appetite, vomiting, dizziness or more. In the acute phase, the symptoms are very similar to other common diseases such as dengue fever, malaria, and other diseases.

The symptoms of the acute phase usually improve or resolve within several days. However, some individuals enter something called the toxic phase. This is where yellow fever could be deadly. Symptoms of the toxic phase include yellowing of the skin and the whites of your eyes, abdominal pain, and vomiting, sometimes with blood, liver and kidney failure, and much more.

For more information on the symptoms of yellow fever, refer to the CDC. 
DIAGNOSIS OF YELLOW FEVER VIRUS
If you think you have the yellow fever virus and your symptoms are similar to what is described above. Then the only way to diagnose it is through a blood test. If you have been traveling in high-risk regions then please don't hesitate to get a blood test. Tell your doctor what your travel history is and what your symptoms are. Better safe than sorry!
TREATMENT OF YELLOW FEVER VIRUS
The bad news is that there is no antiviral medication that has proven to be helpful for the yellow fever virus. As a result, more of the "treatment" available are just ways to mitigate the symptoms. If you are diagnosed with yellow fever, you might need to stay in a hospital to get the necessary help you need. Or the doctor might tell you to stay home to prevent spreading the virus to anyone else.

Good news is that once you have had the virus in your body once, you won't get infected again! That means you are immune to the yellow fever virus for life!
Like this post? Don't forget to save it on Pinterest!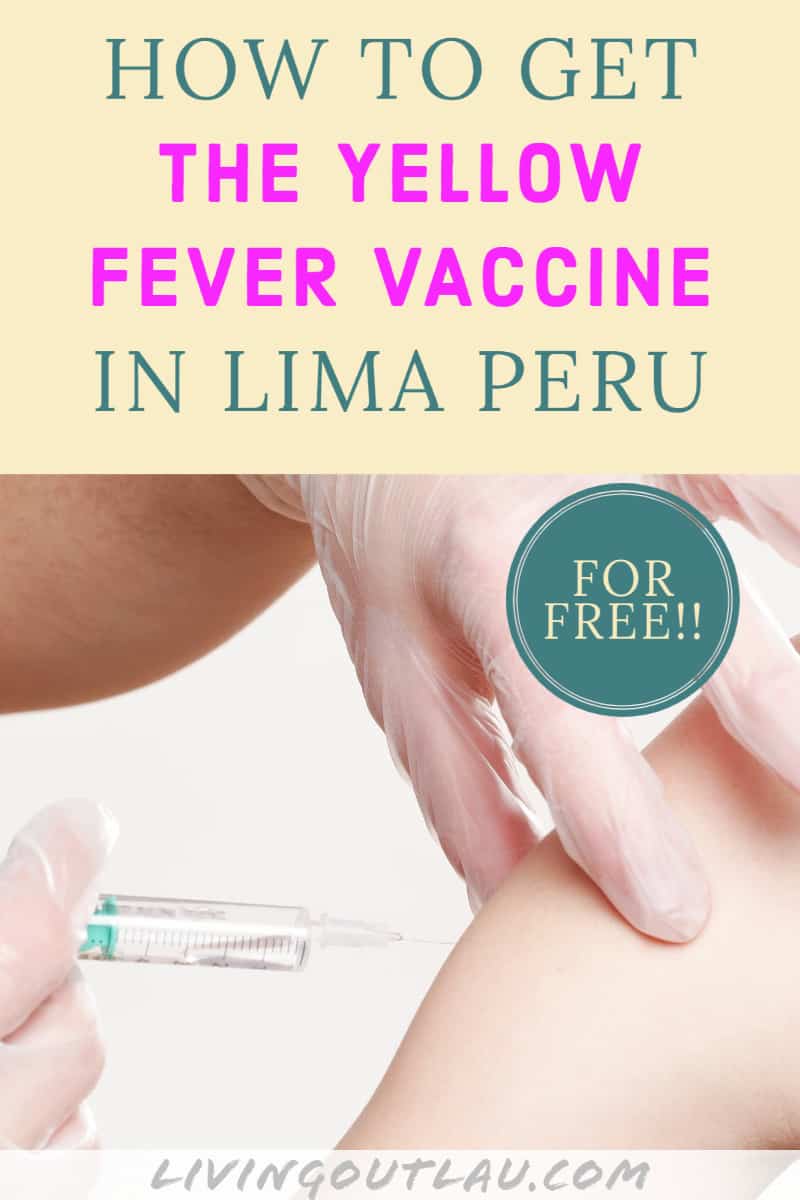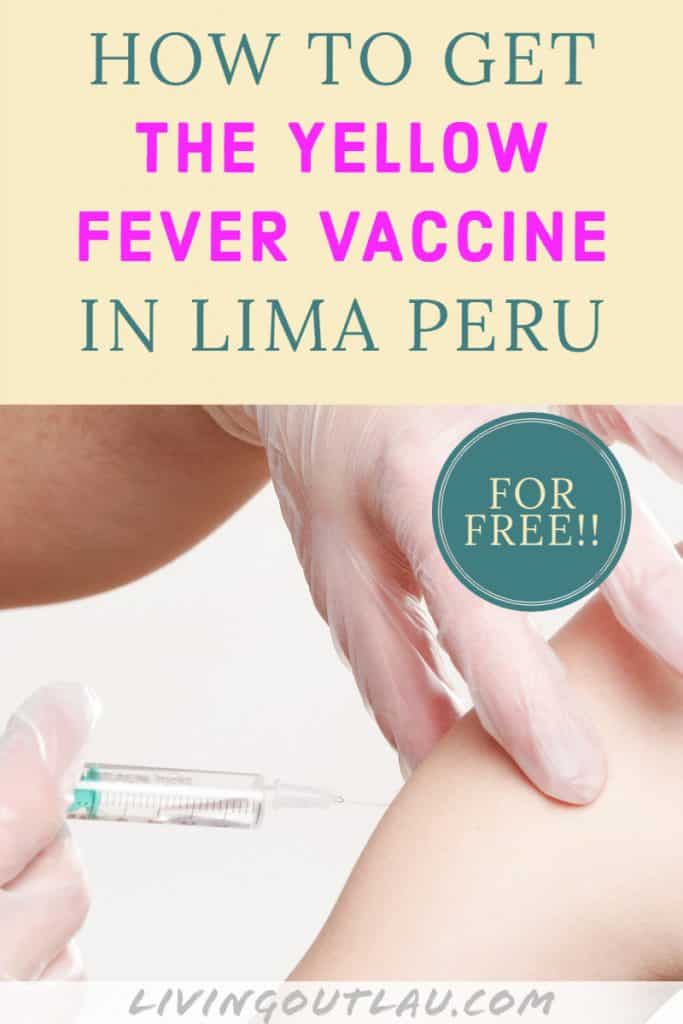 —This post serves as general information on the yellow fever virus. For more detailed information, please refer to the World Health Organization (WHO) website.
Disclaimer: Some of the links above are affiliate links. That means if you book or make a purchase through the links, we will earn a small commission at no extra cost to you! The money will help run this site! Thank you!