Guatemala is mostly known for its unique culture of both Spanish influences and Mayan heritages, breathtaking scenery with jungles and volcanoes dotting its landscapes, and its ancient Mayan ruins that tell the tales of one of the greatest civilizations in the world.
There are so many things Guatemala is famous for, which is why we have fallen in love with the beautiful country when we visited. From the diverse cuisine to its friendly locals and stunning natural beauty to its colonial towns, Guatemala is one of the most underrated countries in the world.
That is why we have decided to write this article on 21 things Guatemala is known for, so you can have a better understanding of this Central America country and whether you should visit it or not! (Spoiler alert: It's a yes!)
Enjoy!
---
What Is Guatemala Known For?
1. Tikal National Park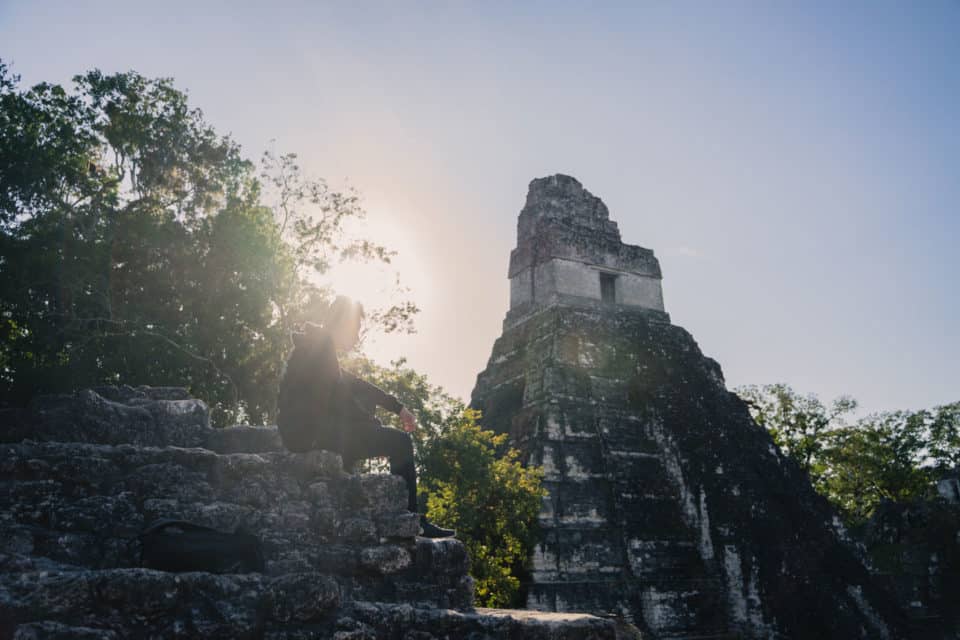 Buried deep in the thick Guatemalan jungle, the UNESCO World Heritage Site of Tikal National Park is, quite literally, one of Central America's hidden gems. Over 500 square kilometers of dense forest are dotted with thousands of Mayan ruins that were left degrading over thousands of years.
Not only is the Tikal National Park filled with ruins from an ancient city, but it is home to a wide variety of flora and fauna. Its location in a rainforest makes it home to animals such as toucans, jaguars, spider monkeys, and growler monkeys.
Extensive excavation and restoration over the years have allowed visitors to see this jaw-dropping feat of ancient engineering up close and today is one of the country's most popular attractions.
Watching the sunrise on Temple IV of Tikal National Park is one of the most epic things to do in Guatemala, so make an effort to make that happen when you are visiting Guatemala!
Read More: Camping in Tikal National Park: Is It Worth It?
2. Volcano Fuego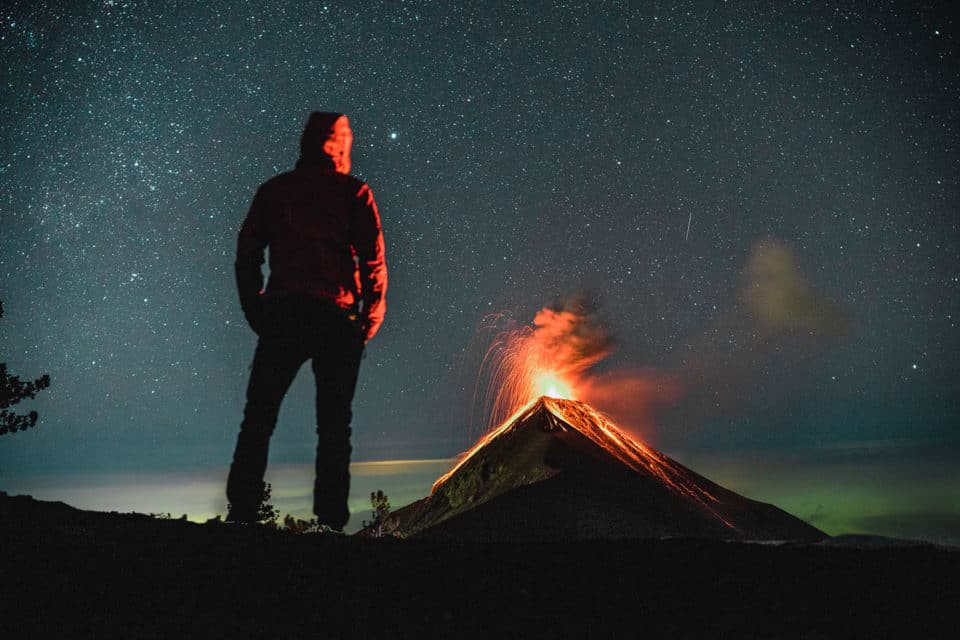 Volcan de Fuego is one of the most famous volcanoes in Guatemala. Unfortunately, it has made the news a few times, and not for good reason. It is one of Central America's most active volcanoes and has erupted violently multiple times in the past and caused widespread destruction.
Despite that, seeing Volcano Fuego remains one of the most popular activities in Guatemala. Luckily, for the majority of the time, Volcano Fuego's eruptions are quite tame, and visitors can witness them safely every 20 minutes on average.
Despite its relatively close proximity to mass civilization, Fuego is also one of the world's most active too, with small ash and gas eruptions occurring every 20 minutes on average
3. Antigua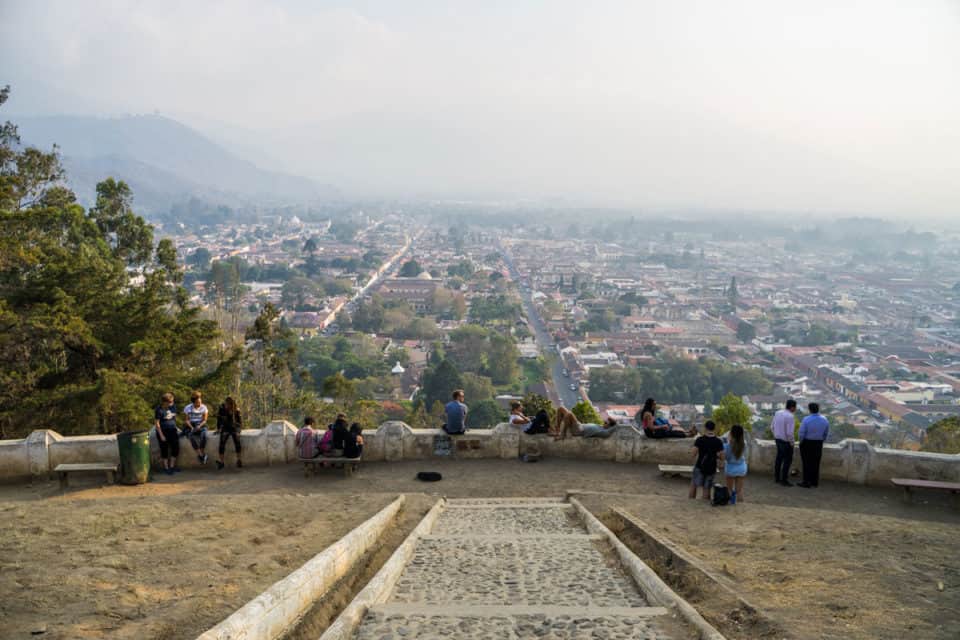 As the country's capital for almost 300 years, Antigua is a colonial city with copious amounts of history, from its days of Spanish colonization still visible today to the crumbling ruins of what were some of the city's most beautiful buildings.
Nestled between the volcanoes of Agua, Fuego, and Acatenango, Antigua was almost demolished during the 18th century following a series of devastating eruptions and earthquakes.
The city was subsequently abandoned, and in the 1800s, the rich, fertile soils of Antigua were enough to repopulate the city again with coffee and other crops providing sustainable business for locals.
Today, there are so many things to do in Antigua Guatemala including viewing the spectacular churches, hiking trails, Baroque architecture, and of course, one of the most famous landmarks in Guatemala, the Santa Catalina Arch that adorns 95% of the city's postcards.
4. Semuc Champey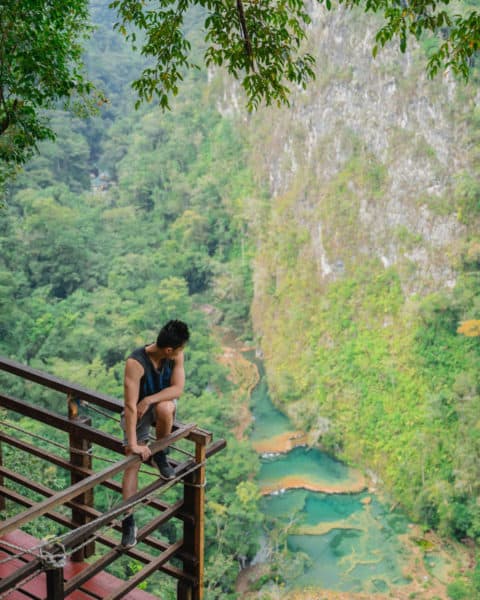 Semuc Champey may just be one of the most amazing natural wonders in Guatemala that you've never heard of. Needing an 8-hour drive from the nearest touristic city, followed by another 45 minutes of driving down extremely bumpy and dusty tracks on an open Jeep, Semuc Champey is very difficult to get to.
However, those who persevere will be rewarded. The natural monument of Semuc Champey is home to 300 meters of completely natural limestone 'bridges' atop crystal clear blue-shaded water, challenging hikes and even tours through caves.
If you are not short on time and don't mind a long bumpy ride, a visit to Semuc Champey should totally be on your Guatemala itinerary. It is the definition of a natural paradise!
5. Chichicastenango Market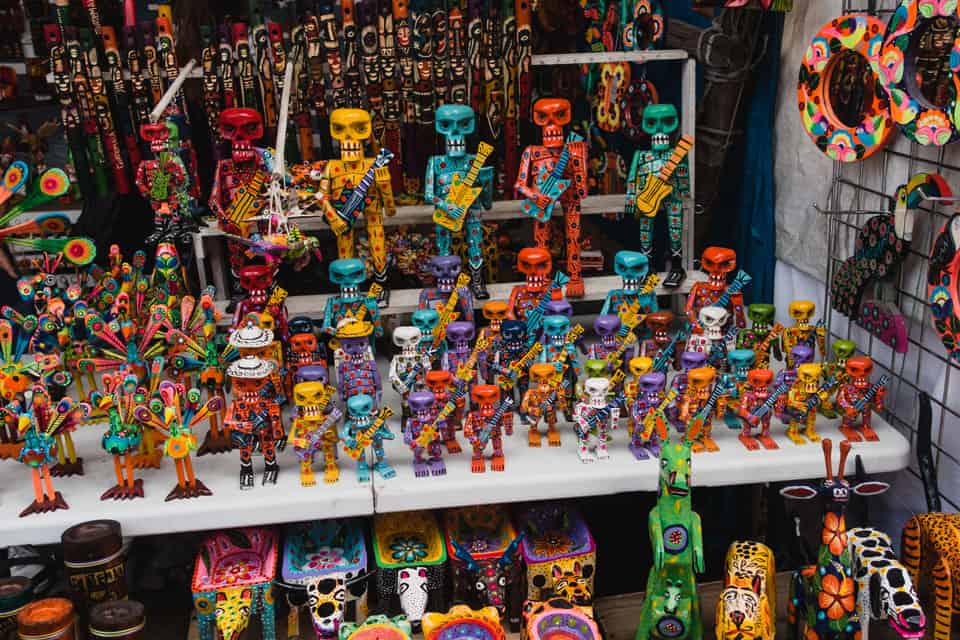 Located in the epic mountainous region of Guatemala's Central Highlands is one of the largest outdoor markets in the whole of Latin America.
El Mercado de Chichicastenango, (or the Market of Chichicastenango to non-Spanish speakers) traditionally takes place daily in front of the town's central church, where a huge number of sellers come from surrounding towns to set up their stalls and sell incredible fresh, local produce grown locally.
It's not just groceries you can buy either, you'll find plenty of unique Guatemalan handicrafts, from traditional handmade textiles to clay pottery and paintings to other cool Guatemalan souvenirs.
The markets on Thursdays and Sundays are the biggest, so make sure you stop by then! But just remember that it can be an absolute labyrinth. It is almost impossible to not get lost!
Read More: What To Pack For Guatemala?
6. Lake Atitlán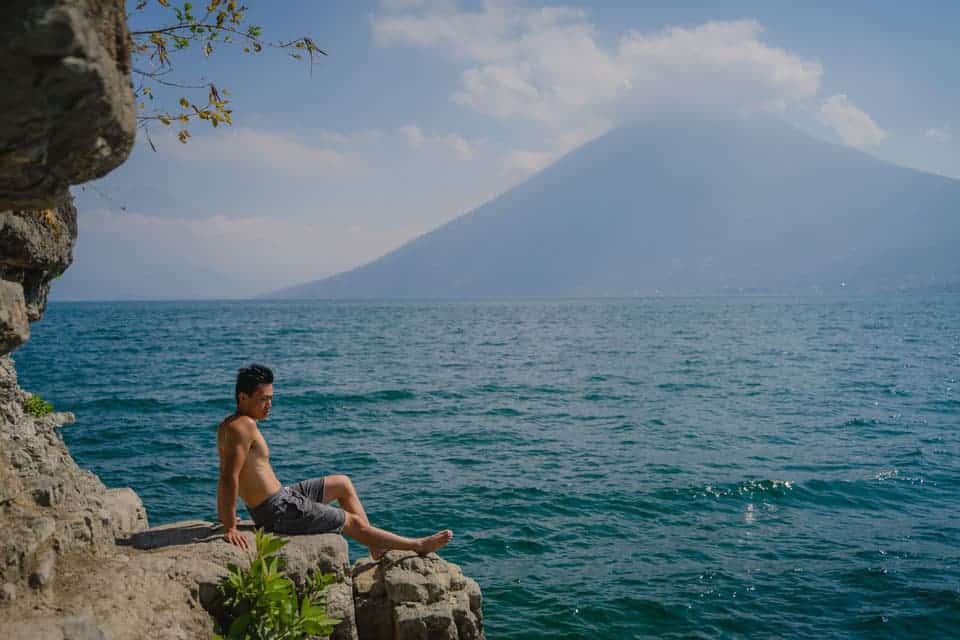 Eighty-four thousand years ago, a catastrophic eruption named Los Chocoyos occurred, culminating in a huge caldera being formed deep into the country's southwest Highlands. One of the most beautiful places in Guatemala, Lake Atitlán, now calls this caldera home.
If you are looking for a tropical holiday where you can go swimming, hiking, and enjoying Guatmeala's glorious tropical weather, then Lake Atitlan is the perfect place to go.
The beautiful Lake Atitlán is made up of several villages that are home to various ethnic groups and communities, the largest of which is the people of the Santiago Atitlan municipality. The town's residents are mostly indigenous Mayan, with some descending directly from the Tz'tujil and Kaqchikel Native Americans.
San Juan La Laguna is one of the coolest villages in Lake Atitlan and is the perfect place to learn about traditional Mayan weaving techniques. But there are plenty of things to do in Lake Atitlan for every type of visitor!
Read More: The Best Places To Stay In Lake Atitlan, Guatemala
7. Volcano Acatenango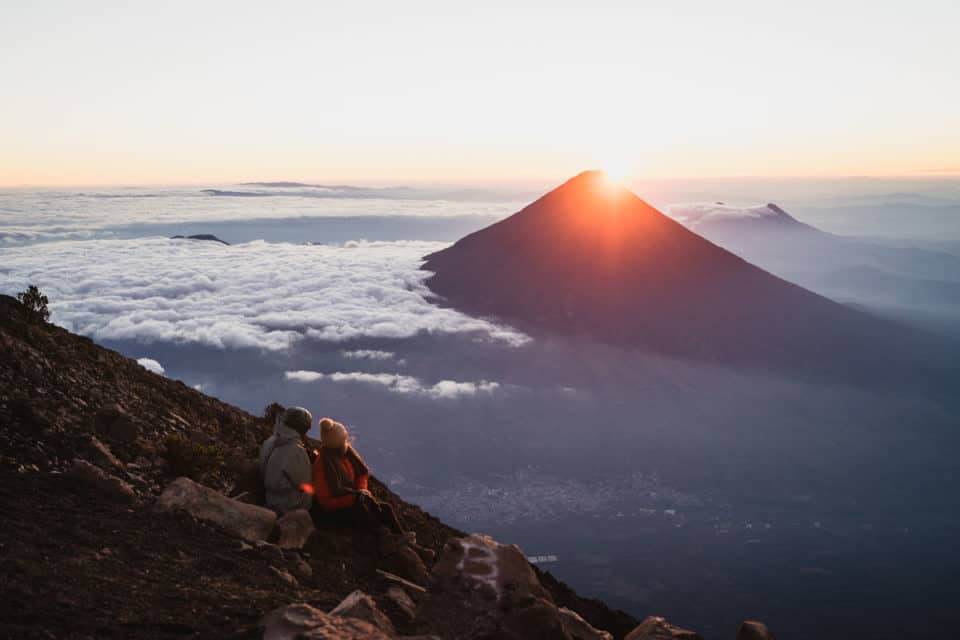 If Volcano Agua is the most famous volcano in Guatemala, then Volcano Acatenango must be the second-most popular. That is because the best way to witness the eruptions of Fuego is by on Acatenango Volcano.
This makes hiking Volcano Acatenango of the bucket list items in Guatemala. But the unforgettable view does not come without … unforgettable sacrifices. The hike up Volcano Acatenango is one of the most challenging ones in the country.
It is an intense 2-day 1-night where hikers will hike for 5-6 hours on the first day and wake up at 4 AM to hike a few more on the second day for sunrise at the summit of Volcano Acatenango.
Whilst this is an unmissable experience when you're visiting Central America, you should consider your fitness levels and ability as it's considered a challenging hike. Altitude sickness is also a serious issue because the peak of Acatenango is at ~4,000m above sea level.
8. Chicken Bus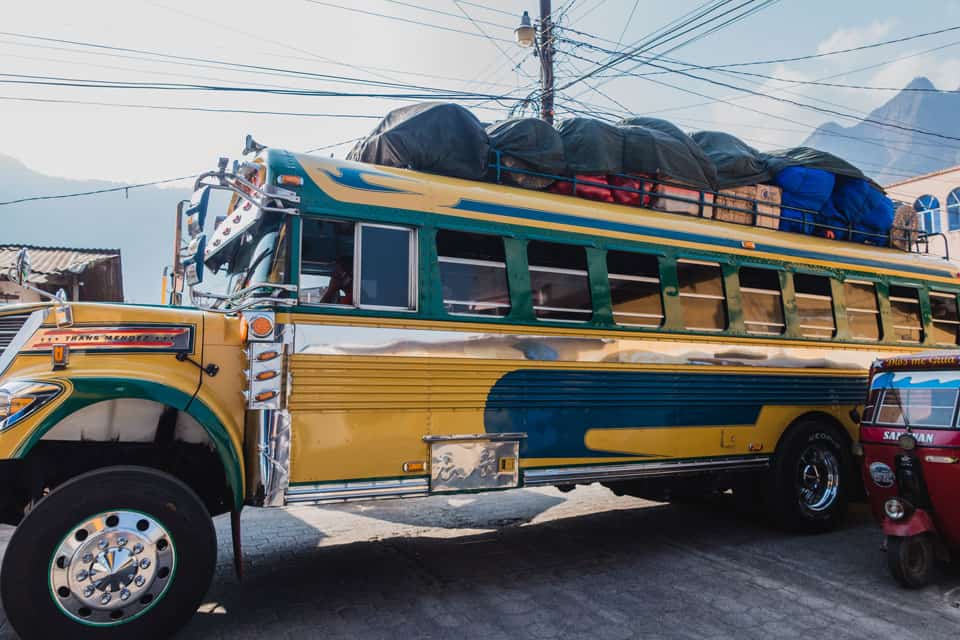 The chicken bus might just be the most iconic public transport in the world. These buses are the main form of public transportation in Guatemala and are essentially retired American school buses.
However, each bus has its own creative paint job, and sometimes even comes complete with colored lights and decorations. It's the ultimate way to travel in 'style', though be warned, they're certainly not the most comfortable or safest way to get around. For example, the seat belts in the bus have been removed to allow more seats. Go Guatemala!
It is not sure what chicken buses are called so. Some believe that it earned the name when people used them to transport livestock!
9. Coffee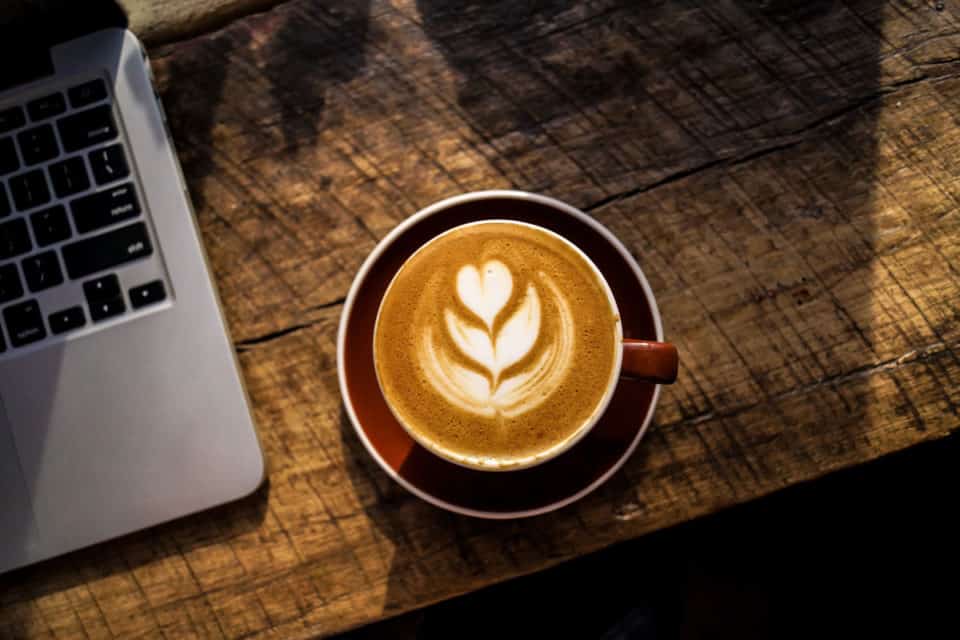 Guatemala is known as one of the world's leading coffee exporters in the world since the 1850s and 1860s.
Produced in the highlands of Guatemala, where the perfect combination of climate, soil quality, and elevation make for ideal growing conditions, Guatemalan coffee beans are known for their unique flavor profile.
Guatemalan coffee boasts a remarkably sweet taste, with notes of cocoa, nuts and caramel. It also offers a pleasingly full body and lingering finish.
Additionally, this coffee has been found to be higher in antioxidants than many other varieties, promoting healthier living and providing a more robust flavor experience. This is possibly because Guatemala's fertile volcanic soil is naturally rich in minerals like iron and potassium that help create an environment conducive to healthy plant growth.
10. The Mayan Civilization
The Mayan Civilization was one of the most influential and advanced civilizations to ever exist in the ancient world. It flourished in Central America (near present day Guatemala, southeast Mexico, and Belize) for thousands of years, from around 2000 BCE to 900 CE. The Mayans developed a complex, powerful culture that was based on mathematics and astronomy.
They also built extensive cities with massive pyramid-shaped temples, which they used for religious ceremonies. Furthermore, they created hieroglyphic scripts to record their history and beliefs.
Their impressive calendar system had an accuracy level of 1 day in 5000 years, making it much more precise than those used by other ancient civilizations. They were also skilled farmers and artisans who made beautiful sculptures, jewelry and artwork that still captivates us today.
As remarkable as it is today, the Mayan civilization has left behind an impressive legacy that continues to awe and amazes us even centuries later. Nowadays, there is no better place to witness what the Mayans have left than in Guatemala.
So when you visit Guatemala, make sure you check out the vast amount of Mayan ruins and temples left behind, including Tikal, Yaxha near the Belize border, and the 'lost city of Maya' El Mirador.
11. Chocolate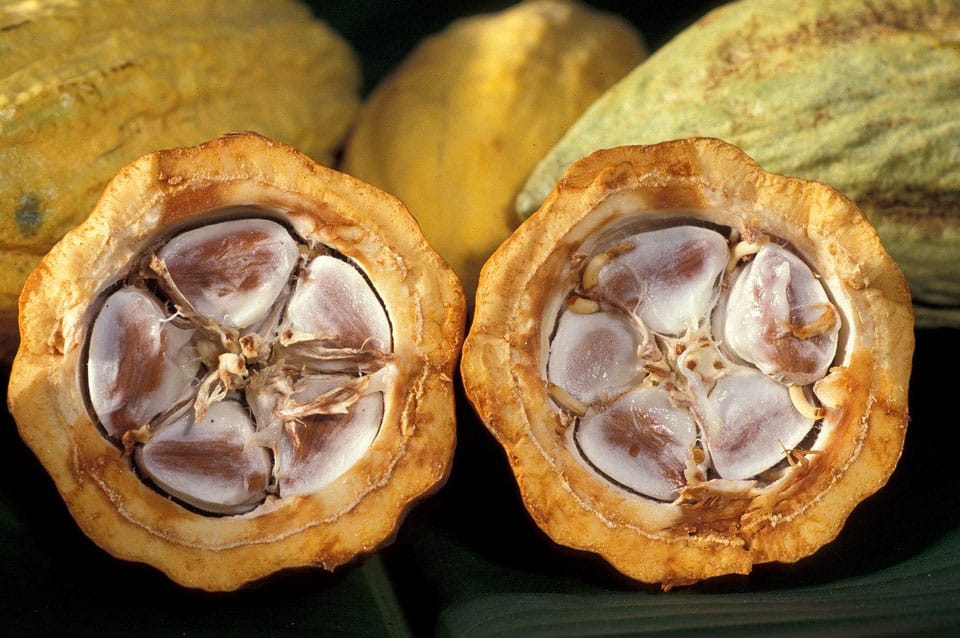 Humans have been eating and drinking chocolate for the best part of 2000 years now with the Mayan population in Mesoamerica consuming the cocoa bean as a bitter drink.
Historically, the ingredient used to make chocolate, cacao, was seen as a gift from Quetzalcoatl, the god of wisdom. It made cacao and the earliest form of chocolate one of the most desirable items in Mesoamerica.
Since then, Guatemala has been known for producing high-quality chocolate with over 10000 tons of chocolate produced in over 9,000 cacao farms every year.
Stroll through Antigua and you'll immediately notice the rich, creamy aroma of one of the world's most consumed products. The criollo cacao bean is the most popular, which can be found still in bean varieties to be ground into a drink, or transformed into the delicious chocolate we know and love today.
12. The Quetzal Bird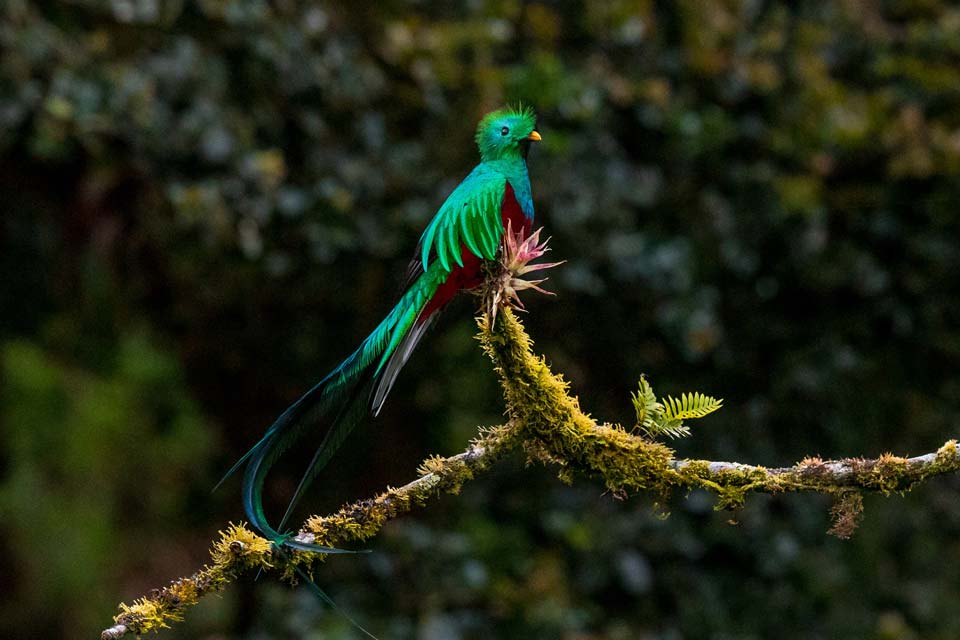 There aren't many animals in the world appearing on a country's flag and coat of arms, but the elegant Resplendent Quetzal does have that honor.
The bird's brilliant vivid blue and green colors, together with its characteristically long tail is a very special species. Native to the dense and humid cloud forests of Guatemala and neighboring nations, the Quetzal was, and still is, a sacred bird.
Thousands of years ago, Aztec and Mayan royalty used to wear Quetzal feathers as a symbol of wealth and power. They believed the bird was associated with the "snake god," Quetzalcoatl.
Nowadays, the Resplendent Quetzal is an endangered species. There are only a few of its kind left in Guatemala and the neighboring countries. But visitors can see it easily in Costa Rica, where the extensive forest protection efforts help keep the bird's population high.
13. Black Sand Beaches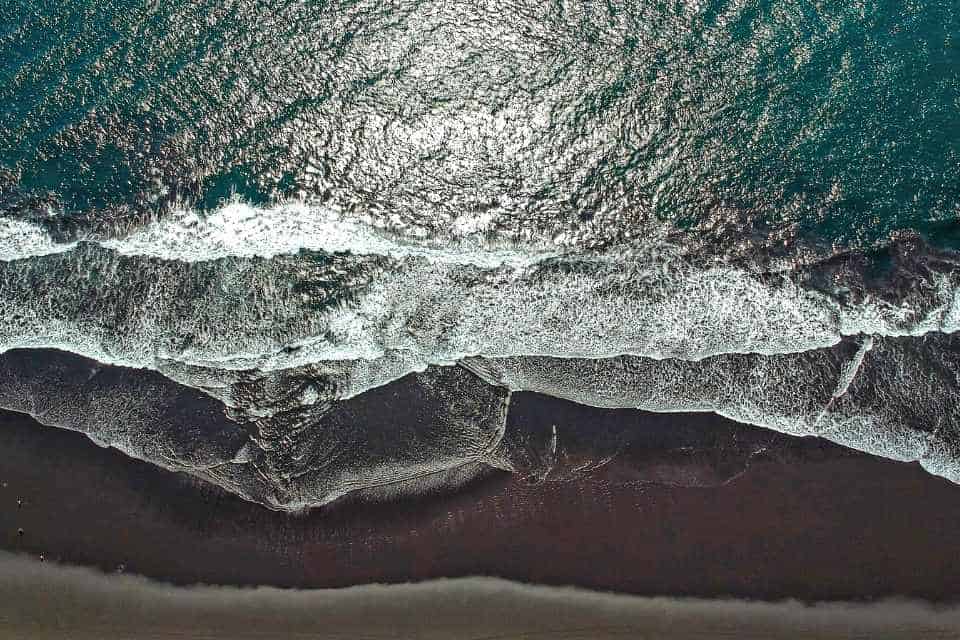 Perhaps some of the most famous attractions in Guatemala are its black sand beaches. Due to the volcanic activity in the region, many sediments have ended up by the Pacific Coast, where they have deposited into the black-sand beaches you can see today.
Some of the popular places in Guatemala to see black sand beaches are El Paredon and Monterrico. El Paredon is more of a backpacker town and Monterrico has more family-friendly resorts. Both of them are home to some of the best beaches in Guatemala and you can even go surfing there!
Just be careful when visiting them. Because of their color, they absorb heat very quickly compared to white-sand beaches. They are too hot to walk on them in the middle of the day. And if the weather is really sunny and hot, they can even melt your flip-flops!
14. Surfing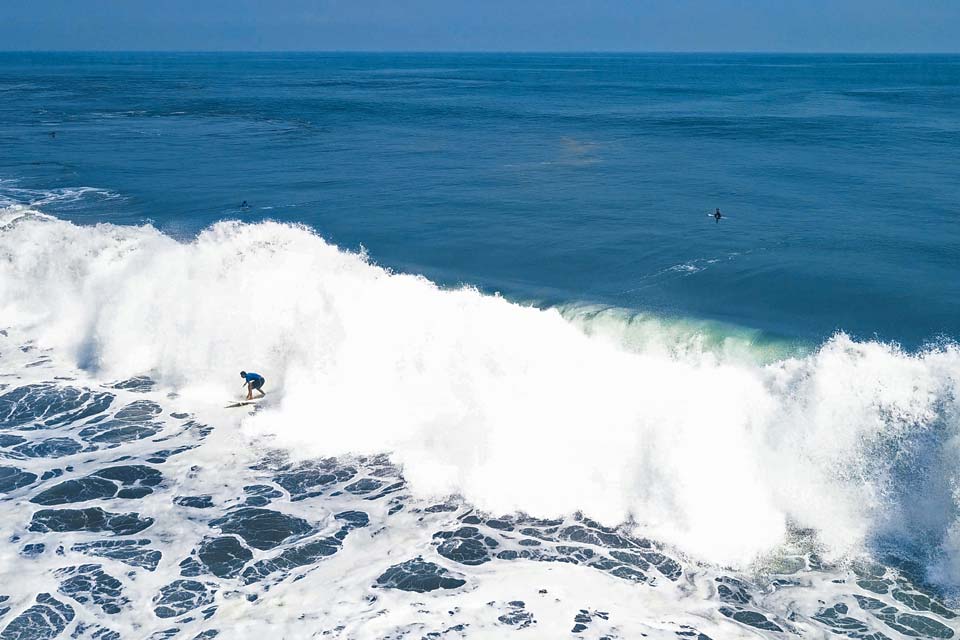 Guatemala is a country bordered by two bodies of water – the Pacific Ocean and the Caribbean Sea. The Pacific coast of Guatemala has some of the most underrated surfing spots anywhere in the world. On the Caribbean coast, not so much.
On the Pacific Coast, not only will you find the country's iconic black sea beaches, but the Pacific's windy conditions and several underwater swells help create genuinely next-level waves.
If you like surfing, you might want to consider visiting between the months of March and June. This is when the waves are at a great level, perfect for the experienced, or even for those wanting to give surfing a proper go.
El Paredon, not too far from the city of Antigua, is great for this and therefore one of the most popular spots. Iztapa has the biggest waves, particularly during the rainy season.
15. Pepian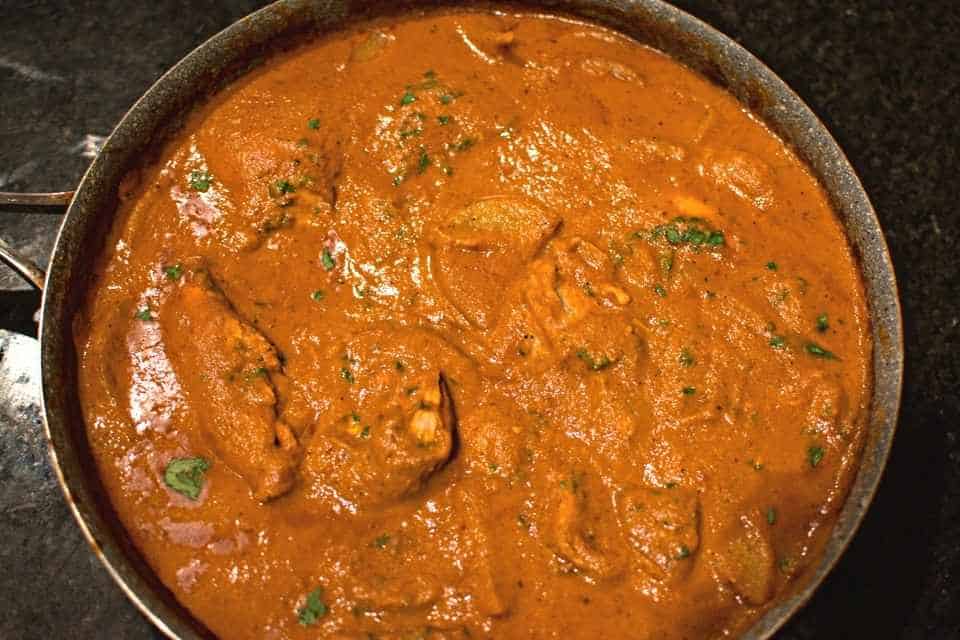 Pepian is Guatemala's answer to the 'national dish'. Whilst not official, the traditional spiced meat stew is made in households multiple times a month, sold by street vendors, and in markets up and down the country.
The perfect home-comfort food for all the family, a tomato and onion broth is slow-cooked in huge drums or pots together with two varieties of roasted chilies, pumpkin seeds, spices, and a whole portioned chicken. Chicken is traditional, though any meat can be used. Rice is served too, or even better, freshly made, warm corn tortillas.
The Guatemalan dish originates from its Spanish colonial past, along with influence from the ancient culture of the Mayans too. It's one of the most famous foods from Guatemala.
16. Great Place To Learn Spanish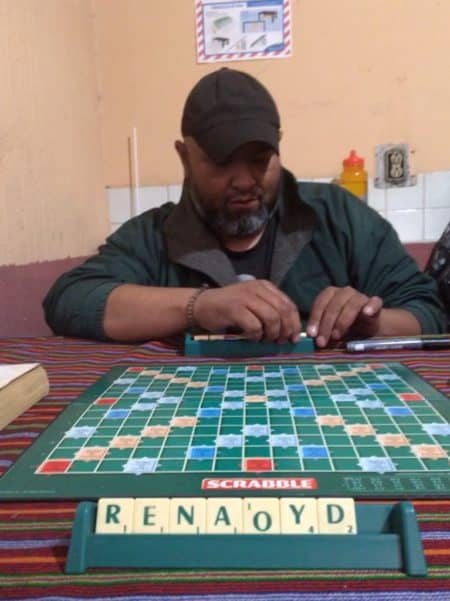 Guatemala is also known as an excellent location to learn Spanish. Because of its colonial roots, Spanish is the language spoken here in the Central American country.
There's a huge number of homestay and guesthouse opportunities throughout the country, particularly in places such as Lake Atitlan, Antigua, and Xela. Homestays are usually cheaper than traditional hotels, but you'll also get to meet some friendly locals who can only talk to you in Spanish!
Most homestays also include meals cooked by the local family, which is the perfect way to try some local food! Plus, the accent and words used in Guatemala Spanish are very neutral, so you can use them in many other Latin American countries around the world.
Read More: Best Places To Study Spanish In Quetzaltenango, Guatemala
17. Hobbitenango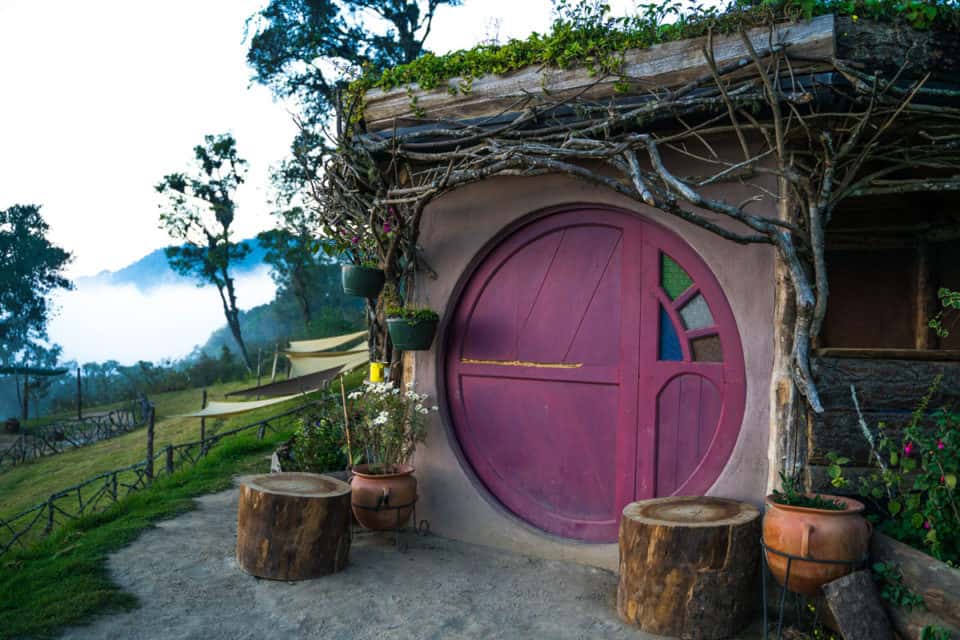 Hobbitenango is an eco-lodge and getaway resort with a twist. Inspired by J. R. R. Tolkien's fictional universe of Middle Earth, this hobbit-inspired retreat is an incredibly unique thing to do in Guatemala. Any Lord of the Rings or The Hobbit fan that finds themselves in the area has to visit Hobbitenango.
Most visitors take a day trip from Antigua to Hobbitenango, but the property also has a few "hobbit holes" for those that would like to stay the night.
There are many things to do in Hobbitenango. Most people come here to just relax, eat, and get away from the chaotic city of Guatemala City or Antigua, but you can get a picture with the gigantic Hobbitenango Hand with the luscious green rolling hills in the background. Jump on the Hobbitenango rope swing, throw some axes, or even explore the hobbit holes that are built into the hill.
It's a once-in-a-lifetime experience in Guatemala!
18. Questionable Safety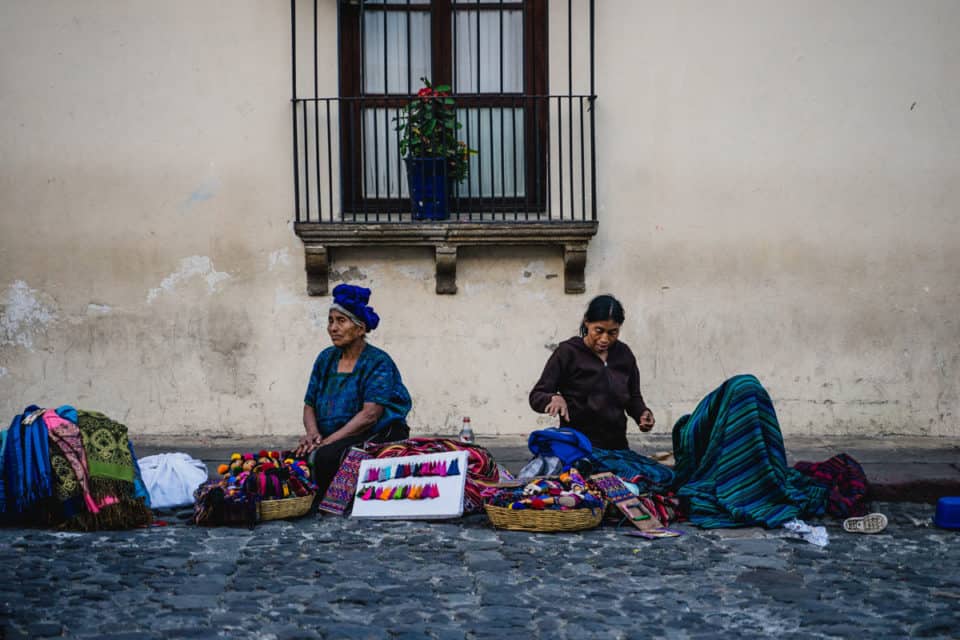 One of the common complaints about Guatemala is its questionable health and safety records. Admittedly, Guatemala isn't exactly the safest of countries with petty crimes such as pickpockets and muggings happening frequently, even to tourists.
It's important to keep your wits about you, especially if you're out at night. If you're a solo traveler, unless you are in a busy, popular part of town, don't go wandering the streets. Instances and scenarios like these will dramatically increase the likelihood of something happening.
Read More: Is Antigua Guatemala Safe or Dangerous?
19. Volcano Pacaya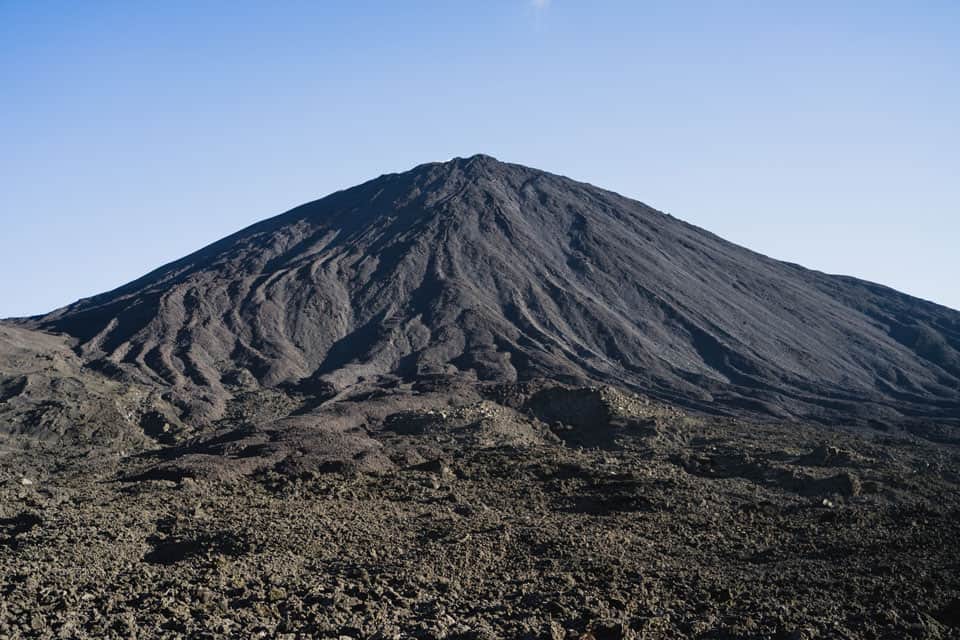 At 2,552 meters (8,373 ft) tall, Volcano Pacaya is one of the region's most active in recent times, with at least 23 eruptions since the 17th century.
Pacaya's constant activity has meant tour operators have started taking people up the volcano itself, hiking for around 2 hours before reaching the base camp. There is a constant stream of lava that runs underneath the volcano and hiking trail.
In some places, lava is so close beneath your feet that you can roast marshmallows with the heat! But for the same reason, hikers are not allowed to hike up to the peak of Volcano Pacaya.
If you are looking for an easy hike in Antigua Guatemala, hiking Volcano Pacaya is a great option! You can even get a horse to take you up most of the way.
20. Quetzalteca
Just like the Mexicans have tequila, the Japanese have sake and the Russians have their vodka, well, the Guatemalans have what's known locally as Quetzalteca. An aguardiente, Quetzalteca is an extremely strong distilled alcoholic drink that can be found all across the country, consumed by the vast majority of natives.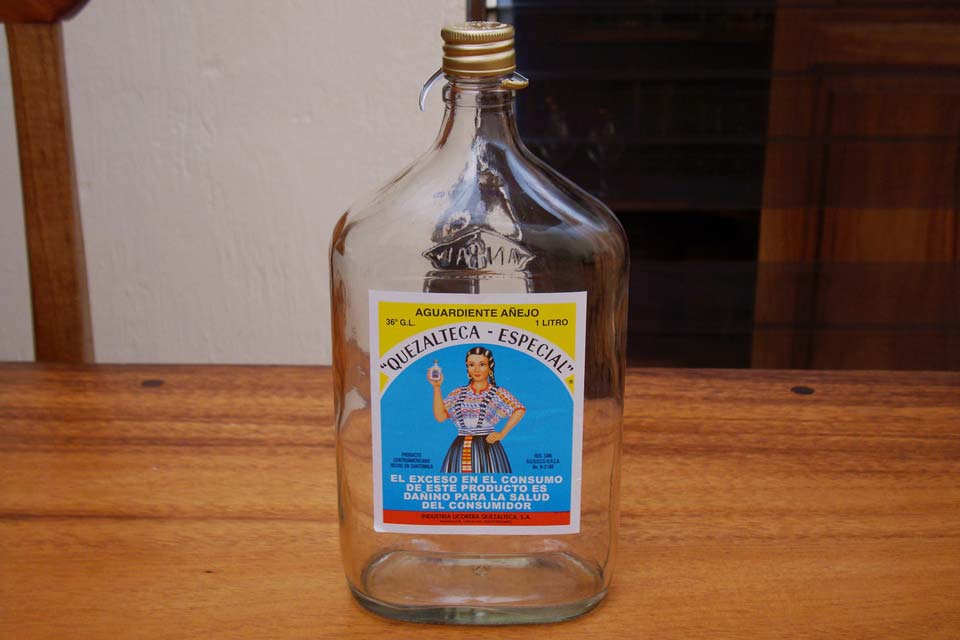 Deliciously sweet sugar cane juice is slowly fermented, and then purified, extracting the alcohol and thus creating Quetzalteca. It's usually consumed with Coca-cola to create a cocktail similar to Rum and Coke, but locals also take shots of the potent beverage.
21. Textiles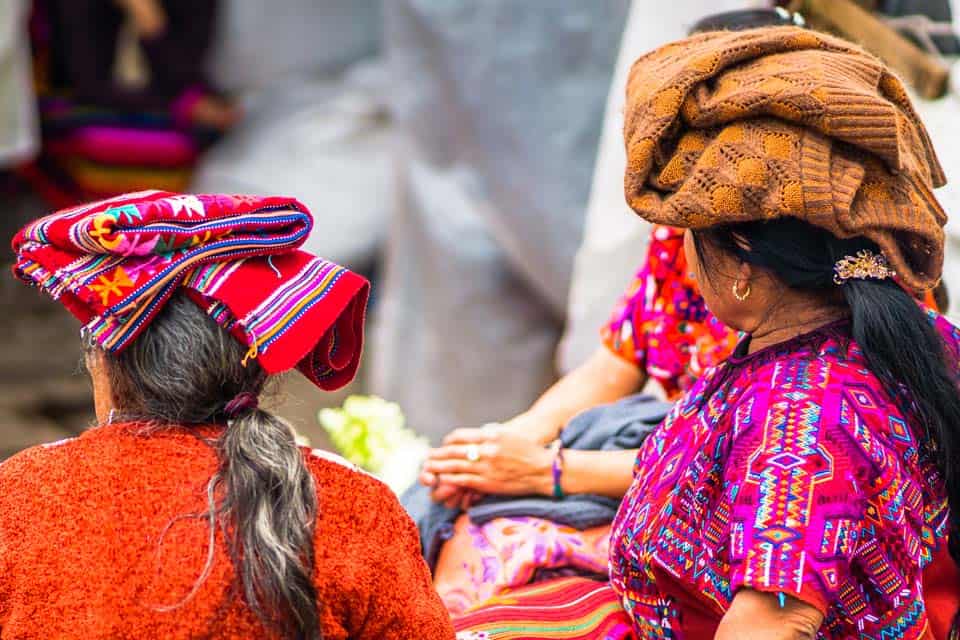 The Mayans didn't do boring. Black on black wasn't a thing when they ruled over Mesoamerica. Instead, the most brightly colored outfits were worn, with a weaving maze of patterns and colors that only this remarkable culture could wear.
Interestingly, and also similar to other indigenous tribes of the world, each village, community, or region had developed its own color scheme and pattern. Even today, traditional Guatemalan clothing is heavily inspired by the Mayans.
A bright blouse called a huipil is worn, together with an equally as bold skirt known as a corte, finished off with a belt called the faja. You can buy textiles like these at most markets throughout the country.
---
Guatemala Most Famous FAQs
What Are The Best Things To Do In Guatemala?
There are many amazing attractions in Guatemala, such as visiting the historical Tikal National Park, hiking up Volcano Acatenango, visiting the biggest outdoor market in Central American (Chichicastenango), discovering Flores Island, or exploring the Semuc Champey Natural Monument.
What Are Some Interesting Facts About Guatemala?
Here are some interesting facts about Guatemala. 1. Lake Atitlan is the deepest lake in Central America at a maximum depth of 340 m. 2. There are 37 official volcanoes in Guatemala! 3. Because of Guatemala's rich history, there are over 20 dialects spoken in the country!
What Are The Most Famous People From Guatemala?
The most famous people from Guatemala are Ricardo Arjona, a legendary singer-songwriter, and Oscar Isaac, a famous actor that starred in several Hollywood films and series.
---
Though often one of the most-forgotten countries in Central, there are many things Guatemala is known for. From ancient Mayan ruins to epic volcanoes and bustling markets, there are so many things Guatemala is famous for. And hopefully, by now, you know more about Guatemala!
Disclaimer: Some of the links above are affiliate links. That means if you book or make a purchase through the links, we will earn a small commission at no extra cost to you! The money will help run this site! Thank you!