Not sure what to do in Sekinchan? Worry not because today we are going to share with you the best things to do in Sekinchan, Malaysia.
With the recent boom of tourism to Sekinchan because of a TVB Drama called Outbound Love, the once hidden gem of Malaysia has become one of the most popular destinations in the country.
To be fair, after visiting it ourselves, we can totally see why. Lush rice paddies stretching far beyond the horizon alongside a quaint fishing village that has kept all its charm – Sekinchan is just gorgeous.
That is why we have written this guide on the best things to do in Sekinchan and whether you should visit Sekinchan on a day trip or not.
Enjoy!
---
What to Do In Sekinchan: 12 Best Things to Do in Sekinchan, Malaysia
1. Check Out Amazing Sekinchan Paddy Fields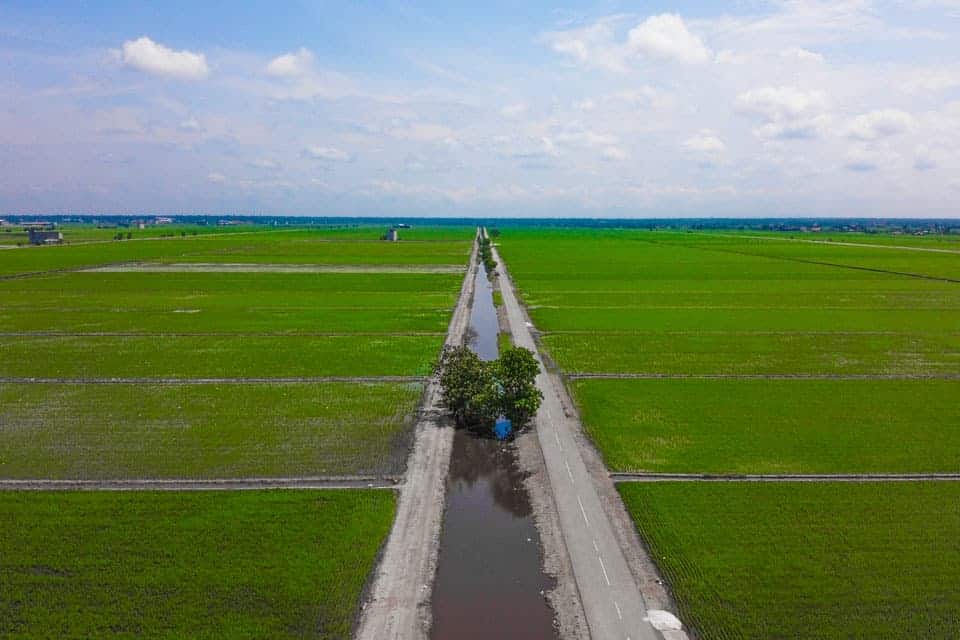 Though Sekinchan is a fishing village, it is a lot more famous for its beautiful stretches of rice paddies. These rice paddies dominate the landscapes of Sekinchan, and it is probably the best thing to do in Sekinchan.
Visiting the Sekinchan rice paddy fields is a must if you come from a stressful city such as Kuala Lumpur as they remind you of the simpler days. Watch the rice plants flow freely in the wind, listen to the sounds of the birds, and feel your worries dissipate from your body.
Similar to the rice paddies in Bali or Vietnam, they are very picturesque. Blue skies, tall rice plants, and a beautiful flower dress, you have yourself the perfect Instagram photo! Sekinchan is unquestionably one of the most beautiful places in Malaysia!
2. Visit Kuala Selangor For Fireflies and Sky Mirror
If you have more than one day in Sekinchan, consider visiting the neighboring town Kuala Selangor. Kuala Selangor is a small seaside town similar to Sekinchan, but it has two of the top attractions in Malaysia: Fireflies and Sky Mirror.
Experiencing the fireflies is one of the best things to do in Sekinchan at night, especially since the town doesn't really have a nightlife.
However, because seeing the fireflies is a night activity, it might be difficult to participate if you are on a day trip to Sekinchan. If you can afford to spend more than 1 day in Sekinchan, seeing the fireflies is a must.
Numerous colonies of fireflies roam freely in the mangroves of Kuala Selangor. With the pitch darkness, the flickering of their lights is like stars in the sky!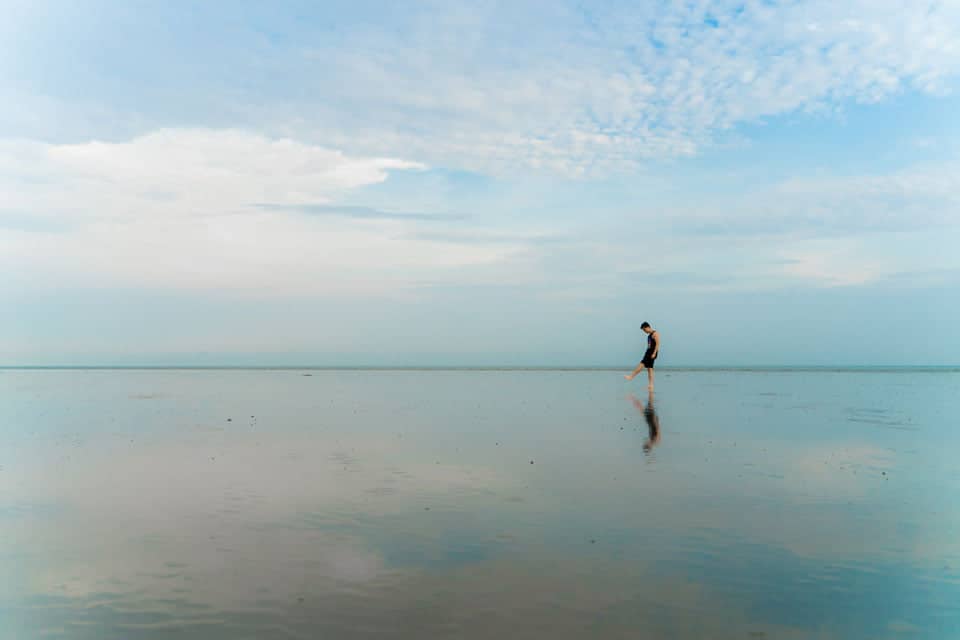 Sky Mirror is another place worth visiting near Sekinchan. It is a shallow sandbank that appears only during low tides. The result? A magical place where the ground reflects the sky and everything around it. It is somewhat similar to the Salar de Uyuni (Salt Flats) in Bolivia.
All boats to Sky Mirror depart in the early morning, so it is recommended to stay in Sekinchan on Kuala Selangor the night before.
If you have a car or scooter, it is totally possible to visit Kuala Selangor from Sekinchan on a day trip. The small city has plenty to offers visitors besides Fireflies and Sky Mirror, such as exploring the Historical Melawati Hill and Kuala Selangor Nature Park.
3. Dine At the Unique N16 Cafe (Sekinchan Bus Cafe)
Any travelers looking for a unique dining establishment must not miss N16 Cafe in Sekinchan. Also known as the Sekinchan Bus Cafe, the entire establishment is situated in an old school bus that has been renovated it to become a cafe.
The food is decent but the most promising feature is the spectacular view of the paddy fields nearby. Sip on a cup of home-brewed coffee, have a slice of delicious cake, and enjoy the stunning visuals inside and outside the bus cafe!
The cafe is built on top of a freight container that acts as the kitchen. There is free parking nearby and the famous accommodation Padi Box is right next door. If you are staying in Padi Box (which is what we did), you surely cannot miss the N16 Cafe.
N16 Cafe has air conditioning, making it the perfect place to relax after a visit to the other Sekinchan attractions nearby, especially in the summer.
4. Make a Wish At The Sekinchan Wishing Tree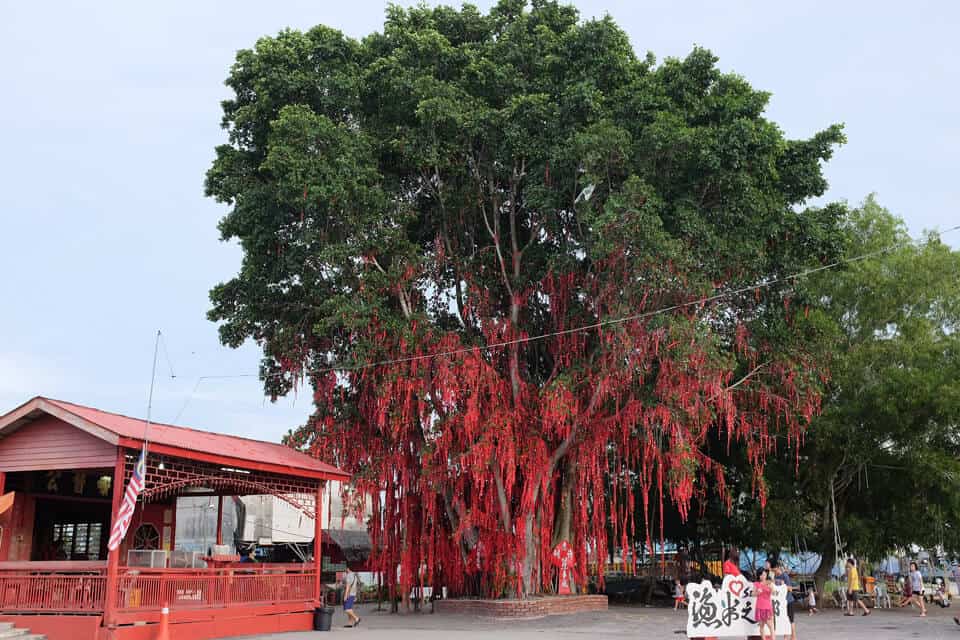 Located on Pantai Redang (Beach Redang), the Sekinchan Wishing Tree is one of the best places to visit in Sekinchan.
As you approach the wishing tree, you will see the numerous red ribbons hanging off the tree. These ribbons are written with wishes from other visitors.
To get your own ribbon, you must make a donation at the adjacent temple. Each red ribbon is tied to an ancient Chinese coin. When tossing your ribbon on the tree, try to get it as high as possible. Legend says that the higher the ribbon lands, the most likely your wish is going to come true!
Don't forget to keep your wish a secret!
5. Chill At Pantai Redang Beach, The Iconic Sekinchan Beach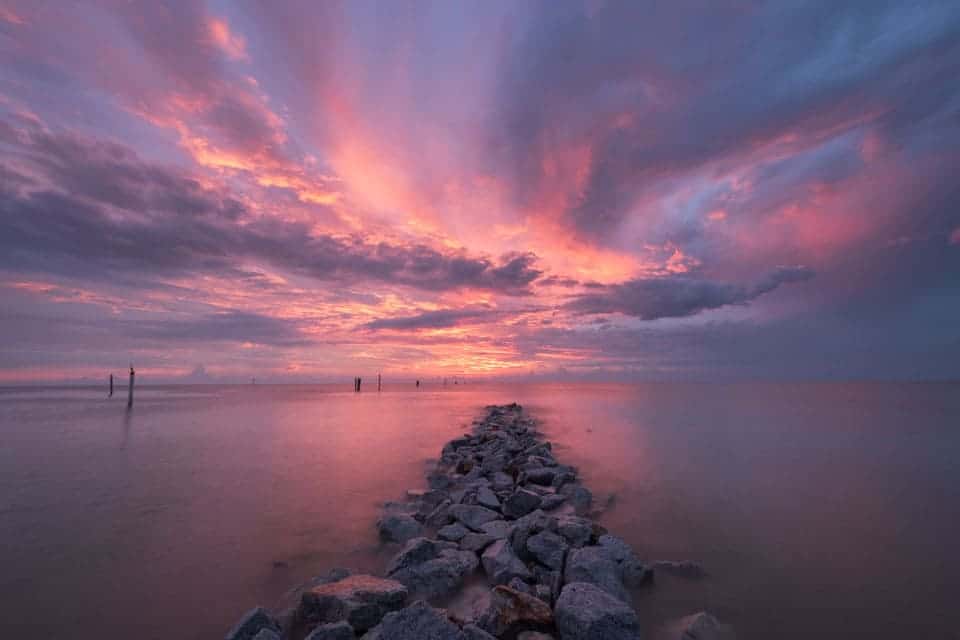 If you are already at the Sekinchan Wishing Tree, then Pantai Redang (or Redang Beach) is literally right at your doorstep. Though the quality of this Sekinchan beach cannot compare to those of Langkawi, Pantai Redang still attracts plenty of people on the weekends and holidays.
If you are traveling with family in Malaysia, Pantai Redang is the perfect place to bring your kids. They can spend hours running up and down the soft sands, observing kite flyers, and swimming in the cold soothing water.
It is impossible to not love the beach in the hot and humid weather of Malaysia!
If you have time, grab a coconut, have some seafood nearby, and wait for the breathtaking sunset to unfold in front of your eyes!
6. Wander Around The Sekinchan Fishing Village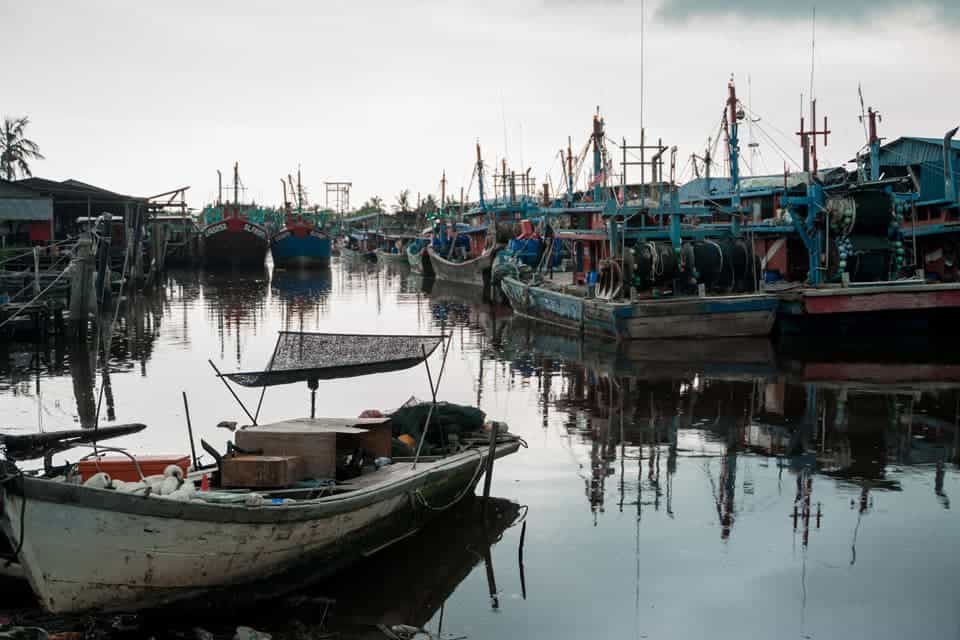 Though Sekinchan is famous for its rice paddies, the village itself is meant to be a fishing village.
When you are not taking photos at the rice paddies, stroll around the old streets of Sekinchan. You will encounter numerous seafood restaurants and vendors selling various types of dried seafood.
Not only do you get to see the final products, but you can also see the different types of equipment and ship that fishermen use. If you are from a big city, then the contrast of a small fishing village will be quite interesting.
7. Stuff Yourself With Some Fresh Sekinchan Seafood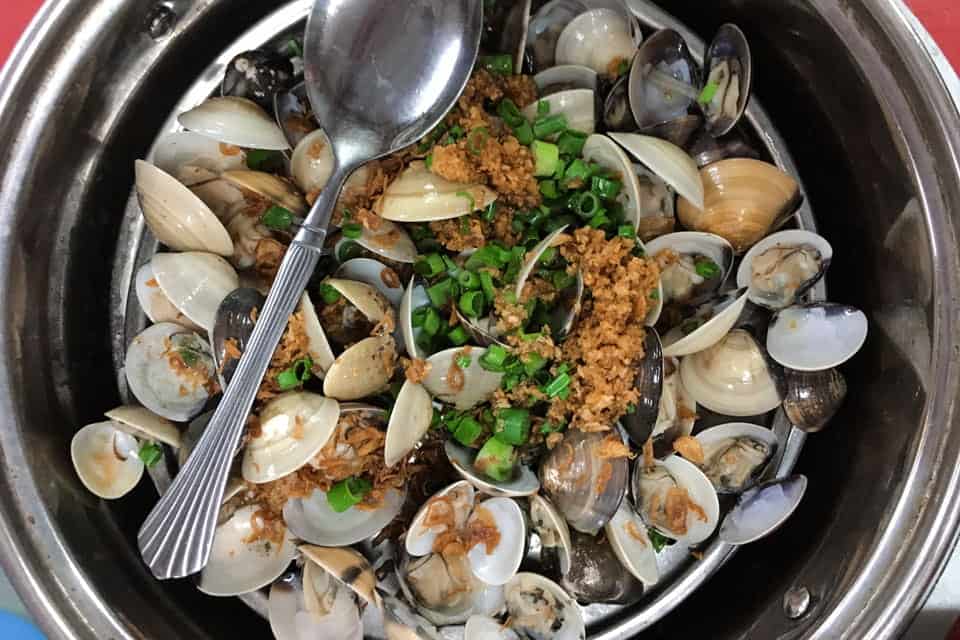 One of the many pros of a fishing village is the accessibility to fresh and delicious seafood. Sekinchan is no exception.
The fishing village is populated with many high-quality seafood restaurants at affordable prices. If you are from the western parts of the world, chances are you have never encountered some of those kinds of seafood.
Dishes such as oyster omelet, mantis shrimp, and shark meat are all popular local cuisine. If you are feeling adventurous, make sure you give those a try!
There are many amazing seafood restaurants in Sekinchan to try some delicious local dishes, here are the ones we recommend:
8. Learn About Rice Harvesting At The Paddy Gallery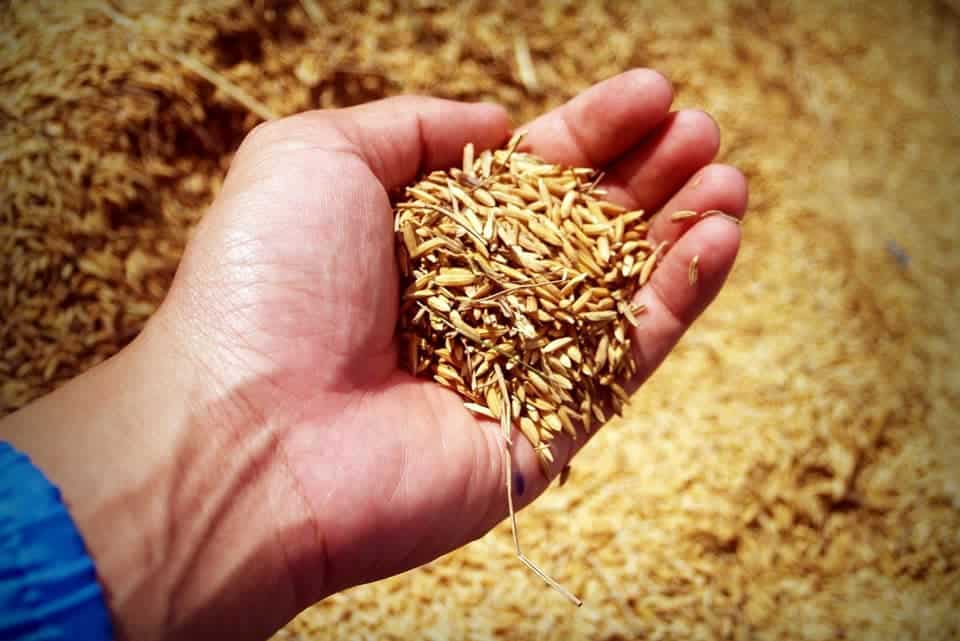 Besides admiring the lush paddies, one of the best activities in Sekinchan is to learn about the entire rice-making process from start to finish.
The Paddy Gallery is an active rice-processing facility as well as a museum featuring exhibits on harvesting and more. Visitors will learn each and every step of the process from the rice paddies to the rice grains we see in the supermarkets.
On the ground floor of the establishment are shops where visitors can purchase souvenirs, snacks, and even rice produced there! On the first floor is the informational museum, where the entrance fee is 5 RM.
It is worth the low price for so much information. Rice might be simple on the surface, but the procedure to get it down to the grains is scientific and interesting!
They have recently added a rice market to the establishment, so visitors can purchase any rice-related souvenirs and products there.
The Paddy Gallery is located in the middle of the paddy fields, offering unparalleled views of the lush surroundings. However, it is quite a trek to arrive. I recommend either renting a bicycle or driving there!
Don't miss it, it is arguably the most famous Sekinchan tourist spot!
9. Indulge In Fresh Mango Smoothies At Mango King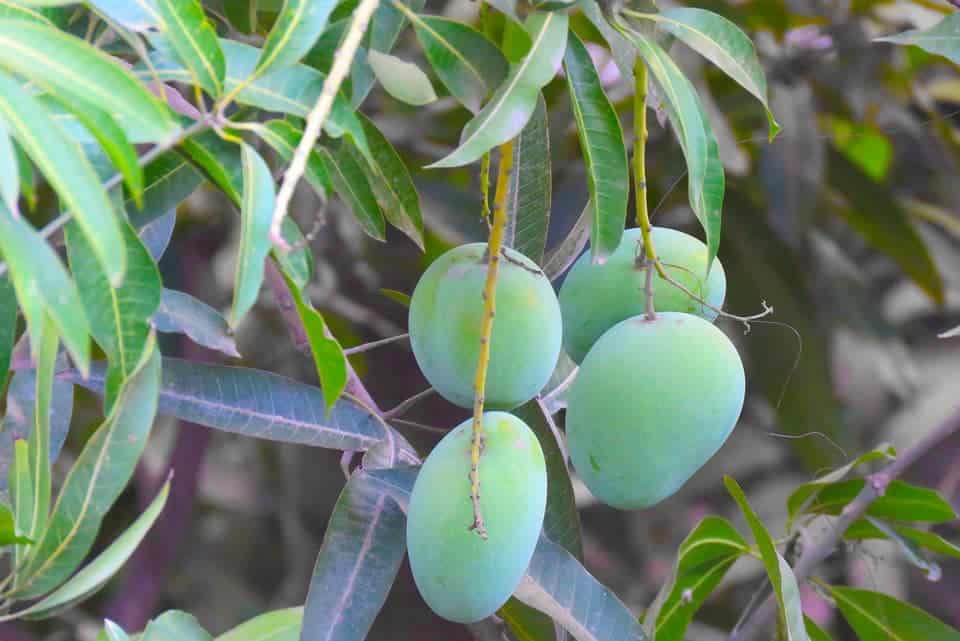 Located on the outskirts of town is one of the best things to do in Sekinchan, especially if you have a sweet tooth. Mango King is a small stall located in the midst of the paddy fields, just down the road from the Paddy Gallery.
Here you will find the freshest and sweetest mangoes and mango smoothies in Sekinchan. If there is anything I learned from backpacking Malaysia, it is that nothing beats a refreshing mango smoothie or slushie in the hot Malaysian sun.
After trying their mango specialties, you may want to purchase those seriously addicting mangoes! Thank God they are so affordable!
Mango King also sells snacks and other kinds of beverages, but we found them to be not as tasty.
💪 Pro Tip: If you come early in the day, you can try one of the mango smoothies with passion fruit. They are one of the best-sellers and are often sold out!
10. Go Back In Time At Ah Ma House (Grandma's House)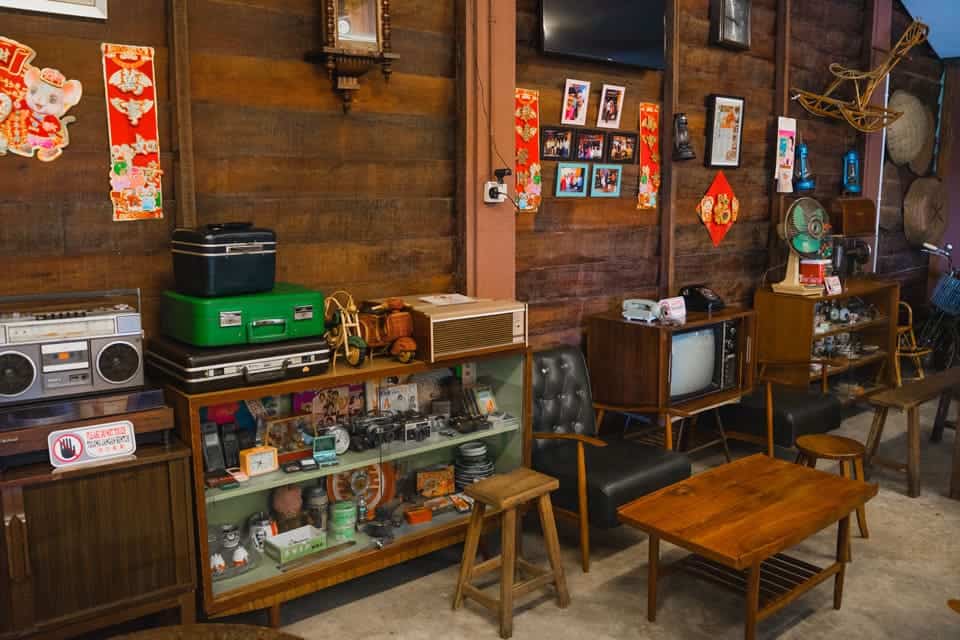 Ah Ma House is a unique attraction in Sekinchan showing the rich history of the region.
Featuring a conglomerate of old things such as film cameras, the Game Boy, the refrigerator-sized TVs, and other items that are before my time, stepping into Ah Ma House is like stepping into a time machine.
If I had taken my parents there, they would've enjoyed the trip down memory lane tremendously. For me, I was only able to recognize a few of the items. Even then, a sense of nostalgia rushed over me as I stood in awe in the traditional Chinese house.
Besides the antique items and cool historic house, Ah Ma House is known for its homemade cookies and crackers. Those snacks brought back some childhood memories for me. Don't hesitate to try them when you get the chance!
Across from Ah Ma House is another attraction called the Kampung Atuk (or Grandpa's House). Though it was closed when we visited, it had empty stands with displays selling traditional snacks. It must be a popular spot in Sekinchan on the weekends or holidays!
11. Rent a Bicycle And Ride Around Town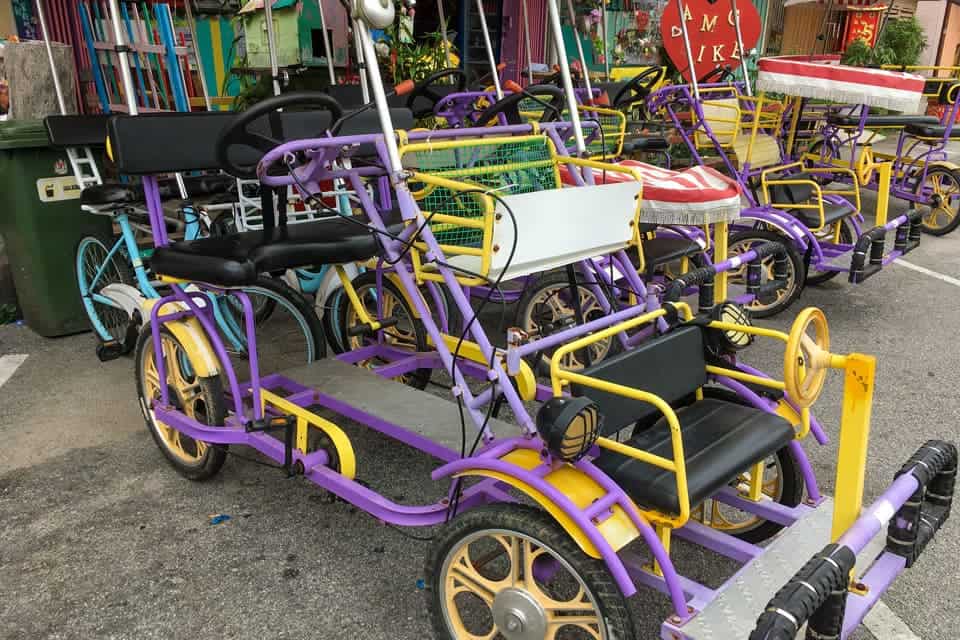 Riding a bicycle is one of the best ways to explore Sekinchan and the paddy fields around it. If you are in Sekinchan without any type of transportation (car or motorcycle), a bicycle will allow you to visit some of the places outside of town.
Luckily for you, there are a few bicycle rental shops in Sekinchan. The most reliable of which is the AMG Bicycle Renting Sekinchan.
Featuring anything from a single-person bike to a family bike (4 persons), AMG Bicycle Renting Sekinchan has a bicycle for any type of traveler. If you are too lazy to paddle, they also have electronic bikes for a higher price!
Be careful if you plan on riding a bicycle in Sekinchan. There is no such thing as a bike lane in Sekinchan!
12. Enjoy MSekin Wonderland Waterpark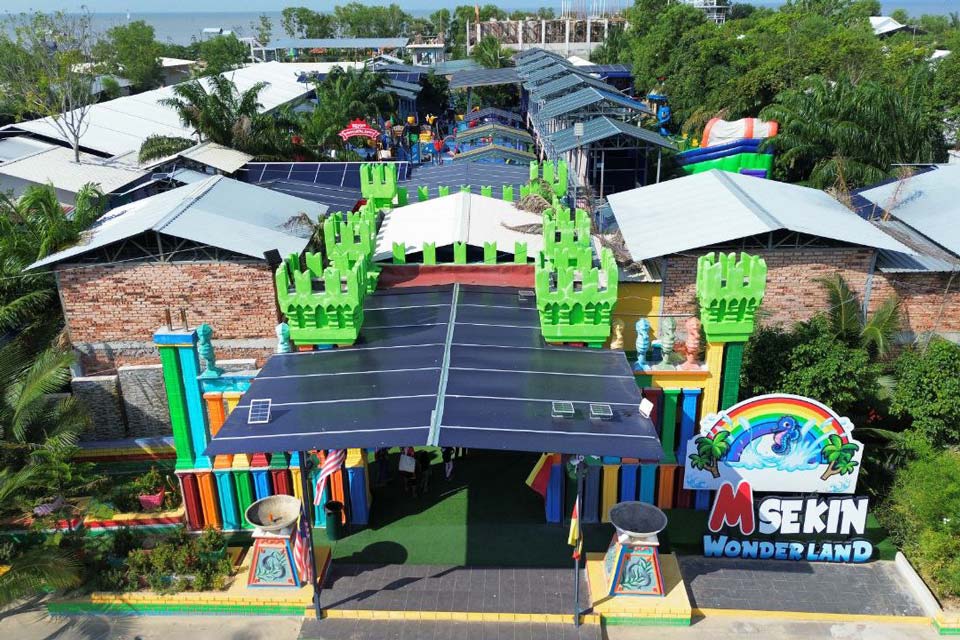 If you are visiting Sekinchan with kids, then you'll want to visit, MSekin Wonderland, the first children's water park in the town.
The park has approximately 10 pools for a variety of water activities, making it perfect for a family. Whether you are looking for an adrenaline-filled or relaxing time in MSekin Wonderland, you'll find it!
The waterpark is conveniently situated next to Sekinchan's beach, so you can combine a sunset watching at the beach with it!
---
Things To Do In Sekinchan Map
Above is an interactive map featuring all of the Sekinchan activities we've talked about. As you can see, many of the places to visit in Sekinchan are situated close to each other. With this map, you should have an easier time planning your itinerary and maximizing your time in Sekinchan!
Click on the star next to the name of the map to save it on your own personal device for your trip to Sekinchan!
---
Where To Eat In Sekinchan?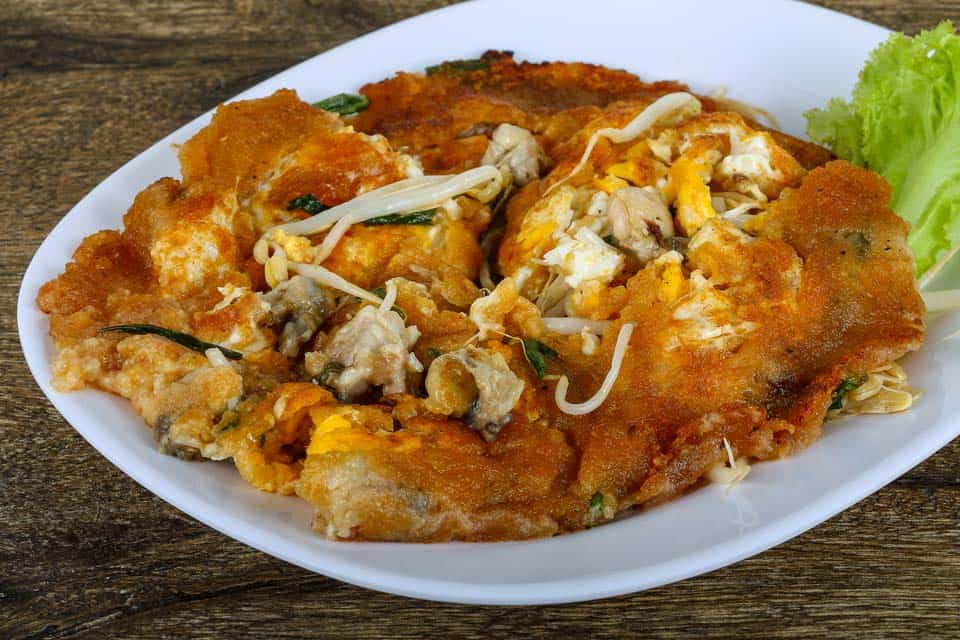 If you are visiting Sekinchan, your tummy is going to thank you. Because of its location near the sea and paddy fields, visitors have access to some of the freshest ingredients you can possibly get.
Plus a mix of influence from the Chinese and Malays, you have yourself some of the best foods you can find in Malaysia. Here are some of the restaurants we recommend in Sekinchan:
---
Where To Stay In Sekinchan, Malaysia
Best Unique Hotel In Sekinchan – Padi Box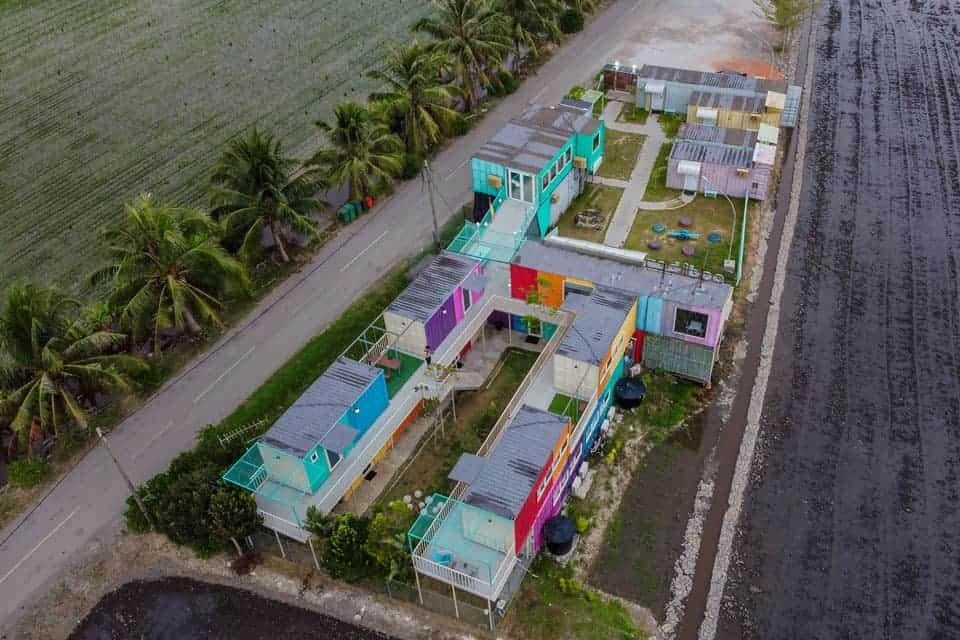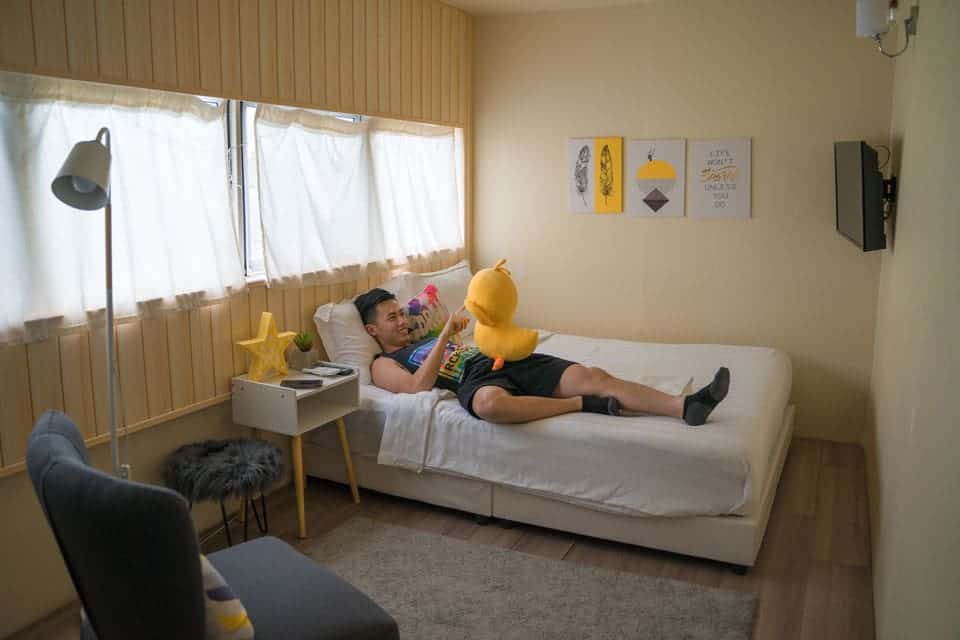 If there is another thing Sekinchan is famous for, it's the freight container hotel and homestays. If you are used to staying in 5-star hotels and think this is outrageous, let me convince you otherwise.
The most famous container hotel in Sekinchan is Padi Box. Using recycled freight containers as building structures, this eco-friendly accommodation is not only stylish but strangely comfortable.
The decor of the hotel is adorable, and there are plenty of open areas to get some sun and admire at the rice paddies. It has the amenities of a standard hotel but in a generally fun and relaxing atmosphere.
If you are traveling to Sekinchan as a pair or couple, make sure you check out the Padi Box standard 2-person room or the 2-person room with a private balcony, perfect for Instagram photos!
---
Best Container Hotel in Sekinchan – Villa Chee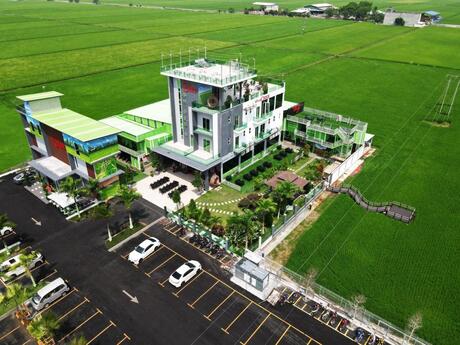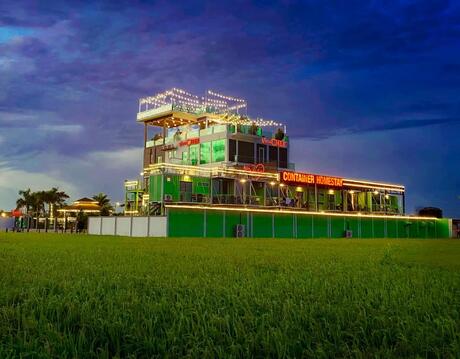 Padi Box isn't the only container hotel in Sekinchan. Meet Villa Chee.
Though we did not get a chance to stay at Villa Chee (wink wink if you are reading this Villa Chee), we CANNOT not include this in our Sekinchan guide.
Similar to Padi Box, Villa Chee is located in the middle of the gorgeous paddy fields, allowing visitors to immerse themselves in the elements. What separates this from Padi Box is that Villa Chee has a swimming pool, an outdoor restaurant, and relaxing outdoor spaces where guests can just chill out.
It has a wooden walkway that juts out into the paddy fields, perfect for photos or just getting a closer look at the rice fields without having to step in the soil, which is often wet.
This property is situated on the outskirts of Sekinchan, which means you'll need to have a car. But worry not, there is plenty of parking on site.
---
Best Cheap Hotel In Sekinchan – OYO 880 Hotel Purple Town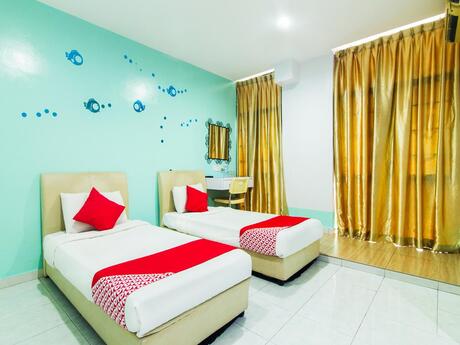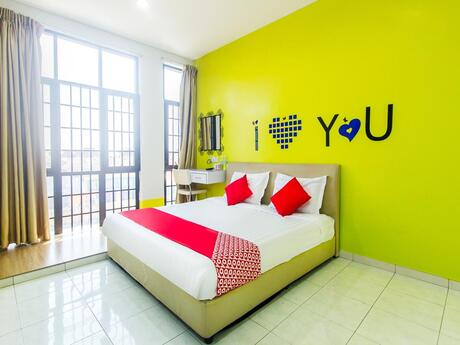 OYO 880 Hotel Purple Town is one of the most popular hotels in Sekinchan, thanks to its excellent value for money.
OYO is a chain of hotels that is very common in Malaysia. Known for their standard rooms at an affordable price, OYO 880 Hotel Purple Town is the perfect place to stay if you are traveling on a budget or want to save some money!
---
Best Vacation Rental / Airbnb In Sekinchan – One Residence Sekinchan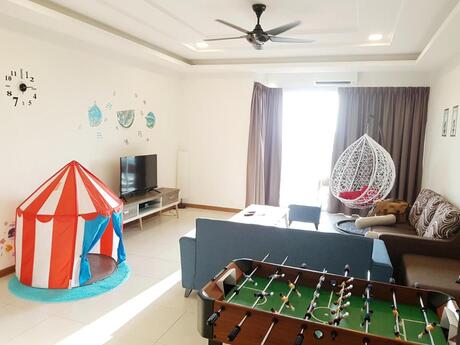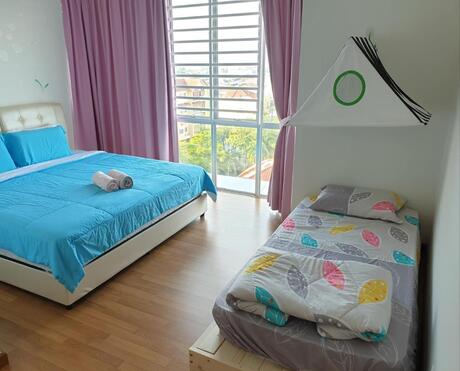 Explore Sekinchan like a local by staying at one of the best vacation rentals or Airbnbs in Sekinchan. It is a great way to give back to the local communities and find a cozy accommodation. One Residence in Sekinchan is exactly that.
As a 3-bedroom apartment in Sekinchan, this vacation rental can accommodate up to 8 guests comfortably. Guests traveling in groups or with families will love the spacious home. With 2 baths, there is no need to worry about waiting to shower or use the toilet in this rental apartment.
Located in the heart of Sekinchan, guests can find the morning market (Pasar), bicycle rentals, various restaurants, and the famous paddy fields nearby. The apartment is located in a residential complex, so guests can also use the shared facilities such as an outdoor swimming pool and a children's playground.
A private parking space is also offered for all guests. Discovering Sekinchan is made easy by staying at One Residence Sekinchan!
---
Is A Sekinchan Day Trip Enough?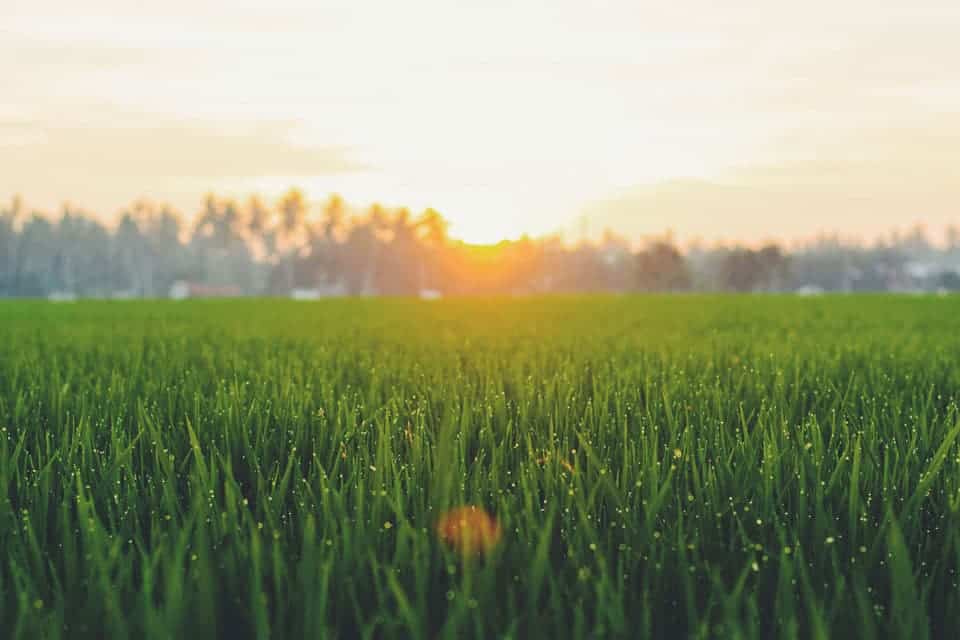 One of the most common questions I get asked about Sekinchan is "Is a Sekinchan one day trip enough?" The answer is: Probably yes.
Sekinchan is beautiful but it is a small fishing village after all. One day in Sekinchan is plenty to see the main Sekinchan attractions.
If you are visiting Sekinchan, chances are you will have your own car or motorcycle. Having your own transportation allows you to easily jump from one Sekinchan attraction to another. Taxi-hailing apps such as Grab can be unreliable in a small town like Sekinchan.
A popular option for traveling in town is by bicycle. There are bicycle rental companies in town with various types of bikes for rent!
Though if you want to enjoy some of the nearby attractions in Kuala Selangor such as the fireflies and Sky Mirror, you might want to consider staying in Sekinchan for 2 days. A weekend in Sekinchan is the ideal amount of time to explore and relax in this beautiful seaside town with stunning rice paddies!
If you are going from KL to Sekinchan,
check out our special Sekinchan day tour with Sky Mirror!
---
How To Get To Sekinchan?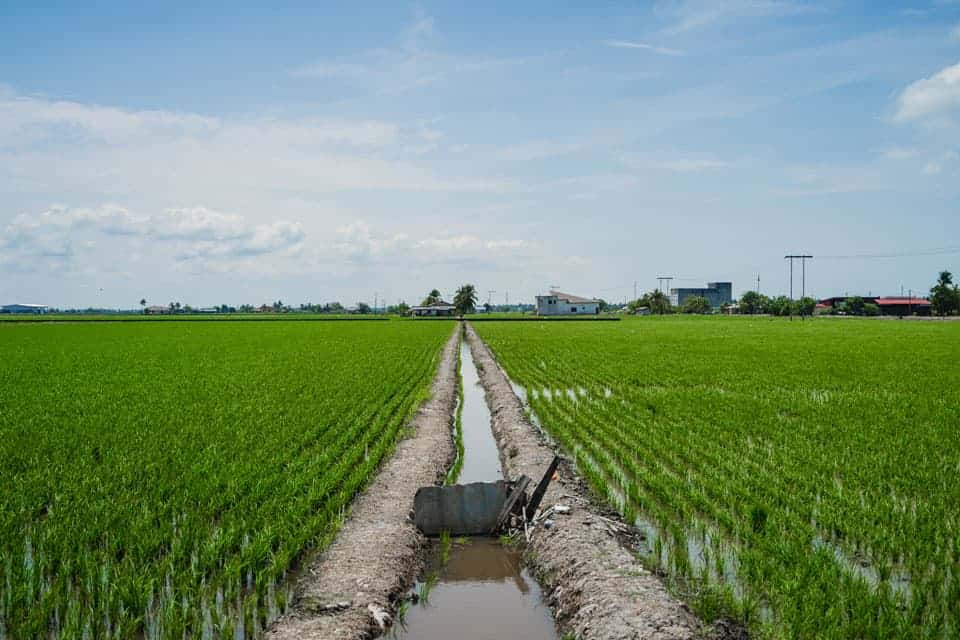 Sekinchan is a small fishing village located in the Sabak Bernam District of Selangor, about 100 kilometers away from Kuala Lumpur. The most convenient option to visit Sekinchan is by renting a car in Kuala Lumpur and taking the 1.5-hour drive.
Though there is public transportation that goes from Kuala Lumpur to Sekinchan, the route requires many stops and a longer time (~2 to 2.5 hours). If you want to do a Sekinchan day trip, it is highly recommended to drive from Kuala Lumpur.
If you insist on taking a bus from KL to Sekinchan, head over to Pudu Sentral (Puduraya) and catch the SPT to Teluk Intan. The bus will pass by Sekinchan where you can disembark.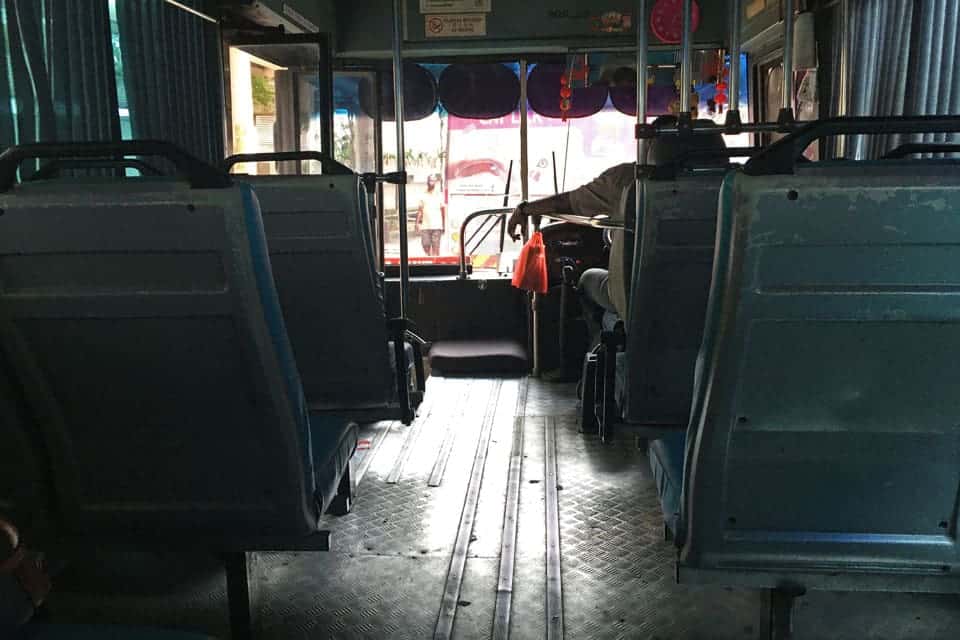 It is also possible to come from the north as well. Ipoh is a common departure point for Sekinchan. The drive from Ipoh to Sekinchan could take up to 3 hours, making it an unrealistic option for a day trip to Sekinchan. Public buses are also available from Ipoh to Sekinchan, though that would take a much longer time.
Looking for an affordable car rental company in KL?
Check out our recommended car rental company!
---
Best Time To Visit Sekinchan, Malaysia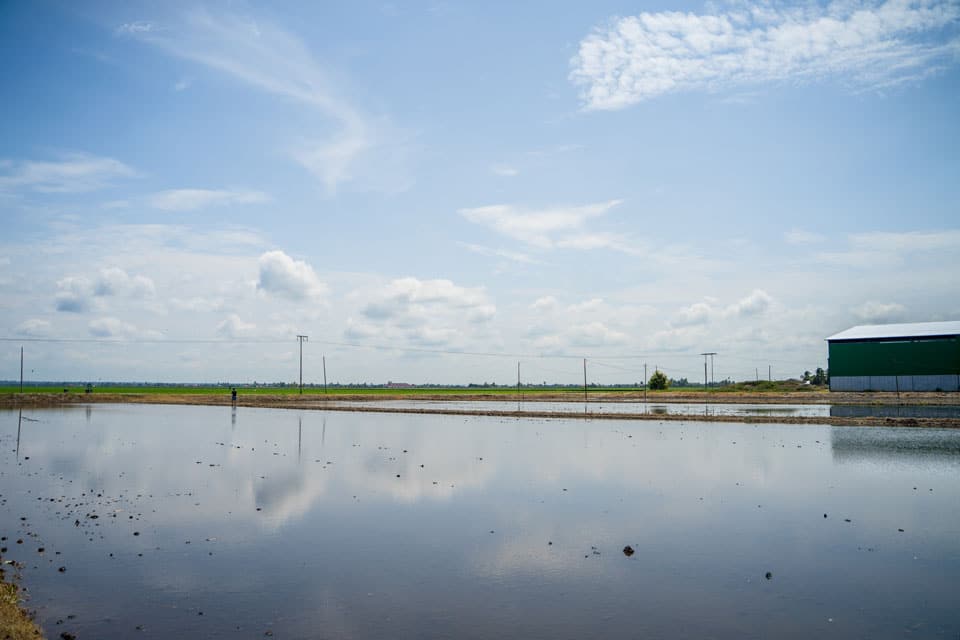 If you are visiting Sekinchan, you probably want to see the lush paddy fields. If that is the case, it is important that you come at the right time and not when the rice was just harvested.
Generally, from the middle of March to May and the middle of September to November, you will encounter lush rice paddies. December is harvest season so you won't find anything.
Depending on how the season is going, the schedule might be a little different than anticipated. It is wise to check with your accommodation in Sekinchan before arriving to check the condition of the paddy fields!
We visited in early March and found that some of the fields were already cleared out. The owner of our homestay said the farmers had cleared it a few days ago. If we arrived a few days early or a few weeks later, the paddy fields would've been in full bloom!
---
How To Get From Kuala Selangor to Sekinchan?
As far as we know, there is only 1 bus that goes from Kuala Selangor to Sekinchan – the KS01. It departs here inside the town of Kuala Selangor. The schedule is quite sporadic so if it is not a good option if you have a one-day Sekinchan itinerary.
Driving from Kuala Selangor to Sekinchan is much easier. A distance of 27 kilometers (16.7 miles) separates these two towns on the Malaysian west coast, and it usually takes about half an hour to get there by car.
---
Visiting Sekinchan Selangor FAQs
What Are Some Must-do's On a Sekinchan Day Trip Itinerary?
If you are doing a Sekinchan day trip and you are short on time, here are what you need to include in your itinerary – visit the paddy fields, check out the Paddy Gallery, eat at the N16 Sekinchan Cafe, and visit Pantai Sekinchan (Sekinchan Beach)!
Is There Any Sekinchan Food You Must Try?
Because Sekinchan is a small fishing village in the Selangor State, seafood is without a doubt the best food to try in Sekinchan. There are numerous seafood restaurants in Sekinchan, and some dishes you mustn't miss are mantis shrimps (they're scary looking but super tasty, I promise!), oyster omelet, and fresh fish (obviously)! Don't forget to pair your fresh seafood with a nice Tiger beer or a yummy coconut!
Can You Do a Staycation in Sekinchan?
You could do a staycation in Sekinchan, but just don't expect luxurious accommodations that will cater to your every need. The hotels there are more family-friendly and cute, which is great for travelers with kids. But we wouldn't consider them a good place for a staycation.
Where Is Sekinchan?
Sekinchan is a small town located in the Sabak Bernam District of Selangor, Malaysia. It's situated along the coastal Federal Route 5, approximately 100 kilometers away from Kuala Lumpur.
What Can I Buy in Sekinchan?
The best things to buy in Sekinchan are rice and rice-related products, mangos, dried seafood and other seafood-related products.
How Far is Sekinchan from Kuala Selangor?
Sekinchan is approximately 17 miles (27 km) away from Kuala Selangor. The journey by road typically takes around 25 minutes.
---
Like this post? Don't forget to save it on Pinterest!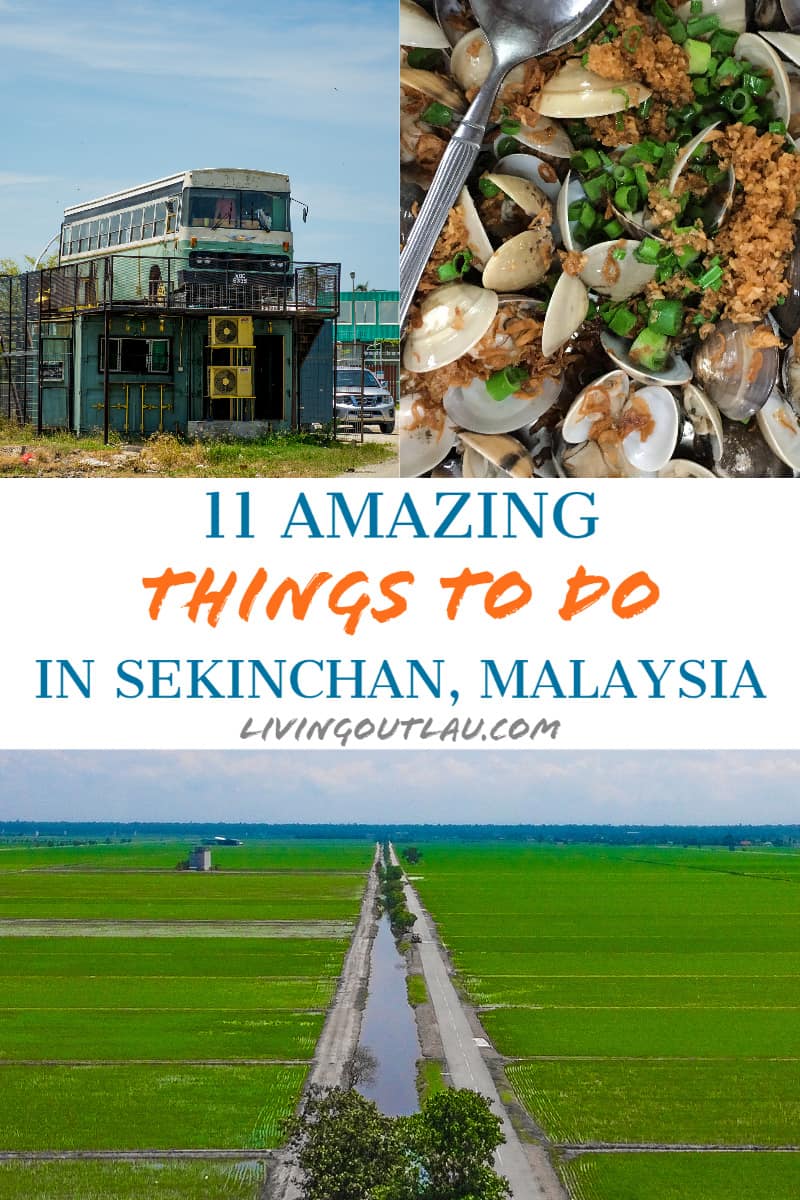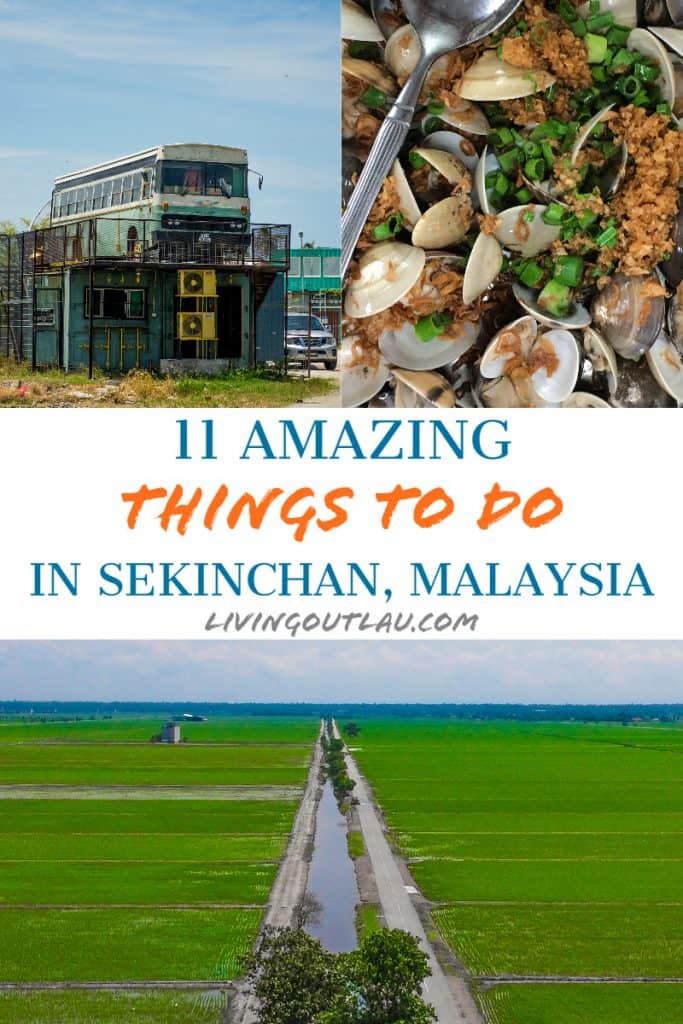 ---
This is the end of our guide on the things to do in Sekinchan, Malaysia. Hopefully, this has given you an idea of what to do on your Sekinchan trip!

Any question? Leave them in the comments!
Disclaimer: Some of the links above are affiliate links. That means if you book or make a purchase through the links, we will earn a small commission at no extra cost to you! The money will help run this site! Thank you!