As someone who travels a lot, I am always conscious of the amount of waste I produce. It's a common fact that climate change is a big issue, and it's only getting worse.
So I've started thinking more about how I can make small changes to my lifestyle to try and help the situation and be a more responsible traveler – well, as much as possible!
I read an astonishing fact recently that in 2018, tourism contributed 40% towards plastic waste flowing into the Mediterranean ocean. That's huge. And it really got me thinking…could this be me? Could I also be part of this problem?
So I decided to make a change. If you're someone who is conscious of the amount of plastic waste you produce and want a more eco-friendly travel kit, read on! We have a few hints and tips for you that will help you to travel without plastic!
Is It Possible To Travel Plastic-Free?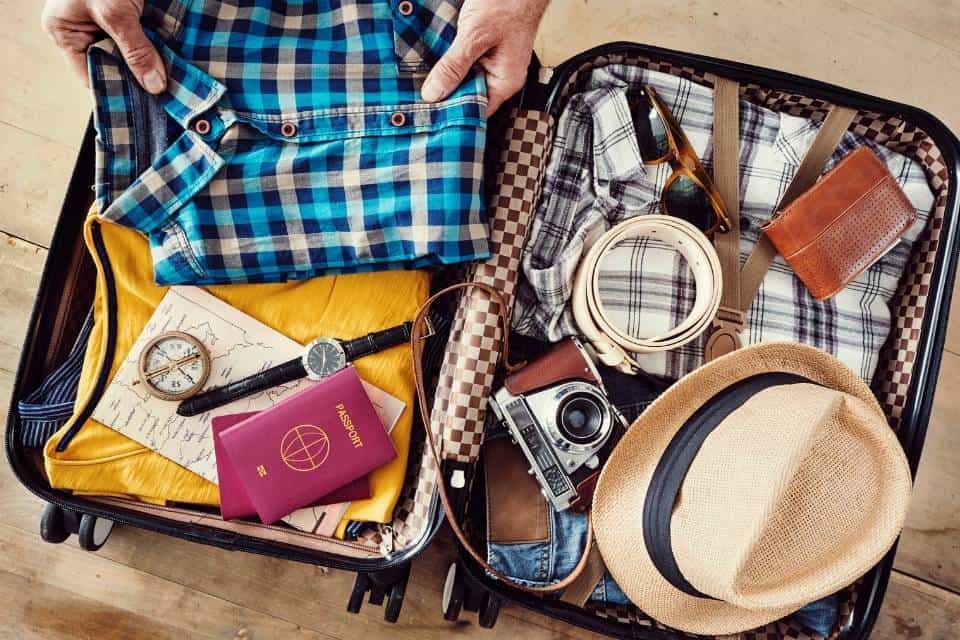 The simple answer is, yes! But it does require some research and careful planning. 
As 40% of plastic waste comes from packaging, those wanting a plastic-free vacation need to think carefully about the products to take with them on their trip. 
Luckily, some companies are making real strides in the zero plastic waste area and have opted for more economical packaging such as paper, wood, plant-based solutions, and other recyclable materials.
As a minimalist traveler, I like to fly carry-on only. Not only is it more convenient, but it allows me to become an eco-friendly traveler by traveling with less. 
However, with airport restrictions only allowing you to carry liquids in 100ml plastic bottles, in a clear plastic travel bag, the means to traveling sustainably is made more challenging. For me, the idea of buying small bottles of toiletries just so I can take them on a plane seems absurd.
So with that in mind, I started to look into alternative solutions to create an eco-friendly travel kit. So if you want to know how to go plastic-free on your next vacation, read on!
How To Prepare An Eco-Friendly Travel Kit?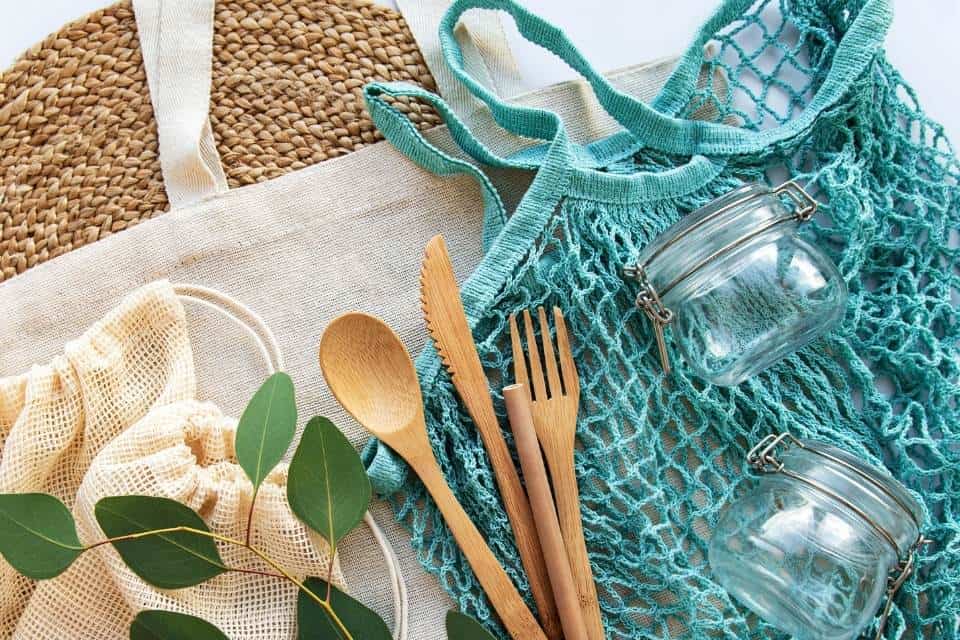 First of all, before you start shopping for eco-friendly travel products, you should remember that throwing out all the plastic you are currently using is very wasteful and not a solution to the problem. 
Please don't invest in any of the items we have recommended until you've finished with your current one. If you have a small amount left, particularly liquid items, before your travels you can simply put it in a small glass spice jar and take it with you!
But for those of you who are ready to invest in plastic-free travel products, there's a simple way to check that you're buying a product that is really plastic-free. 
When searching through brands, the best way to check you are buying a plastic-free option is to look for this seal that shows a product is certified as plastic-free.
As well as looking for the seal of approval, you should also consider the packaging – especially when shopping online. While the product itself is plastic-free, styrofoam and bubble wrap are made of plastic, which is obviously not good. 
Most companies will have a disclaimer stating what packaging they use when delivering items, but if you are not sure, you can always contact them to find out.
Plastic-Free Travel Kit
1. Shampoo and Conditioner Bars
What you pack in your soap bag will most likely be where the majority of your plastic waste comes from. Shampoo and conditioner is a necessity, but it doesn't have to come in the form of a big plastic bottle.
Brands such as Lush and Ethique have been making solid toiletries in the form of shampoo and conditioner bars for many years and are the most top-rated products on the internet.
Our personal favorite is the Ethique Hydrating Shampoo bar as it provides enough moisture that I don't really need to use conditioner. The smell is divine and one bar can last up to 3 months (provided you don't wash your hair every day).
If you want a conditioner too, then the Ethique Guardian Sustainable conditioner bar comes highly rated as a deep conditioning bar that lasts.
2. Body Wash and Body Lotion Bars
As well as shampoo bars, body wash bars are also a great alternative to those big and bulky plastic bottles. Unlike bars of soap, body wash bars are gentle on the skin and leave you feeling clean and fresh. They also last a lot longer than liquid body wash.
There is also a great alternative to body lotion for those with dry skin. If you're visiting a hot and dry country, the Ethique Body Butter Block will be a blessing for keeping your body moisturized and feeling silky smooth.
3. Tin Case For Shampoo & Soap Bars
An aluminum tin case is a great item to store all these shampoo bars and body wash bars. The metal material means that your bars will stay protected when you're traveling around and they are also less impactful on the environment.
When choosing a sustainable deodorant, one that I always look for is one that is aluminum-free. The reason for this is that the aluminum is what causes that horrible, sticky feeling under your arms.
Using a deodorant bar with essential oils can be a good way to fight bacteria, leaving you smelling fresh, and making sure you are not left with that nasty, sticky feeling. 
We have been enjoying these Each & Every Aluminium Free Deodorant Bars for a while, which smell really amazing but are also very subtle, so it's great for both men and women. It also comes in plant-based packaging, which is perfect for those wanting to travel plastic-free!
Keeping your hands clean while you're traveling is incredibly important for keeping away bacteria and illnesses, so we would always recommend packing hand sanitizer. However, sanitizer often comes in plastic packaging, so why not try using anti-bacterial soap sheets instead?
Anti-bacterial soap sheets work in much the same way as regular soap. You simply wet the sheet in water and it will start to dissolve into a gel. You can then wash your hands in the sink as you normally would. They also work as shower gel, if you're really into packing light.
6. Powder Toothpaste or Chewable Toothpaste Tablets
A really great way to reduce your plastic waste when traveling is to switch from tubes of toothpaste to toothpaste powder or tablets. It is also suggested that toothpaste powder is slightly better at removing plaque and whitening teeth!
There are a few sustainable brands that sell them, but we really like this The Dirt toothpaste powder because it comes in a glass jar that is 100% recyclable. We also like these ChewTab chewable toothpaste tablets for when we are traveling on long trips.
Bamboo toothbrushes are a great alternative to plastic-free ones as they are more hardwearing and durable, as well as being compostable.
I also like how the bristles are made from charcoal, which acts as an active whitening agent, as well as freshens your breath and removes bacteria.
8. Reusable Make-Up Remover Pads and Face Cleansing Bar
If you are someone that uses makeup, then you will need ways to remove your makeup. Traditional remover pads and face towels are too wasteful, that is why we recommend using washable face towels, reusable make-up remover pads and a cleansing bar.
The pads can be washed either in a washing machine or in a sink full of soapy water, so no need to dump any more cotton wool or make-up remover pads. 
The cleansing bars by Ethique have also been highly rated online as a fantastic cleanser that doesn't irritate the skin. Some reviewers have also raved about how it has helped clean up their acne!
9. Reef-Friendly Sunscreen Lotion In A Tin
Moving to a sunscreen balm takes some getting used to, but after a while, you'll start to wonder why you haven't used them before!
This Raw Elements Body Face and Body Sunscreen not only protects your skin with an SPF of 30+, but it is also 95% organic and reef safe!
And the best thing about using a sunscreen balm is no more sticky, streaky sun cream feeling. The balm also acts as a moisturizing agent, leaving your skin feeling silky smooth.
The worst thing about insect repellent is the feeling it leaves on your skin…and half the time, it doesn't actually work!
A great way to repel those pesky insects, and reduce your plastic waste, is to use a soap infused with citronella essential oils. Mosquitos hate the smell of citronella, so these soap bars work wonders! By washing yourself with that soap bar, you coat yourself in a layer of protective essential oils, naturally repelling insects.
If you're staying somewhere with lots of mosquitos, you can also take a citronella candle with you for good measure.
Another great way to go plastic free is to invest in a plastic free razor or double edge safety razor instead of disposable plastic ones. Not only are they better for the environment but they are incredibly effective. And not as complicated to use as some people may think!
If you use hair-styling product, you know how often nearly all hair products come in a plastic tube or a plastic container. It might not seem like a lot of plastic but it is something that can lead to lots of plastic waste without you noticing. Swapping out your regular hair gel with a plastic-free brand is a great way to encourage responsible travel.
We really like this Seattle Pomade Co. Grooming Clay because it not only comes in a metal container that's eco-friendly but it is made with essential oils so it protects your hair from damage as well as holding your style in place.
If you are traveling for a while and you need to do some laundry, it's a good idea to carry laundry detergent sheets. Doing your laundry yourself instead of letting your hotel doing it is one of the best money-saving tips when traveling.
If you want to do hand washing, you can simply put one sheet in the sink and fill it with water. It will dissolve in the water and give you a nice soapy basin to wash your clothes in.
Or if you need to go to a laundromat, you can just toss the sheet into the washing drum and start the machine!
Other Ways To Travel Plastic Free
1. Say No To Plastic Bottles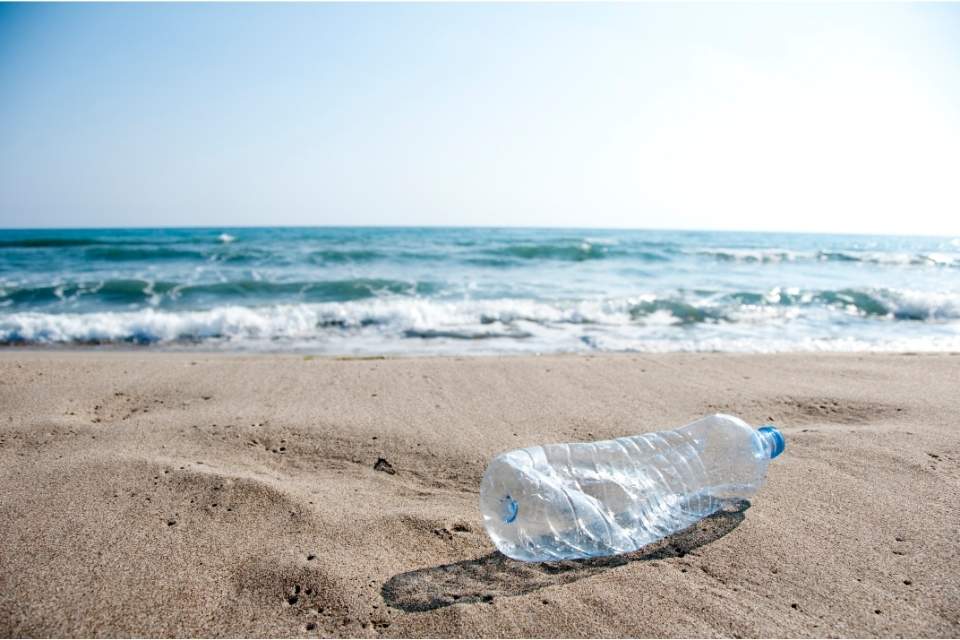 The easiest way to reduce your plastic waste is to say goodbye to single-use plastic bottles. When you're traveling abroad, it's too easy to buy a plastic bottle of water from the convenience store or take the plastic bottle provided to you in your hotel room.
But since plastic bottles equate to around 15% of plastic pollution, it's a no-brainer that buying these single-use plastic bottles is harmful to the environment.
Personally, I've opted for this LifeStraw. Though LifeStraw does use plastic with their products, they only use recyclable plastic, so when the time comes to retire it you can simply recycle it.
The great thing about LifeStraw is that its innovative filtration system removes bacteria from water, so that no matter where you are in the world, you can have access to safe drinking water without having the need to buy bottled water. 
I simply fill up my bottle from the tap in my hostel and then hit the road! You can also fill it up in public bathrooms or restaurants, so you don't need to buy water when you run out while you're out and about.
2. Bring Your Own Snacks
Before you set out on your travels, you could bring metal Tupperware with your own snacks so you don't have to buy your own at the airport and worry about where those nasty plastic wrappers are going. You can also guarantee a snack you'll enjoy as well!
3. Take A Collapsible Shopping Bag
When you're buying souvenirs, you can help protect the environment by declining the offer of a plastic bag by bringing your own foldable shopping bag. I really like this foldable bag, which rolls up into a small ball so it doesn't take up much space.

It's made from a strong, durable polyester material that will last an age. I've had mine for four years and it's still got plenty of life left.
4. Use Bamboo or Metal Straws
If you're someone who likes to use straws, no problem. You can take a metal straw with you! Bamboo straws are also popular, but I find the metal ones are easier to clean and come with a helpful cleaning brush.
5. Reject Hotel Freebies
I know, it's free. So of course you want to help yourself. But those tiny bottles of body wash that your hotel offers you will last you one or two showers, and then the bottle goes straight into the bin…and then into the sea, most likely.
So if you say no to those little bottles of toiletries and bring your own, you can really help save the planet from further plastic waste.
6. Take Your Own Headphones
When taking long-haul flights, reject the headphones that are handed out to you on the plane and use your own. This will save them from ending up in the bin at the end…and your own headphones are much more comfortable!
7. Find Out About Local Recycling Initiatives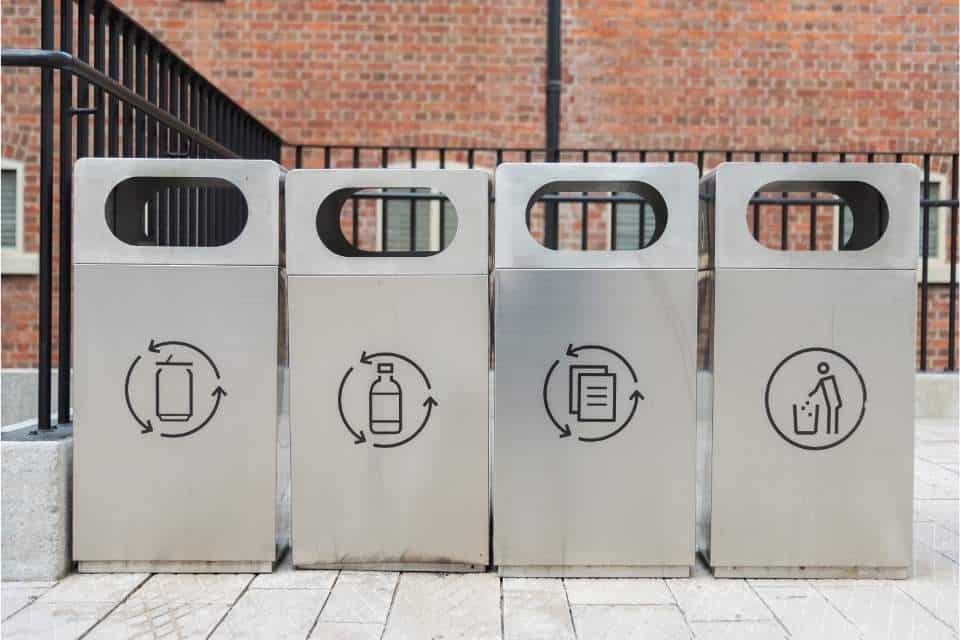 If you recycle at home, then it should be no big ask to continue to recycle abroad. Ask the staff at your accommodation where your nearest recycling point is.
Perhaps they have a recycling bin outside? It takes no time at all to find out where the recycling point is and drop off your recycling at the end of your trip.
You should make sure to do a little bit of research about recycling before your trip. Some places are extremely good at recycling their waste, other countries are not.
If you're going somewhere that can't convince you that your recycling waste is going to actually be recycled, maybe take it home with you.
8. Shop Locally
When you're traveling abroad, you can help save the planet by shopping locally instead of buying brands you know from supermarkets.
Head to markets, street vendors, and small shops where the products are more likely to be sourced locally. This will also give you a more authentic and cultural experience of that country, as well as provide you with some fond memories of your trip.
Like this post? Don't forget to save it on Pinterest!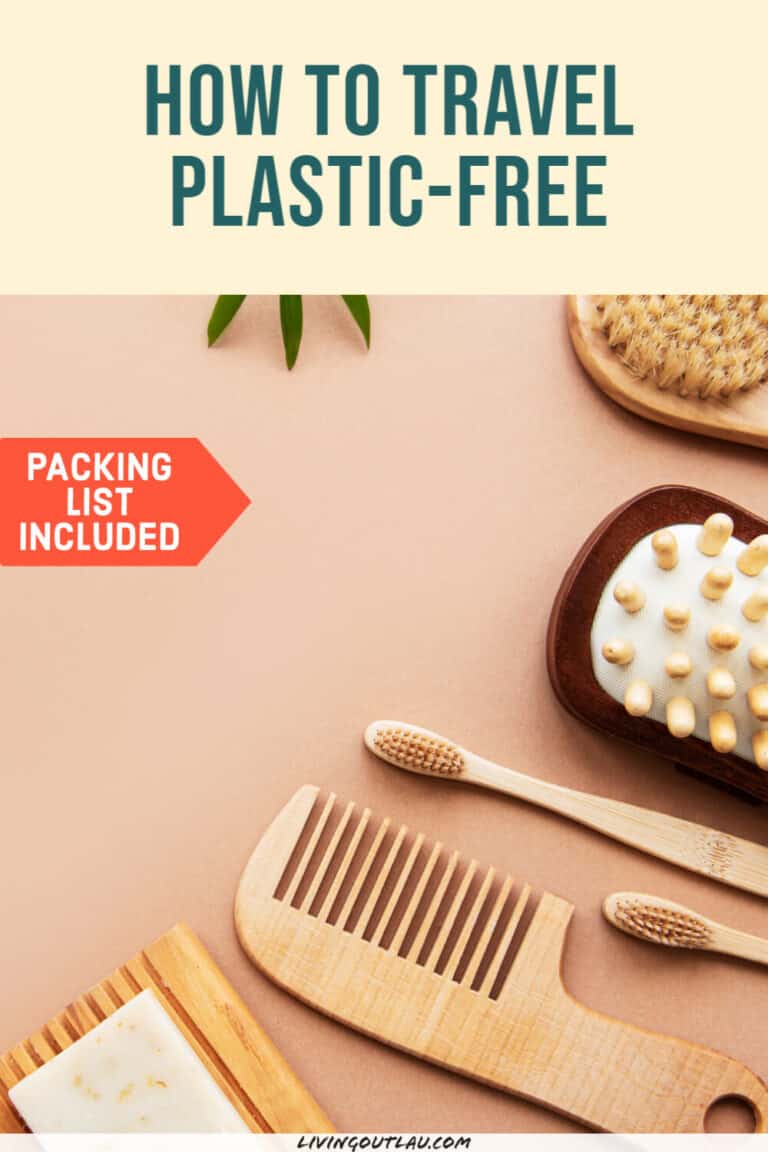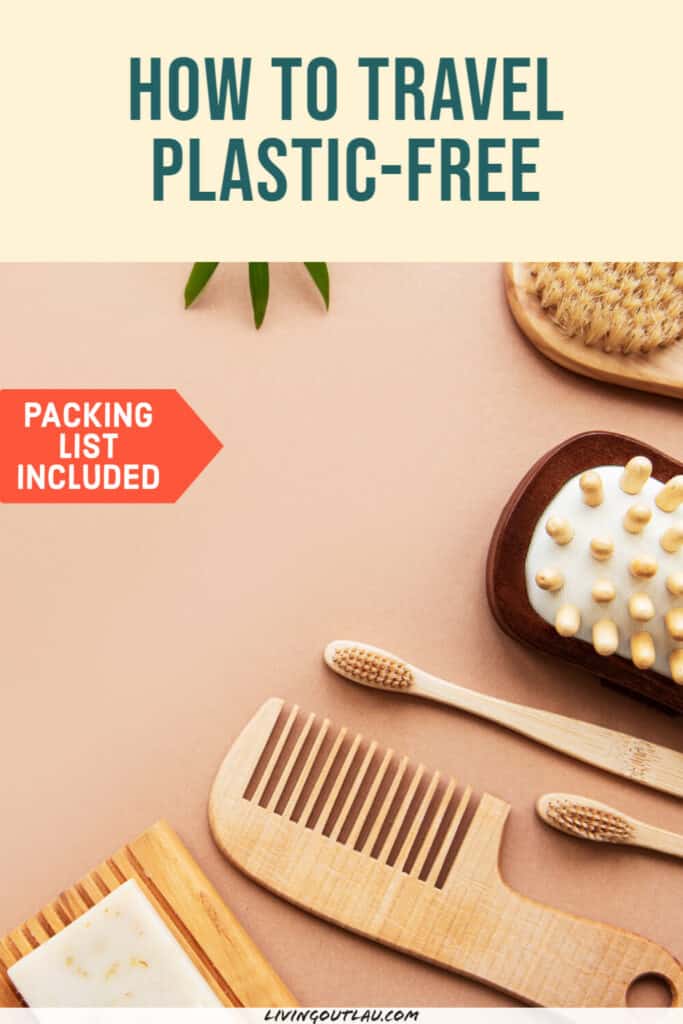 It's common knowledge that climate change is a huge issue and we all need to do our bit to make small changes in our daily lives, to make a big impact on our planet.
I hope this guide helps you to think more about how you can reduce your plastic waste when traveling.
Any questions, or if you have any travel hacks of your own, leave a comment! We would love to hear from you 🙂
Disclaimer: Some of the links above are affiliate links. That means if you book or make a purchase through the links, we will earn a small commission at no extra cost to you! The money will help run this site! Thank you!