If you're thinking of traveling to Colombia, you may be wondering which city is better to visit: Medellin or Bogota? These are the two biggest cities in Colombia and each has its own unique charms and attractions.
Of course, the ideal Colombia itinerary would include a visit to these two beautiful cities, but what if you only have time for one? After spending a considerable amount of time in both cities, I was surprised to find that the two cities are actually quite different.
In this blog post, we will compare and contrast Medellin and Bogota so that you can make an informed decision about which one to visit.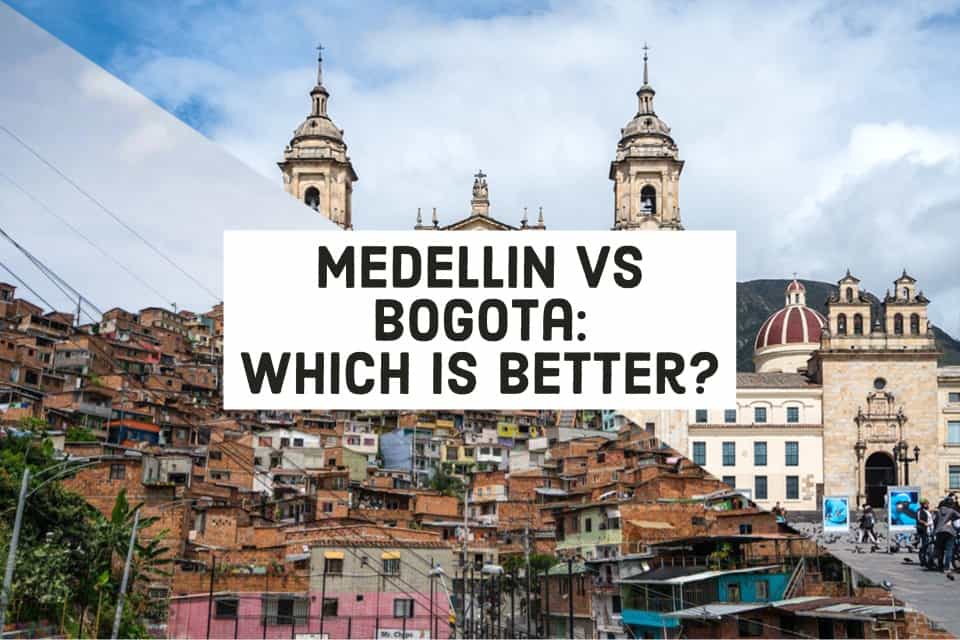 ---
What Is Medellin Like?
Before we jump into our comparison, let's talk about the cities. If this is your first time hearing about Medellin, then you might not know about the city's complicated history and transformation.
To start off, Medellin is nicknamed "The City of Eternal Spring" thanks to its year-round spring-like weather. The city is situated in the Aburra Valley in the Antioquia Department and is surrounded by mountains. Though the second biggest city in Colombia, Medellin has the perfect balance between city and nature.
But perhaps what Medellin is most famous for is its horrible past with Pablo Escobar and the drug cartel. In 1993, Colombia had the highest homicide rate out of every country in the world, and Medellin's was double that amount. It was very dangerous in Medellin at that time, but since the fall of Pablo Escobar, the city has been on a long road to recovery.
But what surprised me the most when I was in Medellin was how welcoming the locals are. I had the best time enjoying Medellin's nightlife and meeting all the friendly locals. And if you are a foodie like me, there are plenty of restaurants and bars to choose from.
But perhaps what I loved the most about Medellin was its substantial digital nomad and expat scene. It was so easy to meet people in Medellin.
---
What Is Bogota Like?
Bogota is the capital of Colombia and the largest city in the country. It's situated at 2640 meters (8660 feet) above sea level in the Andes Mountains, making it one of the highest capital cities in the world. Bogota has a population of over eight million people, which is about three times that of Medellin.
The city is quite diverse, with a mix of European and indigenous influences. You'll find colonial architecture alongside modern skyscrapers, and the city has a vibrant nightlife scene. Bogota is also a hub for business and politics in Colombia.
And because many of the government buildings are in Bogota, it is often the epicenter of all civil unrest and protests. This has made the city a lot more dangerous at times, which is something travelers should consider if they intend on staying a long time.
The vibe of Bogota is very different from Medellin. Bogota, like any capital city, naturally attracts people that are there to work. While Medellin's vibe is very relaxed, Bogota has a very hectic and chaotic vibe. From my experience, it felt like the locals were not as friendly in Bogota.
The capital city has plenty to offer visitors, from museums and historical sites to parks and nightlife. Because the city is so big, travelers won't have any problems finding anything they might need.
---
Medellin Vs Bogota: How Do They Compare
Below we are going to compare Medellin and Bogota in several different categories. In the end, we'll sum up the pros and cons with a table and select a winner!
Which City Has Better Weather? Medellin or Bogota?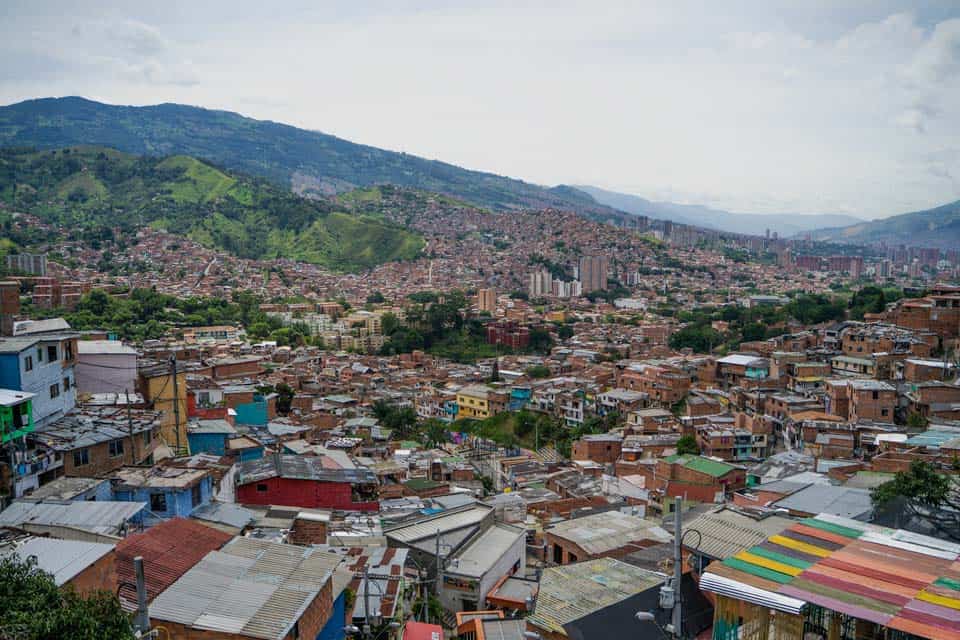 This is perhaps the easiest category to compare Medellin and Bogota.
As the City of Eternal Spring, Medellin has an amazing climate and sees beautiful warm weather year-round. Travelers can walk around the city in a t-shirt and shorts at any time of the year. Even in the coldest month, you can expect an average temperature of around 63 degrees Fahrenheit or 17 degrees Celcius. However, the city does see quite a bit of rain, especially during the rainy season.
The weather in Bogota is miserable at all times of the year. I had to carry an umbrella every day because Bogota rains (even just a little bit) almost every day (even the locals do). And because of the city's high altitude, the weather is always cold. I had to buy warm clothes when I visited Bogota.
The city is in the clouds, which means the forecast is always overcast and rainy. The warmest month in Bogota sees an average high temperature of 19.8°C (67.6°F), which is really not what you imagine when you think about a holiday in Colombia.
For those reasons, Medellin is the clear winner for weather.
City With Better Weather:
Medellin
Which City Has Better Nightlife?

Medellin or Bogota?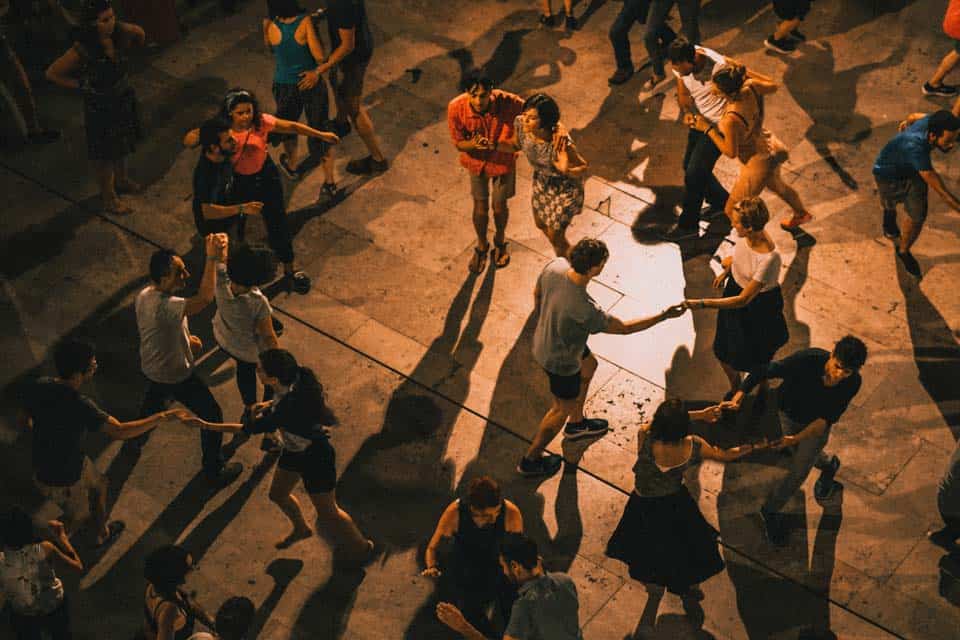 If there is one thing Colombia is famous for, it is its vibrant nightlife. It doesn't matter if you are in Cartagena, Medellin, Bogota, Cali, or even just a small town in the mountains, you'll find locals ready to shake their hips until the morning. As the two biggest Colombian citie, both Medellin and Bogota have amazing nightlife, but we found that one was slightly better than the other.
Both Medellin and Bogota have a wide variety of clubs, bars, and restaurants to choose from. However, we found that the nightlife in Medellin was a bit more relaxed and laid back than in Bogota.
In Medellin, the locals were always really friendly and happy to mingle with the foreigners. You'll always find lots of people out having a good time in Parque Lleras at night, dancing, drinking, and just mingling.
That isn't to say that the locals aren't friendly in Bogota. We just found the atmosphere to be a little bit more uptight and cold. It could've been something to do with the cold night temperatures, which aren't exactly conducive to a good night out.
Again, that is totally my experience traveling in those two cities. I've met people along the way that find the nightlife in Bogota a little better than Medellin and vice versa.
There is one thing that Bogota outshines Medellin – the LGBTQ+ scene. Bogota has one of the largest concentrations of gay bars and clubs in the world. If you are part of the LGBTQ+ community, you'll have an amazing time in Bogota.
For the city with the better nightlife, Medellin slightly edges out Bogota.
City With Better Nightlife:
Medellin
Which City Has Better Safety?

Medellin or Bogota?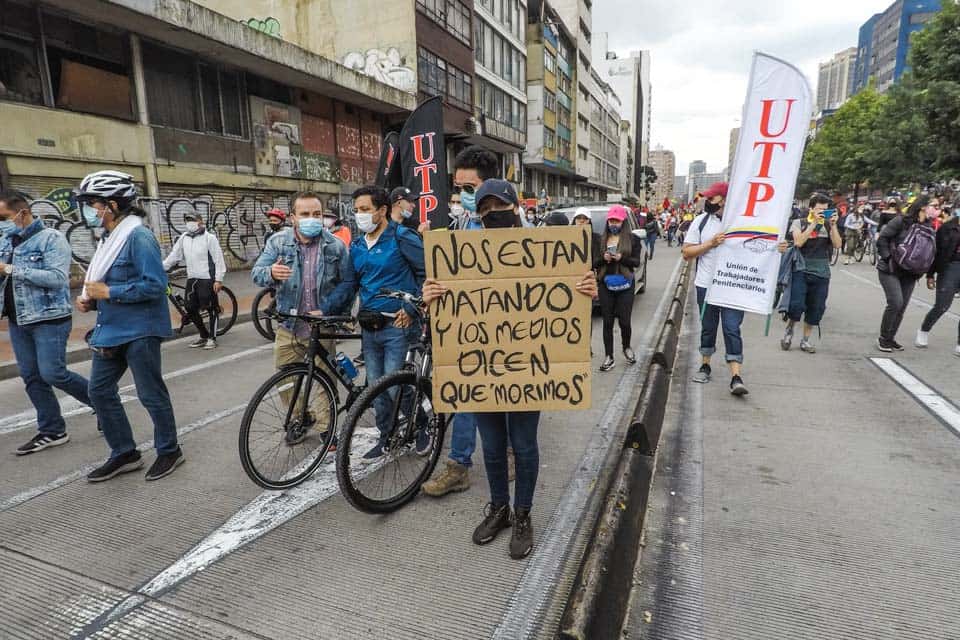 As you already know by now, Colombia does not have the best reputation when it comes to safety. And there's nothing that can ruin your trip more than being a victim of crime. So which is the safer city? Medellin or Bogota?
Medellin and Bogota both have a crowded and chaotic city center that becomes quite dangerous at night. Likewise, Medellin is very safe in areas such as Envigado and El Poblado, same as Bogota's Usaquen and Chapinero.
Both cities have safe areas where tourists are most likely not going to get into trouble, as long as they are aware of their surroundings and use good common sense.
However, generally speaking, there are more petty theft and pickpockets in Bogota. I've heard more people getting robbed at knifepoint in Bogota, and sometimes stabbed.
Bogota is safe as long as you are in selected neighborhoods, but it's very easy to go from a safe area to a dangerous area unknowingly.
In one minute, you could be in a totally safe area, and in another, you could be in a desolate street with danger lurking. This has actually happened to me when I was staying in Chapinero in Bogota, which is one of the more popular areas to stay there.
Bogota also has a bad reputation when it comes to taxi safety. Medellin's taxis are typically safe, but Bogota's taxi drivers are known to rob victims, especially at night if you are alone.
Plus, civil unrest and protests are a lot more common in Bogota thanks to its many official government buildings. Some of these protests can get violent, and could potentially put travelers in danger.
For those reasons, Medellin is generally safer than Bogota.
City With Better Safety:
Medellin
Which City Has Better Tourist Attractions?

Medellin or Bogota?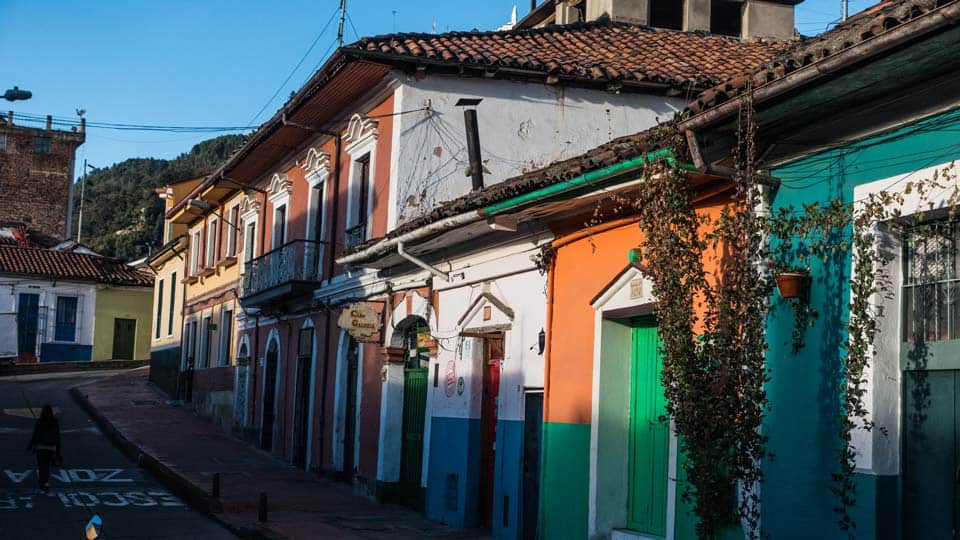 When it comes to tourist attractions, both Medellin and Bogota have a lot to offer. Matter of fact, we found that both cities have similar tourist attractions.
In Medellin, you have the downtown area where you can learn more about the history of Medellin and Colombia. In Bogota, La Candelaria is the historic center where you'll find narrow alleys and colonial buildings that tell the tales of its past.
Medellin and Bogota both have excellent day trips. From Medellin, you can take a day trip to El Peñón de Guatapé, a huge rock in the middle of a reservoir. In Bogota, you can take a day trip to Zipaquirá Salt Cathedral, an underground cathedral inside a salt mine that is considered the First Wonder of Colombia.
If you're looking for amazing views, both cities will not disappoint. In Medellin, you can take the metro cable car up to Parque Arvi for stunning views of the city and surrounding mountains. In Bogota, you can take the funicular up to Monserrate for sweeping views of Bogota's skyline.
Both Medellin and Bogota have amazing things to do, and that is why this category is a tie.
City With Better Tourist Attractions:
Medellin And Bogota (Tie)
Which City Has Better Food And Drinks? Bogota or Medellin?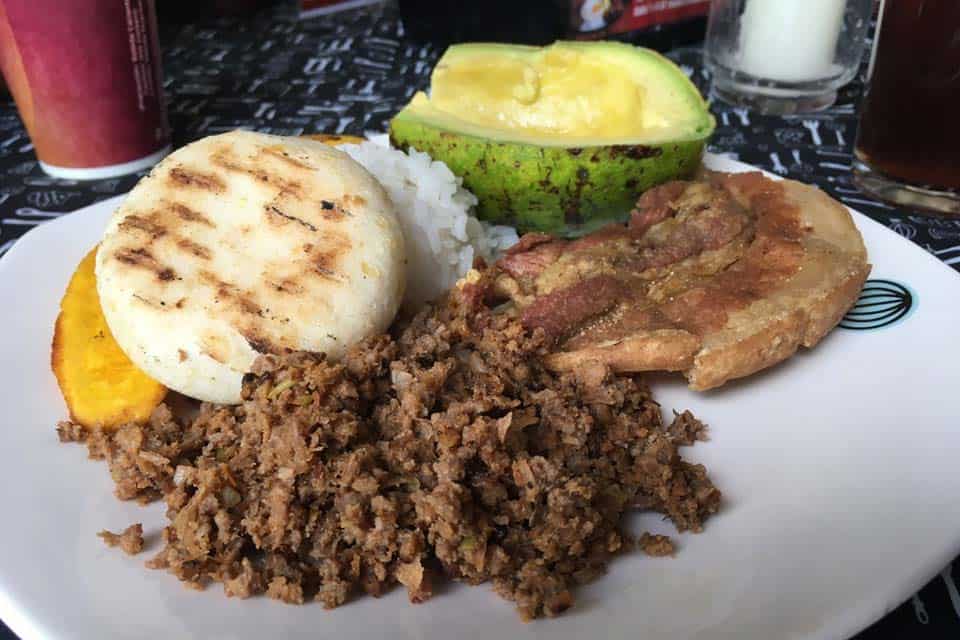 When it comes to food, both the city of Bogota and Medellin have their own specialty.
The famous popular dish from Medellin is Bandeja Paisa. It is an Antioquian dish that is a platter of food that includes beans, rice, ground beef, chorizo, avocado, arepa, plantain, and an egg. It's a hearty dish that usually feeds more than one person! Medellin is also famous for its arepa, which is a cornmeal cake that can be filled with cheese, meat, or vegetables.
Bogota is known for Ajiaco, a chicken stew typically containing potatoes and corn on the cob. The potatoes are typically Papas Criollas, which are small bit-size potatoes that dissolve and thicken the soup as they cook. It is the perfect soup to combat the cold weather in Bogota.
Dishes like empanadas and tamales are also quite popular in Bogota, but they are not super difficult to find in Medellin as well.
When it comes to drinks, both Medellin and Bogota have a variety of drinks from coffee to fresh juices. There is little difference between the two cities.
Both cities also have tons of international cuisines, but Bogota tends to have more options simply because it is bigger and more populous.
For the food and drinks category, Bogota slightly wins over Medellin thanks to more diversity and better-tasting dishes.
City With Better Food And Drinks:
Bogota
Which City Has Better Infrastructure?

Bogota or Medellin?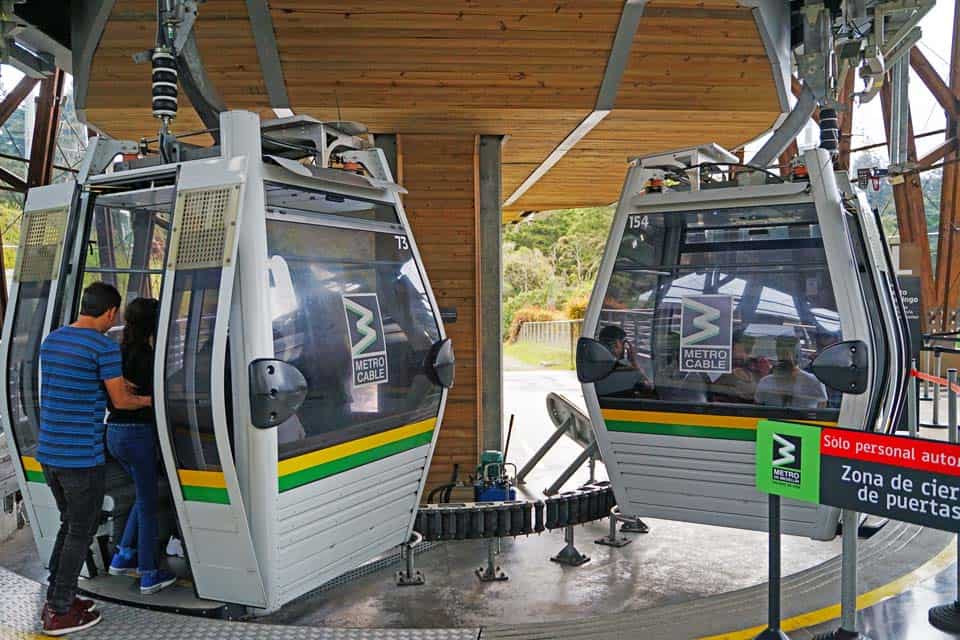 As the two biggest cities in Colombia, both Medellin and Bogota have excellent infrastructure. Both the roads and public transportation are excellent, and visitors can go pretty much anywhere in the city with just public transportation.
In Medellin, you have the country's only Metro, which connects tourists with the tourist sights in the city. There is also the MetroCable, an epic cable car public transportation system that can let you explore the city even more. It is an experience taking the MetroCable because of the incredible views you can get from it.
Then there is the MetroPlus and the public bus system, which tourists typically won't need.
The roads are also excellent in Medellin, perfect for people that are renting a car. However, you do need to be aware of the traffic that occurs during rush hour, just like in any other city.
In Bogota, the most famous public transportation is the TransMilenio, a rapid bus transit system that covers a good portion of the city. There is also a system of public buses that take you to places you cannot reach with the TransMilenio.
For some reason, the TransMilenio system is very confusing to use. I got lost so many times on it and trying to figure out which bus goes where cannot be more complicated. It is not just me though, many other tourists I've spoken to gave up on it and just took Uber instead.
Bogota has nice roads for driving as well, but it is also crowded during rush hour.
When it comes to infrastructure and getting around, Medellin is the winner.
City With Better Infrastructure:
Medellin
Which City Has Better History And Culture?

Bogota or Medellin?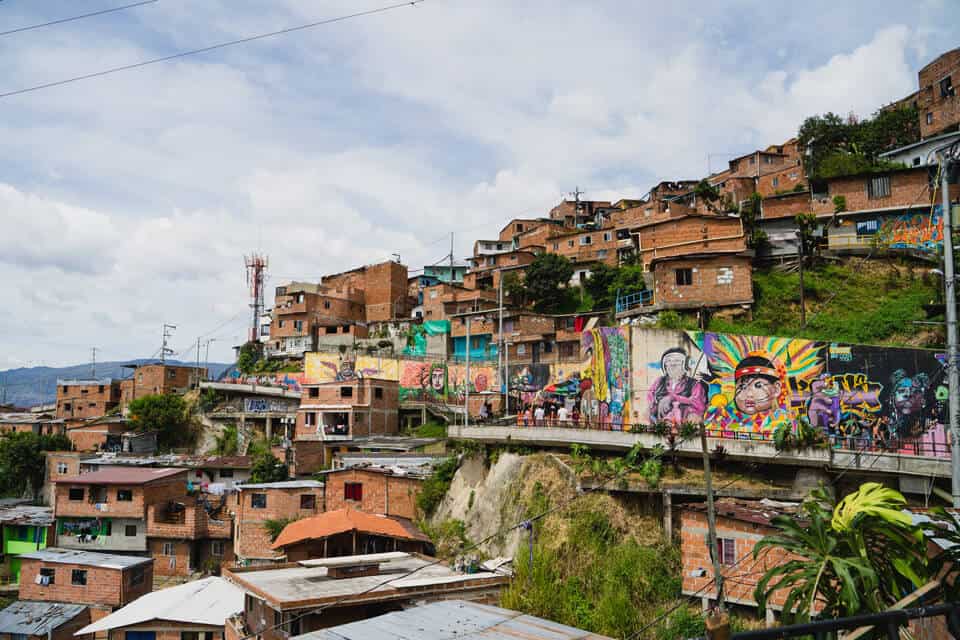 Medellin and Bogota both have tons of history and culture, but the type is very different.
In Medellin, most of the history involves Pablo Escobar and the Medellin drug cartel. You can go on tours to learn about the horrific events that happened during the time when Pablo Escobar held Medellin in his reign.
Visitors can also explore Comuna 13 with a guide and learn about how the most dangerous neighborhood in Medellin has now become the heart of transformation for the city.
There aren't a lot of historical buildings in Medellin, but there is a good number of museums to learn about its history.
📚 Read More: Bogota Vs Cartagena: Which City Is Better For Tourists?
In Bogota, there is a lot more colonial history because it was one of the most important cities of the Spanish empire in South America. Bogota reached the status of Viceroyalty, which was one of the highest titles you can get. The Viceroy could act with all the authority of the King of Spain without first consulting him.
As a result, there are many colonial streets and buildings left in Bogota, which are primarily situated in the La Candelaria neighborhood. This is the historic center of town, but visitors can find museums and tons of impressive government buildings. Plaza de Bolívar is a literal gem of colonial architecture and cool buildings.
When you visit Bogota, don't miss The Gold Museum (Museo del Oro). It houses the world's largest collections of pre-Columbian gold artifacts.
For those reasons above, Bogota is a better city for culture and history.
City For Culture And History:
Bogota
Which City Is Prettier?

Bogota or Medellin?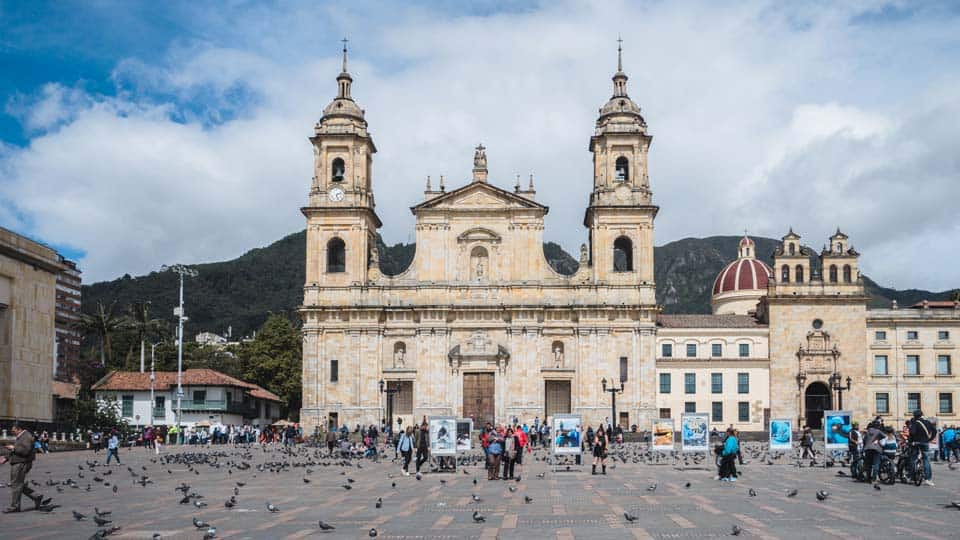 There is no easy answer when it comes to deciding which city is prettier, Medellin or Bogota. Both cities are charming in their own way.
Medellin has a little bit more street art than Bogota, which highlights some of the transformations the city has been facing. However, Bogota has a historic center where visitors can find colonial architecture and cobblestone streets.
In Medellin, visitors can take a cable car and admire the cityscape from above. In Bogota, you can climb up to Monserrate Mountain and take in the 360-degree panoramic views.
Both cities also have plenty of nature and green spaces. In Medellin, you can find parks like Parque Arví and Parques del Rio Medellin. In Bogota, there is the Simon Bolivar Metropolitan Park, which is one of the largest urban parks in the world.
This is a very tough call to make, but I have to give this one to Bogota because of its stunning colonial buildings.
The City That's Prettier:
Bogota
Which City Is Better For Living?

Bogota or Medellin?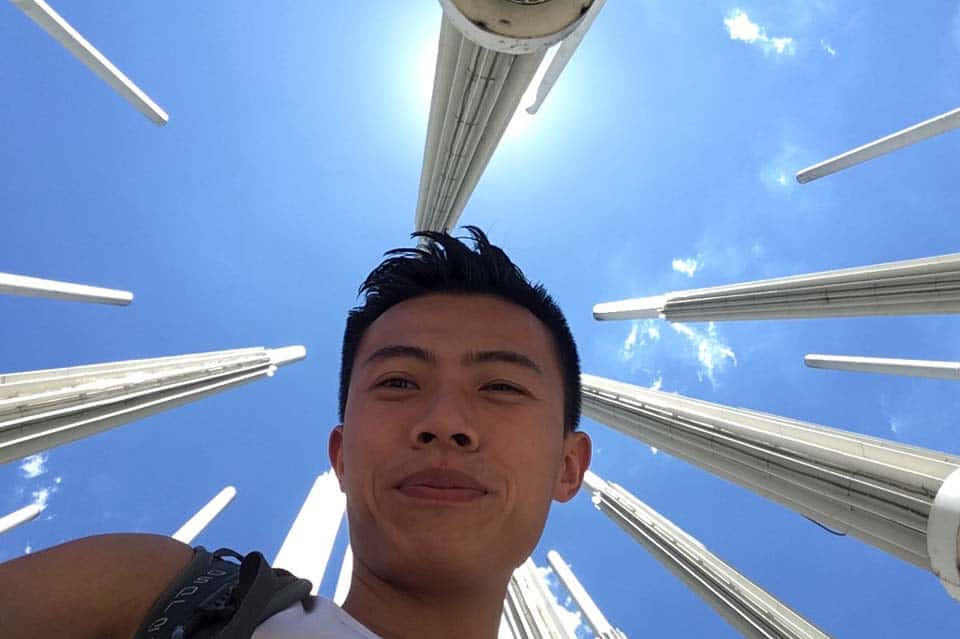 Both Bogota and Colombia are popular destinations for expats and digital nomads, but generally speaking, Medellin is a more popular spot for good reason.
Perhaps the biggest advantage Medellin has over Bogota is the weather. The weather in Bogota is just cloudy, cold and rainy all the time. I've met some locals that said the weather actually makes them quite depressed.
Medellin also has a more laid-back atmosphere than Bogota. I believe this is because Bogota has a hard-working culture. If you ever get on public transportation in Bogota during rush hour, you can just tell how everyone is just stressed out and impatient. The locals in Medellin are much more friendly and open to foreigners.
Lastly, Medellin is slightly cheaper than Bogota. As the capital city of Colombia, you can expect to pay a little more in terms of everything from accommodation to food, and that is because people in Bogota usually earn more money.
Medellin is a better place to live than Bogota.
Better City For Living:
Medellin
---
Bogota vs Medellin Comparison Table
Here is a comparison table with all the criteria I've mentioned above. Hopefully, it'll help you with making a decision between Bogota and Medellin.
| Medellin | Bogota |
| --- | --- |
| Better weather | Plenty of tourist attractions and day trips |
| Better nightlife | Better food and drinks |
| Better safety | Better for history and culture |
| Plenty of tourist attractions and day trips | More Beautiful City |
| Better infrastructure | |
| Better for living or digital nomads | |
📚 Read More: Medellin vs Cartagena: Which One Should You Visit?
---
Medellin or Bogota FAQs
How Much Time Should You Spend In Bogota And Medellin?
We recommend spending at least 3 days in Bogota and at least 3 days in Medellin. With this amount of time, you can cover all of the main attractions in those two cities.
Is Bogota Bigger Than Medellin?
Bogota is a much bigger city than Medellin. Bogota has a population of over 8 million people. and Medellin has a population of slightly over 2.5 million people. When it comes to population, Bogota is more than three times the size of Medellin. Bogota has an area of 1,775 sq kilometers and Medellin has an area of 382 sq kilometers. Bogota is over 4 times the size of Medellin when it comes to area.
Is Bogota Worth Visiting?
Bogota, the capital of Colombia, is definitely worth visiting. It might be a little different than your typical Colombian vacation, thanks to its cooler climate, but the city is home to vibrant street art, impressive museums, and unique architecture.
---
As you can see, deciding whether Medellin or Bogota is the better city is no easy task. Each of the cities has tons to offer and shouldn't be missed on your Colombian trip.
If you are a tourist that is in Colombia for a few days, you might prefer Bogota and its historical attractions, culture, and gastronomy. However, if you are looking for a more laid-back vacation with lots of partying, then Medellin might be better for you.
Whichever city you decide to choose, you're going to have a great time!
Disclaimer: Some of the links above are affiliate links. That means if you book or make a purchase through the links, we will earn a small commission at no extra cost to you! The money will help run this site! Thank you!