One of the most common questions I get about Bali is whether it is still worth visiting or not. Once one of the most desirable travel destinations in the world, Bali has become quite overcrowded. So is Bali overrated? Or is Bali still worth visiting?
After spending a considerable amount of time in Bali, I strongly believe that Bali is worth visiting. The island has plenty to offer for every type of tourists, from the ones that want to party hard and relax in the beach clubs, to digital nomads that work remotely, and travelers looking to explore unique Balinese culture.
Yes, it has become very touristy, and with it comes higher prices, pollution, noise, and other cons. But there are parts of the island where travelers can still explore the beautiful island it is known for.
I've written this article to sum up the pros and cons of Bali and help you decide whether it is worth visiting or not!
---
Is Bali Worth Visiting? The Pros
1. Stunning Waterfalls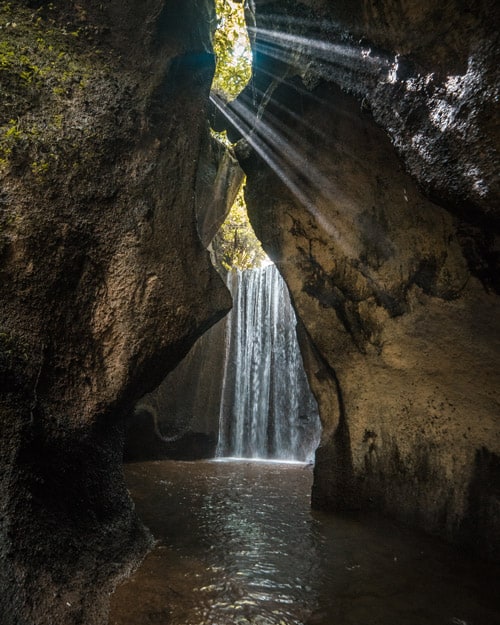 It's a well-known fact that Bali's waterfalls are among the best in the world and these natural wonders make Bali worth visiting almost alone. You should most definitely include a few on your Bali itinerary. Most of them take you through remote lush jungles with short hiking trails that exemplify the beauty of the scenery.
Sekumpul Waterfall is the largest waterfall on the island, made up of several waterfalls in the immediate vicinity. If you're after a swim, 'Hidden Waterfall' within the Sekumpul Valley is by far the best option. Here, you'll be able to swim in the large pool with an incredible view of Sekumpul's natural rock formation.
Tukad Cepung Waterfall involves going down to the bottom of the gorge and hiking through a riverbed before finally arriving at a small hidden waterfall surrounded by sheer walls. Another popular one is Nungnung Waterfall, it's one of the most popular waterfalls and is situated in one of the most scenic parts of Bali!
If that doesn't satisfy your adventurous itch, then Aling-Aling Waterfalls ought to do the trick. After paying your entrance fee, a knowledgeable local guide will take you through the jungle to see four waterfalls with cliff jumping points ranging from 5m to 15m high.
You'll also be able to try the 35-meter natural water slide by starting from the top of one of the waterfalls and gliding down into the pool below.
2. Beautiful Natural Landscape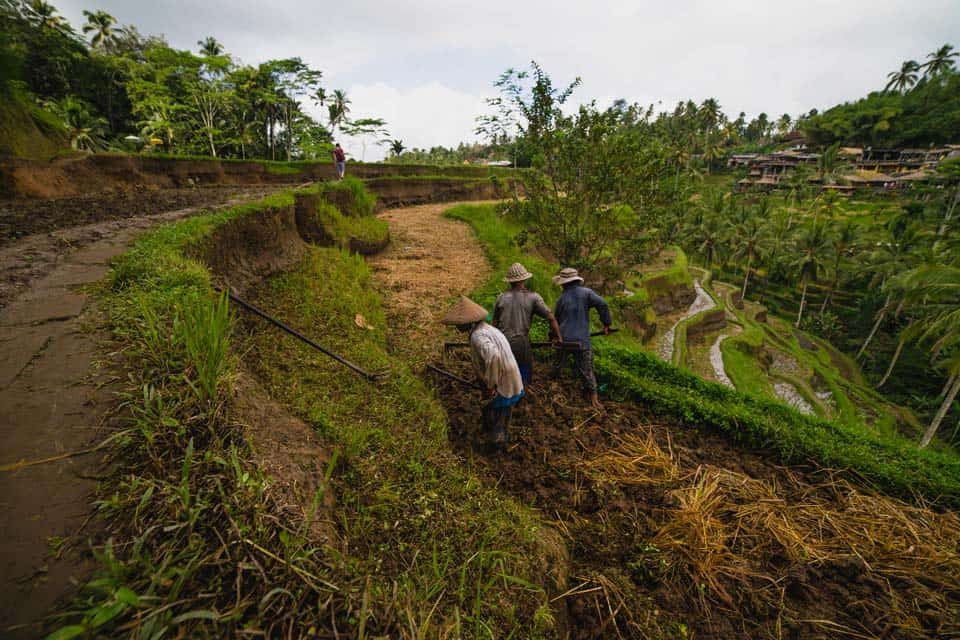 As part of the volcanic Sunda Arc, Bali has an incredible natural landscape. In south Bali, just a short 30-minute drive from Ngurah-Rai International Airport you'll find the massive dramatic cliffs of Uluwatu, home to luxury resorts and some of Bali's best beaches.
Moving more centrally, you'll drive (or ride) through acre upon acre of beautifully picturesque green rice paddies, finding it impossible to peel your eyes away. Ubud is especially beautiful with its numerous rice terraces, such as the famous Tegalalang Rice Terrace!
As you journey towards the Northern side of the island, you'll eventually catch sight of a perfectly shaped cone on the Eastern horizon. This natural wonder is known as Mount Agung, an active volcano that holds the title of the highest point in Bali at its summit. Many of these are great for hiking, including the famous Mount Batur.
Whether you want beaches, jungles, or mountains, you can find them in Bali.
3. Gorgeous Accommodation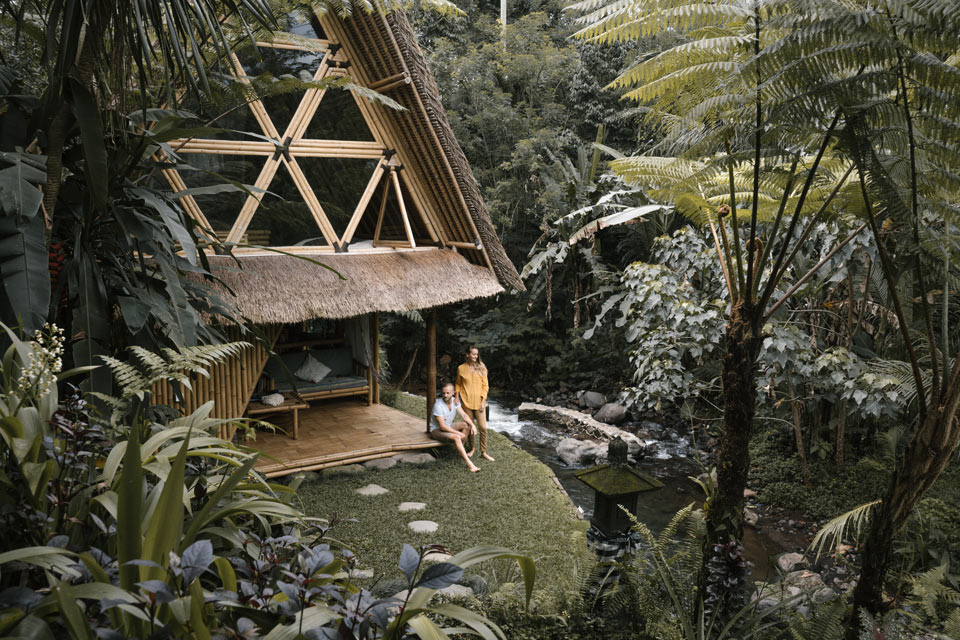 One of the things that make Bali worth visiting is the sheer abundance of spectacular accommodations on offer. It's one of the few places in the world where, depending on your group size, it might cost you less to get a stunning luxury villa with its own private pool in Bali than to stay in a hotel.
For those looking for a unique experience, there are plenty of stunning bamboo treehouses in Bali worth checking out. Almost always surrounded by jungle, they're an excellent way of experiencing the island's laid-back, nature-focused lifestyle.
Don't think that by staying in a treehouse you'll be scrimping on amenities either, some of these treehouses come better equipped than hotel rooms back home!
Many of these accommodations also incorporate traditional Balinese architecture, which features intricate details such as hand-carved woodwork and stonework, beautifully tiled floors, and thatched roofs made from sustainable materials like bamboo or coconut leaves.
The use of natural materials in their construction and interiors provides a warm and welcoming ambiance to the guests!
Read More: Epic Water Villas In Bali You Can't Miss!
4. Delicious Food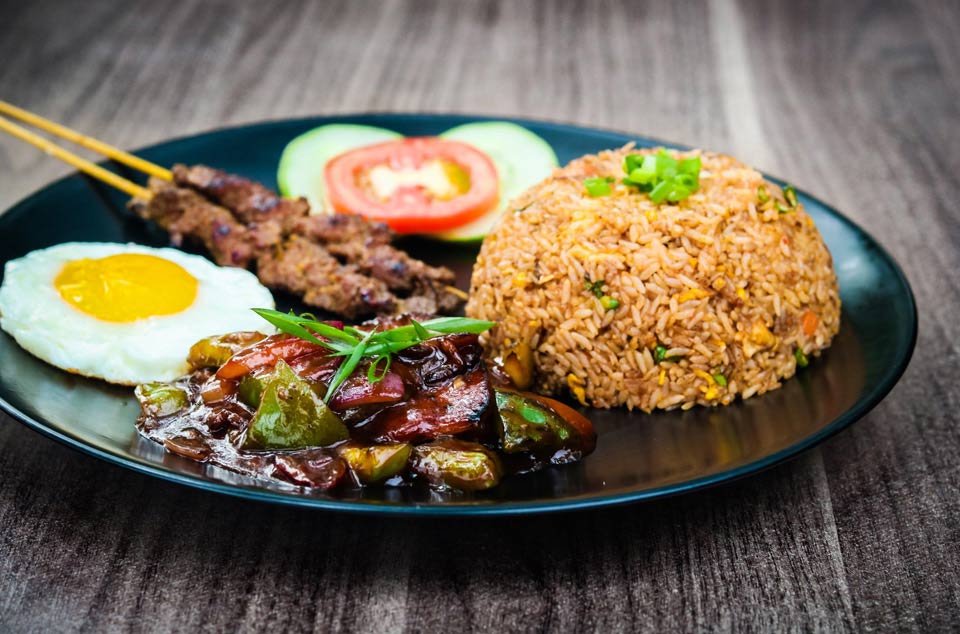 Like much of Southeast Asia, Balinese cuisine is a vibrant marriage of tantalizing spices, fragrant herbs, and fresh ingredients all combining to bring the eater a huge variety of visually stunning, flavorful dishes. The vast majority of Balinese food options will make use of the island's staples; rice, meat or seafood, and vegetables.
Nasi Campur is a generous portion of rice with a variety of scrumptious side dishes consisting of meats and vegetables. Then you have the more simple Nasi Goreng and Mie Goreng, which are fried rice and fried noodles, respectively. Many locals' absolute favorite dish though is the famous Babi Guling.
Originally made as an offering to the Balinese Hindu Gods, a whole suckling pig is stuffed with a range of spices including lemongrass, coriander seeds, turmeric, garlic, and black pepper, and then spit-roasted for about three hours until its meat is juicy and its skin is crispy. Even the famous chef Anthony Bourdain loved it!
Then of course, you have plenty of restaurants serving western cuisine. From smoothie bowls to healthy food and tacos to steaks, you won't run out of dining options here!
Read More: Canggu vs Seminyak: Which One Is Worth Visiting More?
5. Unique Balinese Culture
Unlike many other religious countries, Balinese culture is a unique blend of Hindu-Buddhist beliefs that you'll notice throughout the island. Its distinctive carved architecture is the biggest giveaway and can be viewed pretty much anywhere, as remarkably, every single house on the island has its own temple within its perimeter walls.
If you're interested in visiting some of the famous Bali temples on this Indonesian island, a trip to Mount Agung is highly recommended as it is home to the Besakih Temple complex. Located 1000 meters above sea level, it's considered to be the holiest temple in Balinese Hinduism, comprising of 23 temples spread across six different levels.
Uluwatu Temple in the very south is also popular. Perched over a cliff, visitors get some of the most stunning views of the Indian Ocean from there. Visitors can also buy tickets to watch a traditional Kecak Fire Dance, which tells the fascinating story of Ramayana.
Lastly, Bali has one of the most unique festivals in the world – Nyepi. It is known as the "Day of Silence" and is celebrated every year with fasting and meditation. There are also plenty of prayers and epic religious rituals!
6. Amazing Diving Opportunities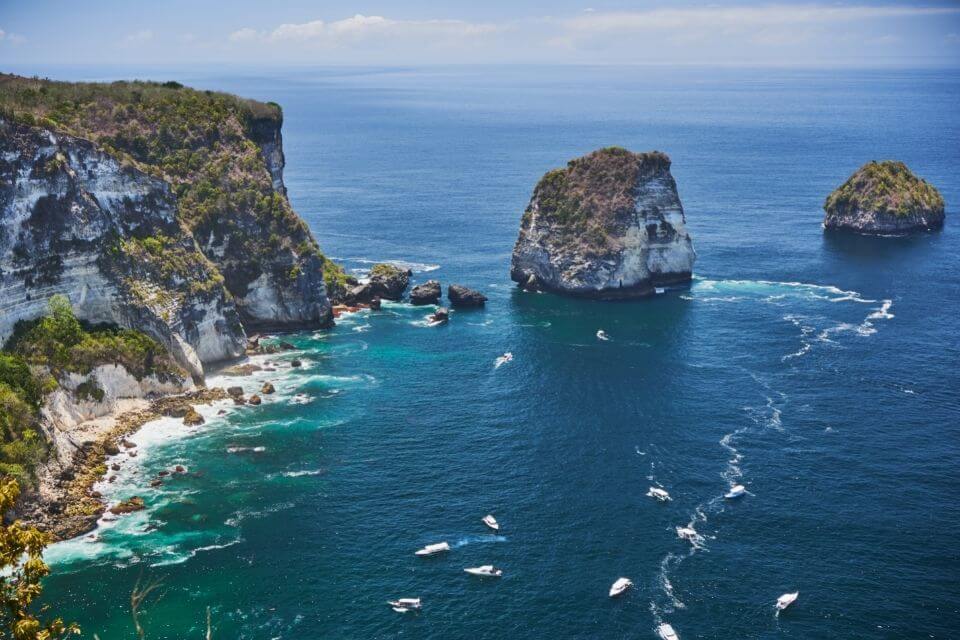 If you've ever been intrigued by the idea of exploring a sunken US World War 2 shipwreck up close and personal, then a visit to Bali presents a unique opportunity to do so.
Lying at a varying depth of between 5 meters and 29, the USAT Liberty is the perfect shipwreck for beginners, with experts estimating up to 400 species of marine life call the Liberty home.
For the more advanced divers, Nusa Penida Island presents an incredible opportunity to swim with some of the world's largest water creatures including manta rays, ocean sunfish, and turtles. Be careful of the currents though, as these are some of the strongest anywhere in the world which can be a challenge for even the most experienced of divers.
North Bali also has plenty of diving opportunities such as the Pemuteran dive sites, and its not overcrowded!
7. Friendly Locals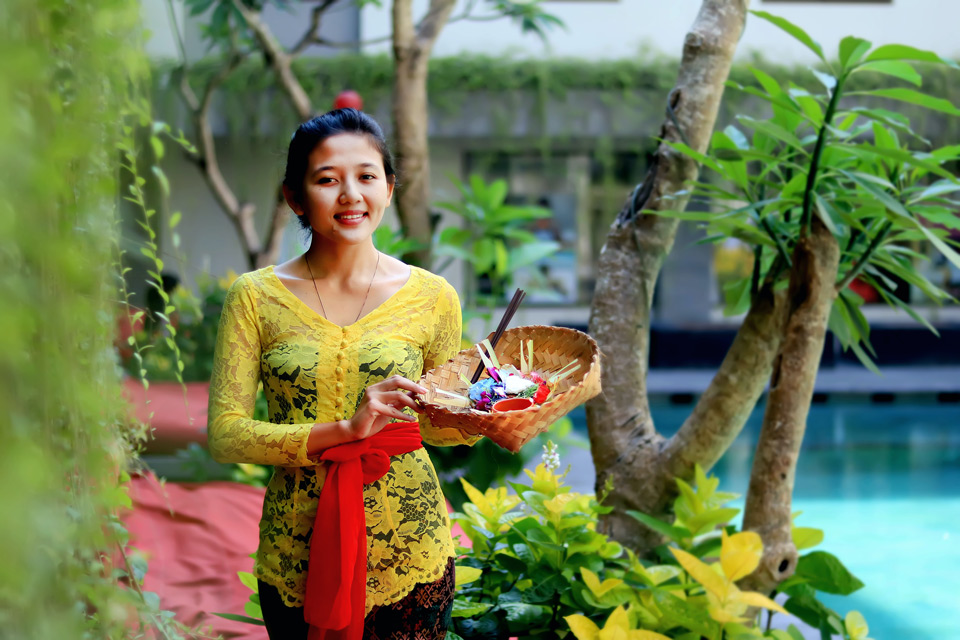 Balinese people and their culture are one of the friendliest in the world. They place a strong emphasis on the inclusion of others and are known for their beautiful nature and their warmth and kindness towards tourists and other locals.
A very well-known traditional saying is popular on the island. In English, it reads "You Is Me, I Is You". It's a perfect representation of the Balinese people and their ideology of treating others how you would like to be treated.
Everyone from taxi drivers, to shop workers, to the police all have this respectful attitude towards people which makes being a visitor to Bali an absolute delight.
8. Affordable Destination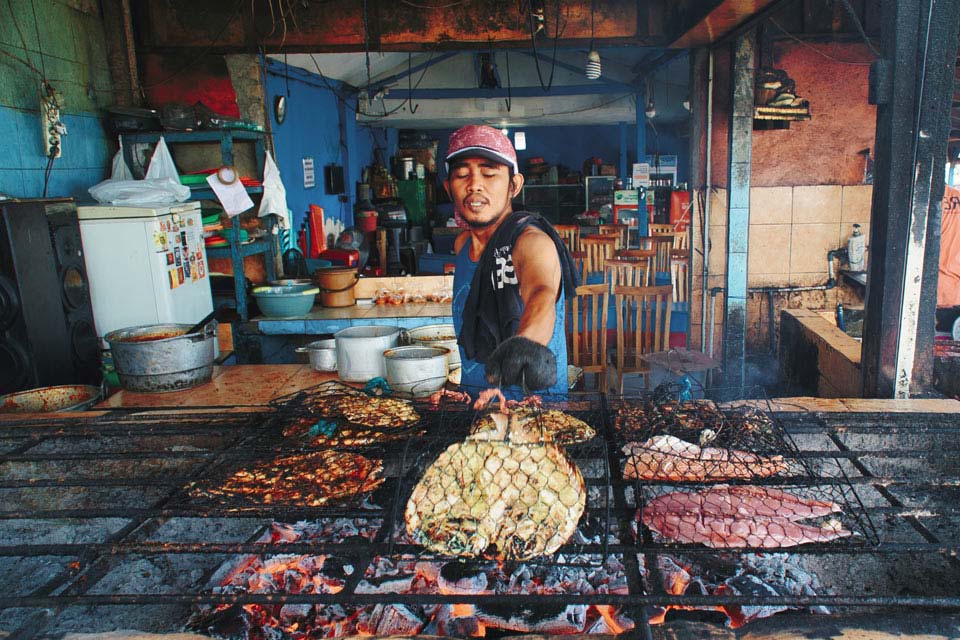 There are no two ways about it, Bali is an affordable travel destination which is why many people visit Bali. The cost of living on the island is far lower in comparison to western countries, with things like accommodation, travel medical insurance, transportation, and meals being a fraction of western standards.
Of course, there are things to suit everyone's budget but relatively speaking, you don't have to spend a lot of money in Bali to have a good time. Hostels are cheap and the vast majority of boutique hotels are all beautifully designed, and even the mid-range to high-end hotels are great value for what you get.
In terms of food, restaurant meals can typically range between $3-6 per head for a main course and a drink, which is superb value. If you choose to experience the street-food culture then your cost per head will be considerably lower.
9. Perfect For Taking Day Trips To Nusa Penida or Java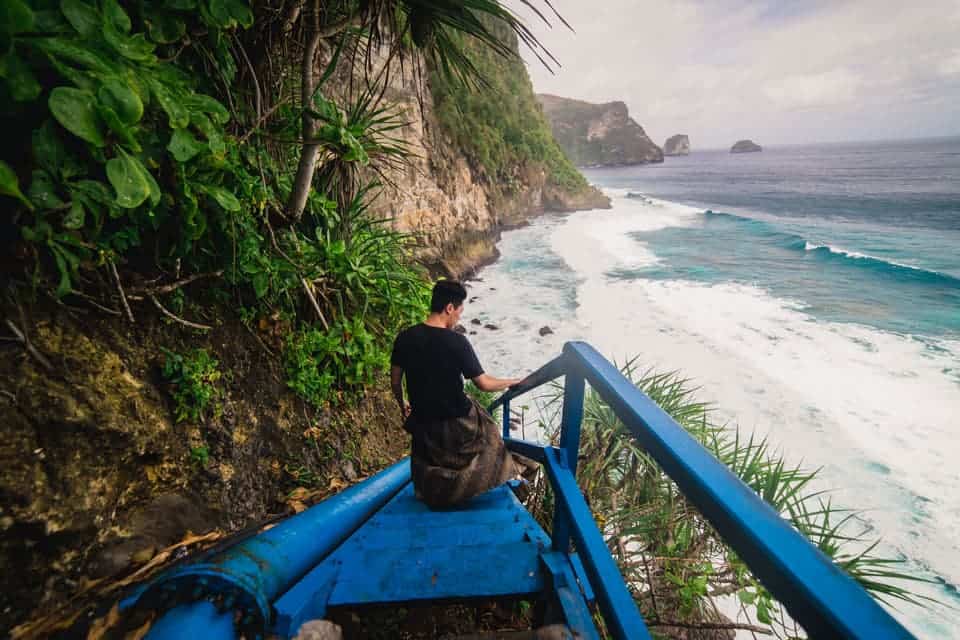 Just a short 30-minute speedboat away from Bali is the stunning island of Nusa Penida. Here, you'll be able to see one of South East Asia's most beautiful sights, Kelingking Beach. It's a stunning rock formation, vaguely reminiscent of a T-Rex, that extends out into the deep blue ocean with one of the whitest, most pristine beaches to match.
While the vast majority of visitors to this epic natural wonder are happy with the views they get at the top, it's possible to meander your way to the bottom via a very sketchy path down the cliff face. It's not for the faint-hearted, but the beach at the bottom is an excellent reward for your bravery.
If you decide to head to Java, you'll be able to cram in an action-packed trip visiting the epic Volcano Ijen and its famous blue flames or hiking Mount Bromo.
Visitors can also head to the other Nusa Islands such as Nusa Lembongan and Nusa Ceningan. For those that don't mind a long boat ride, the Gili Islands are also within reach!
Read More: 17 Best Things To Do In Nusa Penida
10. Plenty of Health and Wellness Facilities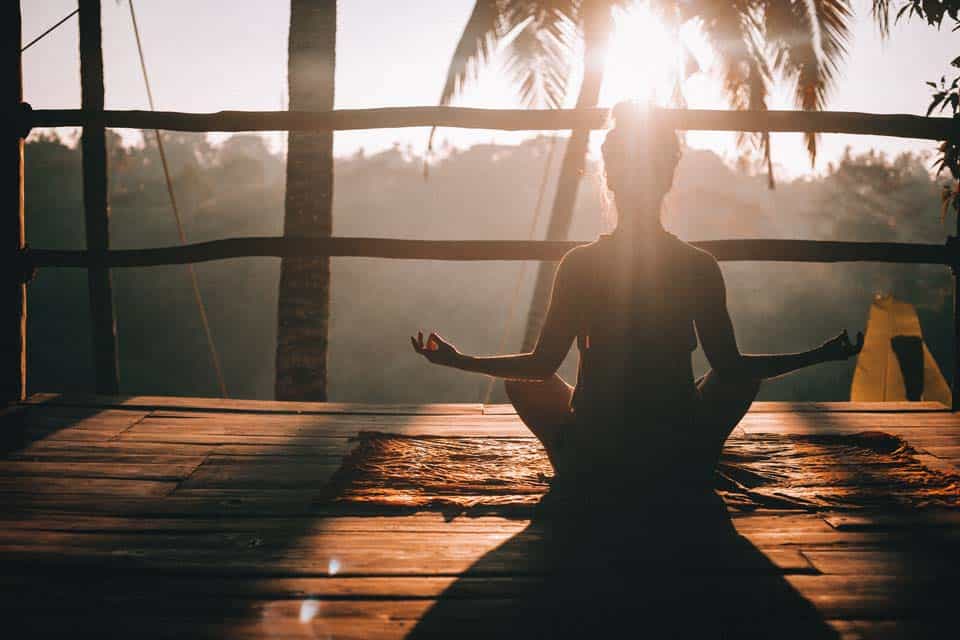 Whether you're traveling full-time, working and living in Bali, or just on an extended holiday, there's a wide number of health and wellness retreats across the island for you to escape on. After all, life in Southeast Asia can be hectic for the vast majority of the time and sometimes you just need to get away from it all.
Picture huge infinity pools with views of vast green and rice fields, paddies and terraces surrounded by green jungle with massages, spa access, and all meals included for an unbeatable price.
If you're into a more cultural approach, there are also retreats designed with traditional Balinese healing ideologies at their center that are an excellent way of unwinding and relaxing.
11. Spectacular Beach Clubs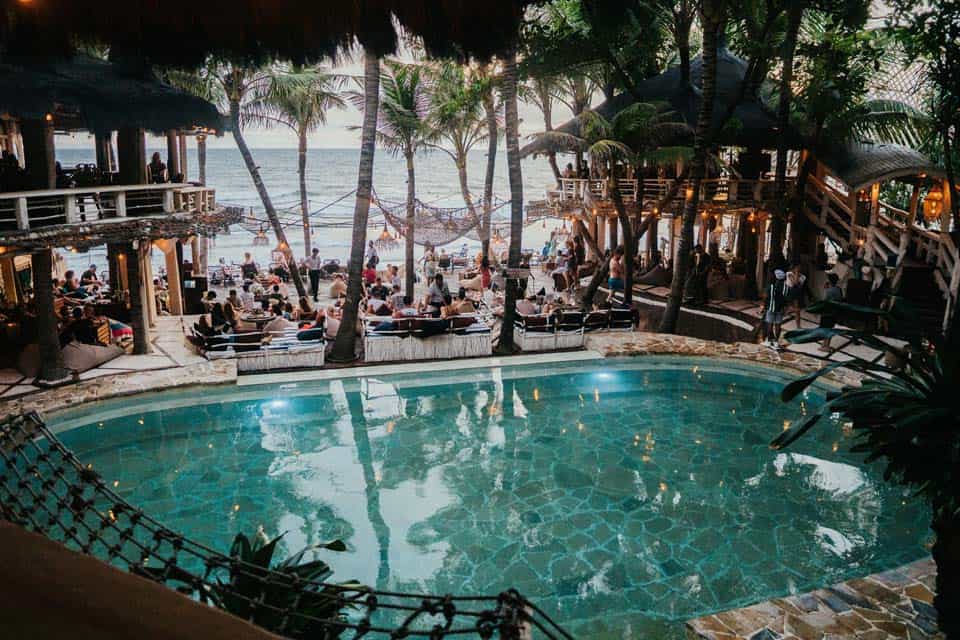 If there's one thing Bali is known for, it's the stunning beach clubs that can be found around its coast, particularly in the notable hotspots of Uluwatu, Seminyak, and Canggu.
These clubs are typically located right on the beach and offer a variety of amenities and services for guests, from swimming pools and sunbeds to food and drink menus.
Many of the beach clubs in Bali are designed with a stylish, modern aesthetic, featuring chic yet comfortable furnishings, beautiful landscaping, and stunning ocean views that create an idyllic atmosphere for guests.
Most clubs also offer music and entertainment, with live DJs or performances throughout the day. During the weekend, they are some of the most popular places to hang out in Bali!
For those looking for beach clubs in Uluwatu, Sundays Beach Club, Savaya Bali, and Ulu Cliffhouse are the best ones. Potato Head Beach Club in Seminyak and Finn's Beach Club are also stunning, so don't miss in on your Bali vacation.
Sundays Beach Club requires a funicular to reach the beach, creating a dramatic entrance and perfectly setting the tone for your day ahead. Finn's offers delicious food and free equipment for snorkeling, kayaking, and paddle boarding, while Potato Head has a super luxurious vibe with numerous day beds and one of the most stunning infinity pools in Bali.
12. Great For Digital Nomads
In today's digital world, more and more people are embracing the concept of remote work, blending their passion for traveling with the ability to earn a living.
With its cheap cost of living, huge number of co-working spaces with fast internet, and relaxed lifestyle, Bali is one of the best places to work remotely. You'll get to experience a brand-new culture wildly different from the more civilized (and boring!) western world and fully immerse yourself in the beautiful natural surroundings of Bali itself.
On top of all of this, Bali also offers several visa options for digital nomads wanting a longer-term stay, something that other South East Asia nations make very difficult. It is no surprise why Bali has become one of the world's leading workation destinations!
---
Is Bali Worth Visiting? The Cons
1. Traffic Is Bad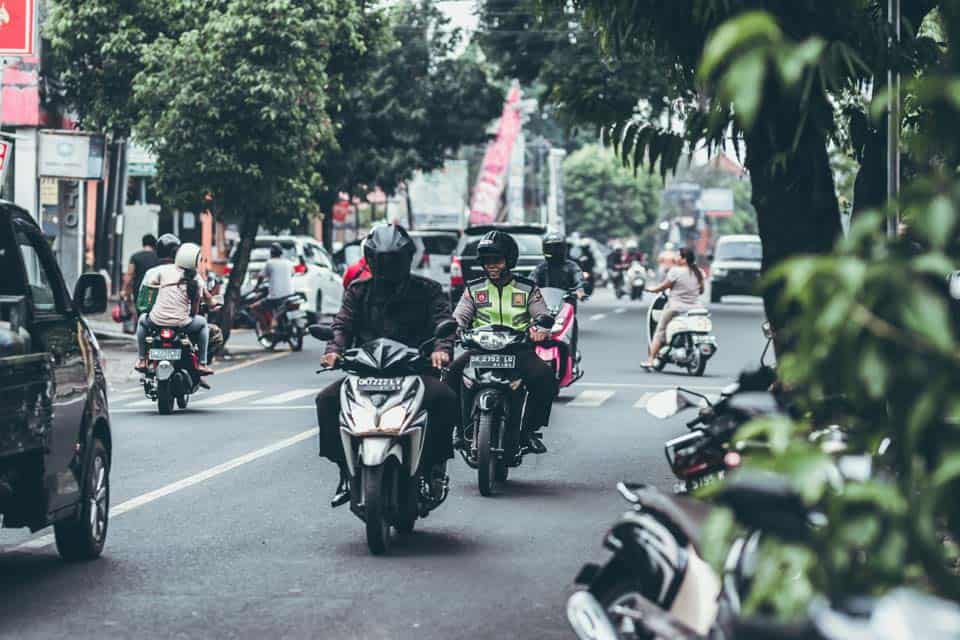 One of the worst aspects of Bali is certainly the constant barrage of traffic. It's an absolute nightmare pretty much everywhere on the island besides the North. Southeast Asia is already known for its horrific traffic, but imagine that but condensed into the small roads, alleys, and neighborhoods of Bali.
The locals aren't known for having lie-ins meaning that the roads start getting pretty hectic from about 7 am and this lasts right the way through the day until about 10 pm. If you live in Bali, you'll definitely complain about the traffic. Even if you don't live on the island, you'll still definitely complain about the traffic.
If you are trying to get anywhere in Bali, allotting extra time is a must.
2. Scams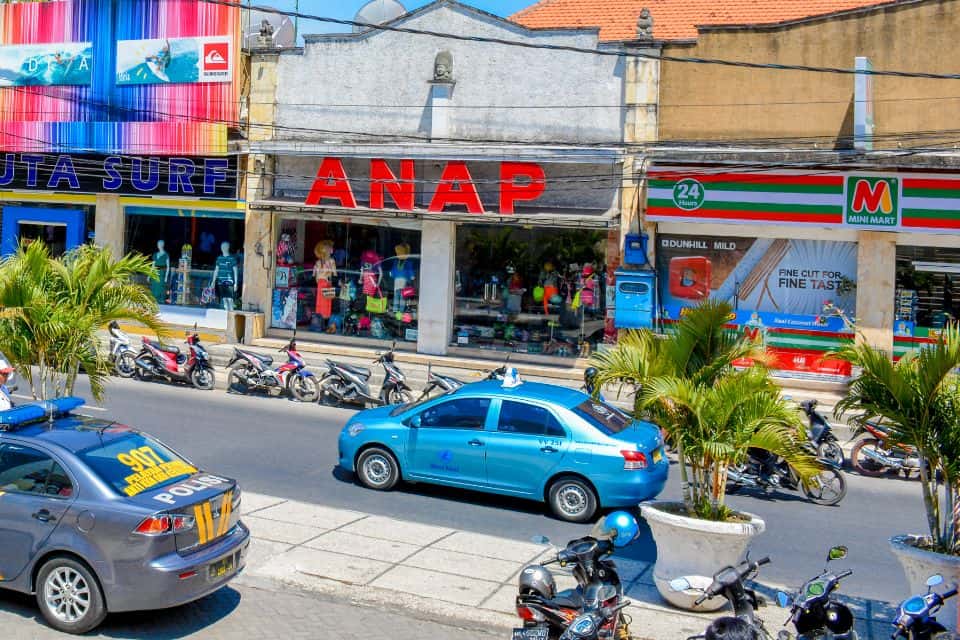 Where there are tourists, there are also scams. And there are a lot of tourists in Bali so, unfortunately, well I'm sure you can work the rest out.
Taxi drivers are a common source of scams in Bali. That's not to say all Balinese taxi drivers are dishonest, because that's not true. The vast majority are a delight and will take you to your destination safely and for a good price. There are always bad eggs though, so make sure you're paying the correct price.
If you are not using the official taxi company in Bali, "Blue Bird", you might find yourself paying a lot more than you should.
The currency exchange stalls in the tourist hotspots of Kuta Beach, Legian, Seminyak, and Canggu are also known as scam hotspots. The workers behind the counter have been known to steal money from right under your nose when counting your cash. Keep your eyes peeled if you'll be using one.
3. Too Touristy
There's no denying it, Bali has become completely overrun with tourists. If you're on the beach relaxing, or if you're in a restaurant getting some dinner, chances are everyone around you is going to be a tourist.
That's slightly hypocritical because, well, you'll be a tourist too, but when you visit another country, you expect to be surrounded by the local culture right? Unfortunately, this local life is only really possible if you travel to the North of the island to places like Lovina. Very few tourists make it up this far and as a result, it feels far more local and like the "real" Bali.
Read More: Is Canggu In Bali Still Worth Visiting?
4. Too Many Influencers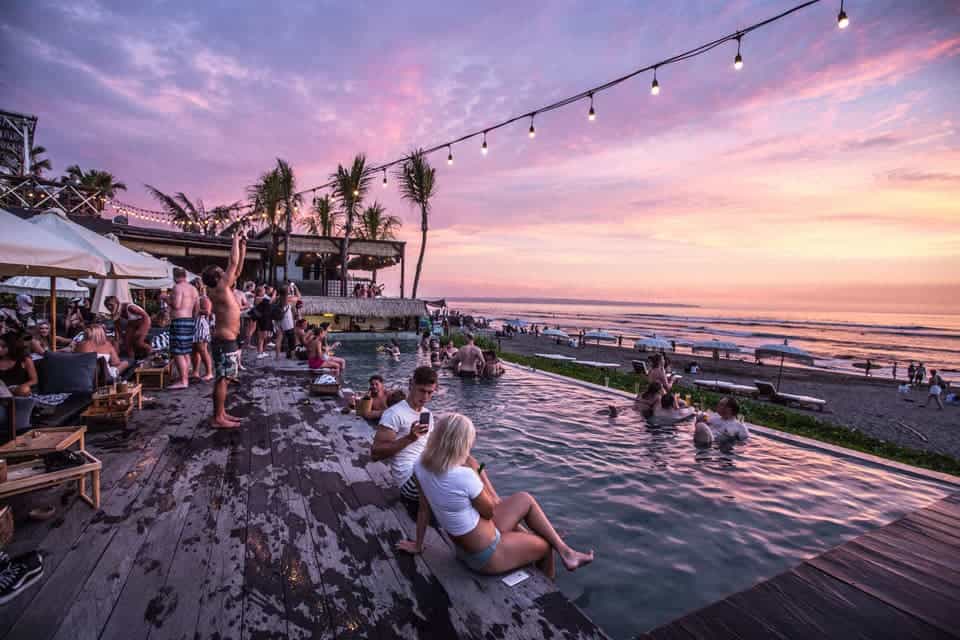 Similar to the last point, there are also now lots of influencers on the island all attempting to get the perfect picture for Instagram. If you'll be visiting the popular beach clubs and restaurants, you'll likely notice it a lot more than if you were to frequent more local places.
It can be an issue, especially when you are trying to mind your own business and enjoy the serenity of the environment but you are bombarded with influencers dancing for TikTok or filming Reels for Instagram.
5. Pollution and Noise
As we briefly touched on earlier regarding the awful traffic in Bali, the pollution from all of the motor vehicles isn't much better. There are some seriously congested parts of the island during the morning rush hour and the day, and as a result, motorbikes and cars are left chugging away clogging up the air with unhealthy fumes.
It's not just limited to motorbikes and cars either, there is a serious lack of a proper waste management system on the island which has contributed to piles of rubbish dumped in city rivers, on beaches, and even out on the streets by local people.
6. Need A Scooter To Get Around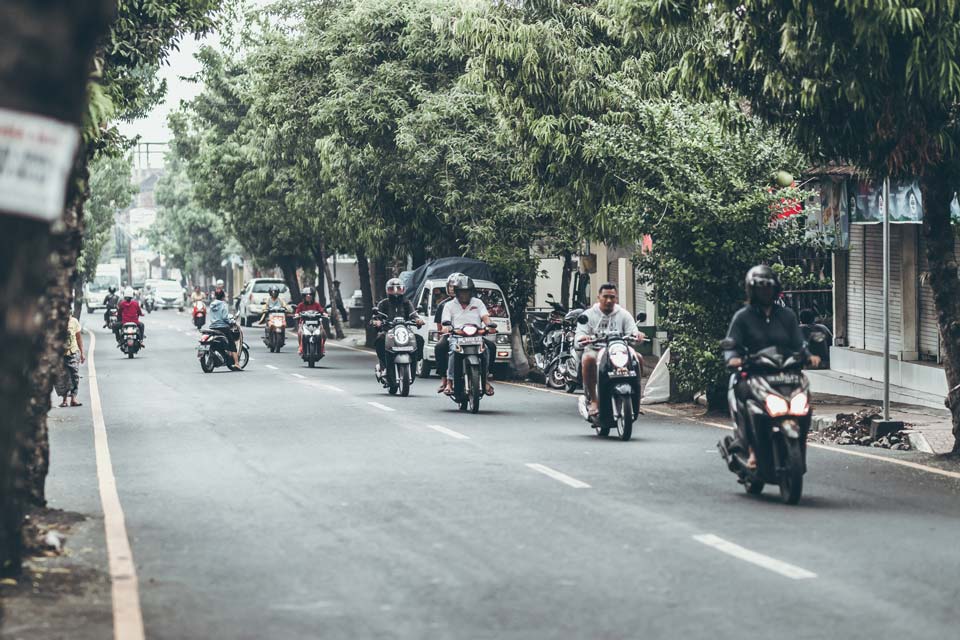 Contrary to what many believe, Bali is actually quite a big island. It spans a total of 2,231 square miles and over 25 cities and provinces. From the island's airport in Denpasar, it takes a good four-hour drive to reach North Bali. And if you are going from East to West, it would take approximately five hours.
And unfortunately, public transportation is not developed in Bali, thanks to the narrow roads that cannot support big buses. You could rent a car in Bali, but the traffic is horrific, so you are most likely going to end up with a scooter.
This could be a double-edged sword, as scooters in Bali are really cheap to rent, but there are inherent risks that come from riding one.
---
Visiting Bali FAQs
Is Bali Overrated?
Some people may feel that Bali is overrated due to its increasing popularity, which has led to more crowded beaches, congested streets, and higher prices in some areas. However, Bali is still an island with a diverse range of attractions, from ancient temples and natural landscapes to great surfing spots and world-class dining options. Bali is worth visiting, but for some, it could be overrated as well.
What Are Some Reasons To Not Visit Bali?
There are many reasons why Bali might not be worth a visit. The island is overcrowded and struggles with environmental issues, such as plastic waste and pollution. Petty crimes are quite frequent, especially for unseasoned travelers. Bali's tropical climate can lead to extreme weather conditions, including heavy rainfall, humidity, and occasional natural disasters, especially during the rainy season.
---
So, Is Bali Still Worth Visiting?
Though Bali has plenty of pros, it also comes with its set of cons. But overall, Bali is worth visiting and everyone should go at least once. It is one of the first places we've traveled and we keep coming back for a reason!
With its stunning natural beauty and gorgeous accommodations, there is plenty to love about Bali. But at the same time, Bali can be overwhelming, with its noise, pollution, and one of the worst traffic in the world.
There's a lot of hype surrounding this popular holiday destination. After reading through our article, we hope that you can now make a well-informed choice about whether to visit the "Island of Gods" or not!
Disclaimer: Some of the links above are affiliate links. That means if you book or make a purchase through the links, we will earn a small commission at no extra cost to you! The money will help run this site! Thank you!