El Paredon, Guatemala has one of the most beautiful beaches in the country. It is among the most popular destinations in the country due to its friendly locals, stunning landscape, and laid-back atmosphere.
If you're looking for an up-and-coming destination that's good for surfing and having a good time, El Paredon is definitely perfect for you!
In this guide, we'll tell you everything you need to know about this amazing destination, so you'll be ready for your visit.
---
About El Paredon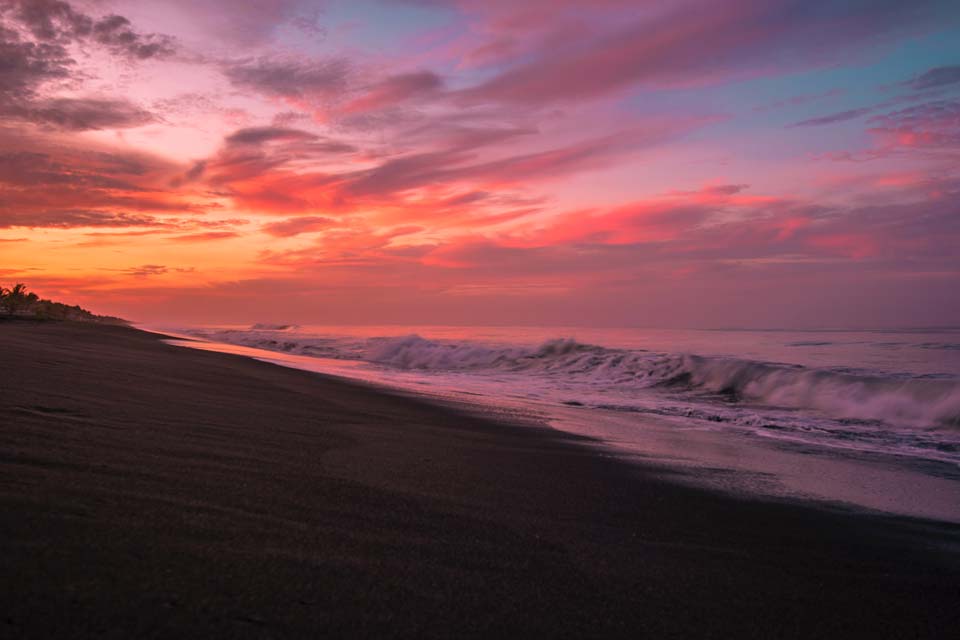 El Paredon is a surfing beach town located on the Pacific coast of Guatemala, in the department of Escuintla. It is only two hours away from Antigua Guatemala, so you can get there quickly.
El Paredon is known as an up-and-coming destination ever since it caught the attention of many foreign surfers. Now, it is one of the most popular destinations for many tourists. However, even though it is extremely well-known, this beach town maintains its laid-back, almost remote feeling.
El Paredon consists of one main road with multiple shops on either side and smaller dirt roads around it. Despite its tiny size, the whole place feels like a different world, compared to the rest of the country. Of course, Guatemala has some of the most beautiful destinations in Central America, but none of them feel quite like El Paredon.
What makes this small town so special, is the unique experiences it offers. From surfing in its bright blue waters, to seeing sea turtles, or just relaxing in top-rated hotels, you won't get bored there.
Read More: What Is Guatemala Known For?
---
How To Get To El Paredon, Guatemala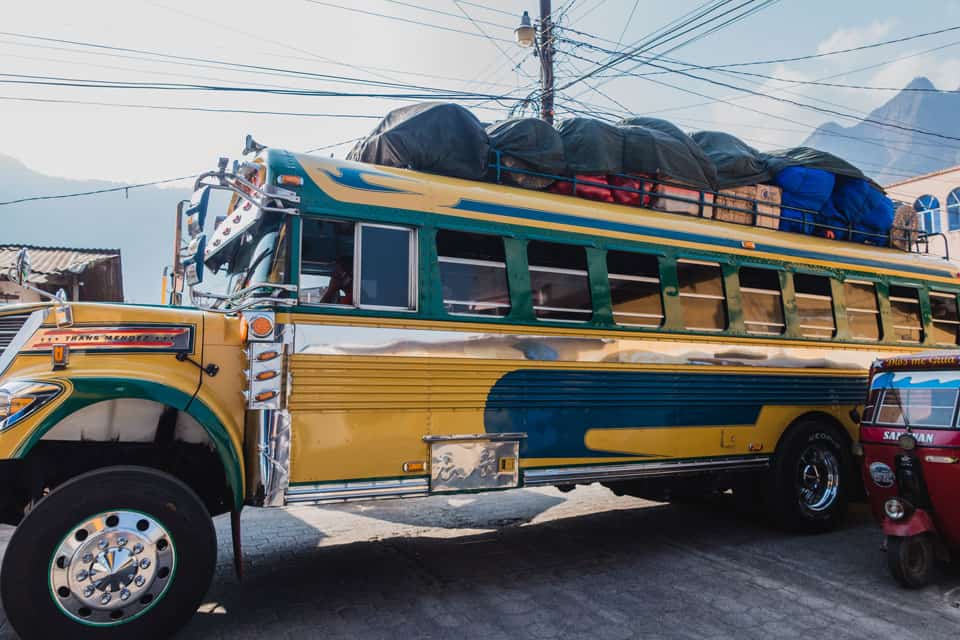 There are multiple options on how to get to El Paredon, depending on where you are. Some people would recommend using the chicken bus, but Guatemala's public transport isn't the most reliable or safe. If you take a chicken bus, you'll need to make multiple transfers or even take tuk-tuks. It's better if you drive there or take a shuttle.
If you've rented a car, then you can easily drive there. It is a 2-hour drive from Antigua Guatemala, and a 3-hour drive from Guatemala City. Be aware that the streets aren't always well-maintained. If you've visited other parts of the country, you'll know all about the shoddy roads. So drive safely and keep a watchful eye.
If you wish to avoid the stress of driving there yourself, then the most common way to arrive at El Paredon, Guatemala is to use a tourist shuttle service. There are various companies that offer shuttle services, either from Antigua or the airport. Usually, a third-party shuttle runs daily from Antigua to El Paredón, and the prices are usually around Q110 per person.
The last option would be to take a taxi or Uber. Taxis and Uber are much more expensive than using one of the tourist shuttle services, so we don't recommend it unless you have no other choice. Keep in mind that these services do not operate on the coast, so they won't be an option for your return.
---
Things To Do In El Paredon
Even though El Paredon is a small town, you'll find many things to do to keep you entertained. Here are the activities we recommend you check out:
1. Surfing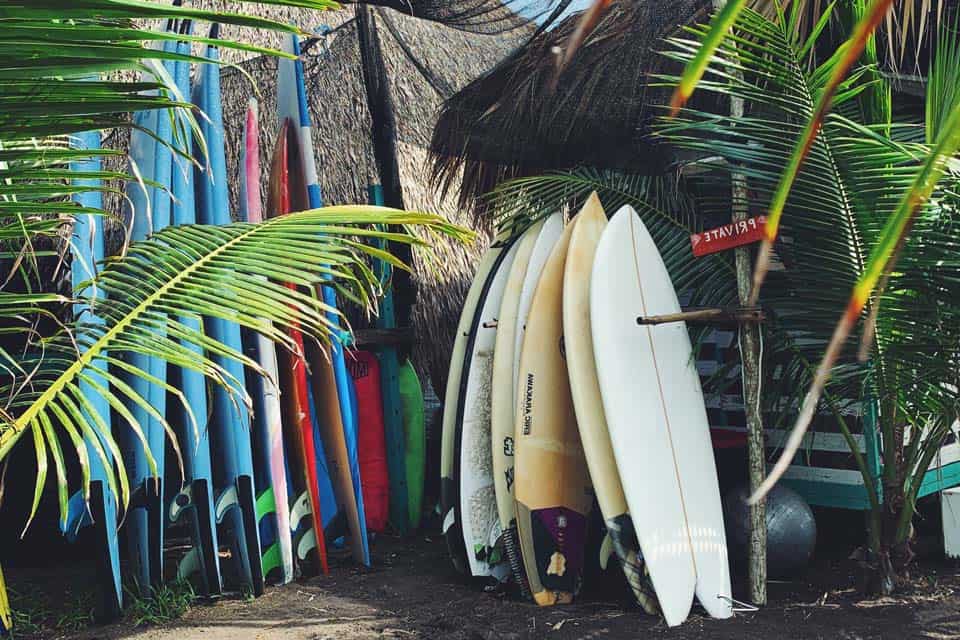 Perhaps the best thing to do in El Paredon is to go surfing. There are many surf schools and accommodations that offer surf lessons and a place to rent a surfboard if you don't have your own.
The best thing about El Paredon is that there are always waves to surf. Because of its location, facing entirely South and out of the shadow of the Galapagos Islands, any south swell that comes out of the Antarctic will hit El Paredon in full force. This makes El Paredon one of the best places in Guatemala to go surfing.
2. Party at Driftwood Surfer Hostel
If you are looking for things to do in El Paredon at night, then make sure you head to Drift Surfer, the town's most famous beach hostel. This small hostel is known for its rooftop restaurant and lively nightlife, thanks to the number of backpackers that aren't afraid to dance all night and take too many shots of tequila.
The best way to enjoy the lively atmosphere is to book a room with Driftwood Surfer and stay with them. But for those that aren't staying, they can also come and enjoy their restaurant and bar! This might be a better option if you would like to get some sleep at night because it can get quite loud at Driftwood Surfer.
3. Experience Turtles Hatching And Run Into The Sea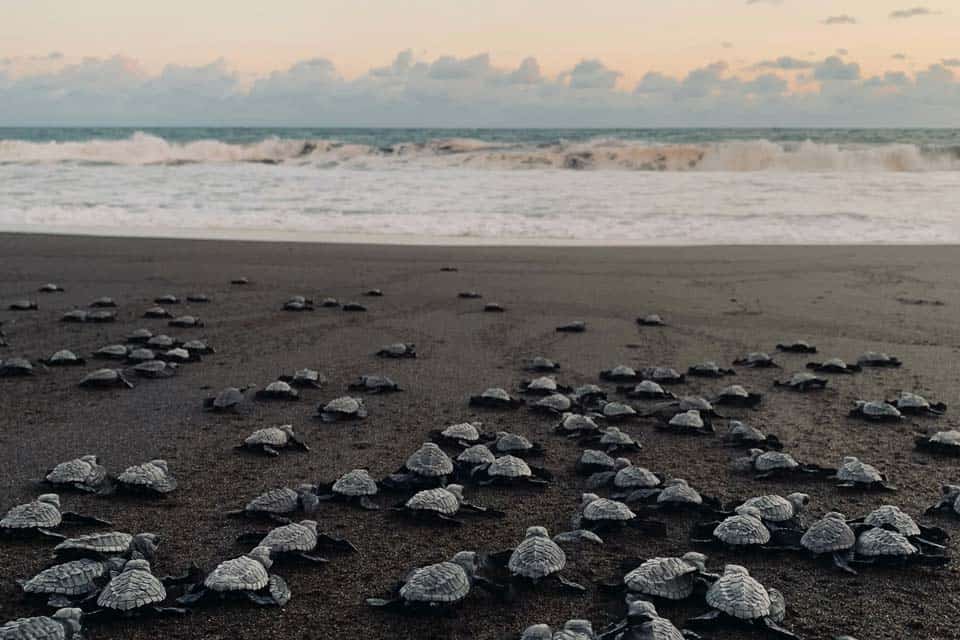 The community in El Paredon is very environmentally aware. Nearby, you'll find the Sipacate Naranjo National Park, a government-protected nature reserve that is home to a vast ecology of coastal plants and animals.
One of the most important roles of El Paredon is the maintenance of the local sea turtle population. Driftwood Surfer Hostel raises money each year to buy eggs from the poachers and donates them to the conservatory.
Each year, during the months of September and December, the owners of Driftwood Surfer Hostel take care of The El Paredon Turtle Hatchery. Here, guests can experience the magic of baby turtles hatching and running into the sea. It is a truly beautiful experience that you can't miss.
4. Boat Ride Through The Mangroves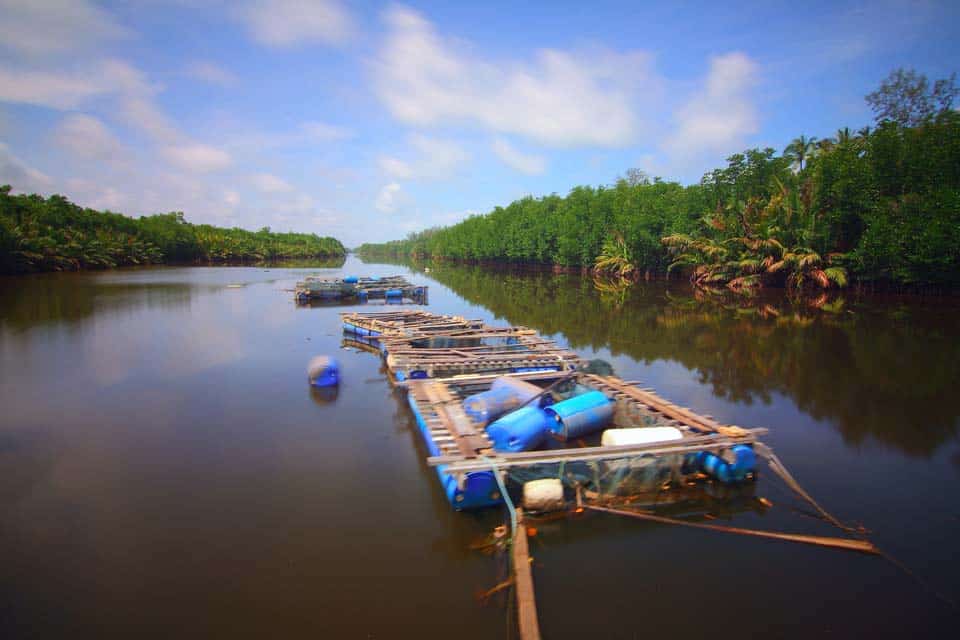 One of the most exciting attractions in El Paredon is the nearby mangroves in Sipacate Naranjo National Park. Visitors can explore the unique environment by taking on a tour in a traditional wooden boat. Booking a tour is easy, and you'll get a tour guide that will paddle you through the stunning mangrove estuaries of the National Park.
You'll spot all the local wildlife, from ibises to herons and turtles. Some tours even include classes for you to learn how the locals fish, and you'll get the chance to try a new experience on a tranquil part of the mangrove.
5. Stand Up Paddleboarding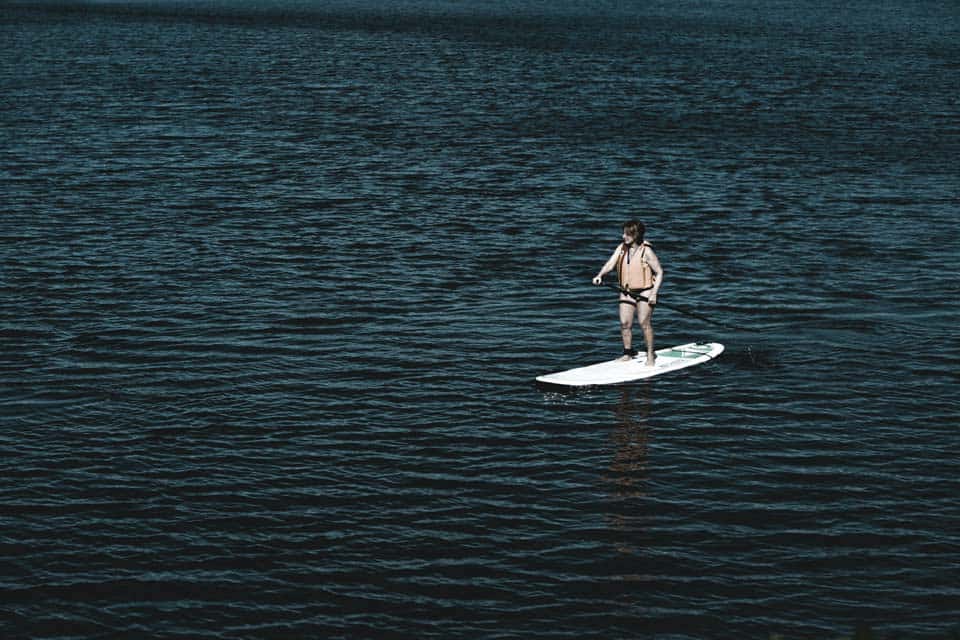 If you would like to do watersports in El Paredon but don't want to surf, why not try stand-up paddleboarding? Unlike surfing which you have to do in the sea, you can stand-up paddleboard in the river, which means that you don't have to worry about the violent waves. As you make your way down, you can admire the flora and fauna of the mangroves.
Many hotels offer classes and equipment at affordable prices, so you don't have to worry about being inexperienced.
Read More: Guatemala Bucket List – Best Things To Do In Guatemala
6. Go Horseback Riding On The Beach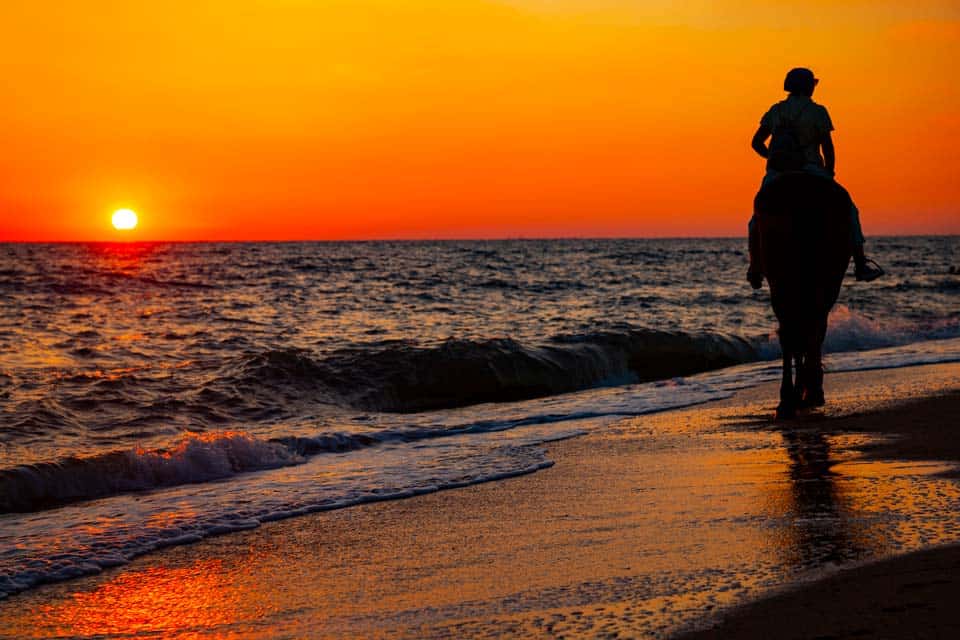 If you are looking for a romantic and unique experience in El Paredon, then consider horseback riding along the beach. Several places in the town offer horseback riding, but the most famous of which is Driftwood Surfer Hostel. Here you can find tours with a guide leading the horse, or you can ride by yourself.
We recommend that you do horseback riding around sunset, so you can enjoy the beautiful colors of the falling sun as you make your way across the gorgeous black sand beaches of El Paredon.
7. Do a Homestay With La Choza Chula
La Choza Chula is a popular organization that empowers communities to build sustainable futures. They've worked on building local libraries and schools.
Additionally, they organize tours for all visitors. In fact, they're an award-winning tour operator. They offer authentic and unique experiences in El Paredon. Their tours provide an alternative income stream for many of the locals. Additionally, La Choza Chula provides workshops and proper training to all of its staff. They guarantee all visitors will have the best experience while taking a tour with them, and all profits are reinvested in their community development projects.
One of their most popular activities is a homestay. They give you the opportunity to experience the true Guatemalan way of life. Locals open their homes, so you can experience what it is like to live as they do!
La Choza Chula has even more activities that are worth checking out, so make sure to head their way during your stay in El Paredon, Guatemala.
8. Check Out And Relax On The Black Sand Beach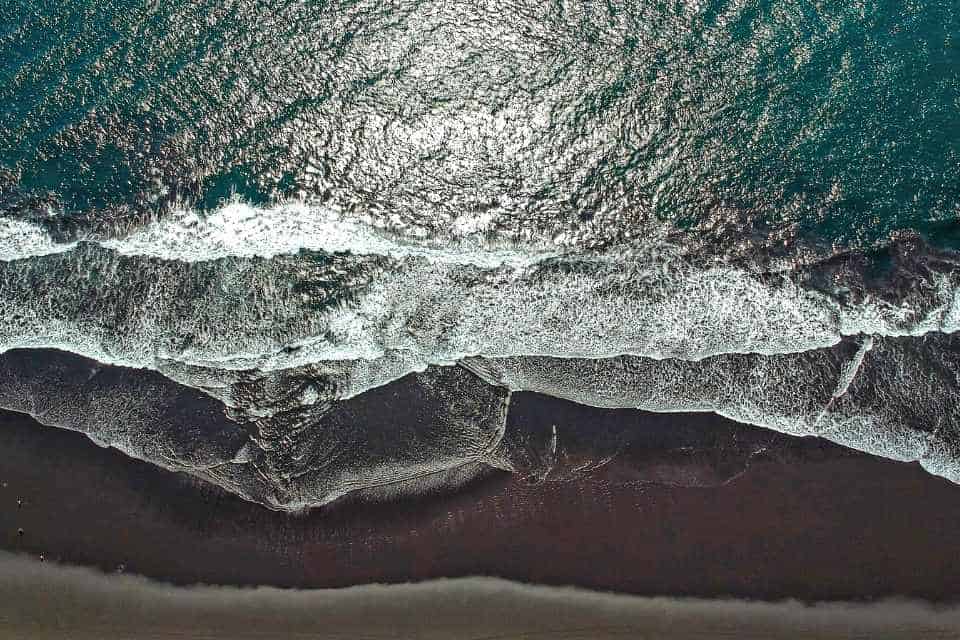 If you want a break from all the exciting activities we recommended above, then maybe you'll want to just lay down on the black sand and relax for a while.
This Guatemalan beach isn't like the ones you're used to. When you picture a beach, you probably imagine white-sand and turquoise waters. El Paredon is different because the sand is actually dark. This is due to volcanic activity. Guatemala is home to 37 volcanoes, three of which are constantly active. Black sand beaches are very common in Guatemala, which makes them exotic.
Relaxing on the beach will give you the breather you need, you are still on vacation after all! Just lay down, enjoy some coconut water, and listen to the calming sound of the crashing waves.
9. Catch The Sunset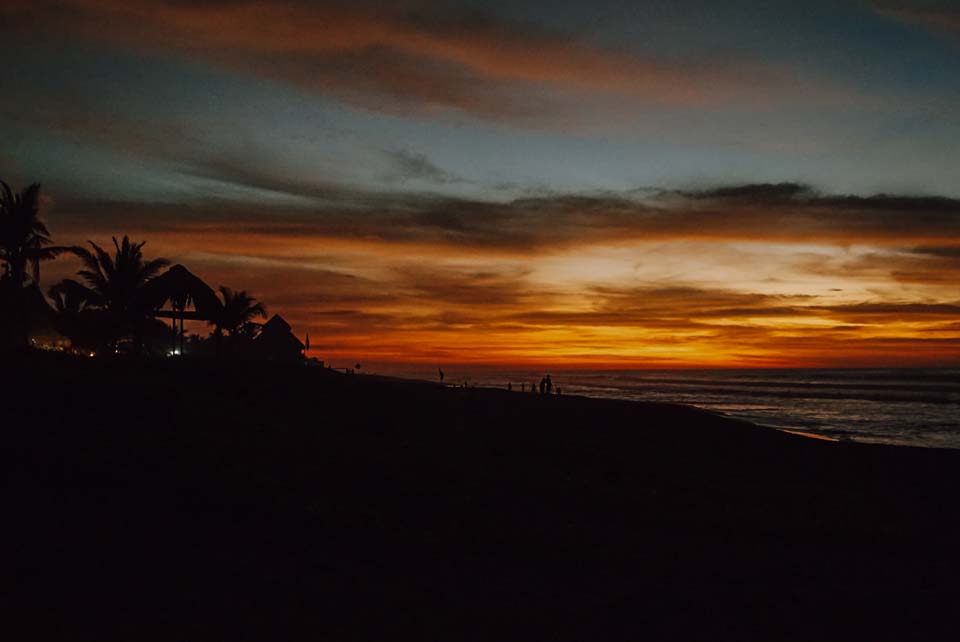 During the day, most people prefer to spend their time in the water. The black sand isn't ideal for sunbathing, so you won't find any parasols or lounge chairs unless you bring your own.
However, the beach really comes to life when sunset approaches. Many visitors will flock towards the sand to try to catch the last light of the day.
Bring a towel and your camera and enjoy the show that light ups the sky. You won't find any sight like it anywhere else. The sky gets illuminated with all sorts of pinks, oranges, and reds, while the water will glisten with the last of the sun's light. It is truly an extraordinary and magical experience.
10. Take a Guatemala Cooking Class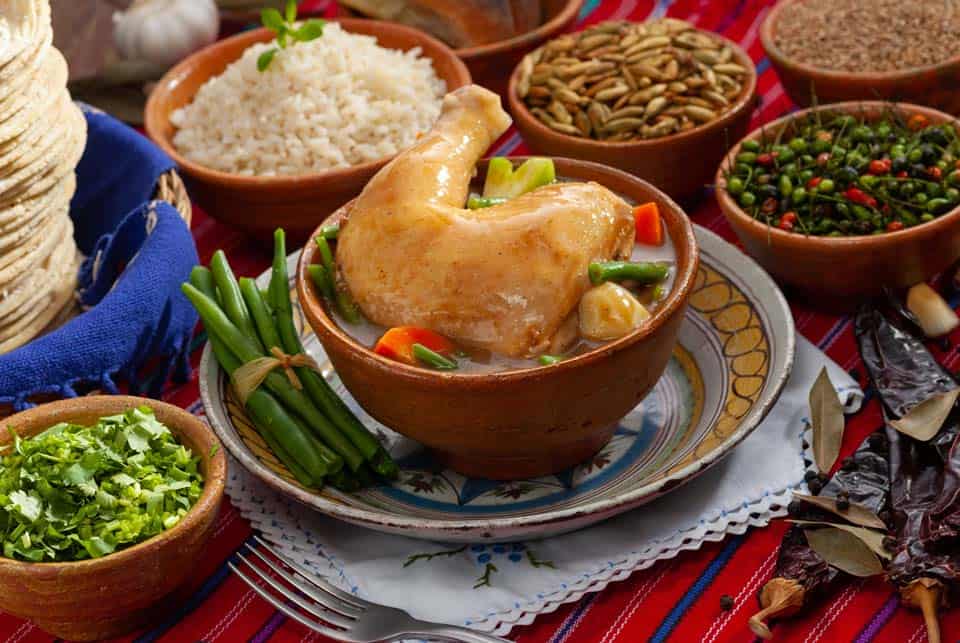 One of the best things about Guatemala is its delicious cuisine. Like many Latin-American countries, Guatemala has unique national foods that will make your mouth water.
One of the many things La Choza Chula offers is a Guatemalan cooking class. With these amazing Guatemalan cooking experiences, you'll get a chance to go to a local family's kitchen and learn how to prepare authentic Guatemalan dishes. You'll learn how to prepare Guatemalan tortillas, empanadas, ticucas, and much more!
---
Best Time To Visit El Paredon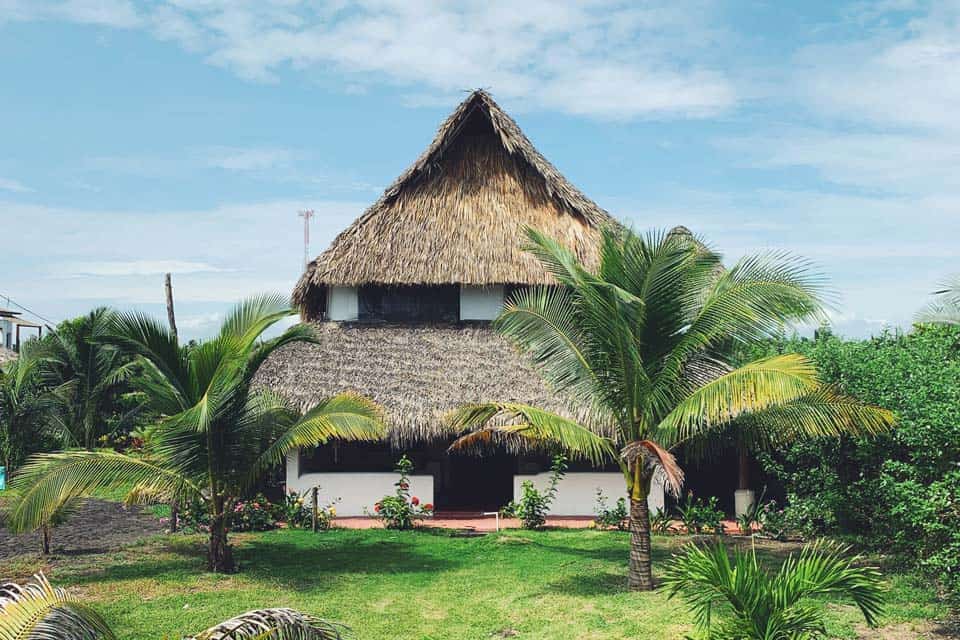 The best time to visit El Paredon, Guatemala is during the country's dry season. This means, from November to April.
Unlike other countries, Guatemala does not experience four seasons. In fact, they only have two – dry and wet seasons.
Being a tropical country, Guatemala experiences rain for most of the year. In order to avoid having your plans sidetracked due to heavy rains, it is best to visit between November and April.
Additionally, if you visit between March and April, you'll experience warmer weather. You can expect the temperature to be between 32 and 34 Celsius, with nights being around the mid-twenties.
The town is at sea level on the pacific coast, which means that during these hotter months most people will either stay in the water for as long as possible, or stay in the hotels and resorts that have fresh air. The weather tends to be extremely hot and humid during March and April, but it cools down after sunset.
---
Tips For Visiting El Paredon
Bring Bug Spray With You – Due to the hot weather, there are plenty of mosquitoes and sandflies. During the night, try to cover your legs and arms and bring your own mosquito net to minimize bites.
Bring Something To Sooth Bug Bites – Unfortunately, bug bites are unavoidable, so bring something that will soothe the irritation and avoid scratching too much.
Wear Shoes On The Beach – This might seem like weird advice, but it is important. Due to the dark coloring of the sand, it gets scorching during the day. You'll most definitely burn your feet if you're walking without protection.
WiFi Is Not The Most Reliable in Town – Most hotels and restaurants will offer free WiFi in El Paredon, but they don't always connect. It is best that you purchase a SIM card beforehand (we recommend Claro), so you have mobile data in case of emergencies.
There Are No ATMs in El Paredon – There are few places that will accept credit cards, and if they do, they'll charge a small additional fee. So make sure to withdraw plenty of money beforehand.
There are plenty of restaurants in El Paredon, but the local shops have a limited inventory. If there are particular food or snacks you wish to bring with you, make sure you purchase them before your stay in El Paredon.
There is a family-run laundry in town, but they do not have tumble dry. Instead, they use a washing line. If the sun is not out, it might take a day or two to get your clothes back.
Read More: What Should You Pack For Guatemala? And What Not To Pack?
---
Where to Stay In El Paredon
Best Hostel In El Paredon – Driftwood Surfer Hostel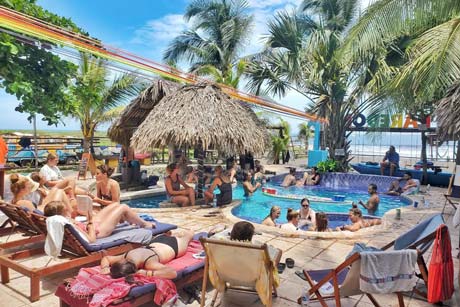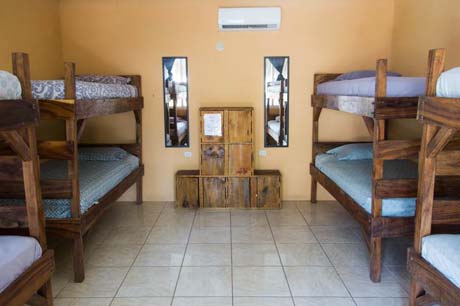 To no one's surprise at all, Driftwood Surfer is the best hostel in El Paredon. This hostel not only has a lively atmosphere for backpackers traveling in Guatemala, but it has lots of facilities that will make you stay comfortable. From air-conditioned rooms to its beautiful pool and beachside location, there is nothing not to love about Driftwood Surfer.
The hostel is a huge part of the community in El Paredon, so if you need information about surfing, turtle release, or really about anything in El Paredon, the staff at Driftwood Surfer can help you. Plus, it has an incredible nightlife that'll make your Guatemala trip memorable!
Best Hotel In El Paredon – Ka´ana Surf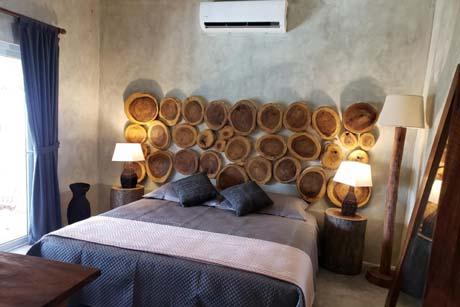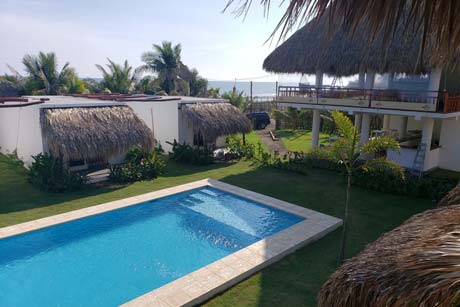 If you are looking for a luxurious hotel in El Paredon, then Ka'an Surf is the perfect place for you. El Paredon might not be known for its extravagant hotels, but Ka'an Surf can satisfy some of your modern needs.
To start off, the design of the property is gorgeous. Visitors can take in the tropical atmosphere just by walking through the elegantly-designed hotel. It features an on-site restaurant serving some of the best food in El Paredon. The seafood there is a must-try.
Along with trendy and spacious rooms that offer the most comfortable sleep, there is nothing more you could want! Did I forget to mention its location just a few minutes' walk from the beach?
---
Visiting El Paredon FAQs
Is El Paredon Safe To Visit?
Though Guatemala does not have the best reputation when it comes to safety, El Paredon is very safe. The small town is home to a small population, which means that no crime goes unnoticed. The only danger in El Paredon is the strong currents that could pull in inexperienced swimmers.
Should I Visit El Paredon or Monterrico?
The beaches in El Paredon and Monterrico are very much alike. The only difference between the two towns is that Monterrico has more resort-like properties and is more popular with Guatemalan tourists. El Paredon is more for backpackers, and though it is a little bit smaller, more of the locals speak English.
Is El Paredon Worth Visiting?
If you have a few extra days in Guatemala, El Paredon is definitely worth visiting. It is one of the best surfing spots in Guatemala, and though you might not be able to do a lot of swimming, the black sand beaches are an incredible sight.
---
If you love the beach and surfing, then El Paredon is the perfect place for you. This small beach town is a hidden gem in Guatemala full of unique and entertaining experiences. We guarantee you'll make unforgettable memories during your stay in El Paredon.
Disclaimer: Some of the links above are affiliate links. That means if you book or make a purchase through the links, we will earn a small commission at no extra cost to you! The money will help run this site! Thank you!