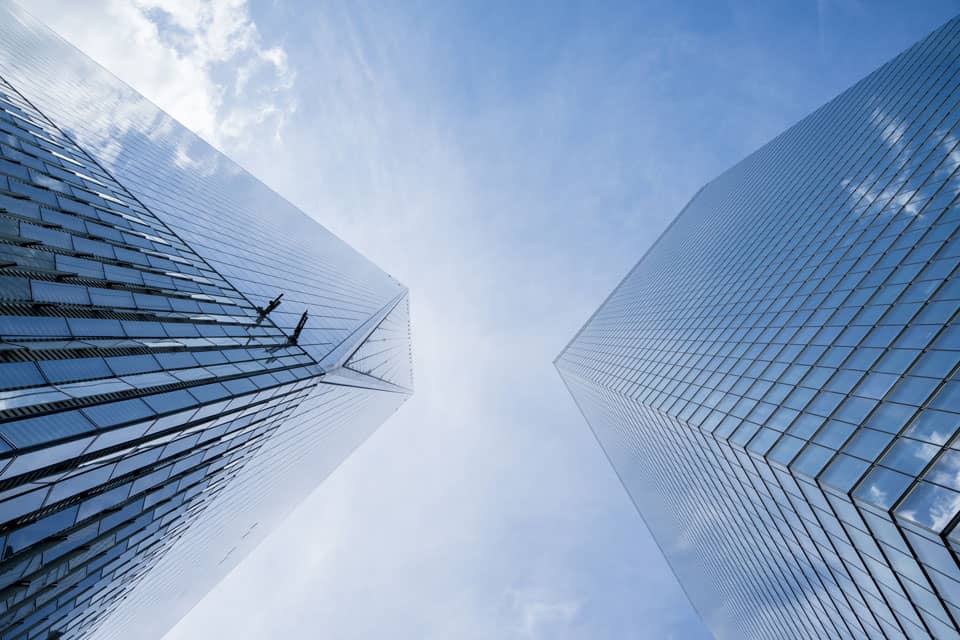 New York City, or NYC for short, receives about 60 million tourists per year.
Tourists from all over the world come to see the most popular destinations such as Central Park, World Trade Center, and Statue of Liberty.
But outside of the super touristy things that everyone comes to see, there is a unique and quirky side to NYC.
If you are looking to take a break from seeing the 5th museum in one day, why not check out some fun and unusual things you can do in NYC.
Here are the top 12 fun and weird things to do in NYC.
Unusual Things to Do in NYC
1. Visit a Hidden Speakeasy at Please Don't Tell
Please Don't Tell used to be NYC's best-kept secret but this hidden speakeasy has become one of the most popular spots in NYC due to its amazing cocktails and classic location. The visitors did the exact opposite of what they were supposed to do and told all their friends about the hidden location of this place.
To find Please Don't Tell, you have to enter through the phone booth of an adjacent hot dog store called Crif Dogs. Once you enter the phone booth, you have to dial 1 for the reception at Please Don't Tell to let you in! What a totally surreal and weird experience!
Insider Tip – To get a table in Please Don't Tell, make a reservation at 3 PM by phone. Otherwise, if you just show up, expect a 2-hour wait.
Location: 113 St Marks Pl, New York, NY 10009 
2. Learn How to Be a Spy at SPYSCAPE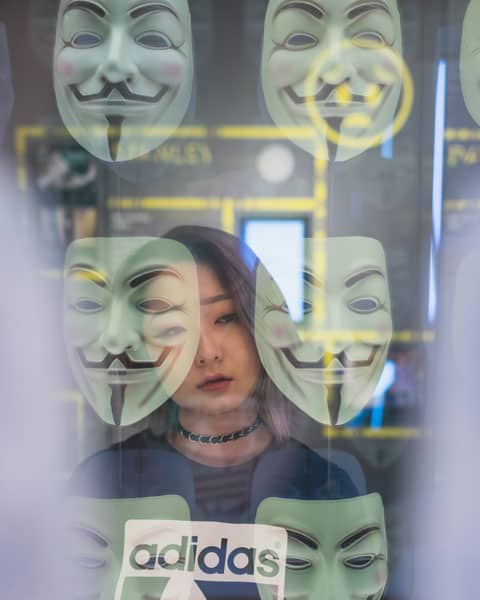 SPYSCAPE is one of the latest unusual museums in NYC. Featuring a find your inner spy interactive sequence, this is a cool spot to take your friends, kids, or even lovers on a date.
It is a museum that will test out your skills in deception, encryption, surveillance, hacking and special ops to see if you have what it takes to be a spy. You will learn about the history of spies while being able to do activities such as trying to deceive a lie detector, or determining if someone is lying or not based on microexpressions on their faces.
Educational, fun, and weird, this is perfect for someone tired of the usual tourist activities.
Cost: $39 per ticket for adults; $32 per ticket for children
Location: 928 8th Ave, New York, NY 10019
3. Visit the Graffiti Tunnel at 191 st Subway Station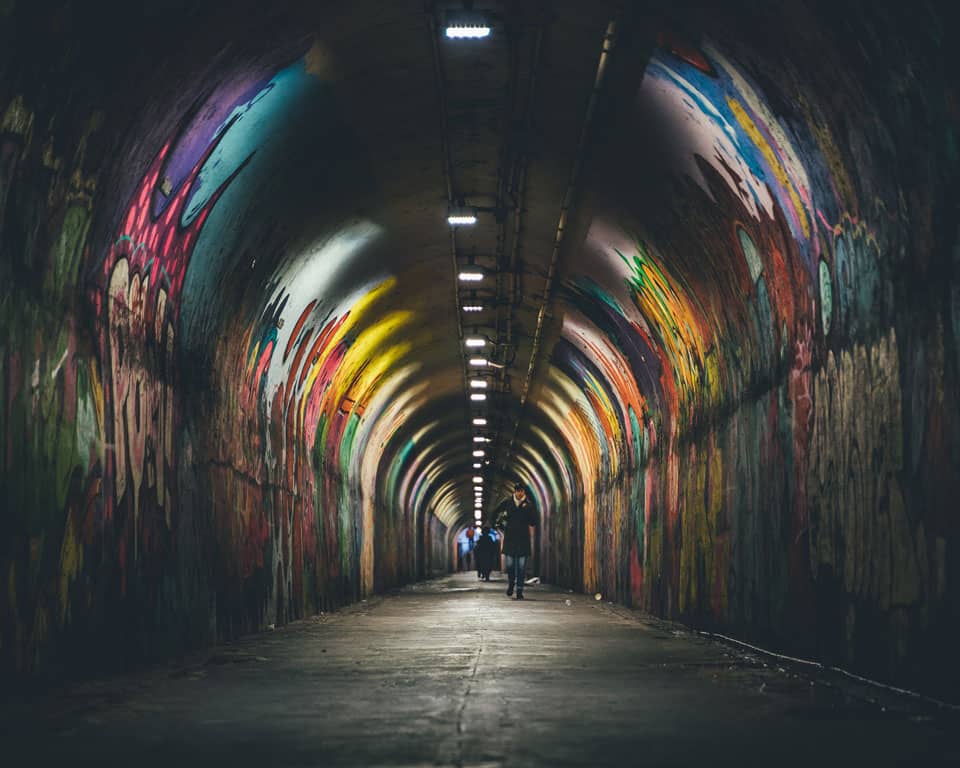 4. Take the Ferry to Staten Island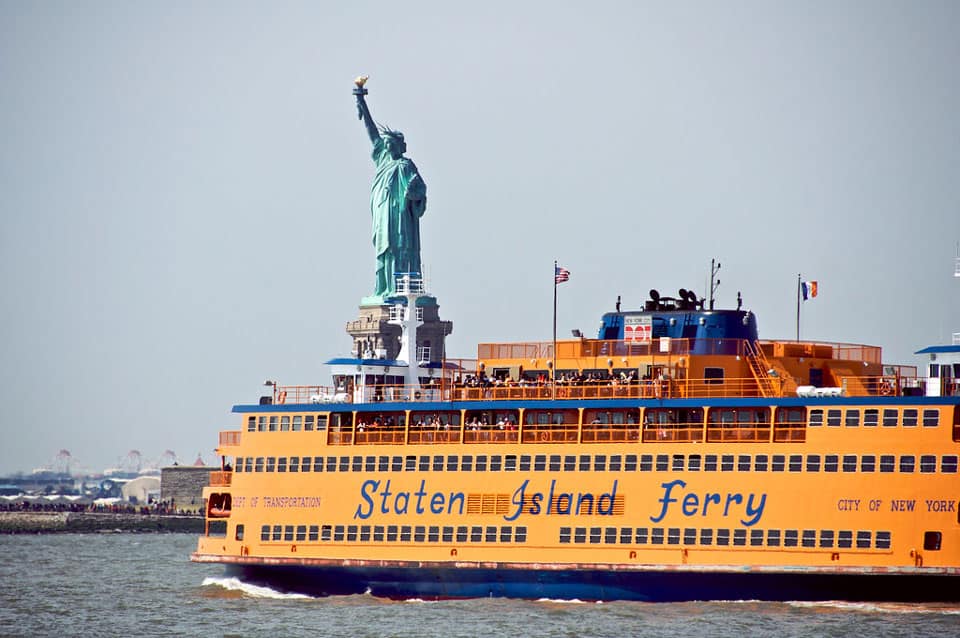 Credit: Natalie Maguire
Staten Island? What is that? If this is your first time in New York City, you might have not heard of Staten Island. In fact, Staten Island is the forgotten borough of NYC.
Even though there is not much to do in Staten Island from a touristy point of view, the Staten Island ferry is a way to see the beautiful waterfront of NYC as well as having a closer look at Statue of Liberty.
In my opinion, the Staten Island ferry is the best place to see the Statue of Liberty. You are not too close and not too far. And you also have the Manhattan skyline as the background for your photos!
What you should not do in New York City is to take one of that overpriced Statue of Liberty cruises if you want a good view of the statue! You are too close for a nice photo!
Is it weird to take the Staten Island Ferry? Yes, but it is so worth it. I would consider this activity a top unusual thing to do in NYC as a tourist!
Location: 4 South St, New York, NY 10004, next to Battery Park
5. See Some Weird Architecture at Vessel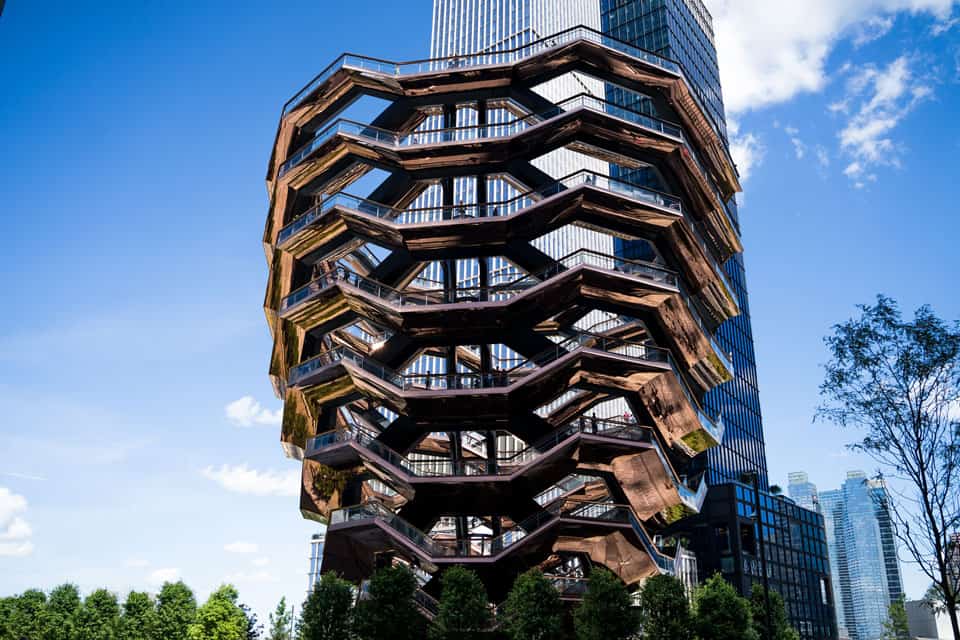 After almost a decade of construction, the strange-looking building called the Vessel has finally opened up to the public. No one knows exactly what it is, some say it looks like a beehive, some say a rib cage, but in the end, I think it is opened to interpretation.
Whatever it is, I think everyone can agree that the Vessel is an architectural masterpiece and a photography hotspot in NYC. A piece that the future can look at it and immediately say, "Oh, that's New York City isn't it?"
Everyone is allowed to see the Vessel but you must make a reservation to climb up. Luckily, same-day reservations are free and given on a first-come-first-served basis.
For more information, check out here.
If you want to secure your reservation for the Vessel ahead of time, you must purchase a Flex Pass online here!
Location: The Shops and Restaurants at Hudson Yards, New York, NY 10001
6. Visit the Old City Hall Subway Station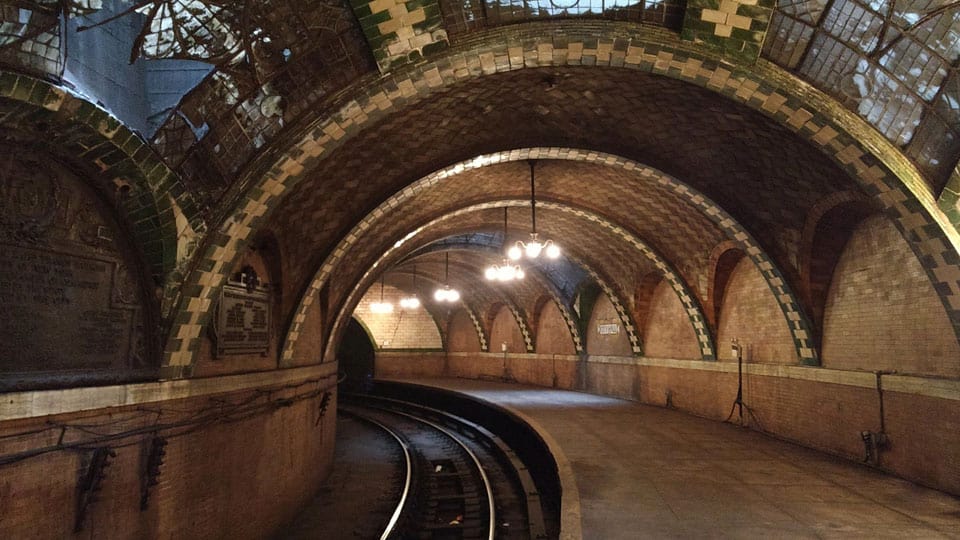 Old City Hall Station was the first subway station to open in 1904. It was a special day for the locals of New York City. Everyone was ecstatic to ride the first subway ride outside of Europe.
But things wouldn't go so well for the glamorous City Hall station. In 1945, the station was officially abandoned due to safety regulations and the elongation of the subway trains. The trains can no longer fit into the Old City Hall station. 
Nowadays, New York Transit Museum offers tours to the Old City Hall station.
For those that want a quick glimpse of it, the downtown 6 train will make a loop at the old city hall station once it passes the final stop at Brooklyn Bridge Station. If you accidentally forget to get off the train or fall asleep, then you have a chance to get a glimpse at it.
7. Challenge Your Wits With Escape Games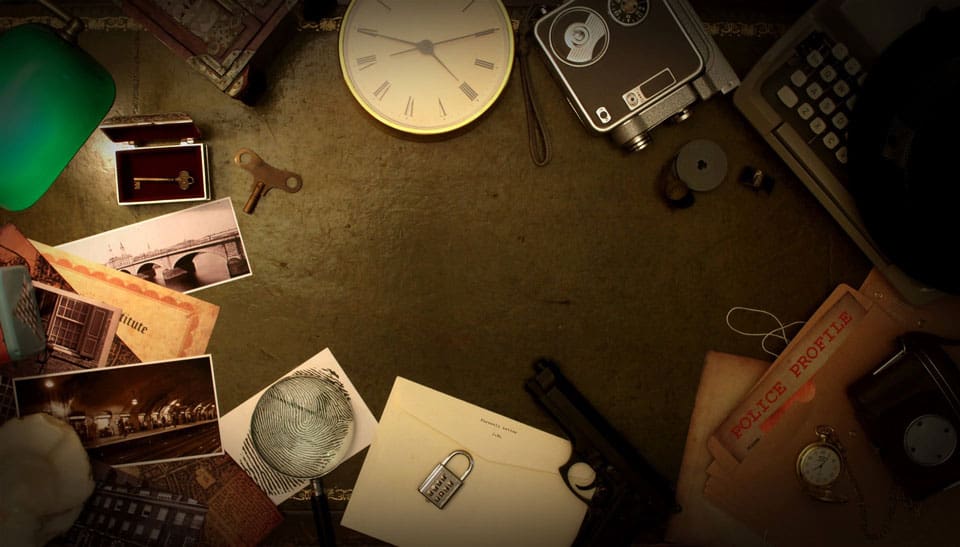 "You are trapped in a nuclear power plant and the nuclear weapons are set to detonate in an hour. Can you find the clues that will stop the detonation? Do you have what it takes to save millions of lives or will you fail? "
This is an example of what an escape game is like.
If you are into finding clues and solving puzzles, then escapes games are perfect for you. You must work together with your teammates to find hints and solve the puzzles to escape the room.
Escape games are a fun and unusual way to bond with your friends and people you have met on your travels.
Location: Various locations throughout NYC. My personal favorite is Escape the Room NYC. Make sure you make a reservation beforehand.
8. Take a Helicopter Ride and See NYC from Above
Tired of seeing Central Park from the same angle over and over again? Or tired of the suffocating crowds in Times Square?
See a side of NYC that not every tourist gets to see by taking a helicopter ride over Manhattan.
The unique views from the helicopter ride will leave you amazed. These are the memories that will last forever.
Not only will you have unforgettable memories, but also undeniable bragging rights for flying in a helicopter over NYC.
A helicopter ride is an unpopular activity but should be the top of the list of things to do in NYC.
9. Check Out the Strange Tiny Museum at Mmuseumm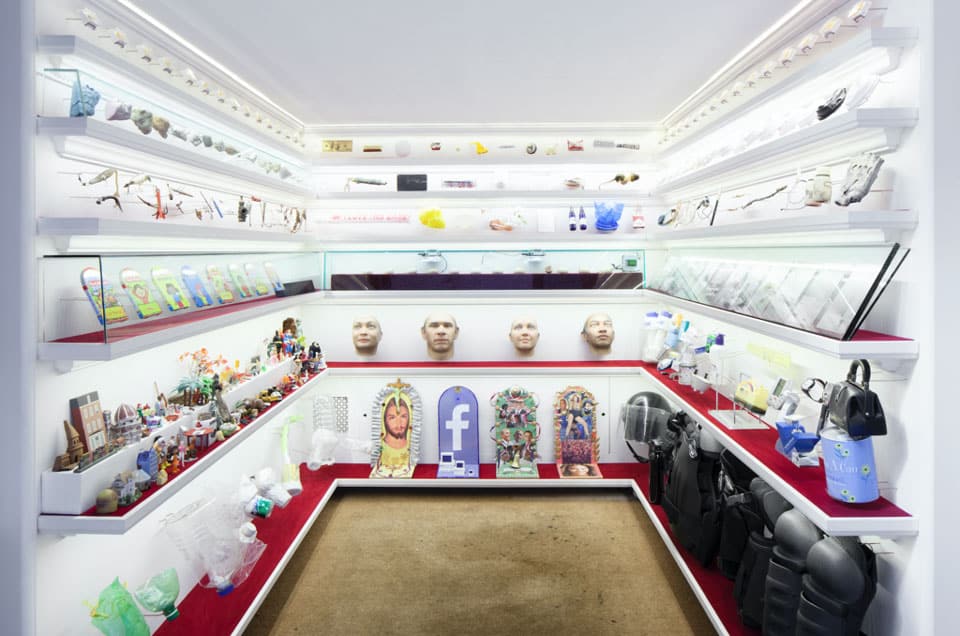 Credit: Alexkalman
Mmuseumm is the weirdest museum I have been to. Not the typical museum with thousands of exhibitions, Mmuseumm just has a few exhibitions and will take less than half an hour to see everything.
Simply said, it is a curated display of artifacts located inside a freight elevator.
The tiny museum offers a unique collection of items that are often overlooked, dismissed, or ignored.
Examples of items include a plastic glove from Montana, hot water coil heater from Lithuania, and many more weird items.
Mmuseumm has peepholes on the gates so you can see the exhibitions 24/7.
Location: 4 Cortlandt Alley, New York, NY 10013
10. Take the Cable Car to Roosevelt Island
Taking a cable car is definitely not a weird thing to do, but taking a cable car in NYC? Now that is unusual.
Otherwise known as the Roosevelt Island Tram, the tram used to be in operation for commuting needs. But as more and more subway stations developed in the area, the demand for the tram declined. Nowadays, it is more of a tourist attraction and a leisure activity than a form of transportation.
The cable car connects E 60st / 2Av of Manhattan to Roosevelt Island, a great place to relax and watch the beautiful skyline of Manhattan.
Cost: $2.75, the same as the cost for the Subway
Location: E 60st / 2 Av or Roosevelt Island
11. Take Some Cool Photos at Fulton Center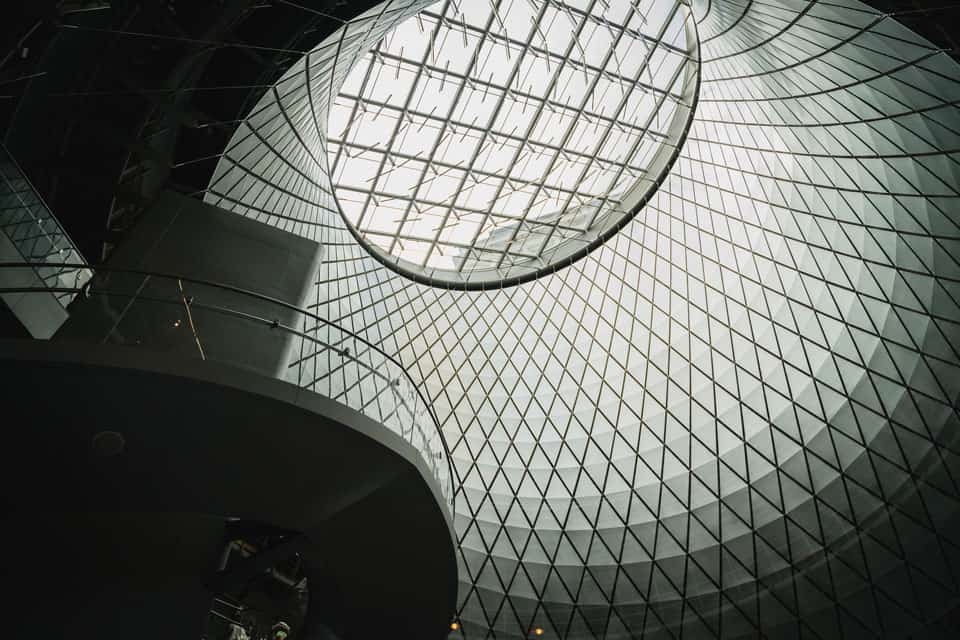 Fulton Center, the hub of transportation of Manhattan, contains some of the coolest and unusual architecture as well. 
Conveniently located near other popular tourist destinations such as Wall st and World Trade Center, it is easy to fit a visit to Fulton center in your NYC itinerary. 
Stop for a short break to admire the unique architecture and grab some food and drinks.
Location: 200 Broadway, New York, NY 10038
12. Visit The Museum Of Sex (18+)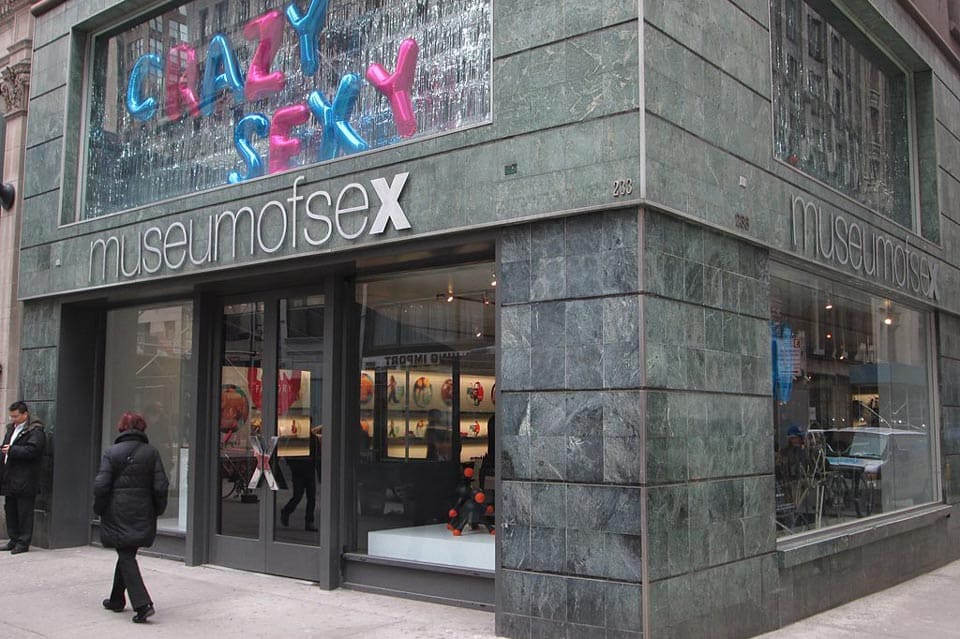 Credit: Beyond My Ken via C.C 2.0
Though not a kid-friendly activity in NYC, a visit to the Museum of Sex is certainly unique. This (18+) museum is dedicated to "the history evolution and cultural significance of human sexuality."
Unlike traditional museums are can be quite boring, the Museum of Sex keeps the guests entertained through various naughty artifacts, intriguing history on human sexuality, and a bouncy breast house at the end of the museum.
The exhibits end with a gift shop where various souvenirs can be purchased. There is also a bar at the end where you can drink till you forget everything you saw!
Location: 200 Broadway, New York, NY 10038
Like this post? Don't forget to save it on Pinterest! 🙂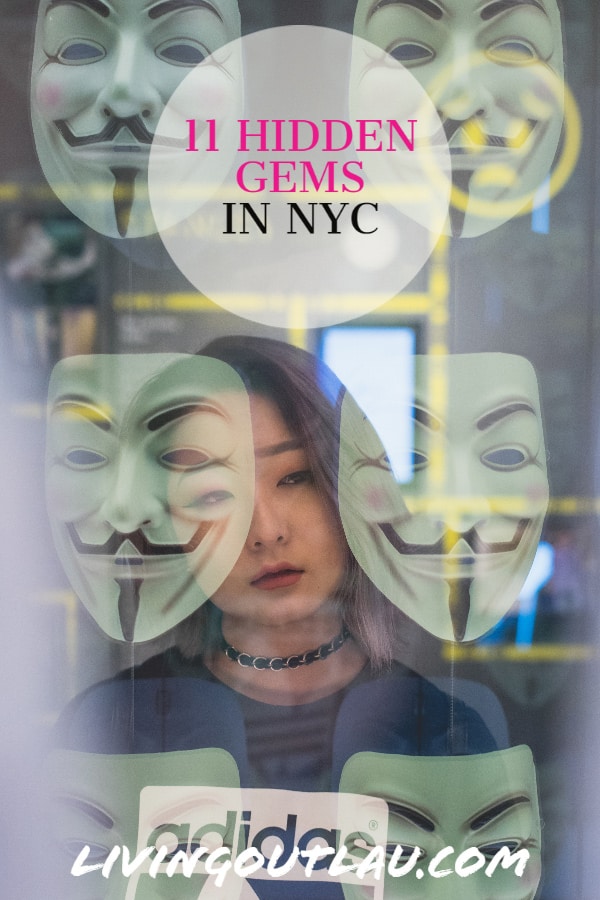 Those are the 12 fun and weird things to do in NYC. Have you done any of them? Let us know in the comments!
Disclaimer: Some of the links above are affiliate links. That means if you book or make a purchase through the links, we will earn a small commission at no extra cost to you! The money will help run this site! Thank you 🙂