Bogota or Cartagena? Which city should you visit on your next trip to Colombia? These two cities are two of the most famous tourist destinations in Colombia, but each has its own unique charms and appeal.
Though these two Colombian cities have many similarities, they are also very different in many aspects. Some travelers might love Cartagena, but absolutely hate Bogota, or vice versa.
That is why we have written this article to compare and contrast Cartagena and Bogota, so that you can make an informed decision about which city is right for your next visit!
In the end, we will sum up our discussion and see which city emerges victorious in the Bogota vs Cartagena fight!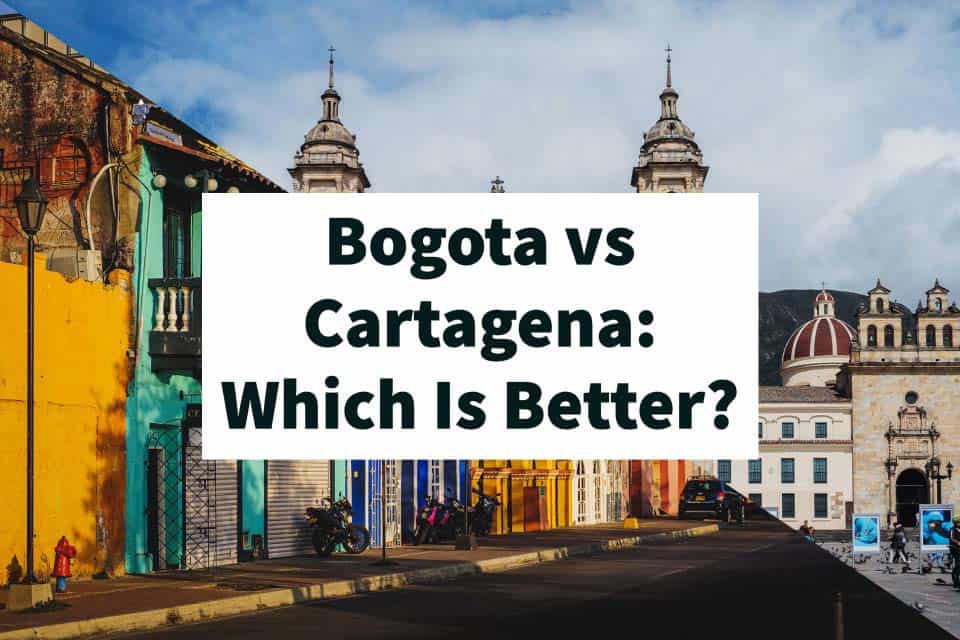 ---
What Is Bogota Like?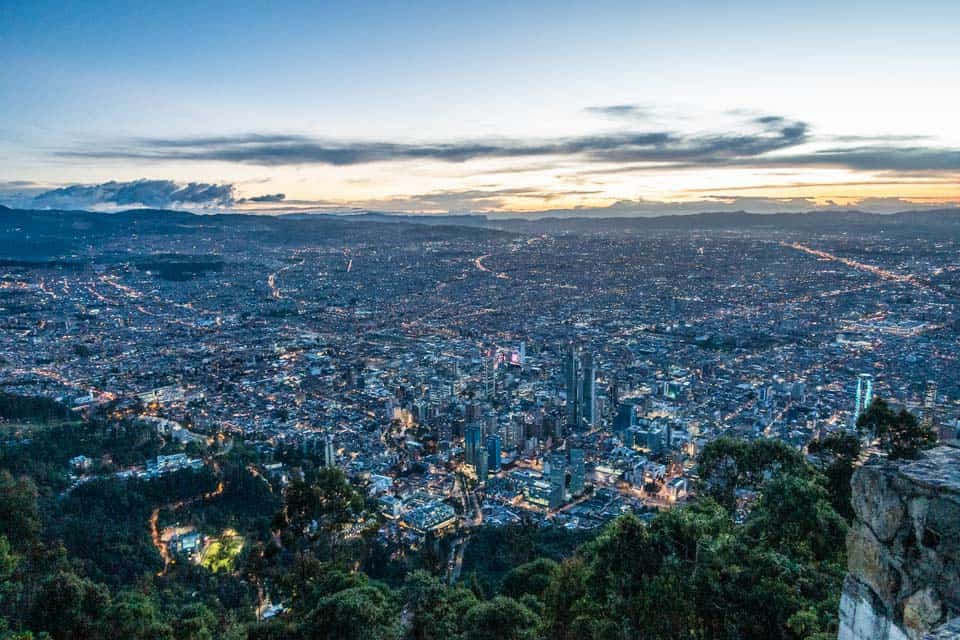 Before we jump into our comparisons, we would like to take a minute to discuss the two cities so you have a general idea of what to expect when visiting.
As you might already know, Bogota is the capital of Colombia. Though it is not the biggest city in Colombia, it is the most populous at around 8 million people. The city is situated on a plateau of the Andes Mountains, and consequently has an altitude of 2,640 m (8,661 ft).
This unique location gives Bogota a very particular climate that is much cooler than most of Colombia. Even during its hottest days, the average highs are only around 20 °C or 68 °F.
Just like most capital cities, Bogota is a bustling metropolis with a lot to offer tourists. The city has a rich history, culture, and plenty of modern comforts.
There are many different neighborhoods to explore in Bogota, each with its own unique flavor. For example, the colonial-style Candelaria district is full of beautiful buildings and cobblestone streets, while the more modern Zona Rosa is perfect for shopping and dining.
---
What Is Cartagena Like?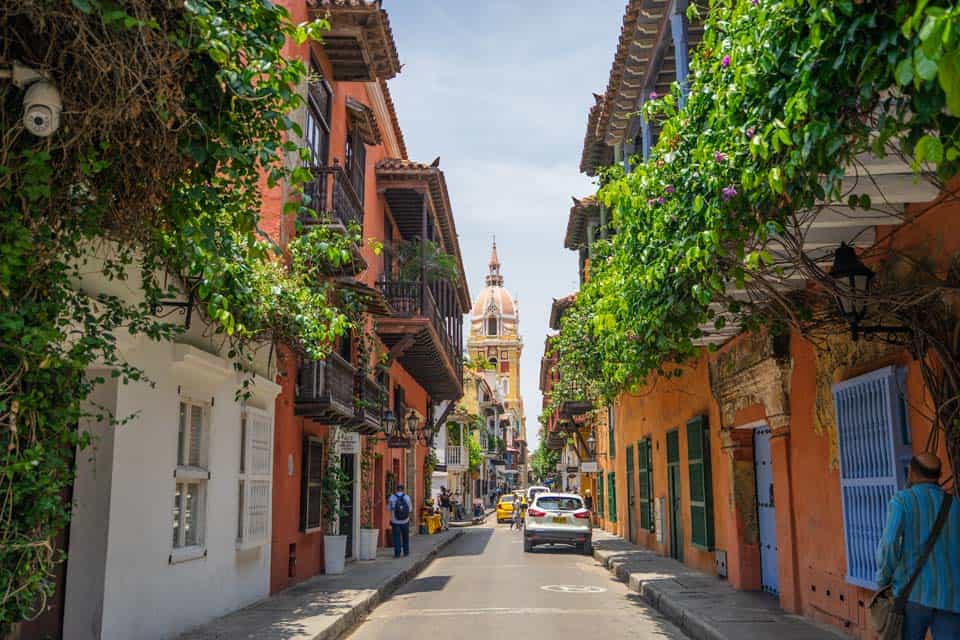 Unlike Bogota, Cartagena de Indias (or Cartagena for short), sits on the Caribbean Coast and has a tropical climate. This means that the weather is hot and humid all year long with very little variation.
Cartagena is mostly a colonial city with a historic walled old town. It was built in the 16th by the Spaniards as protection from the pirates. Cartagena is the most extensive fortification in all of Latin America, and hence its old town has become a UNESCO World Heritage Site and one of the most popular tourist destinations in Colombia.
The touristy part of the city is full of cobblestone streets, colorful buildings, and a lively atmosphere unlike anywhere in Colombia. Combined with the tropical weather, Cartagena is quite a unique place.
The Castillo San Felipe de Barajas fort rises above the historic center and overlooks it. There are also plenty of excellent beaches and beach clubs in Cartagena, making it the perfect place to relax after exploring the city.
Cartagena is also one of the world's busiest cruise port, so the crowd of tourists are very diverse and everyone is out to have a good time.
The vibe of Cartagena and Bogota are very different, and visitors can expect a very different type of Cartagena in each of those two places.
---
Bogota Vs Cartagena: How Do They Compare?
Below we are going to compare Bogota and Cartagena in several categories. At the end of the article, we'll sum up the pros and cons of each city and select a winner!
Which City Has Better Weather?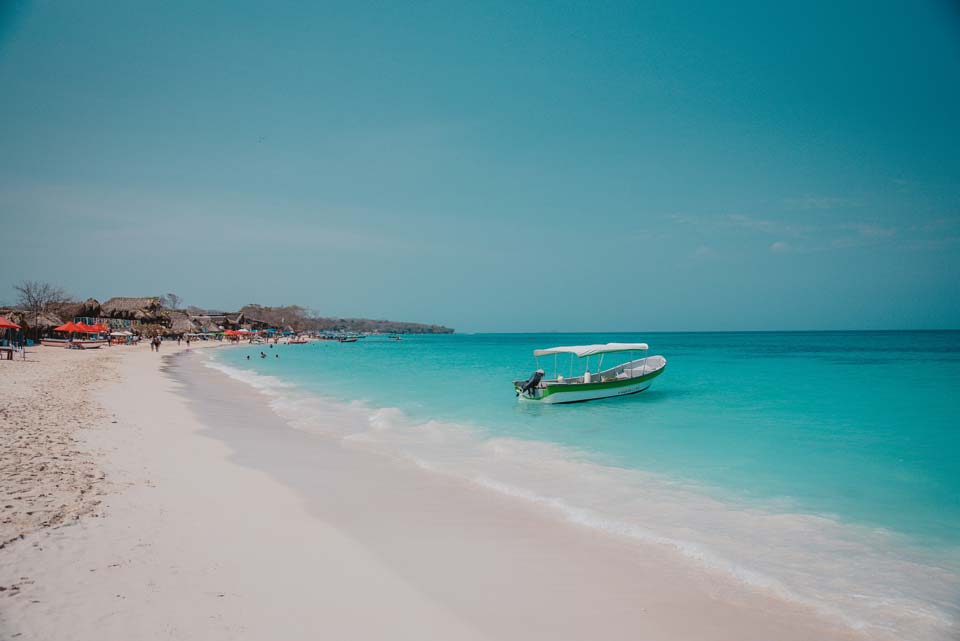 Perhaps the biggest difference between Bogota and Cartagena is the weather. As we mentioned, Bogota is situated high in the Andes Mountains, and consequently has cool weather with a sizable amount of precipitation.
Walking in a t-shirt and shorts during the day might be possible, but it'll most certainly be too cold at night, even during the warmest days in Bogota.
On the contrary, Cartagena has a very tropical climate. The average high temperature stays consistently above 30°C or 86°F and rarely drops below 24°C or 75°F.
Because Cartagena is situated by the sea, the relative humidity stays above 70% daily, which means you'll sweat like a pig at any time of the day. Cartagena is one of the hottest places I've been to in my life.
In the summer months, the average temperature is so hot and intolerable that many locals don't even go out during the day. Of course, you can go swimming in one of Cartagena's beaches, but if that is the only thing you can do in the middle of the day, then you won't be able to be much sightseeing.
Because weather is entirely up to personal preference, it is a draw in this category.
Best City For Weather:
Draw
Which City Has Better Nightlife?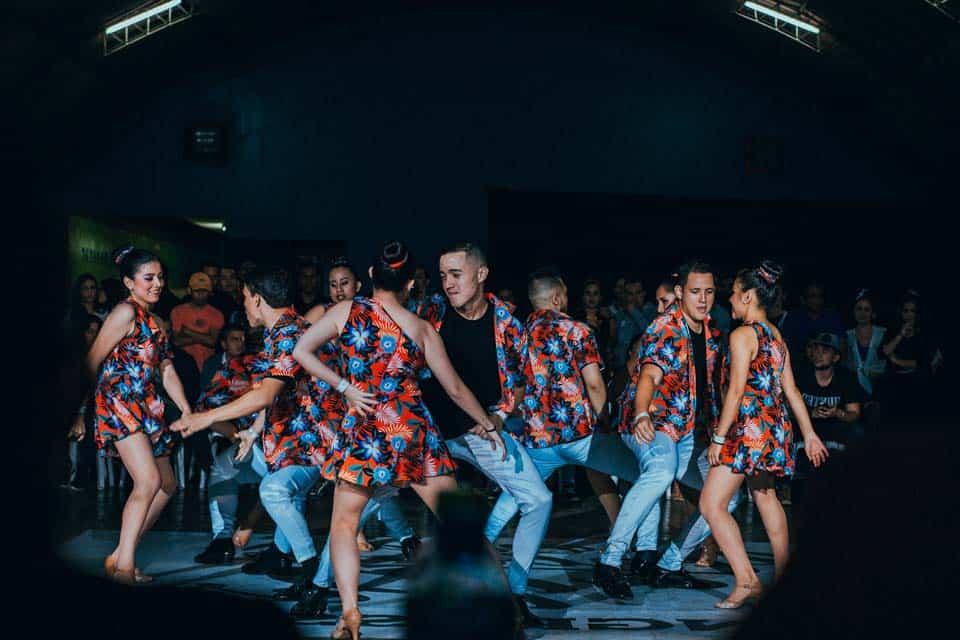 Colombia is known for its nightlife, and both Bogota and Cartagena have astonishing nightlife.
Cartagena's nightlife is mainly concentrated in the old city and the Getsemani neighborhood. Both areas are full of bars, clubs, and restaurants, but most of these venues are targeted toward tourists.
The venues are most likely going to be full of foreigners instead of locals, which isn't exactly what you might be looking for if you are looking for an experience partying with the locals.
Bogota's nightlife is spread out across many different neighborhoods. The most popular party areas are Chapinero and Zona Rosa, and Usaquen. All three of these areas have a large number of bars, clubs, and restaurants to keep you entertained well into the early hours of the morning.
Because Bogota is so much bigger than Cartagena, there are a lot more options when it comes to nightlife. Whether you want a laid-back bar with live music or a lively salsa bar, you can find it in Bogota.
For that reason, Bogota has better nightlife than Cartagena and wins this category.
Best City For Nightlife:
Bogota
Which City Is Safer?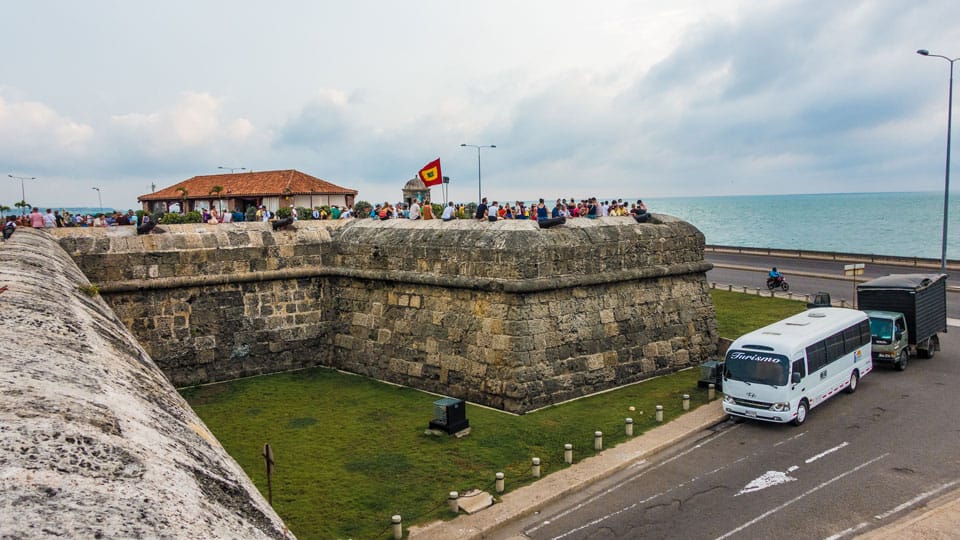 One of the biggest factors when deciding whether Bogota or Cartagena is worth visiting more is its safety. As you might already know, Colombia (or any country in South America) does not have the best reputation when it comes to safety.
For the locals in Colombia, Cartagena is known as one of the more dangerous cities in Colombia. But the areas where tourists will be staying are typically quite safe. Neighborhoods such as the Walled City, Getsemani, and Bocagrande have a big police presence, so most tourists feel quite safe in Cartagena.
However, Cartagena is a city that heavily relies on tourists for its income. This means that although the city might feel welcoming on the surface, the locals are trying to get as much money from you as possible. Scams are very common in Cartagena, and petty thefts such as pickpockets in nightclubs and bars are not unusual.
Safety in Bogota is also not the best. As the capital, it is often the epicenter of all civil unrest and protest. Crime in Bogota is also not uncommon, but perhaps what is unnerving is that the historic center of Bogota (La Candelaria) is dangerous, especially at night.
Bogota has plenty of areas that are safe, but also plenty that are dangerous. And it is not unusual for tourists to just accidentally end up in a dangerous neighborhood.
While the safety of both Bogota and Cartagena are not too different from one another, Cartagena is slightly safer than Bogota for tourists since they are less likely to unknowingly end up in a sketchy area.
Best City For Safety:
Cartagena
Which City Has Better Tourist Attractions?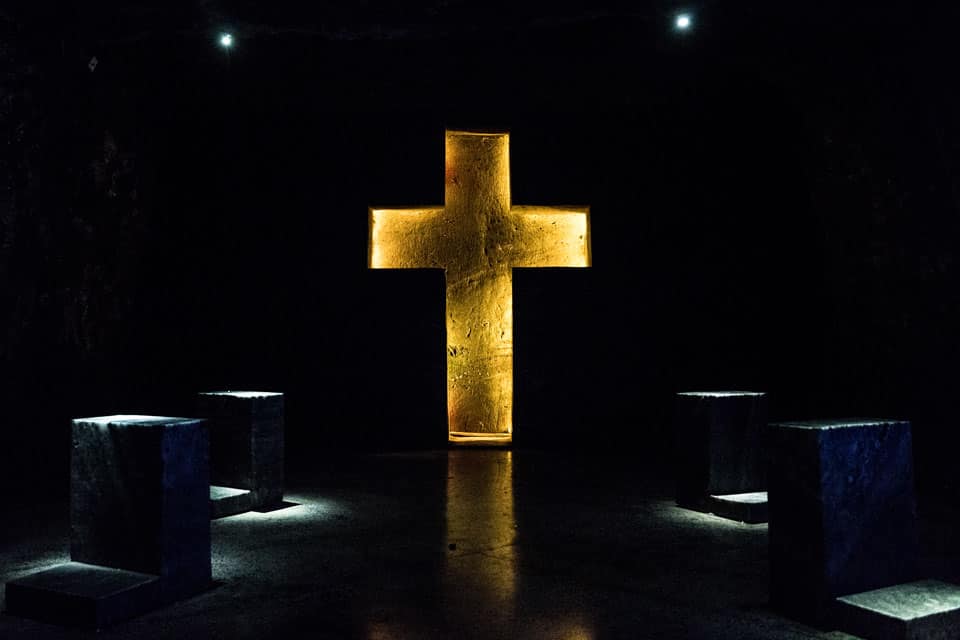 Cartagena and Bogota are two of the biggest tourist destinations in Colombia, but they both offer something very different. Perhaps the biggest difference is due to geography. Because Cartagena is situated near the Sea, many of the activities are water-related.
When you are not swimming in the sea or snorkeling in the Rosario Islands, the walled city of Cartagena is a UNESCO World Heritage Site with lots of history and culture. Visitors can stroll along the cobblestone streets and admire all the colonial buildings. You are likely going to run into the Palenqueras, women from the descendants of the first free African slave.
Climb up the Castillo San Felipe de Barajas Fortress, one of the landmarks of Colombia, and learn about the history of the most extensive fortifications in South America. Cartagena has a mixture of cultural and natural attractions that travelers will love.
The capital city of Bogota certainly does not pale in comparison when it comes to tourist attractions. The city has some of the best museums in Colombia, such as the Botero Museum and Museo del Oro, home to the biggest collection of pre-Columbian gold.
Visitors that would like to enjoy the outdoors can explore Monserrate, a mountain that offers epic panoramic views of Bogota. There are also multiple waterfalls near Bogota, as well as the Zipaquira Salt Cathedral, which is considered the First Wonder of Colombia.
Both Cartagena's and Bogota's tourist attractions are incredible, but generally Bogota has a lot more to offer tourists. Travelers might find themselves bored in Cartagena after a few days, but you would only scratch the surface with a few days in Bogota.
City With The Better Attractions:
Bogota
Which City Has Better Food And Drinks?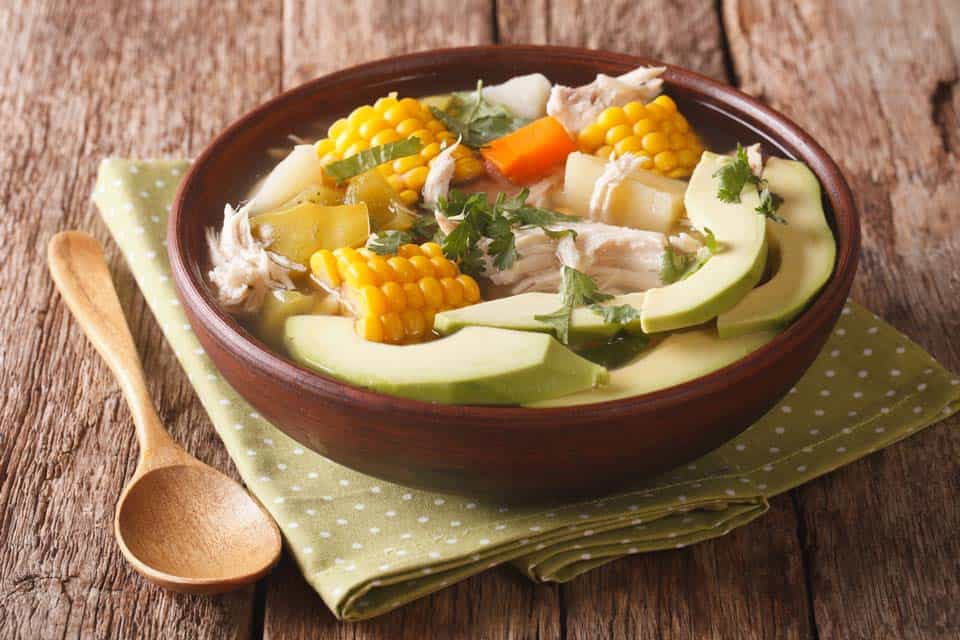 Colombian food is known for being some of the best in South America, and both Cartagena and Bogota can offer tourists a taste of what it's like. However, the type of dishes served in these two cities is hugely dependent on the kind of ingredients available to them.
Since Cartagena is situated by the sea, it is mainly known for its seafood and fresh fruits. Visitors can find anything from ceviche to fried fish and calamari. Because of its history, the food is influenced by a mix of cultures – the Spanish, Africans, and the native indigenous people.
The result is a unique flavor that can only be found in Cartagena.
When it comes to food and drinks, Bogota is far from lacking. This Colombian city is home to tons of incredible eateries, from Michelin-star restaurants to small hole-in-walls. In fact, the city is home to one of the top 50 restaurants in the world – Leo.
The food in Bogota is slightly different than that of Cartagena. Because of the cold temperatures, there are a lot more stews and hearty foods in Bogota, and one you must try is the ajiaco. Don't miss out on other popular dishes such as empanadas, arepas, and Bandeja Paisa.
In Bogota, you can also sample some of the best coffee Colombia is known for, and you'll find it more enjoyable here because of the chilly weather.
While both cities have incredible food and drinks, Bogota has a wider selection of food and is more culturally Colombian. For that reason, we are picking Bogota over Cartagena when it comes to food. But if you are a seafood lover, then you might prefer Cartagena more!
Best City For Food And Drinks:
Bogota
Which City Is Prettier?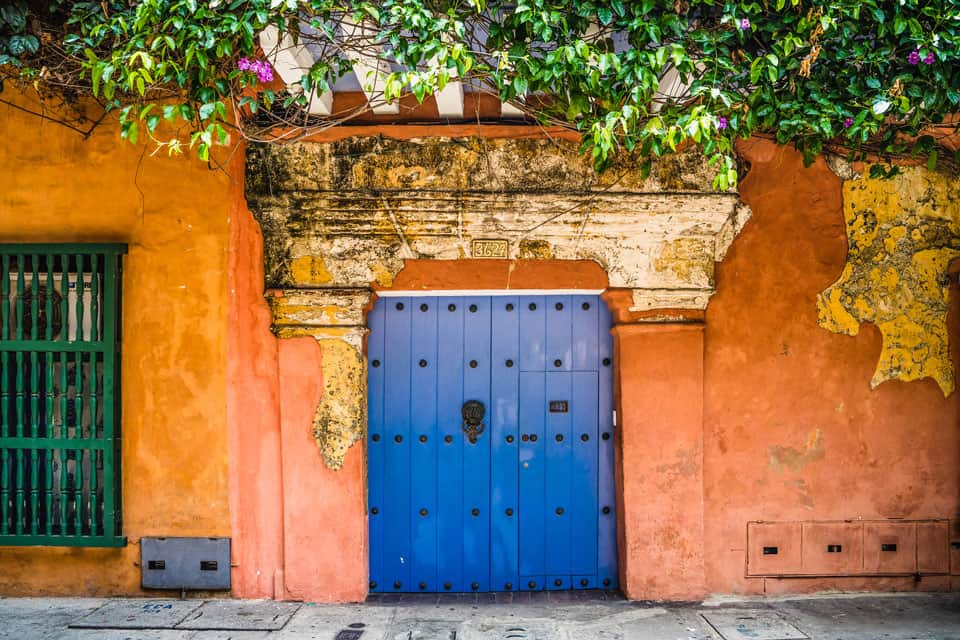 The layout and architecture of both cities are incredibly different.
As we mentioned, Cartagena features a walled city with colorful colonial architecture. Visitors will find that the streets are lined with flowers and that most buildings are painted in very bright colors.
It's certainly a feast for the eyes, and it's easy to spend hours just wandering around and taking it all in. Along with the beautiful beaches, you'll find yourself completely in awe of the beauty of Cartagena.
Bogota, on the other hand, is very much a metropolitan city. You'll find towering skyscrapers, busy streets, and a whole lot of people. While it doesn't have the same charm as Cartagena, Bogota makes up for it with its own unique beauty.
The city is home to some incredible street art, and a walk through any of the neighborhoods will show you just how creative the locals are. There are also plenty of green spaces in Bogota, which families with kids might prefer.
In terms of which city is prettier, it really depends on what you're looking for. If you want charming colonial architecture and beautiful beaches, then Cartagena is the place for you. But if you prefer a more modern aesthetic with incredible skyscrapers and big parks, then you might enjoy Bogota.
But generally speaking, the majority of people will find Cartagena more beautiful than Bogota. If you come from a big city, you might even think Bogota is quite ugly!
Which Is The Prettier City?
Cartagena
Which City Has More History And Culture?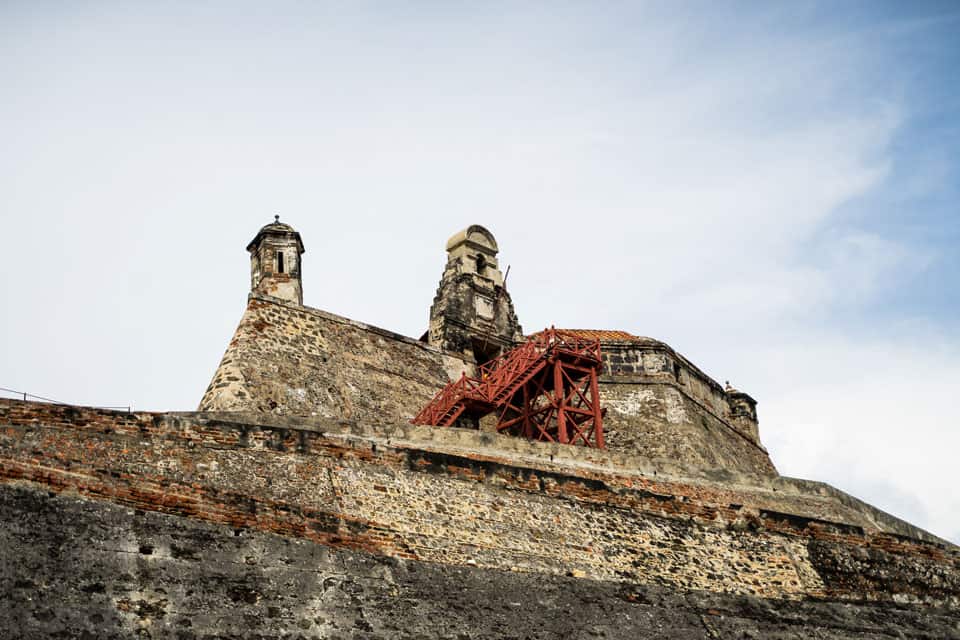 This is a tough one, because both Cartagena and Bogota are incredibly rich in history and culture.
Cartagena was founded way back in 1533, and it has since been through a lot of changes. Throughout its long and varied history, Cartagena has been home to many different cultures. This is reflected in the food, architecture, and even the way people speak. It is no surprise that the Walled City is a UNESCO Site.
Read More: Medellin vs Cartagena: Which City Is Better?
The city was one of the richest in the Americas, and the Spaniards built the Walled City to protect its riches from pirate attacks. The city is not only home to plenty of museums where you can learn about its history, but every street in the Walled City is a piece of its past. The culture of Cartagena is spilling out in every corner.
Bogota, on the other hand, is the capital of Colombia. Inherently, it is home to tons of history and culture, and visitors can see that in the La Candelaria historic district. The city has undergone numerous changes in the past to become what you see today, and visitors can learn about it through the numerous museums around the city.
While Bogota might have more culture and history, it is generally harder to experience it. Yes, you can hit up all the museums and go on a guided tour, but it is unlike Cartagena where you are literally walking through a piece of history frozen in time.
For that reason, Cartagena is better than Bogota for culture and history.
City With More History And Culture:
Cartagena
Which Is Better For Living?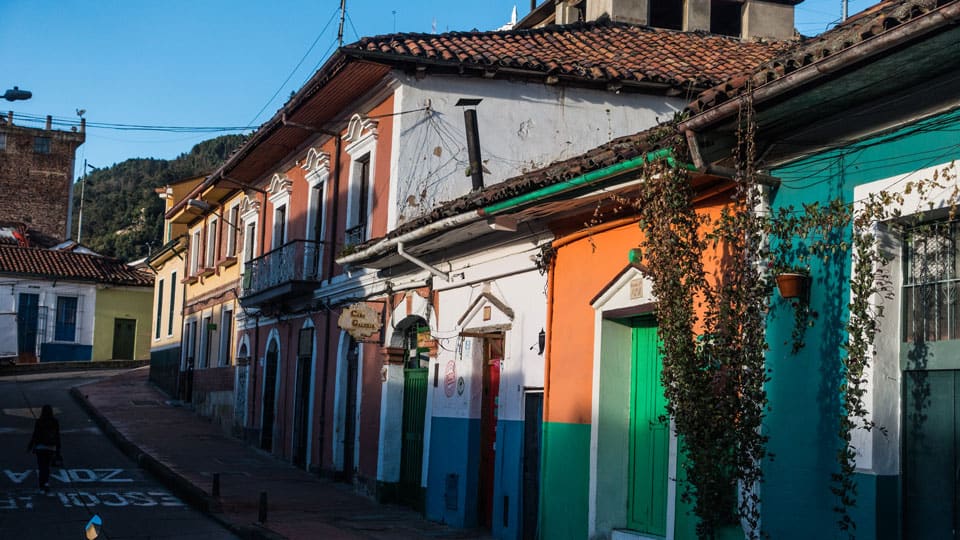 This is perhaps the easiest category to decide because Bogota is the clear winner. Cartagena is a tourist city with very few liveable areas. The infrastructure is not the best and there isn't a lot to offer for long-term visitors. As we have mentioned, Cartagena is one of those places that you only visit for a few days.
However, Bogota is a big city with plenty of things to do. From the standard of living to cost of living, Bogota is significantly better than Cartagena. It is easier to get around in Bogota with the amazing TransMilenio public transport system, which is something Cartagena lacks.
In general, Bogota has a lot more modern amenities than Cartagena.
The Better City For Living:
Bogota
---
Bogota vs Cartagena Comparison Table
To sum everything up and help you make an easier decision, here is a comparison table with all the categories we discussed above.
| Category | Bogota | Cartagena |
| --- | --- | --- |
| Weather | X | X |
| Nightlife | X | |
| Safety | | X |
| Tourist Attractions | X | |
| Food And Drinks | X | |
| Aesthetics | | X |
| History And Culture | | X |
| For Living | X | |
Read More: Medellin vs Bogota: Which City Is Better?
---
Cartagena or Bogota FAQs
Is Bogota Cheaper Than Cartagena?
Generally speaking, Bogota is cheaper than Cartagena because most tourists visit Cartagena. This means that the prices are higher in Cartagena because they target tourists. In Bogota, you can generally find more affordable accommodation, food and everything in between.
Is Bogota Safer Than Cartagena?
Both Bogota and Cartagena have questionable areas where your safety is not guaranteed. But typically speaking, tourists are more likely going to stumble on one of those neighborhoods in Bogota than in Cartagena. Because of that, Cartagena is slightly more safe than Bogota.
---
Which is Better? Medellin Vs Cartagena – Final Verdict
As you can tell, comparing these two beautiful cities in Colombia is no easy task. In the end, Bogota slightly edges out Cartagena and becomes the better city to visit. But where you end up visiting will largely depend on what your interests are.
The main difference is that Cartagena is a party town with the vibes of a Caribbean Island, and Bogota is an all-rounded city with plenty to do but a cold climate.
Disclaimer: Some of the links above are affiliate links. That means if you book or make a purchase through the links, we will earn a small commission at no extra cost to you! The money will help run this site! Thank you!