Looking for the best cameras for fashion blogging? Worry not.

With a countless number of cameras in the market, choosing the perfect camera for fashion blogging cannot be more difficult. As someone who has done portrait and fashion photography for over 5 years, we understand the challenges of not having the right camera. Without the proper camera, it limits our creative freedom and hinders our results.

There is nothing worse than not being able to express your fashion properly by not having the right camera.

That is why we have written this guide to showcase 5 of the best cameras for fashion bloggers so you can have the proper equipment for fashion blogging!
---
Quick Summary On The Best Camera For Fashion Blogging
---
What Makes A Great Fashion Blogging Camera?
Before we jump into our selection of the finest fashion blogging cameras, we want to highlight what features are essential to a camera for fashion blogging. Here are 8 things you should consider when purchasing a fashion blogger camera.
1. Versatility
Versatility is one of the most important things to consider when purchasing your first fashion blogging camera. What I mean by versatility is the ability to excel wherever and whenever you plan on taking your photos.
Do you intend on doing only fashion photoshoots in studios or are you more of an outdoor fashionista that utilizes natural light? Does your style shine in low-light situations? Are you going to be shooting indoors a lot? These are some of the questions you must ask yourself when purchasing your blogging camera.
In camera terms, does your camera have a hot shoe for studio shooting? Does it have a full-frame sensor that can handle low-light situations? You can't just think about taking photos in a nice and abundant natural light, but the toughest lighting situation you might encounter in your fashion blogging career.
2. Sensor Size and Quality
Most beginner photographers don't know this but the sensor is arguably the most important part of the camera. The sensor is responsible for capturing light and turning the "message" into the image you see. Without a good sensor, it is difficult to capture the image you might have in mind.
There are two parts to a sensor: the sensor size and quality. While we won't be able to find out if the sensor quality is good easily, the sensor size is something that can be easily checked.
Full-frame cameras have full-size sensors at 36mm x 24mm (also called a 35mm sensor). This is usually the biggest size a sensor can get (unless you go into medium-format cameras but we won't go into that). The big sensor size allows more light to be captured, hence enhancing your camera's low-light performance.
In exchange, full-frame cameras are usually bigger in size, which could be a con if your fashion photography involves lots of traveling.
One step down from a full-frame camera is an APS-C camera, more often known as cropped sensor cameras. As the name suggests, the sensors in the APS-C cameras are smaller compared to full-frame but they offer more portability. Because of the smaller sensor size, ASP-C cameras have average low-light performance.
The ones below APS-C cameras are micro four-thirds cameras, or cameras with a 4/3-inch sensor size. Below micro four-thrid cameras are 1″-sensor cameras. Those cameras offer superior portability but at the expense of low-light performance.
If your fashion blogging content is mostly indoors with difficult lighting, then you must be careful when picking your camera for blogging.
3. Maximum Burst Rate (Continous Shooting Speed)
Maximum burst rate is one of the most overlooked features when purchasing a camera for fashion bloggers. For those who are unfamiliar with the term, the maximum burst rate is the number of frames (photos) your camera can take before it needs to stop and process the image.
Most photographers don't typically use this feature, as they don't need to take so many photos continuously.
However, as a fashion blogger, you want to capture yourself (and your outfit) at its best, and sometimes that requires motion. You might need to do a twirl in your dress, a hair flip, or just rocking back and forth to get a candid photo. All of those require you to have a camera that has a good maximum burst rate.
4. Lens Choices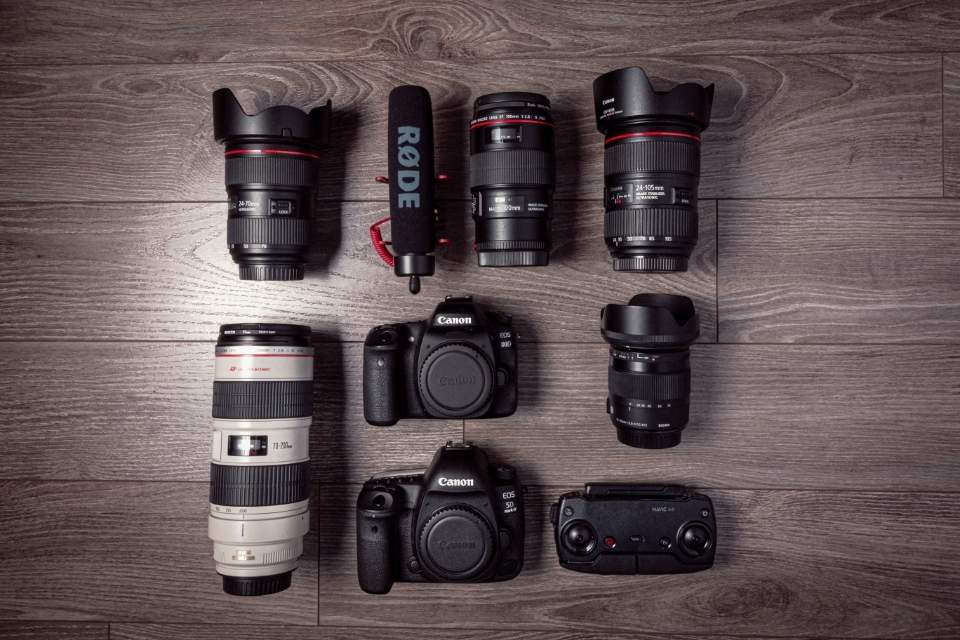 Selecting the perfect fashion blogger camera is only half the battle because even the best camera can take bad photos without the ideal lens (and skills). When you are deciding which camera to buy, keep in mind the lenses that are available to that camera.
For example, if you buy a Sony mirrorless camera, you can only use Sony lenses and Sony-compatible third-party lenses. If you want to use a lens from a brand like Canon, then you will need an adapter, which could drop the performance of your setup and add extra weight.
So when purchasing your camera, do some research on the type of lenses they have for that camera. Familiarize yourself with the weight and price of the lenses and consider whether that would work for you.
5. Fully-Articulating or Tilting Screen
Looking amazing in your outfits is only part of the challenge as a fashion blogger. You need to know how to capture the perfect images. If you are a fashion blogger that takes his/her own images with a tripod, then selecting a camera with a fully articulating or 180-degree tilting screen is essential.
6. Mirrorless vs. DSLR vs. Point-And-Shoot Camera
What cameras do fashion bloggers use?
One of the biggest questions in the camera world is which type of camera is the best – mirrorless, DSLR, or point-and-shoot. When you are looking for a camera for fashion blogging, this is a decision you must make.
There is no "best" type of camera because it is all situational. Below we will talk about each type of camera and where they shine.
Point-And-Shoot Cameras:
Point-and-shoot cameras are the simplest, cheapest, and most portable cameras you can buy. In exchange for this, point-and-shoot cameras don't have amazing features. Typically, the specifications on point-and-shoot cameras are below average, especially when compared to DSLRs and mirrorless cameras.
This could limit your creative vision because the camera simply might not have a feature you want. It might be more difficult to get the shot you want because you cannot change your lens to a more suitable one. The sensor size in point-and-shoot cameras tends to run small, so you will have more trouble in low-light situations.
Mirrorless Cameras:
Mirrorless cameras are the new rave in the camera world. As the name suggests, it doesn't have a reflex mirror to process the image (like a DSLR). Instead, the light captured from the camera is processed through a digital sensor which produces the image you see on the LCD screen or EVF (electronic viewfinder) of your camera.
Without the mirror, mirrorless cameras tend to be much smaller in size than DSLR. However, because of the extra "technology" needed to produce the final image, the battery life of mirrorless cameras isn't the best.
Mirrorless cameras also shine at videography. If your fashion blogging kit includes showcasing your style through video, then mirrorless cameras are ideal for you.
DSLRs:
Though mirrorless cameras are slowly taking over, DSLR cameras still have their place in many parts of photography, especially fashion photography. Many professional fashion photographers and bloggers still use DSLRs to create their work.

DSLRs tend to be cheaper than mirrorless because it doesn't need the fancy technology to process the photos, especially if you take into account the lenses available. As we mentioned above, the battery life of a DSLR is usually much better than a mirrorless camera.
Another reason to choose DSLR is for the optical viewfinder. Many photographers prefer that over the electronic viewfinder you find on mirrorless cameras. The optical viewfinder is much more "intuitive" than the mirrorless counterpart.
Personally, we started out with a Nikon DSLR and quickly switched to a Sony mirrorless and never looked back. We use our mirrorless camera for traveling and its portability is just superb.
7. Invest In a Photography Course
Though this part has nothing to do with a fashion blogging camera, we felt like we needed to emphasize the importance of learning photography. It doesn't matter if you have the best camera for fashion bloggers if you don't know how to use it and the basic principles of photography.
One of the common mistakes of a beginning fashion blogger is purchasing all this equipment without the knowledge of how to use it. We highly recommend you to take a course on photography before jumping into your first big camera purchase. Start with one of the cheaper fashion blogging cameras (like the one we will talk about below) and learn the basics first!
8. Learn to Edit Your Own Photos
With my 5+ years of fashion and portrait photography experience, I can tell you that snapping the image is only half the battle. The magic happens in post-processing. Learning to edit your own photos is as important as being able to take them yourself.

Whether it is editing with VSCO, Snapseed, Lightroom, Photoshop, or just using presets, you need to know how to edit your own photos well as a fashion blogger.
---
5 Best Cameras For Fashion Bloggers
Experience a new level of fashion blogging with one of Sony's newest full-frame mirrorless cameras. The Sony a7C is designed to overcome all the shortcomings of a typical mirrorless camera. With a 740-shot battery, the battery life of the a7C is one of the best in the mirrorless camera world.
With excellent battery life, you would expect a big and chunky battery that adds to the weight. No! The camera weighs in at slightly over 1 lb and is the world's smallest full-frame mirrorless camera (at the time of writing). My photography teacher always said that the best camera is the one you have with you, and the Sony a7C's portability ensures that happens all the time.
Size and portability aren't the only things the a7C is known for. It has Sony's state-of-the-art autofocus system, which is one of the best (if not the best) in the industry. A quality full-frame sensor offers users versatility and reassurance in low-light situations. Combined with Sony camera's high dynamic range, you have the complete kit to make stunning photos.
The Sony a7C also has the capability to shoot oversampled 4k video at 30 fps in 8-bit. While that is not Hollywood-grade video capability, it is more than enough for fashion bloggers as video is usually not their main thing.
One of the most desired features of the Sony a7C is the 180-degree tilting screen, something that a lot of the competitors in the same price range do not have. This feature, combined with the excellent portability, allows fashion bloggers to produce gorgeous photographs of themselves anywhere they want.
[table id=11 /]
---
The Canon EOS 6D Mark II is a full-frame DSLR camera designed for advanced amateurs to professionals looking for a lighter body. Inside the 765-gram body is an effective dual-pixel autofocus system and a 26-megapixel camera. The weight is one of the lightest you will find among full-frame DSLRs.

Similar to the Sony a7C we mentioned above, the Canon EOS 6D Mark II has a fully articulating screen, perfect for fashion bloggers to take photos of themselves. Its built-in WiFi capability allows fashion bloggers on the go to share their photos easily.

With a full-frame sensor and excellent autofocus system, photos are undoubtedly Canon EOS 6D II's strong suit. The camera doesn't record in 4K, but it does record videos in 1080p/60fps. The video specs are enough for small projects, but this is not the camera for video-heavy bloggers.

What we really like about the Canon EOS 6D II (or any Canon camera) is its excellent colors. Canon cameras are known in the industry for their beautiful creamy colors. Even better, most of the time you don't need to edit them to achieve the enchanting color schemes. Their OOC (out-of-camera) JPGs are superior compared to many other camera companies out there.
[table id=12 /]
---
The Sony A7R IV is one of Sony's best mirrorless cameras in the market right now. With its 61.2-megapixel BSI CMOS full-frame sensor, the camera is capable of producing ultra-sharp and detailed images even in the most challenging environment. Even on high ISO (camera's light sensitivity), the noise in the images is minimal.
The Sony A7R IV features Sony's renowned autofocus system, so even beginners can take crisp images at ease. With a 10 fps burst shooting speed, fashion bloggers can use this opportunity to capture themselves in motion or striking different poses.
Though the heaviest camera in our list of fashion blogging cameras, the Sony A7R IV is still light, especially given the 61-megapixel full-frame sensor. For comparison, the Nikon D850, a full-frame DSLR with only 45.7 megapixels, weighs over 33 percent more than the Sony A7R IV.
Though designed to produce unparalleled still images, the Sony A7R IV can also capture 4K footage at 30FPS. With excellent in-body image stabilization (for both video and images), bloggers can produce decent handheld footage.
However, it does not have a fully articulating screen, which might be a dealbreaker for some bloggers (if the price isn't already).
[table id=13 /]
---
If you are someone that has just started on the fashion blogging journey, then a camera like the Sony a6600 is perfect for you. The Sony a6600 is an APS-C mirrorless camera that combines value, portability, and performance.
As one of Sony's top-of-the-line APS-C mirrorless cameras, the Sony a6600 features the company's leading autofocus system, a great battery life, and in-body image stabilization.
The a6600 is also capable of capturing oversampled 4K footage at 30 fps. Combined with a weight of slightly over 1 lb, the a6600 is the complete package for fashion bloggers.
Its 11 fps bursting shooting speed and in-body image stabilization are perfect for capturing motion, working in low light situations (which a lot of APS-C cameras struggle with, and ensuring you produce sharp images. The only thing that separates the Sony a6600 from top-tier mirrorless cameras is the sensor size.
Overall, the Sony a6600 is an excellent camera for a beginner fashion blogger who wants to take it seriously!

[table id=14 /]
---
The Canon EOS M200 is a small, beginner-friendly mirrorless camera with a 24 MP APS-C sensor. At around $500 USD (at the time of writing), the M200 is the most affordable fashion blogging camera on our list. This camera is ideal for newbie photographers and people that are just starting out in their fashion blogging journey.
Though the camera is affordable, don't underestimate what it can do. The dual-pixel autofocus system and Digic 8 image processor are capable of producing great images. In terms of video, the camera is capable of capturing 4K footage at 24 fps, though with a 1.7x crop factor due to the APS-C sensor. It also has a 6.1 fps burst shooting, a full tilting screen, WiFi, and Bluetooth.
However, there are some limitations to this 0.66-lb camera. The battery life is only at 315 shots, which means you might need to bring multiple batteries with you. Just keep in mind that this is still a ~500-dollar camera, so you cannot compare the quality of the images and videos produced from all the other cameras on the list.
It is definitely much better than a smartphone camera and a great choice for people starting out fashion blogging.
[table id=15 /]
---
Best Cameras For Fashion Bloggers Comparison Table
Like this post? Don't forget to save it on Pinterest!
---
This concludes our guide on the best cameras for fashion bloggers. We hope you have found the ideal companion for your fashion blogging journey!

Any questions? Leave them in the comments!
Disclaimer: Some of the links above are affiliate links. That means if you book or make a purchase through the links, we will earn a small commission at no extra cost to you! The money will help run this site! Thank you!