Sedona Arizona is becoming one of the most popular travel destinations in USA, especially in the winter. With 400+ miles of hiking trails, mesmerizing red rocks, indigenous ruins, there are numerous things to do in Sedona.

As a result, this self-proclaimed most beautiful place on earth has attracted tons of visitors, and that number is only rising. With an increasing demand for tourism, many Airbnbs have emerged in this magical area.

In our Sedona guide, we will give you the 10 best Airbnbs in Sedona Arizona so you can find the perfect stay for your next trip!

Enjoy!
Looking to stay in the area but want something a little more affordable? Check out the Airbnbs in Flagstaff!
Want A Quick Tip On The Best Airbnb In Sedona, AZ?
1. Exquisite Suite w/ Unbeatable Views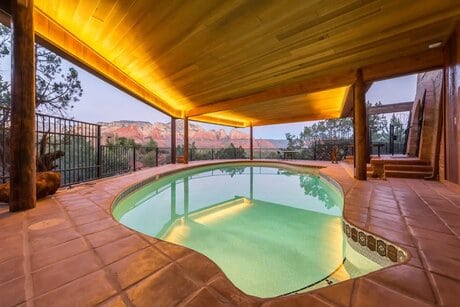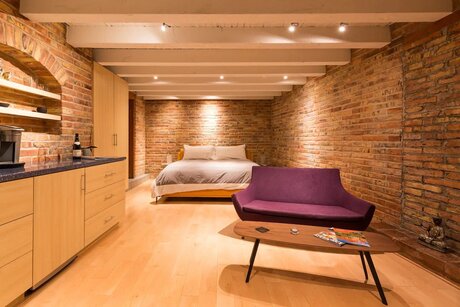 If you are looking for a top-notch Airbnb in Sedona to rejuvenate your spirit and relax, then this gorgeous suite is the best choice for you.

Located in a historic building, the space is gorgeously designed and feels like an incredible piece of art. From the interior decor to the unique architecture, guests will feel like they have become a part of Sedona's history.

The suite also features many top-notch amenities, such as a deluxe hydrotherapy hot tub, aromatherapy steam room, and a saltwater pool (which can be heated at an additional cost).

When you are not enjoying their fantastic amenities, you can sit in the outdoor spaces and enjoy the marvelous views surrounding you. If you want to be on top of the mountains you see, there are over 15 hiking trails all within a short distance from this Airbnb, perfect for any avid hikers.

The hosts are also two professional healers who will provide you with healing and wellness sessions, as well as essential information about the beautiful town of Sedona!

Maximum Occupancy: 2 Guests (1 Bedroom)

Guest Review: This place is spectacular. We had high expectations, and they were far surpassed. Huib was amazing to come home early from work and let us check in early. The room was spotless and they had snacks and wine waiting for us. The property could not be more beautiful; the best view ever and so close to the hikes! The property had more amenities than we could've hoped for; hot tub, pool, meditation area, dry spa, etc. If I could give more stars, I would! – John, January 2021
10 Best Airbnbs In Sedona, Arizona
2. Serene Zen Haven w/Panoramic Views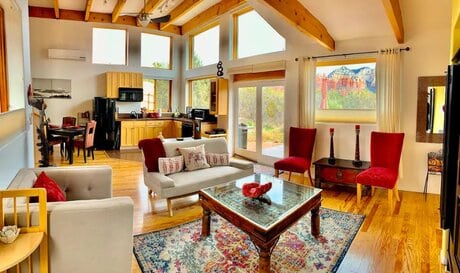 If you are traveling in Sedona with family or kids, then this 2-bedroom Airbnb is perfect for you. The master bedroom includes a large jetted jacuzzi tub, double sinks, and double shower heads, perfect for anyone to relax after a day of exploring Sedona.

The second bedroom is in a raised loft area. Though it doesn't have its own ensuite bathroom, it does boast a stunning view.

However, the second bedroom isn't the only place where guests can admire the incredible scenery around them. The spacious living room features large windows that look into the famed Red Rocks of Sedona.

These Red Rocks can also be seen in the outdoor patio, where guests can sit and chill or have a barbecue!

Additionally, this Airbnb is located in a quiet neighborhood (but not too far from Downtown Sedona where all the action is), giving guests the proper space and privacy needed to enjoy their stay!

Maximum Occupancy: 4 Guests (2 Bedrooms)

Guest Review: If you're looking for perfect Sedona Red Rock views from all angles this is your place!! Named appropriately, this property offers a very ZEN experience. The decor is welcoming and tranquil. The outdoor water fountain is so relaxing and the floor to ceiling windows let you appreciate the views everywhere you look. – Angela, December 2020

Click here for more details!
3. Sedona's Best Casita w/ Views and Pool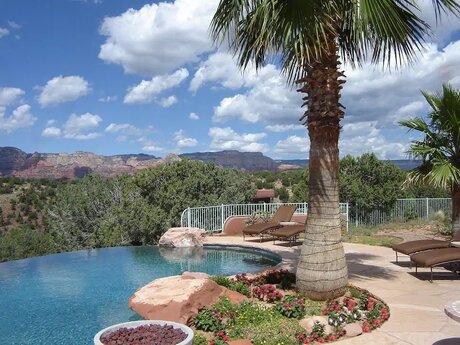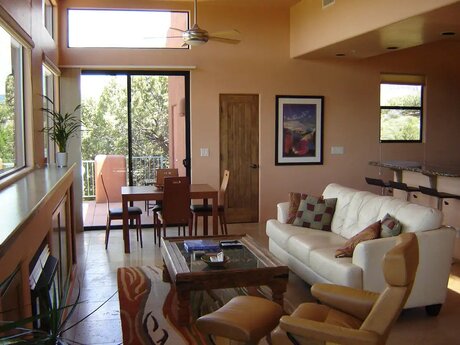 If you are a nature-lover who loves being surrounded by gorgeous views, then this Sedona Casita is ideal for you. Featuring an outdoor deck with an infinity pool, guests can cool down from the Sedona heat and watch the sun set behind the Red Rocks at the same time!

The fun doesn't stop when the sun has set in this 1-bedroom Airbnb. Featuring a private outdoor hot tub, guests can stargaze while rejuvenating their bodies.

Though this Airbnb has only 1 bedroom, it can accommodate up to 4 guests because of the double bed in the living room.

This Airbnb is located at the start of many hiking trails in Sedona, perfect for any hiking enthusiast. Downtown Sedona is a short drive away so you can have peace and quiet without being too far from the Main Street.

If you could, wake up at 6 AM and watch the hot air balloons rise over the Red Rocks!

Maximum Occupancy: 4 Guests (1 Bedroom, 2 Beds, One In Bedroom, One In Living Room)

Guest Review: We stayed at the casita on the tail end of a 10 day winter camping roadtrip through all the Utah national parks and Monument Valley, so needless to say we were ready to pamper ourselves and this was the perfect place to do it. The pictures don't do it justice, the space is so stylish and the views are unreal. Enjoyed winding down with a bevie in the pink flamingo sippy cup in the hot tub, watching the sunset. If you're up early enough, you'll also glimpse the hot air balloon show over the cliffs in the morning which was an unexpected treat. – Anna, January 2021

Click here for more details!
4. Clean House With Views and Hot Tub Next To Hiking Trails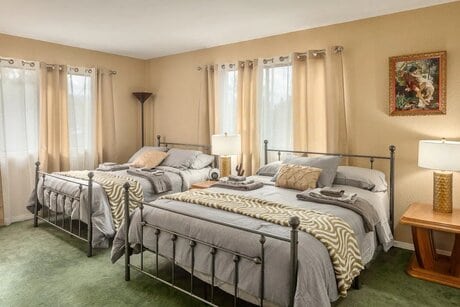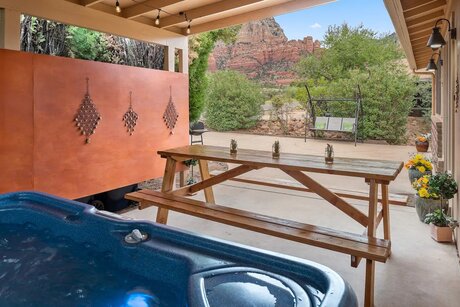 If you are traveling with a group of friends or a large family to Sedona, then this huge accommodation will be the perfect home away from home.

Featuring 1 bedroom with 2 queen-sized beds, one big sofa bed, and another twin bed in the living area, this Airbnb can comfortably fit 7 guests! This is one of the few Airbnb's that can accommodate that many people (and for an affordable price).

In this Airbnb, it is all about relaxation and comfort. From the cozy decor to the outdoor hot tub to the views of Thunder Mountain, guests can find peace in this private escape.

When you are not exploring the trails adjacent to this accommodation in Sedona, pop open the grill and enjoy a nice meal with your friends and family!

Maximum Occupancy: 7 Guests (1 Bedroom, 2 Queen-Sized Beds, 1 Pullout Couch, 1 Twin Bed)

Guest Review: The home is beautifully located walking distance from Sugarloaf trail and very close to several other hiking trails. The views from the home are majestic. The home has everything you can think of from extra chargers to personal hygiene items. The hot tub was amazing and definitely gave the home. The host was on top of communicating with us. She checked in with us a few times throughout the trip and made us feel very welcomed and at home. Definitely coming back to Sedona and this home will be our first choice. – Alejandro, February 2021

Click here for more details!
5. Home With Impressive Views & Energy Of Sedona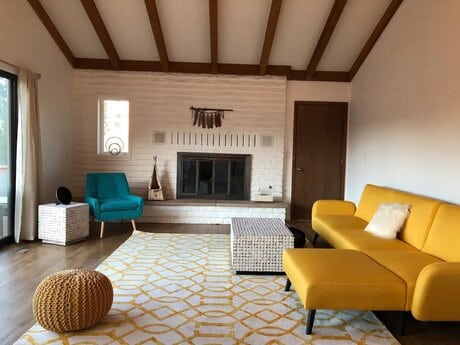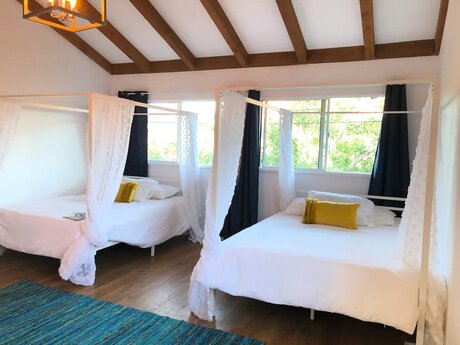 This beautiful Sedona Airbnb home features one of the most stunning and expansive views in all of Sedona, which guests can enjoy on the balcony or through one of the home's massive windows.

The modern and minimalist decor is welcoming and fitting for the mysterious town of Sedona. When you are not drooling over the crimson geological features, exploring the adjacent Downtown Sedona is easy.

Located only three minutes away, Downtown Sedona is where you will find cowboy restaurants, fortune tellers, wineries, souvenir stores, and much more, perfect for travelers with a short Sedona itinerary.

This Airbnb home contains 2 bedrooms, one with two queen beds, and one with 2 twin beds. The spacious couch can also fit one more guest!

Maximum Occupancy: 5 Guests (2 Bedrooms, Extra Cost After Two Guests)

Guest Review: This place was lovely, super comfortable, very stylish, but — of course — the real highlight was the views! Absolutely incredible red rocks views, that I don't think most high-end hotels could rival. Spectacular! – Jane, December 2020

Find out more here!
6. Beautiful Home You Won't Want To Leave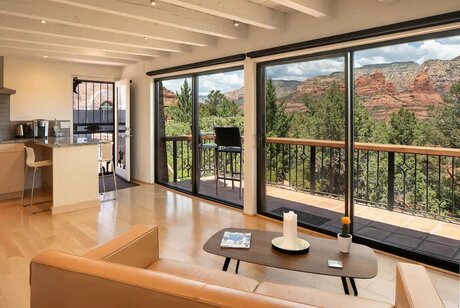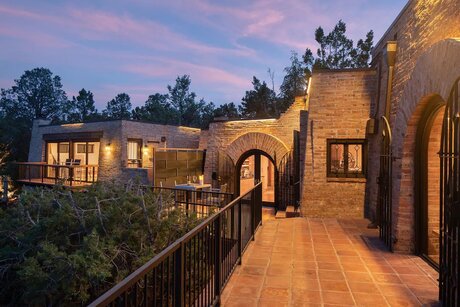 (Note: This property is in the same historic building as the first Airbnb we mentioned.)

If you are seeking a perfect balance between luxury and nature, then this Airbnb is your best bet. Beautifully furnished with maple wood flooring, a kiva fireplace, a well-equipped kitchen, and a modern touch, guests can enjoy the utmost comfort in their Sedona vacation home.

This Airbnb also features an outdoor saltwater swimming pool, where guests can cool down and admire the Sugarloaf Mountain (one of Arizona's famous landmarks) and the surrounding views. When the night has set and the temperature is too cold to swim, guests can stargaze in the hydrotherapy hot tub or try the aromatherapy steam room.

Whichever one you decide, you will be properly relaxed afterward!

This Airbnb is a studio for two people, perfect for anyone visiting Sedona on their honeymoon or a romantic endeavor!

Maximum Occupancy: 2 Guests (1 King Bed In a Studio)

Guest Review: Wow is not enough for Iona and Huib's place. This stay is truly a slice of magic, tucked away in the heart of the red rocks of Sedona you will feel like you are in a different world. From hand selected wine suggestions to trails that start right off of the property, our stay was made so much more special by staying here. Wake up every morning to some of the most beautiful views you could imagine and end the night in the spa under the stars. If I'm back in Sedona in the future, I will without a doubt be staying here again. Thank you Iona & Huib, it was truly a delight. – Jax, February 2021

Click here for more info!
7. Blue Sky Studio – Hot Tub With View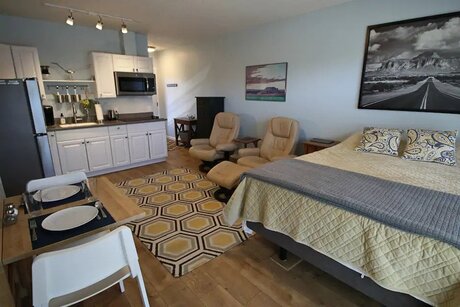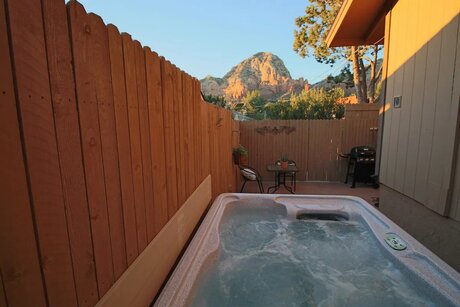 Blue Sky Studio is the ideal Airbnb for any couple looking for a small and intimate space. With a full kitchen, a queen size bed, a washer and a dryer, and a small patio, this compact Airbnb has everything you might need for your stay in Sedona.

In the rear patio is a private hot tub where guests can soak in and enjoy the views of Thunder Mountain. Guests also have access to the gas grill, perfect for anyone looking to do their own grilling!

Though the space might not be as big as other Airbnbs, the compactness provides a sense of intimacy unlike any other. With its affordable price, it is no surprise how popular this Sedona Airbnb home is!

Maximum Occupancy: 2 Guests (1 Queen Size Bed In A Studio)

Guest Review: Tim was very quick to respond to all of our questions, had very clear and easy check-in instructions, and the studio was exactly what we were looking for. It was very clean and in a great location. The private hot tub with an incredible view of Thunder Mountain was amazing after long days of hiking and exploring Sedona. I highly recommend this rental and will absolutely consider staying here again. – Joseph, January 2021

Click here for more information!
8. Clean Pet-Friendly Home With Jacuzzi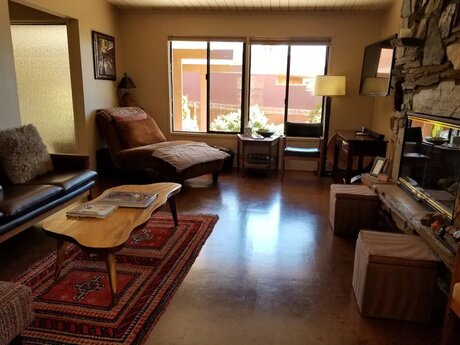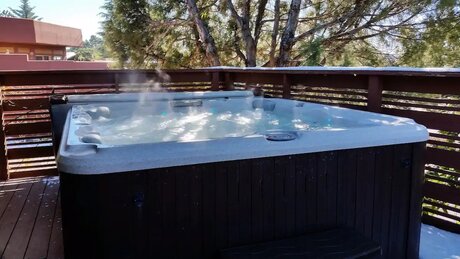 Traveling to Sedona with your furry friends? Worry not. This pet-friendly Airbnb will suit your pet's needs as well as yours. The space is furnished using environmentally and biologically sensitive products, thus making sure you and your pet are living in the most healthy environment possible!

With iconic mid-century modern architecture, the decor is cozy and perfect for couples, business travelers, and even families.

Included in the affordable price is a professionally maintained jacuzzi spa, where guests can soothe their aching legs after doing one of the nearby Sedona hikes.

Maximum Occupancy: 4 Guests (2 Bedrooms)

Guest Review: This place is a bargain! The pictures don't do it justice at all! We had a blast here for 5 days! Jacuzzi, patio deck, excellent kitchen appliances/cooking gadgets, tons of options to make your own coffee. The A/C is very powerful and the gas fireplace heats up the place quickly at night when it's cool out. We will stay here again! The only negative for us, there is no grass in the courtyard for the dog to potty, but we expected that being in the desert. We were able to host 8 guests for dinner with plenty of room for everyone. – Frank, October 2020

Click here for more details and availability!
9. Tiny Home With Awesome Views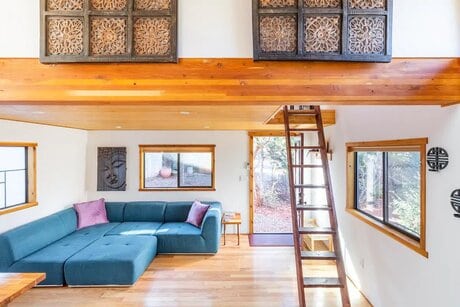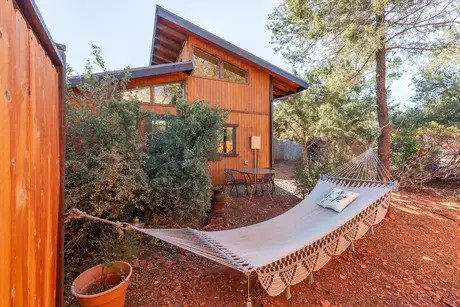 This Airbnb is the definition of good things come in small packages. Measuring 420 sq-ft (including the loft), this small and cozy place is perfect for couples and minimalists.

When you are not cozying up to your partner on the Tempurpedic mattress or the spacious couch, guests can enjoy the Sedona sun in the outdoor hammock.

Looking to explore Sedona? This dainty Airbnb is located within walking distance to various hiking trails as well as some of the best restaurants in West Sedona. When you are tired from a day of exploring, come home to a whirlpool tub and loosen up those knots in your body.

This Airbnb also features a fully-stocked kitchen, perfect for anyone who would like to cook instead of dining out. Enjoy your meal next to the electric fireplace and feel the zen of Sedona!

Maximum Occupancy: 2 Guests (1 Queen Bed)

Guest Review: This tiny house is a total gem and actually feels perfectly spacious for a single person. There are so many lovely touches throughout; it's enjoyable to hang out in. It's also super close to hiking trails and good food. The bed is wonderfully comfortable and offers a lovely red-rock view in the mornings. I would definitely want to stay here again. – Phoebe, February 2021

Click here for availability and more details!
10. SedonAmor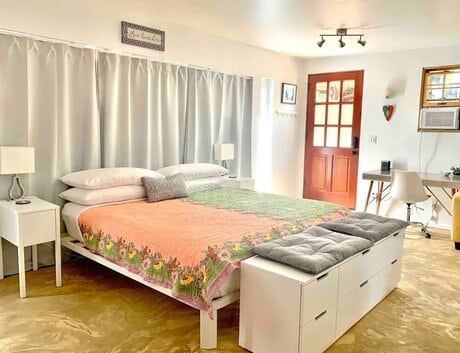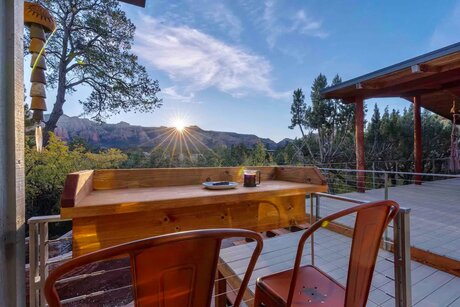 SedonAmor (like the name suggests) is one of the best Sedona Airbnbs for lovers. Its most defining feature is the gorgeous outdoor deck that provides a comfortable spot for guests to watch the sunset, relax with local wine, or just sit and chat.

With the utmost attention to personal care, all paints, stains, and floor surface substrate are 100% solvent-free, glycol ether free, crystalline silica free, and VOC free! All body soap, laundry detergent, and cleaners are also nontoxic.

Its strategic location allows guests convenient access to the Brewer trail and the Airport Mesa Vortex Loop, perfect for anyone looking to experience the famed mysterious vortices in Sedona.

Guests will unquestionably find an intimate and cozy time at SedonAmor, as well as the amenities needed for a great stay!

Maximum Occupancy: 2 Guests (1 King Bed)

Guest Review: A peaceful and calm experience! This place is near the town but just far enough away to make it a serene stay. Ingrid is thoughtful in the decoration, products and amenities. We especially appreciated the fresh coffee and electric fireplace! Already planning a return stay! Highly recommend. – Melinda, January 2021

Click here for more info!
Like this post? Don't forget to save it on Pinterest!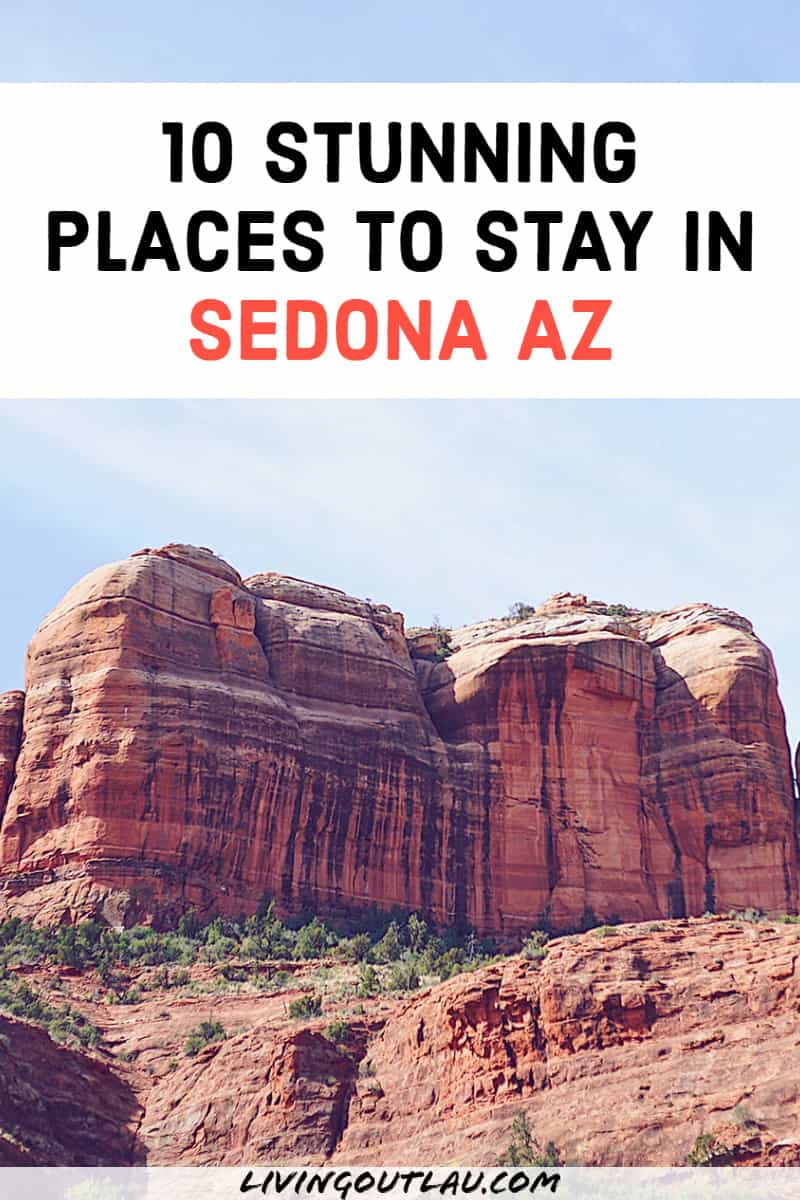 Finding the perfect place to stay in Sedona can be stressful. We hope our guide on the best Airbnbs in Sedona Arizona helped you alleviate some of your headaches!

Visiting more of Northern Arizona? Make sure you check out our Airbnb guide for Flagstaff!

Any questions? Leave a comment below!
Disclaimer: Some of the links above are affiliate links. That means if you book or make a purchase through the links, we will earn a small commission at no extra cost to you! The money will help run this site! Thank you!
All Images Of Properties Courtesy of Airbnb