Looking for the perfect Airbnb in Flagstaff?

It is not so easy.

Flagstaff is the home to some of Northern Arizona's most stunning attractions such as the Grand Canyon, Walnut Canyon National Monument, Arizona Nordic Village, Arizona Snowbowl and Humphreys Peak.

As a result, tourism has been increasing steadily and more places to stay in Flagstaff have been spawning. While some do decide to stay in Sedona, this Arizona small town is not so touristic, allowing guests to enjoy the untouched nature of Arizona at lower prices.

Therefore, we have created this guide on the best Airbnbs in Flagstaff. By staying in an Airbnb, guests will have a better glimpse into the local ways of life, as well as giving back to the local communities!

Without further ado, here are the 10 best Flagstaff Airbnbs!
Going to stop by the Phoenix area? Check out these cozy Airbnbs in Scottsdale!
Want A Quick Tip On The Overall Best Airbnb In Flagstaff, AZ?
Cherry Hill Retreat w/AC & Hot Tub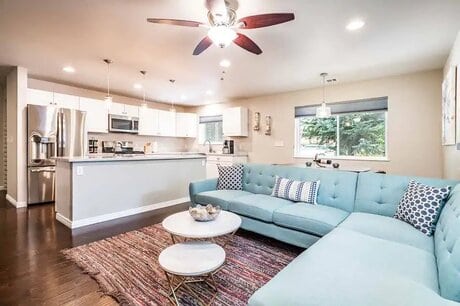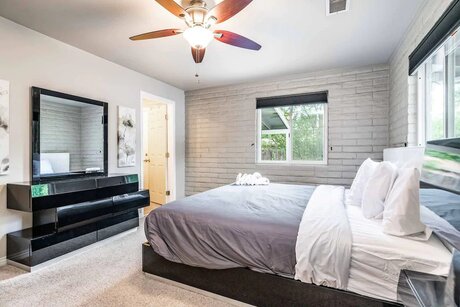 If there is one Airbnb that every traveler can fall in love with, it is this Cherry Hill Retreat Airbnb. Whether you are traveling as a couple, a group, or a family, this 4-bedroom 2-bath Airbnb in Flagstaff will suit your needs. In total, this home can accommodate up to 10 guests.

The fully equipped kitchen with a kitchen island oversees the dining area that offers room for 6 guests. In the living room, you will find a comfortable and modern L-shaped couch facing the smart TV and gas-powered indoor fireplace, perfect for the entire family to cozy up.

However, the most iconic feature of this Airbnb has to be the spacious backyard, the perfect place for kids to run around and enjoy nature. Guests will find the utmost enjoyment in the 6-person hot tub, soothing their aching limbs after a visit to the Grand Canyon or the nearby attractions in Flagstaff.

Located in the prime neighborhood of Cherry Hill, this vacation home overlooks the historic downtown of Flagstaff, allowing guests a relaxing retreat. Though this Airbnb is quiet, it is within walking distance to downtown Flagstaff, where guests will find the best restaurants, bars and boutique shops.

Maximum Occupancy: 10 Guests
Best Airbnbs In Flagstaff For Luxury Travelers
1. Upscale Flagstaff House w/ Hot Tub, Deck & Views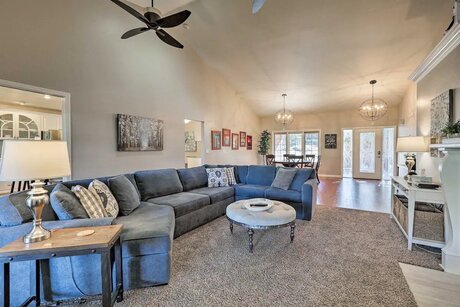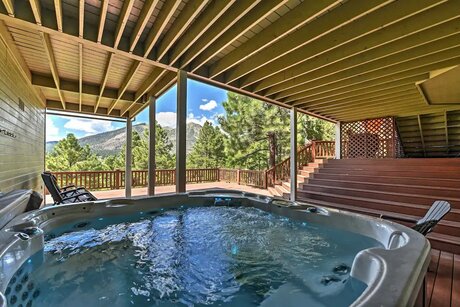 This Airbnb rental vacation home offers a total of 4 bedrooms and 3 baths, allowing a maximum of 10 guests to properly enjoy 2,500 square-foot space.

Featuring a modern and cozy decor, guests will find the utmost comfort in this Airbnb, whether they are lounging around on the massive L-shaped couch, soaking their worries away in the hot tub, or just basking in the views from the 2-story covered deck.

In the 4 bedrooms, guests will find a total of 3 king beds for the perfect night's sleep, as well as a bunk bed for anyone traveling with kids. This luxurious Airbnb is also the perfect Airbnb for families.

Other notable features include 4 flat-screen smart TVs, a fully-equipped kitchen, in-home laundry machines and a parking garage.

Maximum Occupancy: 10 Guests

Find out more about its features and availability here!

2. Cabin w/ Mountain Views & Hot Tub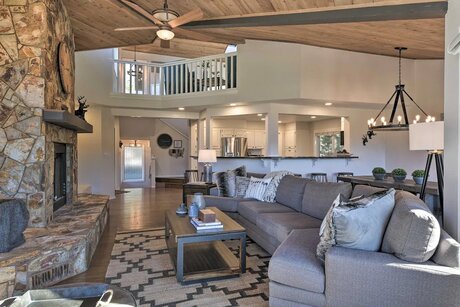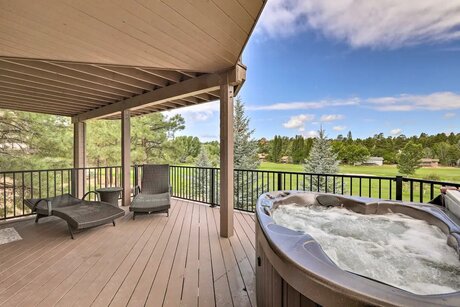 When you step into this luxurious Airbnb, you will immediately notice the high-end furnishings – high tongue and groove ceiling, granite countertops, flagstone fireplace and much more. 

As you explore the 2,788 sq ft vacation home in Flagstone, you will find comfort in every corner. With 4 bedrooms and a loft, there are a total of 6 beds in this Airbnb, allowing a maximum of 10 guests to indulge in this finest experience.

Eventually, guests will end up at the outdoor decks in the rear, where they will find views of a golf course with soaring mountains in the background. Take a look and fully admire the beautiful creation of mother nature before jumping in the hot tub and completely relaxing your mind and body.

Maximum Occupancy: 11 Guests

Click here for more info!
Best Flagstaff Airbnbs For Families Or Groups
1. The Farmhouse (Pet-Friendly)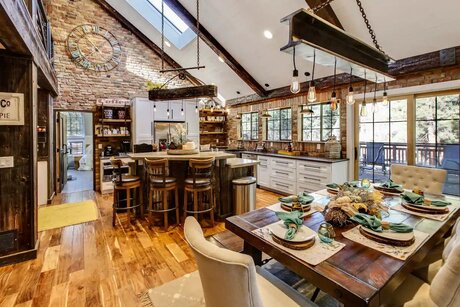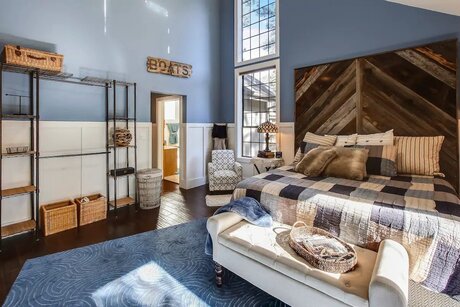 The Farmhouse is a pet-friendly Airbnb in Flagstaff that can accommodate up to 14 guests (Yes, 14!!!), perfect for a big gathering like Thanksgiving or Christmas.

How is this vacation home able to accommodate so many people? It features 4 separate bedrooms with 1 king bed and 3 queen beds. Their newly added feature includes 6 custom-made bunk beds, perfect for kids!

Featuring over 3,200 square feet of interior space and an additional 800 square feet of patio areas overlooking Mount Elden, guests have an ample amount of space to enjoy their stay at The Farmhouse. The backyard is fully fenced, perfect for kids to run around and just do their thing.

The interior decor is lavish and every detail is perfected. Staying in this Airbnb is an experience itself, as many of us don't get to enjoy this type of vacation home where we are from. If you don't fall in love with Flagstaff, at least you will fall in love with this Airbnb!

When you are not enjoying some of the home's best amenities, there are plenty of things to do around this Airbnb. Visitors can take a day trip to Sedona and learn about the mysterious vortices and red rocks, take a trip to Grand Canyon, visit Arizona Snowbowl (the best ski resort in Arizona, or just explore downtown Flagstaff.

Maximum Occupancy: 14 Guests

Click here for more information!
2. Humphrey Overlook at The Foothills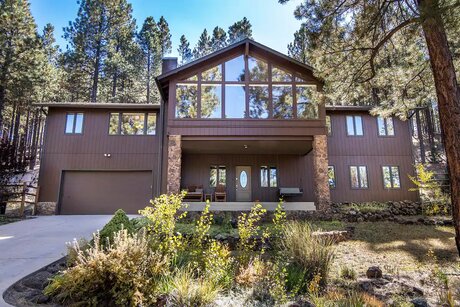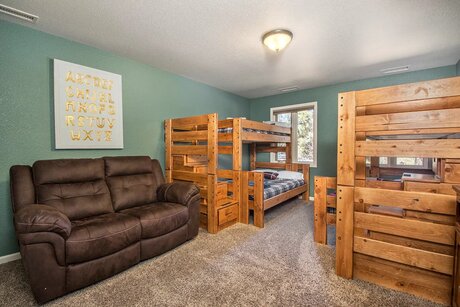 This Humphrey Overlook at The Foothills Airbnb is the epitome of a family-friendly Airbnb. A modern vacation tucked away in the Chesire neighborhood, this cabin-like Airbnb can accommodate up to 14 guests, perfect for any big families or group of friends.

Its centralized location allows guests to tick off many of the attractions in Flagstaff, such as a day trip to Grand Canyon, the AZ Snowbowl, and a visit to downtown Flagstaff.

Some of its most defining features include a newly renovated kitchen with all stainless-steel appliances and a "great room" that serves as a living area, office space, and game area.

In the game area, you will find a foosball table where competitive family members can challenge each other. In the front yard, you will also find a private basketball court!

In the rear patio is the jewel of this family home, a newly installed hot tub that will melt your worries away. Combined with the fantastic views, it is the perfect place to be after a long exhausting day.

Maximum Occupancy: 14 Guests

Click here for more details!
3. The Modern Gem @ Heart of Flagstaff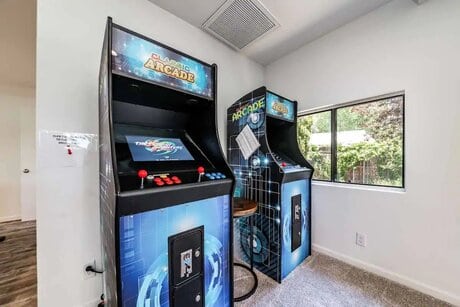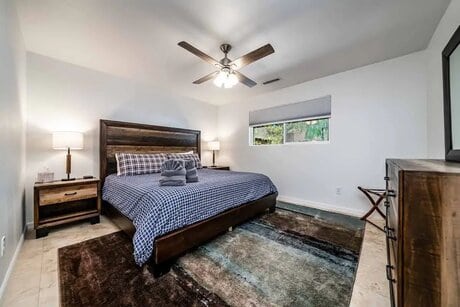 The Modern Gem is exactly what it sounds like, a modern vacation home located in Cherry Hill, the most desirable neighborhood in Flagstaff. This single-story home is perched on Cherry Hill, giving guests easy access to the breweries, restaurants, cafes, and local shops in downtown Flagstaff.

This family-oriented Airbnb is perfect for any family looking to balance a vacation in nature and civilization. With a spacious backyard and a huge living room with a pool table and old-school arcade games, there is plenty of entertainment inside the house.

This Airbnb is only a 30-minute drive to Snow Bowl (the best ski resort town in Arizona) and the Nordic Center, giving guests a good base to explore the surrounding areas. When you are tired from being amazed by the jaw-dropping attractions of Northern Arizona, cozy up on the massive L-shaped couch with a movie on the flat-screen TV.

The Modern Gem can accommodate up to 6 guests with its 3 bedrooms. Guests will find a comfy king bed in the master bedroom and the first guest bedroom. The other bedroom contains 2 twin beds, perfect for kids.

Maximum Occupancy: 6 Guests

Click here to check availability!
4. Peaceful Vacation Home w/ Game Room & Hot Tub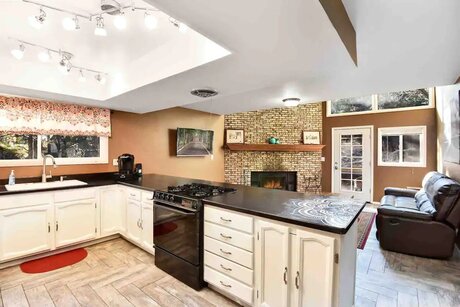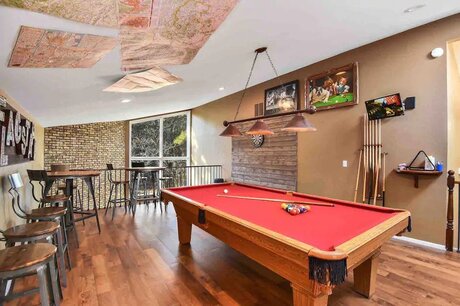 Totaling at 2,500 sqft, this vacation home is the perfect size for families or any large group of friends. Here guests will find the utmost tranquility in one of the safest neighborhoods in Flagstaff.

Featuring a total of 4 bedrooms and 7 beds, this Airbnb can comfortably accommodate 12 guests (though there is a small additional fee per guest after 8 people). Pets are also welcome in this Flagstaff Airbnb, but there is also a small additional fee.

This Airbnb's most defining feature is unquestionably the game room loft. With a variety of activities such as a pool table, darts, gaming, TV, there is plenty of choices to make great memories!

When the kids (and kids at heart) are enjoying the game room, the rest of the guests can enjoy the private outdoor patio. With a 6-person hot tub, a charcoal BBQ grill and a fire pit, guests can relax alongside superb mountainous views.  

Out of the four bedrooms in the Airbnb, three of them contain a queen or king bed. The last one has 2 bunk beds perfect for kids.

Maximum Occupancy: 12 Guests

Click here to find more features and availabilities of this Airbnb!
5. Pet-Friendly Home w/ Fire Pit, Jacuzzi & Games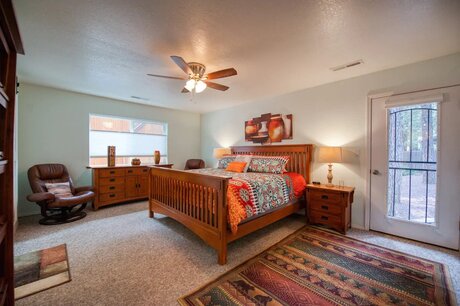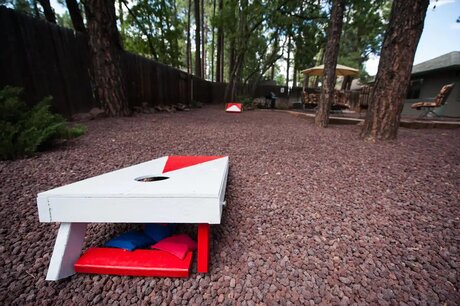 Nestled in the mountainous pines, this 1786 sq-ft home allows guests to enjoy the beautiful natural scenery with its large windows & vaulted ceilings. Here you will find the perfect base to explore nearby attractions such as Sedona, Grand Canyon, NAU graduations and events, Polar Express, Oak Creek and more. 

The large game room contains a pool table, ping pong, lots of board games, comfortable reclining chairs, and a 50″ flat-screen TV all ready for the guests to enjoy. The fully kitted-out kitchen is the perfect place for guests to cook a delicious homemade meal or prepare packed lunches for their Flagstaff adventures.

No vacation home in Flagstaff is complete without a pristine backyard and this Airbnb is no exception. The fenced backyard is rustic, quiet, and smells as if you are in the woods. Here you can stargaze in the hot tub, enjoy a nice BBQ by the fire pit, or play a game of cornhole.

You will find 3 cozy bedrooms in this Airbnb, all featuring either a queen bed or a king bed. Lastly, you will find a couch that doubles as a queen bed, allowing a maximum of 8 guests to have restful nights here. Pets are also allowed in this Flagstaff Airbnb, but an additional fee is charged.

Maximum Occupancy: 8 Guests

Click here for more details!
Best Flagstaff Airbnbs For Couples
1. Craft Beer Getaway Above Historic Brewing Company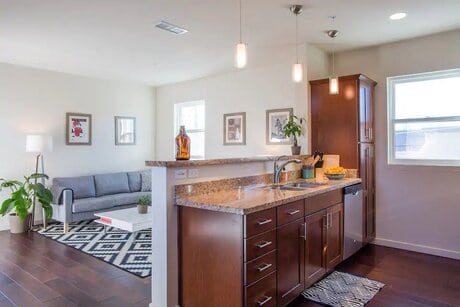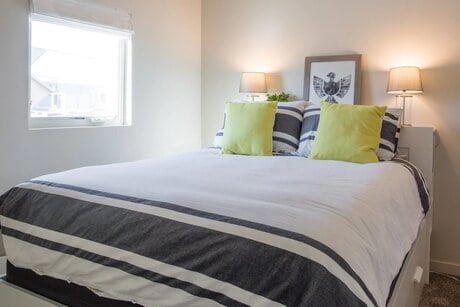 This Craft Beer Getaway Airbnb is one of the most popular Airbnbs in Flagstaff for good reasons. It is located above a historic brewing company that serves 20 over two different kinds of craft beers, wine and a full pub menu.

If your idea of a romantic getaway is to be in the action, then this Airbnb will be perfect for you. It is located in downtown Flagstaff, so everything from the best restaurants to the best cafes is within walking distance away.

You will undoubtedly meet a lot of friendly locals in the brewing company below your Airbnb, which might sound like the perfect experience for you. However, there is a very slight chance that music can be heard from where you are sleeping.

Anyone that is a light sleeper or prefers to go to bed early (especially on the weekend) might want to avoid this Airbnb.

But if you like to stay up and explore the incredible Flagstaff nightlife with your loved one, then this Airbnb will be perfect for you.

This Airbnb home has all the essential amenities for an incredible stay. From the comfortable beds to the well-lit living room, guests can find a peaceful haven from the busier downtown. 

Maximum Occupancy: 4 Guests

Click here for more info!
2. Hipster Chalet In Downtown Flagstaff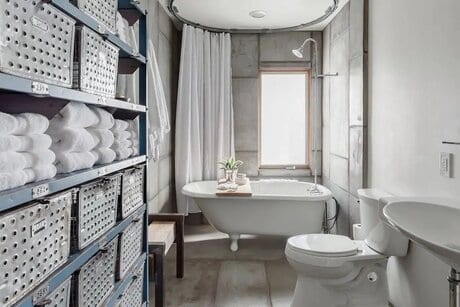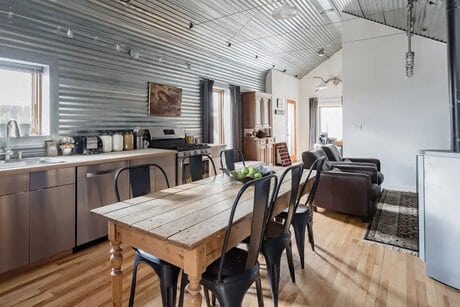 Last but not least is our all-time favorite Airbnb in Flagstaff.

Uniquely designed with industrial styling, corrugated metal walls, sliding track door and saintless steel appliances, this Airbnb boasts a futuristic look. Steeping inside will feel like you have stepped into a museum!

Though a place like this will usually sacrifice comfort for style, this is far from the case at this hipster chalet. Resting on the king bed in the master bedroom will feel like you are sleeping on clouds, especially with the serene views of the terrace. 

The most defining feature is the elegant bathtub in the bathroom. With the sleek interior design, it is one of the most beautiful photo spots in Flagstaff. Soak in the bathtub after hiking near Flagstaff. Not only will that soothe your aching limbs, but you will be in the perfect spot for an Instagram-style photo!

Conveniently located near the center of Flagstaff, guests will have easy access to the city's best features. From restaurants to bars to cafes, you will have more options than you can imagine!

Maximum Occupancy: 4 Guests

Click here for more information!
Like this post? Don't forget to save it on Pinterest! ?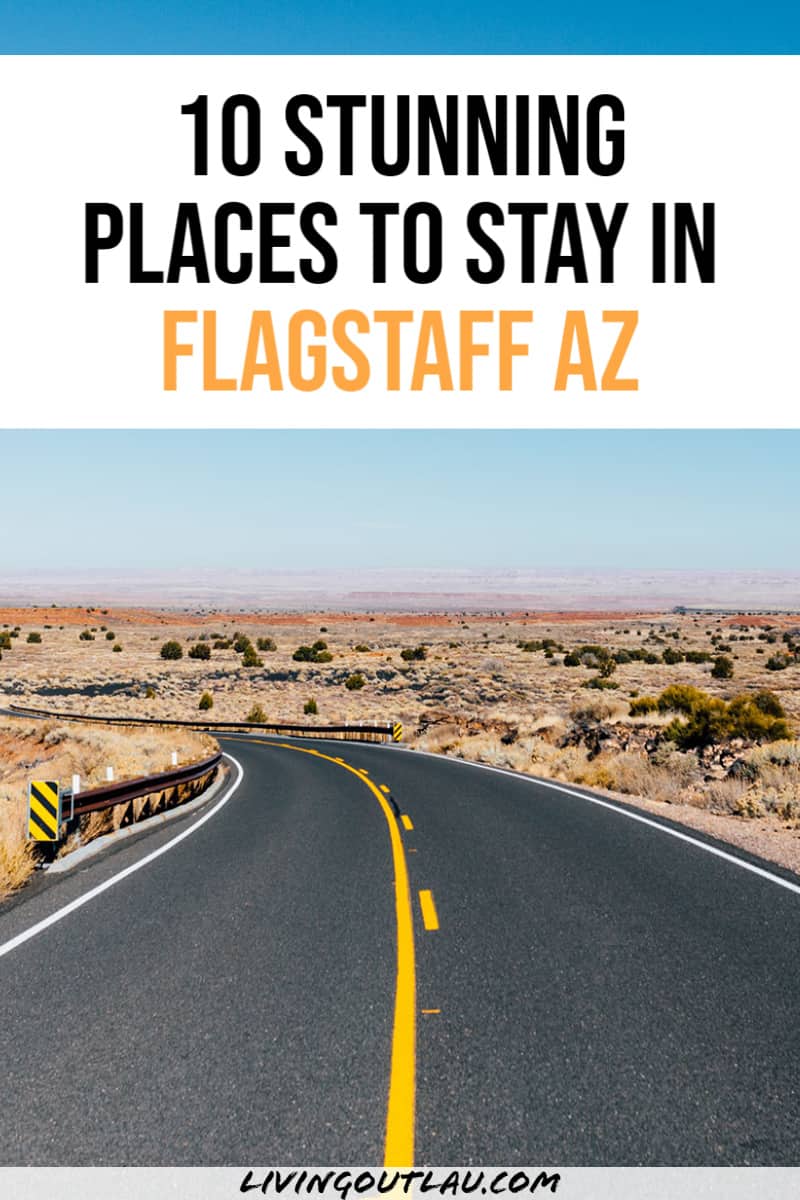 With so many Airbnbs in Flagstaff, finding the perfect one is not easy. We hope our Flagstaff guide has given you a good idea of the best places to stay in Flagstaff so you can explore its surrounding areas more easily!

Any questions? Leave a comment below!
Disclaimer: Some of the links above are affiliate links. That means if you book or make a purchase through the links, we will earn a small commission at no extra cost to you! The money will help run this site! Thank you!
All Images Of Properties Courtesy of Airbnb